Marketing plans are not as linear as they sound. Building a better marketing plan requires detailed research and experience to develop the right marketing strategy, metrics to evaluate performance, and forecasts designed to guide the rest of your business operation. A good marketing plan also includes action plans that detail key tactics in sufficient detail (including resources needed, outcomes, and step-by-step actions) to ensure they're carried out as planned. For this reason, many prefer to opt for reliable marketing agency services for strategizing their plans and outcomes.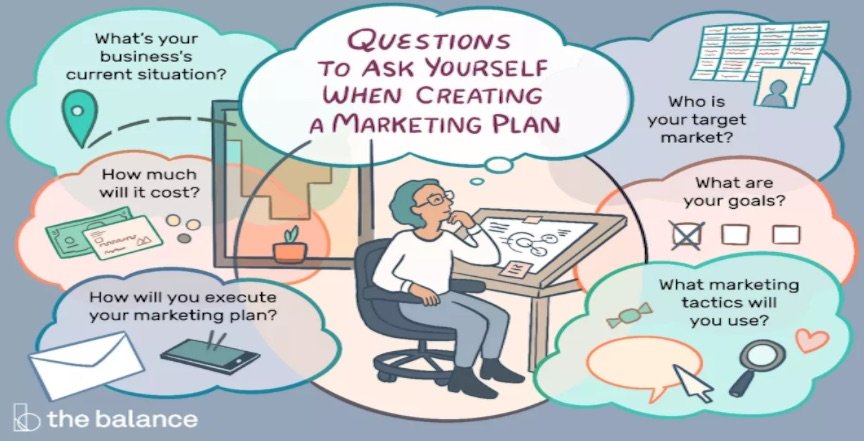 In this post, we highlighted a simple but effective 6-step toolkit to help you build a better marketing plan for the coming year, quarter, or month. But first, let us dive into the requisites and components of a marketing plan.
What is a Marketing Plan?
Simply put, a marketing plan is a detailed report developed in detail with input from multiple stakeholders that analyzes your current situation, sets goals for upcoming periods, details marketing strategies, forecasts budgets and performance, and sets KPIs (key performance indicators) used to evaluate performance. A detailed marketing plan comprises the following:
A brief overview of your business in terms of marketing, advertising, standards, and future growth.
An analysis of your business's current market situation including performance vis-a-vis your competition, current tactics and outcomes, and your current strategies related to the 4Ps of marketing.
Analysis of the external environment, including economic trends, technological advances, changing consumer attitudes, and anticipated government actions that might potentially impact your market performance.
Your goals (SMART goals) for the immediate future as well as future performance expectations.
A detailed plan covering strategies for the near term (commonly 12 months).
Forecasts detailing your resource needs (people, money, etc) and anticipated sales.
Contingency plans in case something happens.
Action plans for key tactics (see below for an action plan related to social media).
Depending on the scale of your business, your goals, and your market, marketing plans differ in their depth with some taking up only a few pages and others running into hundreds of pages. The common denominator, however, is the outcome – a detailed marketing plan that helps establish a focussed approach towards meeting your business goals within set deadlines based on a thorough analysis of your opportunities.
Building a better marketing plan, therefore, demands focus on your organizational requirements, strategy for growth, and future expectations along with its present status overview. Let's delve into the components of your marketing plan a little bit, shall we?
Build a better marketing plan
Begin with a concise executive summary 
They say, well begun is half-done. Therefore, it is important to hit the right note from the very beginning of your marketing plan. An attention-grabbing executive summary that highlights your company's vision, triumphs, and plans along with relevant facts and insights is an essential element of the marketing plan, as it summarizes the entire plan for those unable to spend time reading the entire plan.
An executive summary is just that; a summary. It's not a teaser or a cutsie narrative or an introduction. An executive summary should lay out the entire plan in less detail but provide a decent overview of the plan.
Include a detailed situation analysis
A situation analysis is like the "you're here" note on a map. Without a clear understanding of where you are, you have no hope of reaching your desired outcomes. Moreover, doing research on the elements of the plan brings new opportunities and threats to light when combining unearthed facts into a SWOT analysis (see below).
It's important to remember that a SWOT doesn't replace a situation analysis but summarizes facts uncovered in your situation that potentially impact your success. A situation analysis commonly researches  the situation related to:
Internal situation

product
price
promotion
place (distribution)

External situation

Technological changes
Economic trends (ie. GDP, consumer confidence, etc)
Consumer values and culture
Competition and their advantages/ disadvantages compared to your company
Legal and regulatory changes
Outline Metric-Driven Marketing Goals 
The next important element of the ideal marketing plan is a quantifiable list of your business's marketing goals. SMART goals contain specific, measurable goals that are realistic given your resources and achievable within the designated time frame. Hence, gaining more customers isn't a SMART goal but adding 1000 new customers within the next 12 months is a SMART goal assuming this is reasonable given your existing resources.
Create SMART goals for key elements contributing to your market performance such as monthly customer acquisitions, customer retention, new products, market share increase, etc.
Key metrics follow closely with your SMART goals to outline data you must collect and analyze to determine whether you're making sufficient progress toward achieving your goals. More about this later.
Segmentation, targeting, and positioning
These 3 related tactics make the difference between a strategy that succeeds and one that fails.
Segmentation involves a recognition that not all consumers are equal in their needs, desires, and abilities to consume. Segmentation involves identifying consumer groups sharing similarities that differentiate them from the whole group based on demographic, geographic, psychographic, and behavioral differences.
Targeting is the process of determining which segments represent the best options for your brand and understanding that target market. Commonly, brands build personas to reflect the prototypical consumer in each target market, such as the one below.
Finally, positioning involves developing messaging strategies designed to capitalize on your knowledge of your target persona such as choosing trigger words, using communication channels, and even crafting products that appeal to this market.
Pull together an actionable marketing strategy 
Now that you have all the relevant information necessary, it's time to develop a specific marketing strategy designed to reach your goals. Arguably one of the most important elements of your marketing plan, an actionable marketing strategy relies on building a cogent strategy using the internal tools at your disposal (ie. the 4 Ps) that capitalizes on your opportunities while lessening the threats faced by your business.
Tools such as mind maps are effective ways of highlighting various priorities, objectives, activities, and processes of your marketing plan. You can easily visualize an effective strategy using such resources and explain your entire marketing strategy in the least amount of space or words. Below you can see a mind map to identify marketing communication channels that guide strategy formation.
Keep your strategies squarely focused on achieving your marketing goals and overarching goals for the brand. Also, remember you have finite resources and must use those resources to their best advantage — you can only spend a dollar once.
Monitor performance and tweak strategy
No marketing plan is optimized without timely intervention and monitoring. Your marketing plan should identify KPIs and project values for each metric to use when evaluating performance. In the old days of traditional marketing, you had little access to metrics and most were only guesses at the end of a campaign. Today, we get daily or even hourly results detailing our performance and can adjust actions to optimize performance.
Crafting a template listing your KPIs and dates, along with performance across personas, products, and regions, offers a great way to monitor performance. Using visualization helps you make the right decision on the fly.
Recognize that even though you have up-to-the-minute data, campaigns take time to achieve results. Overoptimization may result in lower performance in the same way a golfer might over and under power her swing to miss the cup on each pass. Give your actions time to bring results before jumping into action.
Action plans
Action plans are a key element of a marketing plan and you need them for each major tactic planned. Checklists and other tools help track marketing actions for important day-to-day tasks, including content marketing, email marketing, and advertising to ensure you're output matches actions outlined in the plan. For instance, if you're plan included daily posts to Facebook, a calendar helps ensure you post something daily by setting up topics for a month at a time. Using marketing automation, you can even set up a week or a month of posts in an afternoon. Creating a checklist for a major marketing activity such as a product launch, along with a timeline, ensures you accomplish everything necessary as planned.
Conclusion
Marketing is considered one of the most important and trickiest aspects of running a business, whether you operate in the B2B or B2C space. That's because marketing represents the success or failure of the business since it's the only activity generating money for the business and requires coordination with other functional areas to ensure customers get what they're promised. With a detailed, clear marketing plan in place you maximizing outcomes. Use the six steps above to come up with the best marketing plan for your business for optimal results.
Need marketing help to support business growth?
We welcome the opportunity to show you how we can make your marketing SIZZLE with our data-driven, results-oriented marketing strategies.  Sign up for our FREE newsletter, get our FREE guide to creating an awesome website, or contact us for more information on hiring us.
Hausman and Associates, the publisher of MKT Maven, is a full-service marketing agency operating at the intersection of marketing and digital media. Check out our full range of services.