If you look around you, you see that there are a lot of new small businesses opening up every day, both online and in the physical world. Maybe you're even considering starting a small business yourself or have a small business you need to promote. One of the most important things you need to do for your business is to bring in customers. Without customers, you won't have any revenue and will quickly have to close your doors. So getting people to buy from you is essential if you want to be successful and make money. Before you can see customers, you need to build awareness for your brand, introduce prospective buyers to the benefits provided by your brand, and start building positive attitudes that drive consumers to buy.
With all the competition around you, creating brand awareness might seem like an uphill battle, but it's not impossible. If you develop a sustained strategy to build awareness, you stand a great chance of building a successful business. Read on to find out more about how to build awareness and stand out from the crowd.
30234927 © Chainat | Dreamstime.com
Build awareness for your brand
When you build awareness for your brand, you set your target marketing on the road to making a purchase and set your business up for success.
Brand awareness is the first step in the conversion funnel, as you can see below.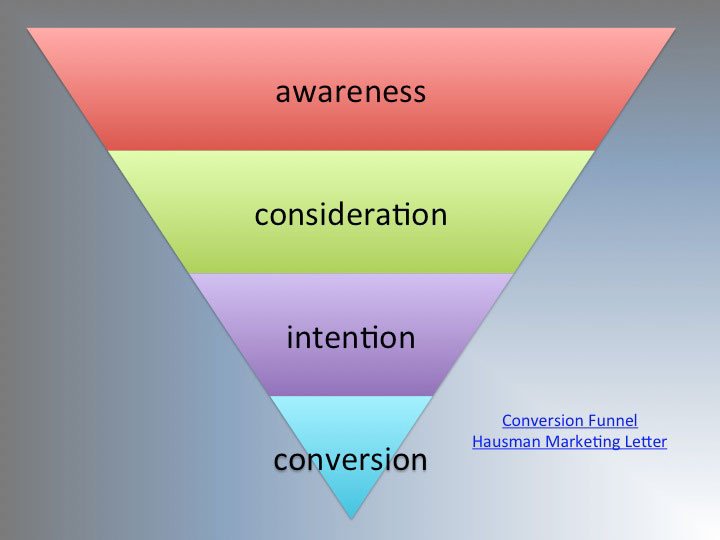 Brand awareness is more than just knowing a certain brand exists, however, so building awareness is so much more than just creating a nice logo and colorful brand images. Although these visual elements represent a physical representation of your brand, your brand is so much more than just design. Building a brand means conveying your values, brand personality, and developing positive attitudes toward the brand, not just ensuring your target market knows your brand exists.
Shared values help build brand awareness
Consumers, especially younger consumers, prefer to buy from brands that share their values, values that extend beyond just providing high-quality products. In fact, 82% of consumers use shared values in their consumption decisions, up from 63% just two years ago. In fact, nearly half of consumers say they're willing to pay more for a brand they feel lives the values important to them. These values include:
sustainability and a commitment to saving the planet
fair trade to ensure your suppliers share in the wealth they helped create
treating employees fairly, equitably, and sharing the opportunities your business creates with them
commitment to the community, such as supporting local charities and children
a commitment to product quality
selling at a reasonable price
As you can see below, consumers don't want to support companies that don't share values important to them.
In addition, consumers are more willing to endorse your brand, share their brand purchases, and write a positive review when a brand shares their values.
Determine your USP
Consumers face a plethora of purchase options in almost every product category. To compete, your brand must stand out from the crowd and you must build awareness of not just your product's existence but its USP or unique selling proposition. A USP demonstrates what you do better than your competition and why that matters to your target market. Rather than a litany of features, or even benefits your brand provides, a USP relies on one or a few aspects of the brand that make it unique. For instance, the USP for Amazon, which accounts for its massive success, is that it can deliver nearly any product needed in a day or two. The USP for Apple is the innovativeness of the company in being the first to introduce new technologies to make customers' lives easier. If you think about other successful brands, you'll find each one has a distinct USP that appeals to a segment of the population.
You must consider what you do that is unique compared to what others are doing in order to determine what your USP is. This might be anything, including the goods you sell, how you sell them, how you handle customers, your special deals, etc. Knowing your USP help you create a communication strategy that demonstrates how you are unique (and superior to) everyone else. You then build your strategy around aligning every aspect of your product to support your USP.
Be an expert
Even if you sell the same goods and services as someone else, there are ways to make your company stand out. One of the best ways to do this is to show that you are an expert in your field. People are more likely to believe what you communicate with them when your communication appears objective, informed, and reasoned as opposed to opinionated and biased. Remember that most of your content produced should demonstrate value to your community, as opposed to promoting your brand all the time. This is a challenging notion to communicate to clients, who continue to think of digital marketing in terms that come from their experiences in traditional marketing that's dominated by advertising.
You can show your experience and knowledge by:
Writing a blog, making sure to purchase stock photography to add to the valuable content you share to make your content more appealing
Writing an ebook (which, for instance, you could include with orders or make available for download on your website). You can use this content as a lead magnet to encourage visitors to subscribe to your email list.
Giving talks and workshops that provide insights and value to your target market.
Offer the best customer service
Building awareness also means providing the best customer service and experience possible. When there's a lot of competition, it's more important than ever to give great customer service. Customers won't come back to a store or website if they had a bad experience, so you need to make sure that you treat each customer well, with as much respect and personal touches as possible. If you don't, they will buy somewhere else.
To make your store or website the "go-to" one in your field, you need to go above and beyond with customer service. Sending birthday cards or greeting customers personalized with their names is a good way to add a personal touch. So does offering special discounts and utilizing other ways to reward people for being loyal. The more a customer feels like they are important to you, the more they will shop with you.
Providing great customer service goes beyond just helping you retain existing customers, although this is an enviable goal by itself. Great customer service encourages your customers to share the positive aspects of their experience with others to build awareness among new potential customers. Great customer service also reduces the chances of negative feedback from customers or complaints on social platforms that damage your brand. Building awareness about the negative aspects of your business is definitely something you must avoid.
Conclusion
Building a brand starts with creating awareness of your brand but extends to building a positive image of your brand. Today, we shared some tools to do that. You can start small by implementing just one of these tactics or go all the way by using them all to build a better brand to support your performance.
Need marketing help to support business growth?
We welcome the opportunity to show you how we can make your marketing SIZZLE with our data-driven, results-oriented marketing strategies.  Sign up for our FREE newsletter, get our FREE guide to creating an awesome website, or contact us for more information on hiring us.
Hausman and Associates, the publisher of MKT Maven, is a full-service marketing agency operating at the intersection of marketing and digital media. Check out our full range of services.