Building trusting relationships with your target marketing is the key to reaching your marketing goals. And, in a digital world, the starts when you build a trustworthy website. As you can see in the graphic below, trust vastly impacts positive behaviors such as purchase intentions, recommendations, and sharing positive opinions of the brand online. By the same token, when your marketing doesn't trust you, they criticize your brand and refuse to buy your products. An interesting aspect of trust is that consumers will pay more for brands they trust.
It's important to note that data used in creating this graphic comes from a survey of consumers from 28 countries, suggesting the universality of trust in impacting consumer behaviors.
Certainly, when you build a trustworthy website, you're not done. You must still deliver on your promises to customers in terms of high-quality goods and services as well as excellent customer service that makes it easy for customers to get help when something unavoidable goes wrong. Your website has a big part to play as part of your efforts to build trust. Your website is your virtual storefront and creates the first impression that most customers have about your brand, so you need to make sure that your build a trustworthy website and continue building trustworthiness in all your dealings with brand stakeholders.
Building trusting relationships with your target market
Building trusting relationships takes time and consistently positive interactions with your target market. Yet, damaging that relationship can happen in an instant by a moment of thoughtlessness or not having the right contingency plans in place to recover from a misstep. Hence, building a trustworthy website is only the beginning of the process but a critical first step in the process.
So, how do you build trusting relationships with customers and prospects?
Below you can see the results of a survey asking consumers exactly that question.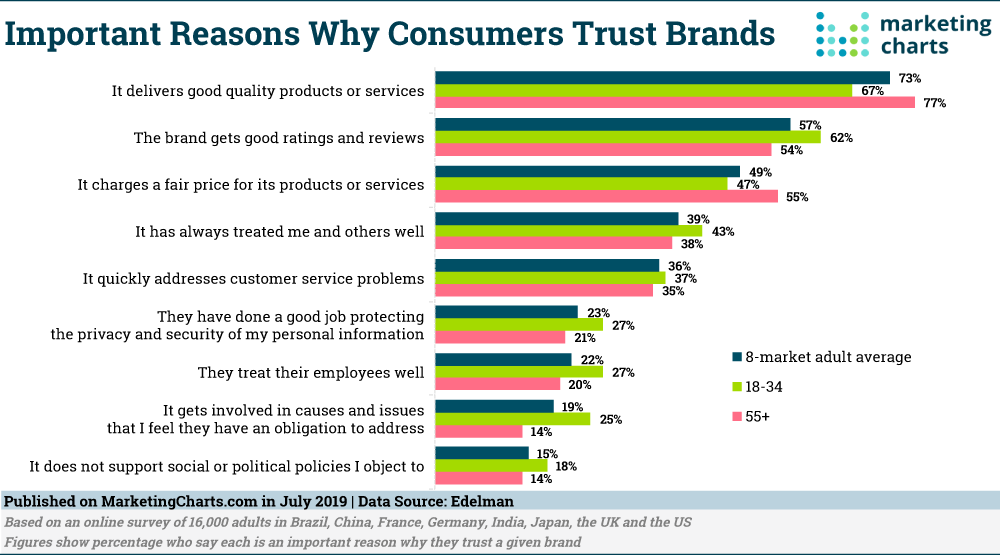 Again, note that data come from multiple countries and break down elements that engender trust across both older and younger consumers, with differences noted in most elements across this demographic. Among these differences, we see that younger consumers care more about social equity in the way a business treats employees and its support of causes they believe in, while older consumers are more influenced by quality and pricing in building trust with a brand.
The impact of these trusting relationships is especially critical for large purchases that represent a higher risk to the consumer, as you can see below. We see agreement across both genders that trust impacts their purchase decision significantly and, unless you can build a trusting relationship with your target market, you stand little chance of success.
How you can build a trustworthy website
First, and foremost, you build a trustworthy website by crafting one that is appealing, functional, and contains the type of content that engenders trust. Choosing content based on its value, transparency, and utility for visitors in making decisions is a major factor in building trust. Your goal when you build a trustworthy website is to provide a superior user experience in every way.
Search and navigation impact the user experience
Make it easy for visitors to search your site and provide information that they need to make a purchase decision. A good way to make sure your website appears trustworthy is to position it as a useful resource, not just a sales tool. A website is a place where visitors come for information that's accurate and up-to-date.
Ensure your navigation is intuitive and offers meaningful ways to filter results to make it easy for visitors to find what they're looking for. As an example, my daughter was looking for a wedding dress for her beach wedding. Given all the sand and heat, dress length was an important decision variable. Yet, none of the major wedding gown websites allowed visitors to search based on length. Instead, filters focused on elements of lesser value in making a decision, such as the designer. As you construct the databases supporting your search function, consider what's important to visitors not what's easy for you to build into the database.
Use care in crafting content
Crafting valuable content on a consistent basis is one of the biggest factors impacting your rank in search, thus impacting your ability to attract visitors to your website. But, high-quality content also helps keep visitors on your site, motivates them toward making a purchase, and develops trust by offering the accurate information needed to make an informed purchase decision. For instance, I once bought a teapot on eBay only to find it was a tiny decorative pot rather than a usable one. This fact wasn't clear in the description of the item.
Be careful of advertising on your website as well and ensure it doesn't interfere with the user experience. Banner and pop-up ads help you generate some extra revenue with your company website. However, they can cause a problem for you. A website that is packed with ads for offsite or unrelated products appears unprofessional and spammy, which nobody wants. Make sure your whole website is about your customer's needs and limit your use of ads for external products unless they provide value to visitors.
Choose your domain name and hosting carefully
Calling your website something like cheapweightlosssupplements.com can make it seem like spam, and not very professional. Trying to fool users into coming to your website is destined to make your business seem untrustworthy. For instance, there's a website called whitehouse.com, a porn site, that seeks to capitalize on users' who type in the wrong URL for the White House.
Buy a domain name related to your business and avoid website builders where your domain is a subdomain of the builder's URL. For instance, brand.blogspot.com. Not only does this dilute your brand but website builders don't result in well-built websites and kill your SEO. Managed WordPress hosting is a much better option that comes with custom domain names or allows you to bring your own domain name to create the right first impression. Managed website hosting also builds faster websites, which is important as users will wait only a few seconds before they click on a competitive website.
Provide fast customer service
Include multiple channels for customer content, should the need arise. Offer phone and email support as the bare minimum and set standards for responses to their queries then monitor performance to ensure your staff meets those standards. If you can afford the time and money, consider adding a chatbot to your website to offer 24/7 support for common customer interactions.
Display trust seals and social signals
If you have a high BBB (better business bureau) rating, show it. Also, you can gain seals from several organizations to demonstrate your trustworthiness. Showing your awards and accreditation also helps build a trustworthy website.
You should request feedback from customers to provide a social signal that your brand is trustworthy. Whether you have positive reviews, ratings, or great comments that customers sent you, make sure that consumers can see these when they make it to your website. Displaying honest reviews and star ratings greatly impacts the willingness of visitors to buy from you. However, you need a process to ensure the reviews are honest. Amazon, for instance, quickly removes reviews the firm sees as suspicious to help make them more useful to visitors.
Highlight warranties and product guarantees
Nothing makes consumers feel confident like a money-back guarantee. If you offer a guarantee of your goods or services, make sure to display them prominently on your website, along with instructions on how to take advantage of the guarantee if the customer finds it lacking.
Warranties also encourage trust and purchase.
Conclusion
You need potential customers to feel as though you are honest and worthy of their money. When you build a trustworthy website it goes a long toward reaching this goal. Use these tips to build trust as you develop and maintain your website.
Need marketing help to support business growth?
We welcome the opportunity to show you how we can make your marketing SIZZLE with our data-driven, results-oriented marketing strategies.  Sign up for our FREE newsletter, get our FREE guide to creating an awesome website, or contact us for more information on hiring us.
Hausman and Associates, the publisher of MKT Maven, is a full-service marketing agency operating at the intersection of marketing and digital media. Check out our full range of services.