On this site, we offer advice on how to boost retail traffic to your online store through various blog posts. We discuss SEO trends, as well as how to use content marketing, remarketing, digital advertising, and social media to drive traffic to your site. But, did you know, you can use these same tactics to boost retail traffic to your physical store, as well? In addition to these tactics, you can use traditional marketing tactics to boost retail traffic to your store. Today, we'll show you how.
You may find it challenging to implement all the strategies listed below, especially as a small business with limited resources. Seek assistance from marketing firms in Nashville or another local marketing firm that can help in such circumstances. The top marketing agencies will assist you in implementing the proper combination of tactics to design a marketing plan that fits your market and reflects the best use of your limited resources. Let's look at the methods you may execute on your own and those you might use a marketing firm's help to accomplish.
Strategies to boost retail traffic to your physical store
While online retail continues to grow and dominate much of the conversation around marketing, especially during the pandemic when lockdowns and fear resulted in more online shopping, the role of physical stores as a means to generate revenue is still critical for success for many businesses. The pandemic hastened the growth of online retail sales, as you can see in the graphic below. but that still leaves a lot of revenue for physical stores.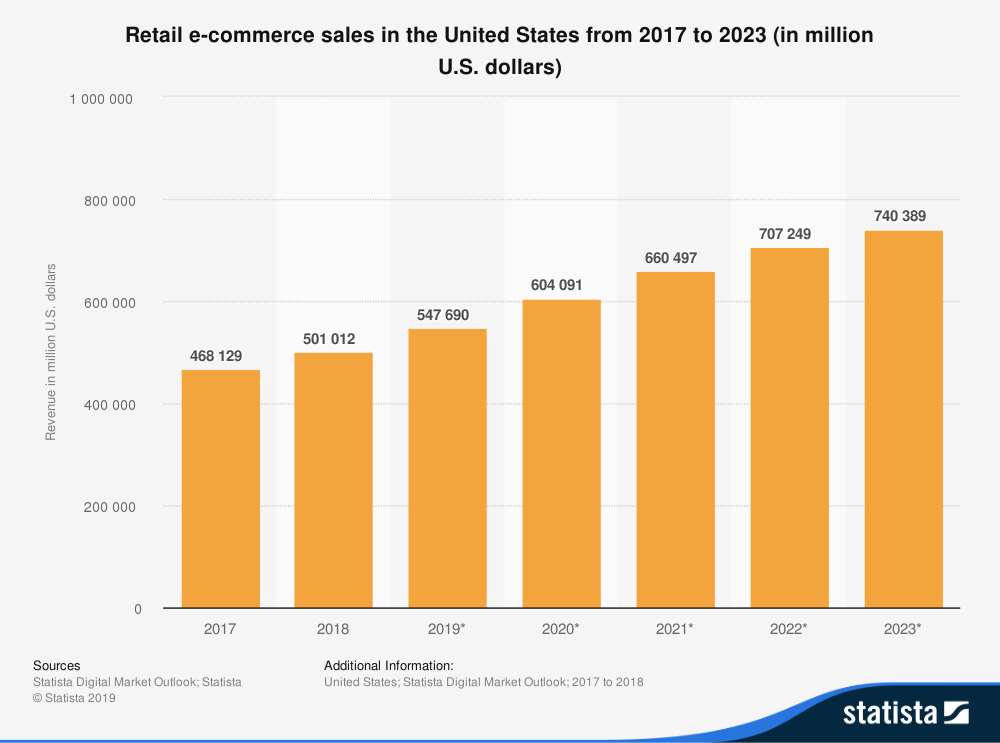 In 2021, global retail sales from physical stores continued to dwarf online retail sales with physical retail sales reflecting nearly 80% of all sales at the retail level. Although experts forecast that online retail will continue to make inroads, projections for 2025 show that physical retail still reflects 72% of all retail worldwide (same source).
Due to the cutthroat competition that exists in most markets, increasing foot traffic isn't easy or cheap for everyone. It also isn't always evident which strategies and tactics you can use to boost retail traffic to your store because the nature of physical shopping changed so much over the last few years. For instance, foot traffic in malls nearly disappeared while traffic transitioned to multi-use outdoor facilities combining entertainment, shopping, and residential. With so many choices, getting customers to visit your physical store is challenging but not impossible. Here are some practical ways to help your brick-and-mortar retail store attract more customers and increase sales.
Let's get started!
Promote at local events
Local events are an excellent way to generate momentum, particularly for small business owners who commonly appeal to a local crowd. Fairs, festivals, and conferences are examples of local events where you can engage with your market to promote your store. Make a list of events that attract your target market and seize the opportunity to market your business in person. With more in-person events returning this year, you have an entirely new tactic you can try or return to after 2 years of canceled events.
Consider events that attract a large number of local attendees and may even attract tourists. For instance, in Florida (Plant City, to be exact), you have the Strawberry Festival and where I live, you have the Apple Blossom Festival that attracts tourists from near and far. A big tech fair, SXSW, is billed as the geek spring break and helped launch several tech brands; most notably, Twitter. Many states have a state fair and all have local events that bring people together.
Consider purchasing a booth at the event or doing guerilla marketing, such as hiring folks to hand out coupons or samples at the venue or nearby. You can paint streets with your logo, set up games with branded game pieces or backgrounds, or create branded statues to display. See the ad painted on the convention floor for Frontline below as an example.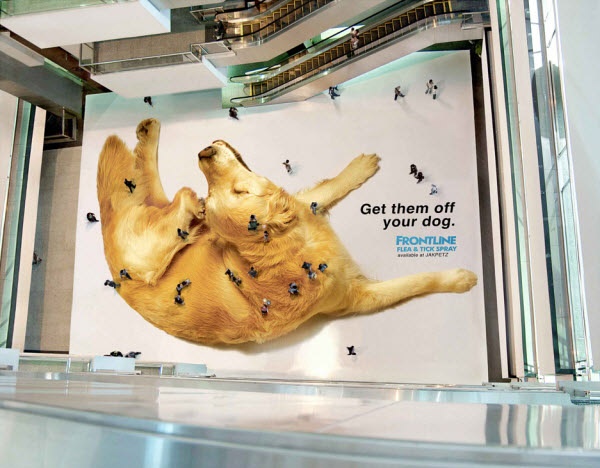 Leverage social media
Social media is much more than just a communication tool. It evolved into a vital branding tool that allows you to engage directly with your target market. Social media effectively exposes your retail business and its offers to locals and even outsiders depending on your targeting. Post a variety of content types and portray your products in a positive light to engage followers who amplify your messages to their friends and provide a tacit endorsement for your products.
Of course, social media isn't just something you hand over to your second cousin just because he's a digital native. It takes skill, experience, and a strategic plan to transform your social media into a useful tool that helps boost retail traffic to your store.
You can also leverage influencers on social media. Influencers have an engaged following that trusts them and wants to emulate the products they use. Here's how to harness the power of influencers.
Suppose you own a restaurant but want to bring in more diners. In this scenario, reach out to a well-known food blogger in your community and ask them to promote your business in exchange for free meals, discounts, or even cash. You can collaborate with a blogger like 'blondeswhoeat' to post content about your food business. Their followers learn about your business from these posts and, because they trust the blogger, they'll give you a whirl.
You must carefully consider the influencers you use. Their followers must represent your target market or your efforts will fail. You must consider the reputation of the influencer to ensure their reputation translates to your brand and that reputation is considered good by your target market. Consider the backlash companies faced after revelations about the sexual indiscretions made by the golfer, Tiger Woods, as a cautionary tale about aligning yourself with influencers.
Of course, attracting new customers to your retail store is only the first step. You must deliver on the promise of high-quality and reasonable prices to keep them and avoid negative comments that can sink your brand. You'll quickly find you can't attract influencers if you don't uphold your brand image.
Google My Business listing
Did you know that roughly half of all Google searches reflect a local intent? Local SEO, especially on mobile devices, captures this intent to help promote your business and drive traffic to your local store. Hence, if customers search for stores in their region on Google, Google automatically delivers local businesses first and offers an enhanced listing that provides ratings, phone numbers, and even maps the location of the top local businesses that match your query, as you can see in the results below.
Local SEO (search engine optimization) starts with a company listing on Google My Business for optimal visibility. This is a free product offered by Google that requires a local physical address for verification of your location.
To establish a rich and impactful GMB page, include all critical information about your business including a correct address, phone number, social media profile links, hours and days of operation, and other unique features using relevant keywords. In addition, post appealing photographs and request reviews from satisfied customers. If you run a fashion company, post a catalog of the most outstanding outfits on the list, and you look your best to visitors.
But, local SEO is more than obtaining this listing. Local SEO involves a series of tasks, from fundamental to advanced ones, designed to show Google and other search engines that your content provides value to visitors. Content with the most value is shown first in search engine results pages and garners more clicks (significantly more for the top 10 search results). 
Below, you can see a list of tasks necessary for local SEO, from Moz, a leading SEO provider. At the bottom of this pyramid are fundamentals of local SEO while those at the top are more expert tactics. If you can master just the fundamentals, you have an excellent chance of showing up near the top in the search results.
Remembering that all SEO involves proving the quality of your content, the fundamentals of SEO are:
Website optimization
Website optimization involves developing websites that are:
Mobile friendly
Load quickly, as reflected by Core Web Vitals
Are well coded with an easy-to-find site map (robot.txt) used by search engines to find and categorize the content
Keywords used to match user intent
Content marketing generates fresh, valuable content on a consistent basis, such as blog posts
Provide an excellent user experience by employing menus, breadcrumbs, and organization to help visitors find what they're looking for
Website quality
Quality content isn't always easy for search engines to quantify because they're not humans, they're code snippets that lack judgment. Instead, search engines look for social signals that the content is good. Among the social signals used by search engines are:
Engagement on social media
CTR (click-through-rate) based on the number of impressions the content receives
Length of content; longer content (over 2000 words) represents a deeper treatment of the topic, in general
Outbound links to high authority sites act like citations in an academic paper to show significant research
Backlinks to your content from other respected websites (this contributes to domain authority)
Comments on your posts
Compliance with guidelines
Website content that complies with guidance from search engines performs better. Using alt tags on your images to make them readable by search engines and those with visual difficulties, including a meta description that's invisible to visitors but helps the robot.txt categorize the content, and using only white hat SEO conform with guidelines established by search engines. Providing for user privacy (ie. warnings about the use of cookies, privacy statements) and security (such as using the HTTPS protocol) also comply with guidelines.
Boost retail traffic with location
The rubric in retail was always, location, location, location, and today is no different. However, choosing the right location is different. Gone are the malls in favor of outdoor, multi-use spaces. As more anchor stores close their doors, generating foot traffic means offering a collection of entertainment venues along with retail offers your best chance of success.
In today's world, the choice is no longer between online and physical stores, but online AND physical stores in a single location. Below, you see how McKinsey images the combination of online and offline retail.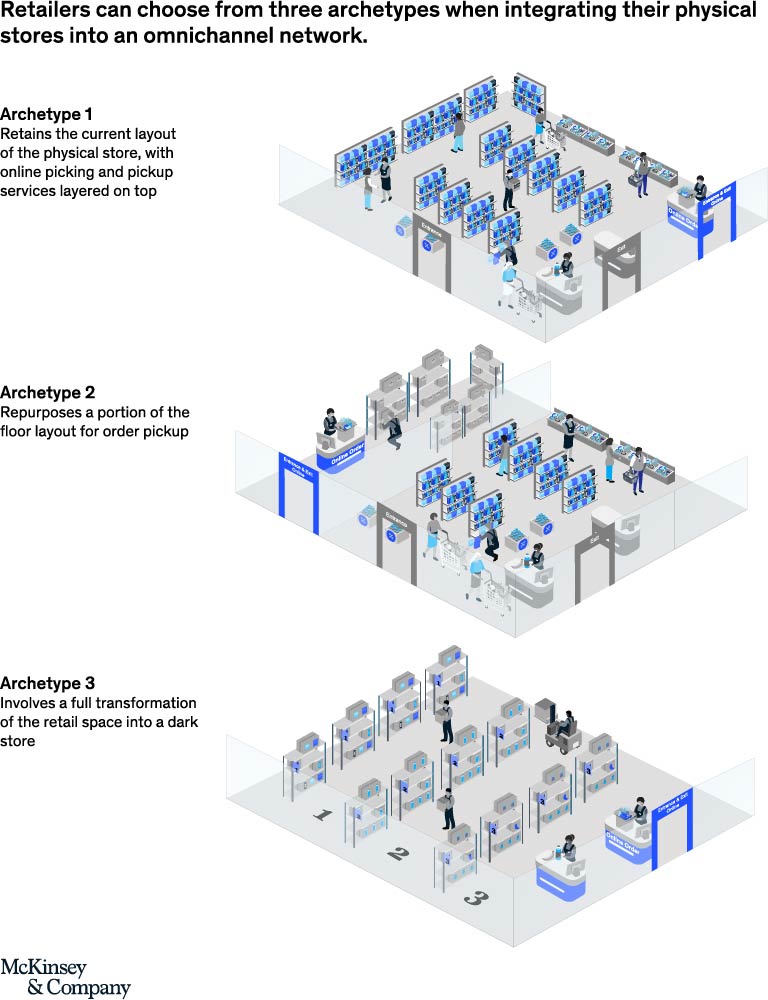 In this new omnichannel world, retail stores work to fulfill online orders as well as meet the demands of in-store shoppers seamlessly. For smaller businesses, this may mean a larger retail store that serves as the warehouse to fulfill online orders for pickup or delivery. It may also mean customers make purchases by scanning barcodes and paying at checkout then picking up items at a separate entrance.
The reality of a multi-channel operation is that providing WIFI in the store is no longer a nice add-on but a business requirement. While this means customers can compare prices with your competitors before making a purchase in your store, it also means they can share pictures of products and images of themselves with the product on social media to get recommendations from friends that gives them the confidence to make the purchase rather than putting it off. It also means others see them with the product, acting as a tacit endorsement of your brand.
Final word
There are hundreds of marketing strategies, methods, and ideas to boost retail traffic. We've just scratched the surface of the opportunities and ways of incorporating them into your overall marketing strategy since we realize that proper execution necessitates tough choices that match your resources, although, with the assistance of an expert marketing firm, you can expand the number of tactics you employ. So, choose the best combinations of tactics, including hiring a marketing firm to help, and reap the benefits in terms of increased revenue.
Need marketing help to support business growth?
We welcome the opportunity to show you how we can make your marketing SIZZLE with our data-driven, results-oriented marketing strategies.  Sign up for our FREE newsletter, get our FREE guide to creating an awesome website, or contact us for more information on hiring us.
Hausman and Associates, the publisher of MKT Maven, is a full-service marketing agency operating at the intersection of marketing and digital media. Check out our full range of services.