Recently, experts like Jeremiah Owyang question the fit between blogging and social media. I mean, with Facebook, Twitter, and TikTok, do we still need blogs?
But, below is a look at blogging fit works to create business success, according to Technorati:
As you can see, bloggers are blogging more because people still read blogs and buy based on information from blogs. Blogging fulfills some personal goals by impacting the social lives of bloggers. For instance, I started blogging as a way to move the discussion of evidenced-based digital marketing strategies forward in a way that wasn't possible through academic publishing outlets that were slow and rigidly married to a paradigm from a bye-gone era where insights came from theory rather than bubbling up from the data.
Brian Solis says it very well in this quote that's a little dated but still accurate:
When you think about social media, what do you envision? Twitter, Facebook, Youtube, Foursquare? If you're like me, blogs would have made the top of the list. But how can blogs survive in a time when the attention of connected consumers is not only precious, it's elusive. After all, people can read no more than 140 characters at a time right? With the surplus of networks and a river of social activity that washes away personal information levees, how can we be anything but distracted? In fact, this is the time to compete for attention by not just feeding it forgettable snacks here and there, but enrapturing it through value, direction, and insight. Do the work no one else can make the time to do. There's always a market for intelligence.
So, maybe you thought about how to make blogging fit into your social media strategy, but don't know where to start. Today, we start a series dedicated to helping you begin blogging and integrate it into your social media strategy.
Why you need a blog
Social media isn't a good e-commerce option
A blog gives your social media marketing strategy a home base where you can send potential buyers to close the deal. Social media platforms are great for engaging potential buyers, for gaining awareness, and for getting satisfied buyers to share your message, but your blog is what draws buyers to your website where you can sell them products. Facebook and Instagram (together owned by Meta) offer options for setting up a store but you can't control what happens there. Any day Meta might decide to discontinue stores or change terms, layout, and options for your online store. If you put all your effort into supporting these social media stores, you must now start over with a different e-commerce option. Besides, I know friends who suddenly find Meta deleted their business page or eliminated an item they're selling in Marketplace without warning or explanation. It takes them months to get their pages and items back online if it happens at all. I don't know about you, but that's not a risk I'm willing to take.
SEO
SEO – search engine optimization brings buying-ready traffic to your website based on queries that match the keywords used in your blogging efforts. SEO, which represents up to 70% of traffic to your website, is based on a complex, multi-variable algorithm that determines your rank in search queries. The higher your rank the more traffic visits your website, as you can see below.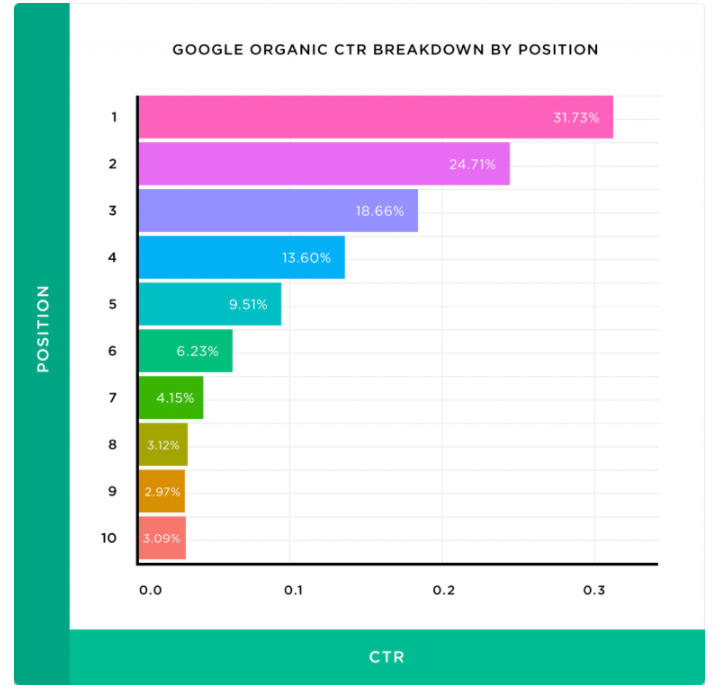 One of the biggest impacts on your rank comes from producing valuable content on a consistent basis, which means hosting a blog on the site. Sure, engagement in social media helps promote your rank, but it's the quality of your blogging content that cements your position in the ranking algorithm because many other factors such as acquiring backlinks, improving time-on-site, decreasing bounce rate, and encouraging repeat visits all contribute to your rank.
Gain valuable insights
A blog also provides valuable insights into what your target market wants and how they respond to your marketing efforts. By installing the Google Analytics code on your website, you can follow traffic visiting your site to discover how well your messaging resonates with visitors so you can optimize your messaging, including offers and calls to action (CTAs).
Moreover, you have unlimited space and content options to choose from instead of limiting your messaging to 240 characters (on Twitter) or posting images without any context (on Pinterest). You can post videos showing prospective customers how your products make their lives easier, demonstrate installation or usage to ensure buyers are happy, and promote your corporation's commitment to the community. You can post images of happy customers, engaged employees, and embody the management of your company. You can write text that helps move visitors from awareness to purchase.
While the content on your blog helps bring traffic to your website, it should also act as a salesperson, convincing visitors and motivating them to buy your brand. Blog content should also make it easy for visitors to find and buy your brand, without being overly promotional. So, blog content should focus on informing visitors and using the tools of influence to motivate sales.
As you can see in the image below, the blogging fit of your content drives business success. Blogging sets you up as a thought leader in your space, with 55% more visitors, 97% more inbound links (backlinks, a key ranking factor), and companies that blog more frequently see a much higher rate of conversion than those blogging less than once a week. Check out this image to see all the ways blogging fits with your marketing objectives.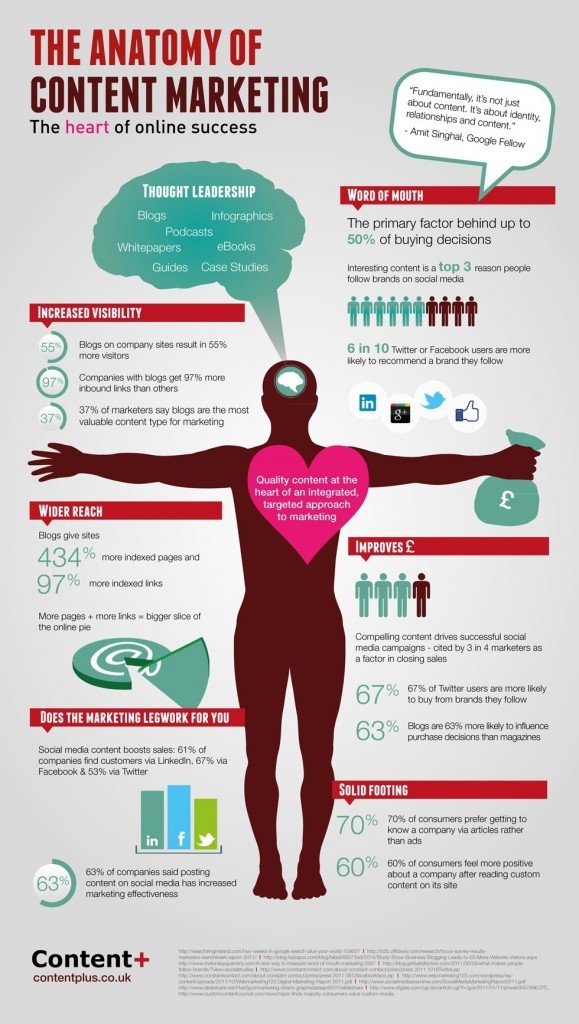 Optimizing your blogging fit in a social media world
Step 1. What should you blog about?
First, your blog needs a tight focus rather than a hodge-podge of unrelated posts. Your blog should also relate to your business in some way and support other elements of your social media strategy. A good example is King Arthur Flour where they blog about baking, share recipes, and answer your questions related to using flour.  Another very different approach comes from American Express (American Express Open Forum) where they blog about things their target market needs (business advice) even though the posts aren't related to their core business.  Finally, look at British Telecom, which operates 3 blogs, each delivering insights important for one of its three target markets. Other elements of their social media marketing strategy echo topics from the blogs — so they're integrated.
So, why build a blog around what customers need rather than your business? It builds community (traffic) and is likely to attract a target market ready-made for the products, services, and advertising you dish up. Here's a great reference to help you understand what a target audience is and why it's important for your blog to have one.
Blog about something that's personally interesting and/ or represents a topic you're knowledgeable about.
If you're not interested in the topic, you'll likely get bored quickly or run out of ideas for posting.
If you don't know much about the topic, you can't contribute value to the conversation and you won't attract visitors.
And don't forget, there's lots of competition out there, so you need to offer a unique perspective to keep readers coming back.
Step 2. Finding keywords
SEO is built around keywords that express users' search for information. With voice-activated devices such as Siri and Alexa starting more and more queries, keywords are getting longer. One-word keywords are out and keywords comprised of four words are more common now. Since you should only use a keyword once on your blog, you'll likely find you need long-tail keywords just to keep content from competing with other pages on your blog. There are lots of tools from Moz and SEMRush to help you find suitable keywords. Google even offers a free Keyword Planner tool as part of the Google Ads platform to find suitable keywords.
Step 3. Write content
Writing valuable content on a consistent basis is a huge undertaking. Building on successful keywords (you can find keywords that bring traffic to your site using the Google Search Console), you should create content on a schedule. I created a content marketing calendar template to help you build content regularly. You can download a fillable copy of the template using this link.


A content calendar reduces the effort needed to create content by building a month's worth of content ideas. It also helps ensure you create content for different target market segments and visitors in different stages of the buying process on a regular basis. Since valuable content requires assets, a content calendar identifies images (including infographics) and links to help you present your topic in a way that demonstrates its value. Just as a research paper includes references, links to high authority sites across the internet show you did your research and help visitors get the most value from your topic.
Blogging fit into social media strategy
Notice in the content calendar, I recommend using your blog as a starting point for social media posts. For instance, once you publish a new blog post, share it with your community on social media. On Twitter, you can share your blog post several times across different times and days although Facebook discourages duplicate posts. You can break up your blog into small bite-sized chunks and share it across your social media over multiple days.
By the same token, you can scour your social media communities looking for ideas for your blog so you can create valuable content around the topics and questions you find on social media.
Next steps
Today, we introduced the notion of blogging as part of your overall social media marketing strategy. Here's what we covered:
Why your need to blog
How blogging supports your business success
What to blog about
How to optimize your SEO using a blog
Creating valuable content rests on well-researched topics of interest to your community
Blogging fit within social media is a two-way system where blogs create options for sharing content on social media and social media creates topics for blogging
If you search blogging or blog on this website, you'll find lots of content discussing the hows of blogging and integrating your blog into your social media marketing strategy so don't stop with this post. A few of these optional posts are listed and linked at the bottom of this post.
As always, your feedback is important. So, please let me know what you think, ask questions, and let me know what other topics you'd like to see covered here.
Need marketing help to support business growth?
We welcome the opportunity to show you how we can make your marketing SIZZLE with our data-driven, results-oriented marketing strategies.  Sign up for our FREE newsletter, get our FREE guide to creating an awesome website, or contact us for more information on hiring us.
Hausman and Associates, the publisher of MKT Maven, is a full-service marketing agency operating at the intersection of marketing and digital media. Check out our full range of services.