The mass appeal of WordPress is sometimes deceptive, leading people to view it solely as a basic platform for amateurs. In truth, while it was devised as a platform for bloggers (whether amateur or professional) and suits beginners due to being free and accessible, WordPress is also a robust and scalable foundation for all online businesses. In fact, 43% of all websites across the entire internet are built on WordPress. WordPress can, and does, even function well at the enterprise level. Among the top websites built on WordPress, you'll find the New York Times, Sony Music, The Walt Disney Company, and Techcrunch. If you're building a WordPress website or modifying an existing one, you may wonder which are the best WordPress plugins. In this post, we share our answer to that question.
How to build a WordPress website
WordPress is an open-source content management system (CMS). According to Sitecore:
A content management system is for creating, managing, and optimizing your customers' digital experience. More specifically, a CMS is a software application that allows users to collaborate in the creation, editing, and production of digital content: web pages, blog posts, etc.
Basically, a CMS, along with templates and plugins does most of the heavy lifting when it comes to building a website, which means you can build a unique, functional website without the time and hassle of learning to code. Back in the dark ages, when I built my first websites, each website was hand-coded from scratch, which was very time-consuming and, for website owners, expensive. Now, you can build a small website in an afternoon. I even produced an ebook that walks you through the steps using a ton of images that make website development easy. In that ebook, I also suggest the best WordPress plugins for most information-heavy sites. Today, I discuss the more general topic of the best WordPress plugins with a focus on e-commerce.
Although you'll find other CMS available, such as Drupal and Joomla, WordPress is more ubiquitous. WordPress is open-source, which means it's free to use and supported by a large group of dedicated coders who keep the system up-to-date, constantly adding new features and plugging holes. You'll also find website builders like Wix, Squarespace, and even WordPress (.com rather than .org, which is the CMS). Avoid these builders as they don't have good SEO properties and, as such, don't rank well in search. As you can see below, as your position in search results drops, so does the amount of traffic you get visiting your website. Less traffic usually translates into fewer sales and other types of conversion.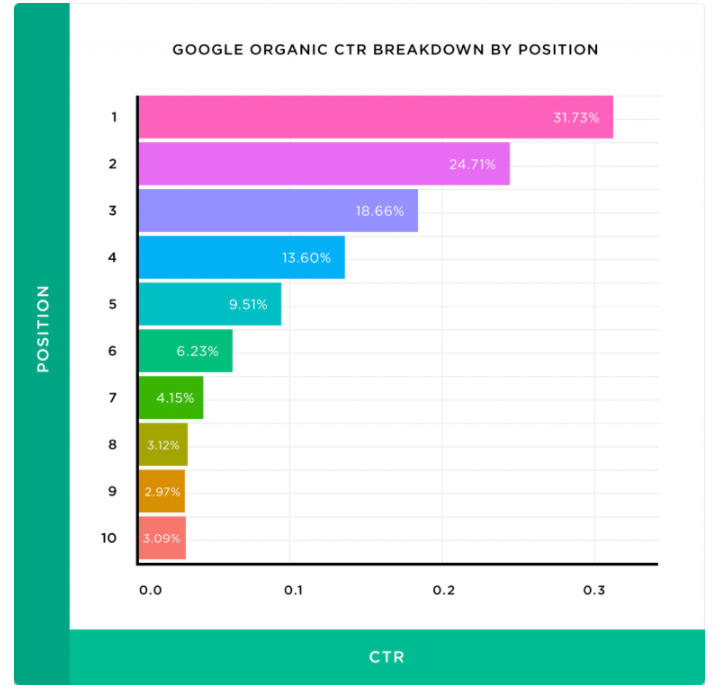 In building a website, you need to start with your CMS, hopefully, WordPress. Next, you choose a template that fits your vision of the finished website. The template lays out the sections of the pages; making it easy to insert your own content and end up with a nice finished product. Plugins lay on top of the template to add functionality. Due to its vast plugin lineup, WordPress users can pursue rich customization options without any need to learn to code. Invest your time and effort in adding the best WordPress plugins and you radically change the functionality and design of your website with remarkable ease.
It bears remembering, though, that it's perfectly possible to use too many plugins. In addition to being difficult to manage, a large set of plugins may generate conflict when two or more plugins try to access the same files or change the same settings. Adding unnecessary plugins also creates security vulnerabilities and may result in websites that don't load quickly, which lowers your rank in search results and generates fewer visits to your website. To be safe, you must only add the best WordPress plugins, rather than adding them indiscriminately.  A good rule of thumb is to add no more than 20 plugins to your WordPress site.
In this post, we suggest a small selection of the best WordPress plugins that aid business growth. If you achieve stable performance and you want something to help you reach the next level, adding a few of the following plugins might help.



Best WordPress plugins
WooCommerce
If your business already operates in the e-commerce sector and you're happy with how your website incorporates e-commerce into the website, you can proceed to the next entry in the list — but if you need a great e-commerce solution, building or redesigning your website is the ideal opportunity to consider everything that online retail brings to your operation. WooCommerce is the de facto champion of e-commerce for all WordPress users, making it one of the best WordPress plugins. WooCommerce is free, widely supported, and highly configurable to any use. And even if you don't have any interest in manufacturing products or building a huge (and expensive) inventory, you can still take advantage of dropshipping.
Dropshipping is an e-commerce option that involves serving as a retail go-between. You list products from large suppliers, adding on profit margins as you do so, then pass the resulting orders to them for processing and fulfillment. You don't need to stock any products or do anything beyond build a market for their products and earn a profit in the process. If you cultivated a strong brand already or are willing to put in the effort to do so, selling a range of curated items can provide an additional revenue stream that supports your success and growth.
Overlapping with dropshipping is the world of print-on-demand, though, and it's this that holds the most promise for budding entrepreneurs. If you create some custom designs to represent your brand, you can use a service like Printful to easily start selling branded merchandise. It's key to note that you don't need to sell many pieces of merchandise to result in success since, if you don't make any sales, you pay nothing (or very little) for the use of the service itself. Print-on-demand reduces your risk and offers the tantalizing reward of revenue.



Yoast
SEO is a vital long-term investment for any ambitious business, as shown above, and though WordPress offers a strong platform that supports search performance, you get better functionality and ease of use by adding a plugin. This is where the free Yoast SEO plugin enters the picture. Yoast SEO is the standout performer for WordPress SEO, and it remains at the top of the pile. An alternative is the All-in-One SEO plugin. Installing Yoast SEO allows you to improve the clarity and crawlability of your content, leading to a notable boost in the SERPs (your rank in search) by adding a custom meta description and keyword phrase to help robots crawl your site more efficiently. It also generates a site map that helps the robot detect new content quickly. The plugin also rates your content as you write and offers suggestions to improve your SEO prior to publication. A paid version of the plugin with additional features is available, as well as a service offering to help further improve your SEO with additional data.
Playing on the previous recommendation, you may also want to consider Yoast E-commerce SEO. As the name suggests, it's an e-commerce-specific version of the generic plugin. It does require a one-time fee, unlike its better-known predecessor, but it offers some great new features that allow you to improve things like internal searching and social sharing.
Remember that Yoast won't do all the work for you, though. You still need to read up on best practices for meta descriptions, URLs, breadcrumb trails, and various other technical SEO factors to customize your content using the plugin. Yoast simply allows you to take control of all these variables in a way that you can't easily accomplish through the default WordPress setup.
MosterInsights
MonsterInsights is another plugin from the team at Yoast. This plugin connects your site to Google Analytics to provide actionable insight on your performance with the goal of improving your outcomes. Sure, you can connect your site to Google Analytics without this plugin by adding a piece of JavaScript in the <head> section of your website, but MonsterInsights makes it so much easier, especially for those of you who might fear touching your website structure, where a mistake has deadly consequences. MonsterInsights also brings key metrics from Google Analytics to your dashboard so you can track your performance every time you log in.
Although this plugin doesn't directly impact your e-commerce, it helps you make decisions about content, channels, and other marketing tactics to improve your performance.
WPMU Dev
Load speed is now a critical ranking factor and is likely to become more important over time as visitors, especially those on a mobile device, aren't willing to wait long for your site to load. Google's Core Web Vitals allows you to assess your load speed and offers a grade as a benchmark against other websites.
A variety of plugins are available to help you improve your load speed. My personal favorite is WPMU Dev, which includes a set of plugins to improve performance by compressing images, caching content so it doesn't have to load every time but delivers a stored copy of your content, and minification to speed up your site. This plugin isn't free, although there are free versions of some of the individual plugins, but, for my money, it's one of the best WordPress plugins for speed.



LearnDash
What if you want to sell things online but you're not interested in conventional e-commerce or even dropshipping? If so, you could try selling information. The online learning industry grew immensely over the last few years, with pandemic life preventing many people from attending conventional courses — and the convenience of the process ensures that it'll stick around.
Your time in business surely taught you a variety of lessons. You picked up useful skills along the way, forming an in-depth understanding of your chosen niche. So why not take advantage of this expertise by monetizing your experience? Adding the LearnDash plugin to your WordPress site allows you to list and sell digital courses without the need for an additional site. And again, if no one buys any of your course materials, you won't lose out.
You can set up downloadable courses, or you can run everything through the site with user logins, quizzes, and certificates attesting to the completion of particular tracks. Your choice depends on how hands-on you want to be and how much knowledge you feel you have to offer.
Weglot
A mistake that many companies still make is assuming that international operation is something practically limited to huge corporations. They envision globalization requiring foreign headquarters and local hiring sprees, with teams of lawyers on hand to navigate uncharted waters. In truth, ever since internet access reached the point of being a de facto utility throughout the world, it's possible for most businesses to start operating across national borders.
Global supply chains and shipping networks make it remarkably easy to send products overseas, and we already covered the value of dropshipping. You can easily supply software, tickets, and other intangible products regardless of location, as with many services. So what are you waiting for? Well, in many cases, it's a matter of language.
If you want to start reaching people overseas, you need to factor in the language (or languages) they use. Though it's certainly common for people to speak at least conversational English, non-native speakers always prefer to do business in their primary tongues. This is where we recommend Weglot. It's available for various platforms, but it's the Weglot translation plugin for WordPress that we're looking at here.
Deploying Weglot allows you to readily translate all your site content, using automation to make the process relatively painless while delivering a result that far surpasses anything you'd get from something like Google Translate. If necessary, of course, you can have some freelance translators edit the results. Once you speak to someone in their language, you have a much better chance of convincing them to place their trust in you and buy your products.



Metorik
It's extremely difficult to grow a business if you don't fully understand how it operates, and that means getting in-depth analytics. There are metrics provided by WordPress without an additional plugin, yes, and there's the tried-and-tested option of using Google Analytics for more in-depth metrics and dashboards. Of course, Google Analytics is free, but you may want a more well-rounded solution such as the Metorik analytics plugin for WooCommerce.
You do need to pay for Metorik, but the pricing is based on how many orders you make per month, allowing it to scale with your success. If you're not making many sales, you won't need to pay much for insights into where you're going wrong. The potential for segmentation and product insight is notably rich, allowing you to get extremely granular with your assessment.
What if you're still not interested in using WooCommerce? If that's the case, you can try using the MonsterInsights plugin, as mentioned above. It can do many of the same things as Metorik, though there are some differences in their strengths and weaknesses. But if you don't want to spend any money, you can simply get better at using Google Analytics. It isn't a very user-friendly option, but it's undeniably powerful and features impressive integrations.
The best WordPress plugins
This is really a partial list of the best WordPress plugins for e-commerce. I could add several more, especially considering you also need your website to perform well, regardless of whether you operate an e-commerce site or not. Here's a list of a few others I employ on this website:
Jetpack is from WordPress and adds some functionality such as spelling and social sharing. It's available as a free download or a pro version
Akismet Anti-Spam is just what the name implies
A security plugin to protect your site. I use one provided through my hosting company, Siteground
Meanwhile, I'd love to hear from you on the plugins you love. So, add to my list of the best WordPress plugins in the comments below.
Need marketing help to support business growth?
We welcome the opportunity to show you how we can make your marketing SIZZLE with our data-driven, results-oriented marketing strategies.  Sign up for our FREE newsletter, get our FREE guide to creating an awesome website, or contact us for more information on hiring us.
Hausman and Associates, the publisher of MKT Maven, is a full-service marketing agency operating at the intersection of marketing and digital media. Check out our full range of services.