What are some of the best marketing tactics to help you improve ROI and meet your marketing goals? That's our topic today so read on. Continuing to expand your company marketing efforts by trying out some of the best marketing tactics for your market niche means you improve your market performance and everyone wants that. Right? Using the right marketing tactics is effective in gaining new customers, increasing average order size from existing customers, acquiring reviews and recommendations that convince consumers they can trust you, and bringing existing customers back time and time again, which generates higher sales.
In turn, you gain more profit, allowing you to seek more financial freedom and success when using the right marketing tactics for your business. If you are unsure of the best marketing tactics to increase profitability, continue reading to learn more.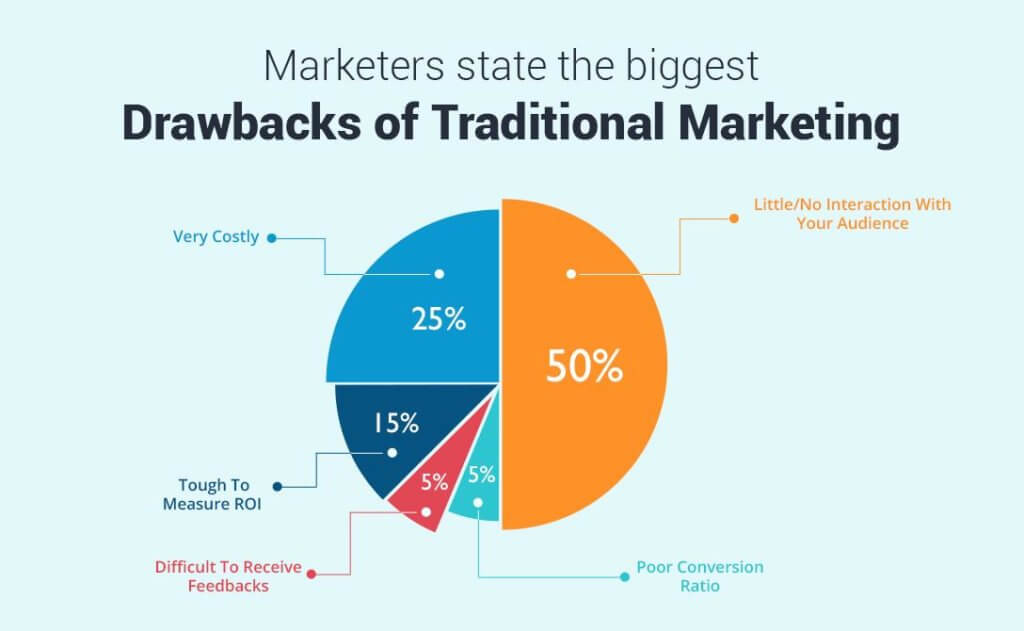 What are the best marketing tactics for your brand?
As you can see in the image above, traditional marketing suffers from many serious drawbacks when it comes to marketing your brand. Using the right digital marketing tactics helps you overcome these drawbacks and helps ensure your business reaches your target market in a cost-effective way that enhances conversion so you increase your revenue. Below, find some of the best marketing tactics to help you reach your marketing goals.
In determining which are the best marketing tactics for your business, you need to do some research and then build a plan that combines these tactics in a manner that helps you reach your goals. Below, you can see how the process should work.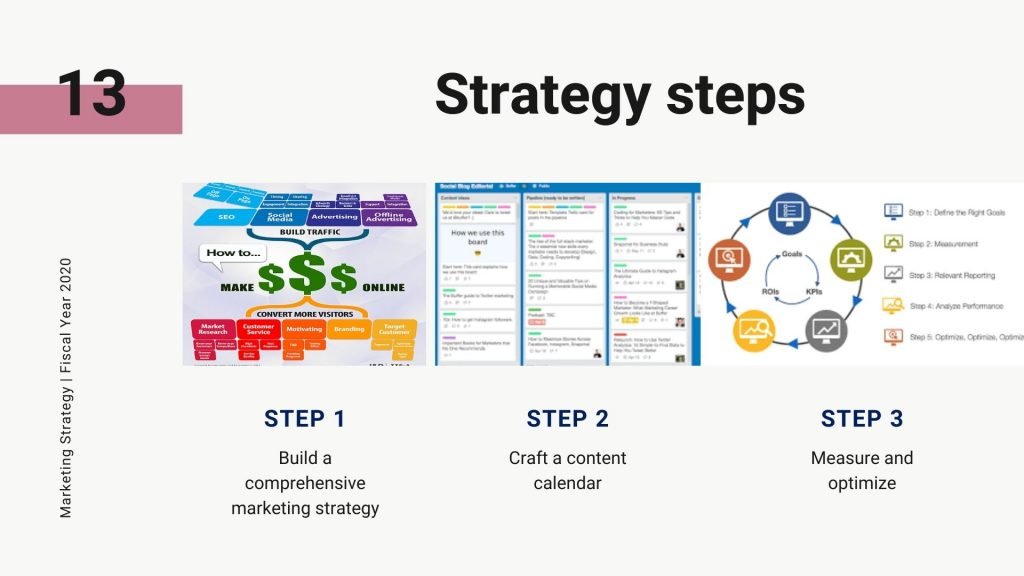 Email marketing
Some companies might believe that e-mail marketing is a thing of the past. In fact, email marketing offers the highest ROI (return on investment) of any marketing tactic available, as you can see below.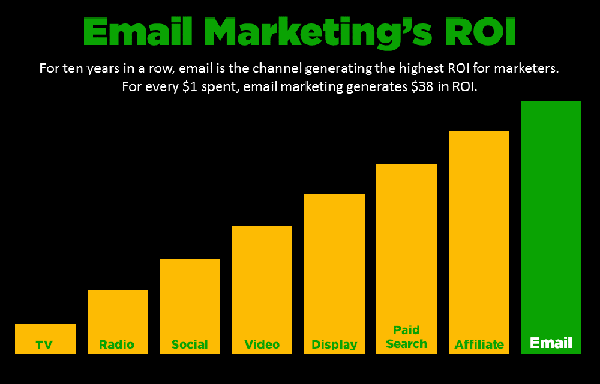 Every single one of us has an e-mail inbox and checks our e-mail from time to time. Therefore, if you keep up your e-mail marketing strategy, you pop up in the inboxes of your new prospects and existing customers so they don't forget about you.
Email marketing actually involves two tactics. You must first grow a subscriber list, as most European countries and North America have privacy laws that don't allow you to email subscribers on purchased lists anymore. You can add customers to your subscriber list, as well as others you've done business with in the past but, beyond that, you must have explicit agreement from subscribers before you can send emails. Next, you must create email messages that resonate with subscribers so they don't unsubscribe or relegate your messages automatically to their trash.
List building involves offering an incentive to get folks to subscribe. Some companies offer a lead magnet to entice subscribers. For instance, I offer a detailed ebook that walks you through the process of creating a website if you've never done it before. This ebook is full of images that make it easy for anyone to create a website without writing a line of code. Other companies use webinars or access to premium content in exchange for subscribing. Still other firms offer free trials or even free versions of their software in exchange. As long as subscribers agree to inclusion in your list you avoid the $10,000 fine assessed for each violation of CanSpam (the US version of this privacy law) or fines assessed in other countries.
Sending email messages relies heavily on sending valuable messages to segments of your subscriber list. These targeted messages relate to the segment, thus using deep personalization and marketing the right product to the right subscriber. For instance, if you searched for a product on Amazon, you might get an email containing alternatives to the products you viewed or a notice about a discount on your product. You must choose a subject line that makes a clear case for why the subscriber should open the email. Choosing the right timing is also important for running a successful email marketing campaign. Sending too many emails or sending too few emails both have drawbacks. Within these email marketing campaigns, you should offer customers discounts or inform them about new releases to excite them about using your business.
SEO
Every company benefits from enhancing its SEO strategy. Increasing and improving your search engine optimization ensures that your content is more discoverable by customers and prospective customers by improving the rank of your content in search results. As you can see below, users commonly choose links that show up higher on the results page, hence you gain more traffic the higher your rank. In general, more traffic translates into higher sales.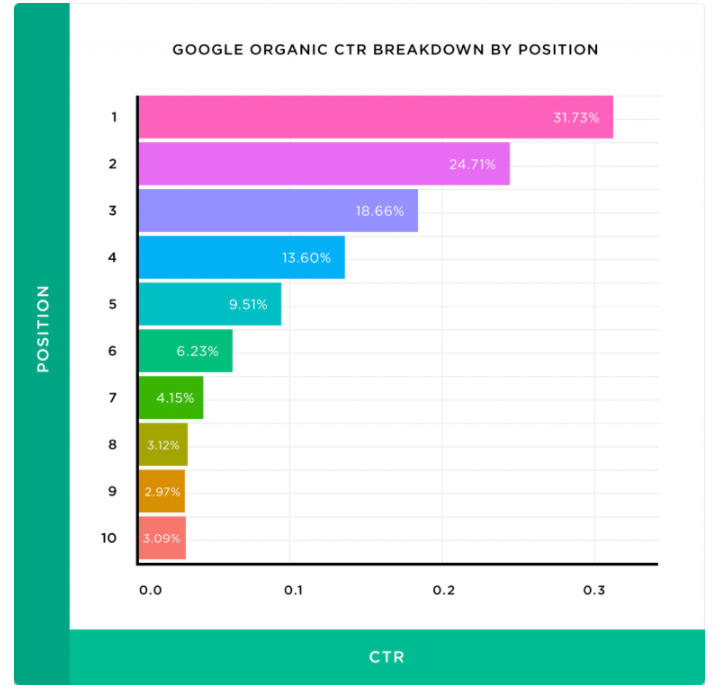 To improve your SEO, choosing the right keywords that reflect users' queries and search intent is key to success. Use those keywords across elements of your content such as descriptions for images (called alt tags), in your titles (both the post title, heading, and subheading), and embedded naturally within your content. Conduct keyword research so that you identify which keywords fit with your market and products. Tools such as SEMrush and Google Keyword Planner can help you find keywords (actually 3-4 word phrases). Only use each keyword once but making your keywords long-tail provides more options.
In addition to keywords, SEO depends on:
Creating valuable content on a consistent basis, ie a minimum of 900 words 2-3 times per week
Signals of quality and value such as engagement on social platforms (likes, comments, shares), backlinks from high-quality websites, time on site, etc
Fast load speeds
Excellent user experiences
Security, such as using an HTTPS protocol
and much more
Social media
Finding social media platforms that reach your target market and then using those platforms effectively helps you reach your marketing goals without a lot of expense. As in the graphic at the top, you need a content calendar to help you create content on a schedule that fits with your chosen social platforms. For instance, posting once or twice a day works for Facebook/Instagram while posting many times per day on Pinterest delivers good results. Automation tools like Buffer help you maintain this schedule with minimal disruption to your daily activities.
In addition to organic traffic from social platforms, which declined precipitously due to changes in these platforms, social media advertising offers a great tool for reaching your market because of the intense targeting options available on these platforms.
Using metrics to improve performance
No one has a crystal ball so it's nearly impossible to hit on the best marketing tactics right out of the gate. Instead, you must carefully monitor your performance using tools such as Google Analytics (for your website) and other tools to monitor performance on social platforms. You can use tools to monitor brand sentiment and social listening tools that help you with optimizing your messaging.
Tweaking your campaigns based on the insights gleaned from these tools delivers the highest results. Remember, that markets change over time, platforms fall into and out of favor, and consumers are fickle so your monitoring program requires constant attention and adjusting your campaigns is an ongoing process.
Conclusion
These great marketing techniques will help fuel your business's profits and help you grow above and beyond what you could imagine. It can be as simple as being more active on social media or generating regular email newsletters for customers to learn about your business, be more aware of what you offer, and want to spend their money. Hence, as a result, your business will gain more profit.
Need marketing help to support business growth?
We welcome the opportunity to show you how we can make your marketing SIZZLE with our data-driven, results-oriented marketing strategies.  Sign up for our FREE newsletter, get our FREE guide to creating an awesome website, or contact us for more information on hiring us.
Hausman and Associates, the publisher of MKT Maven, is a full-service marketing agency operating at the intersection of marketing and digital media. Check out our full range of services.