About 5.5% of the US economy involves retail businesses, representing both virtual and physical stores. In addition, a large segment of businesses not specifically identified as retail, such as entertainment, healthcare, and manufacturing, dabble in retail through the sale of goods to supplement their primary revenue stream by operating stores within their business, such as outlet stores, gift shops, and popup merchandise sales. Today, we'll focus on the best marketing strategies for retail businesses of all kinds.
The retail industry
The retail industry specializes in selling items in small quantities to end customers, which distinguishes these businesses from wholesalers who sell large quantities for resale and service businesses with no meaningful tangible goods. Retail stores operate mainly in the areas of food, apparel, home furniture, office supplies, home products, personal care, or some combination of these. Despite conventional notions of the industry, 95% of retail businesses are owned by independent and privately-held corporations rather than massive retailers such as Amazon and Walmart, according to the National Retail Federation.
Over the years, retail store operations broke through the physical location barrier moving into the virtual world by opening online stores that cater to a wider audience in search of the convenience and variety offered by online retailers. This transition to online shopping escalated by some 300% during the pandemic, as stay-at-home orders and fears over contracting the virus kept consumers out of stores.
Retail businesses vary in size, representing small private businesses operating with low overhead such as at flea markets and farmer's markets to large stores with a number of locations. The wheel of retailing is a marketing concept representing the eventual evolution of retail businesses, as you can see below.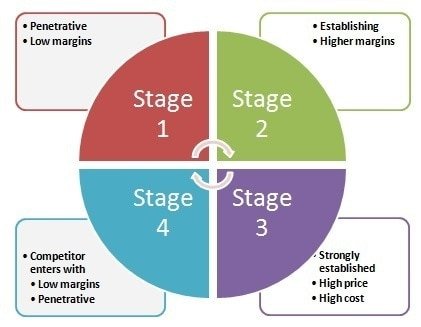 The main challenge facing retail business owners is creating the distinction that sets them apart from the competitors that are in this commercial market segment. As a result, many people turn to a business consultant with the talent to put together the best marketing strategies for retail businesses that lead to success and increased revenue.
However, before you hire a consultant, you might consider the basic marketing strategies you're currently using to build your retail business. What do you need in order to run your business? Do you need custom logos? Do you need custom products for your business or something more niche, such as custom air fresheners? Who is your target market and why should they choose your retail business rather than one run by your competition.
You must know exactly what you need before delving deeper into other marketing strategies for retail businesses like yours.
Marketing strategies for retail businesses
In order to leverage a business and make a revolution in retail, there is no miracle formula or magic bullet that ensures your long-term success. Instead, you face a constant need for change, upgrade, and development, but there are key points for building marketing strategies for retail business success.
Preliminary research
Research is a critical first step in building a successful retail business. You must understand your competition and what they offer as well as why consumers choose their business. You need a depth understanding of who your target market is, what problems they need solving, and how they make purchase decisions.
Unless you're in a food desert or other retail environment facing little competition, you need a distinct advantage over similar businesses to gain a foothold and your customers must want the advantage you offer. And, that means research.
Here's a tragic story repeated time after time. A Harvard MBA starts a business based on his own business acumen and belief that others out there find the same gap in the retail environment that he and his friends lament. He starts the business, pouring his own funds as well as funds borrowed from the bank, only to discover others don't see the value in his offering. Eventually, he's forced to close the business. He might have averted this tragedy with sufficient research to uncover the true unmet needs of people in his area.
Business plan
From the preliminary research, we move on to develop an in-depth analysis of its results and the construction of a detailed business plan, including a marketing plan. Every business needs a clear business plan that outlines the goals, objectives, options, budgets, merchandising strategy, manpower needs, and everything else required for a successful retail business. Remember, the 3 most critical elements of a physical retail business are: location, location, location, since customers rarely travel more than 10 minutes to shop unless you offer something truly unique.
Retailing philosophy
In an age where we are all flooded with marketing products and messages, the competition for consumer attention is tougher than ever. In such an era, creative marketing and marketing innovation are the key to business success. Here we present the characteristics of some simple models for implementing innovation processes and marketing creativity in business. There are 3 common types of business:
The goal – oriented business – is the same business that builds a vision, business plan, and goals then operates in a planned manner according to these plans. Businesses of this type are often very efficient but they tend to miss out on many opportunities because they don't exactly fit with their plans. For instance, Adobe put together a business plan combining hardware and software for desktop publishing and was, at first, unwilling to bend from that plan when offered options. Luckily, a mentor convinced them to chuck the business plan in favor of emerging opportunities.
The business that faces challenges – these are the businesses that spend most of their time putting out fires. They survive. On the one hand they specialize in problem solving and become very effective in their ability to deal with problems and unplanned situations, but they often don't invest in strategic planning and business development so they often struggle as they are pulled from challenge to challenge. These businesses need better environmental scanning to determine their direction rather than being pulled by factors. Many small retailers faced this challenge during the pandemic as their business model relied solely on their physical operation. WIthout a backup plan to handle virtual sales, these retailers stumbled to catch up to their more sophisticated competition that already had a strong e-commerce operation.
Spontaneous business – These are the same businesses that do not devote too much effort to long-term plans and formulating business strategy and goals. They are champions at creating new and very flexible opportunities. Their mistake most often is a lack of focus and a lot of energy invested in a number of different directions with no set goal and no route outlined for reaching their goals. In retail this is not wise because you may depend on foot traffic to increase your business' profitability so you must remain vigilant.
Marketing and merchandising
Marketing strategies for retail businesses involve serious consideration of special marketing functions such as atmospherics and merchandising.
Atmospherics involve the look and feel for your retail store, whether online or physical. In a physical store, atmospherics include elements such as lighting, layout, design (ie colors), music, scents, crowding, and other elements of the physical world that can increase (or decrease) a customer's emotional arousal and attitude toward the store. Online retailers face the same challenge in creating a positive atmosphere for online shoppers including elements such as colors, layout, search and filtering options, ease of navigation, and overall design of the e-commerce site.
Merchandising refers to the products available for sale, pricing, and product presentation. An attractive merchandising plan both creates a personality for your retail business and offers a competitive advantage for shoppers. For instance, in the early days of Walmart, Sam Walton (the owner) bought seconds and overstocks offered by wholesalers as a way to undercut the prices of other retailers. Despite the constant, unpredictable changes in the type of merchandise available, shoppers flocked to the store for the much lower prices offered by available inventory.
Personnel in a retail business
There are often situations where the weak link in the business is measured by the employees. Your profitability depends greatly on your ability to diagnose manpower, leading to hiring employees who not only want to come to work and do their daily work but inspiring to promote the company through their customer interactions, since retail is often a hands-on operation even in virtual stores where shoppers ask questions and need support. One of the strategic ways to do this is to involve employees in parts of the business strategy to achieve buy-in that increases their commitment to success.
Conclusion
There are survival techniques in the retail business world and they work toward the purpose of success, leverage, and increasing business profitability. But, a business built with the full cooperation of a professional marketing company manages to survive for a long time when the process you go through is not permanent and changes as the environment develops. Ensure you look deeply at retail trends to determine how consumers and other businesses change over time.
Need marketing help to support business growth?
We welcome the opportunity to show you how we can make your marketing SIZZLE with our data-driven, results-oriented marketing strategies.  Sign up for our FREE newsletter, get our FREE guide to creating an awesome website, or contact us for more information on hiring us.
Hausman and Associates, the publisher of MKT Maven, is a full-service marketing agency operating at the intersection of marketing and digital media. Check out our full range of services.