It's no wonder that many companies consider custom app development as a solution to help them reach and engage with customers – they're convenient and functional. Today we live in an age where everyone has a smartphone in their pocket at all times. Your smartphone is the last thing you touch before going to bed and the thing you wake up to. So having your own mobile app is almost a necessity for the success of almost any business.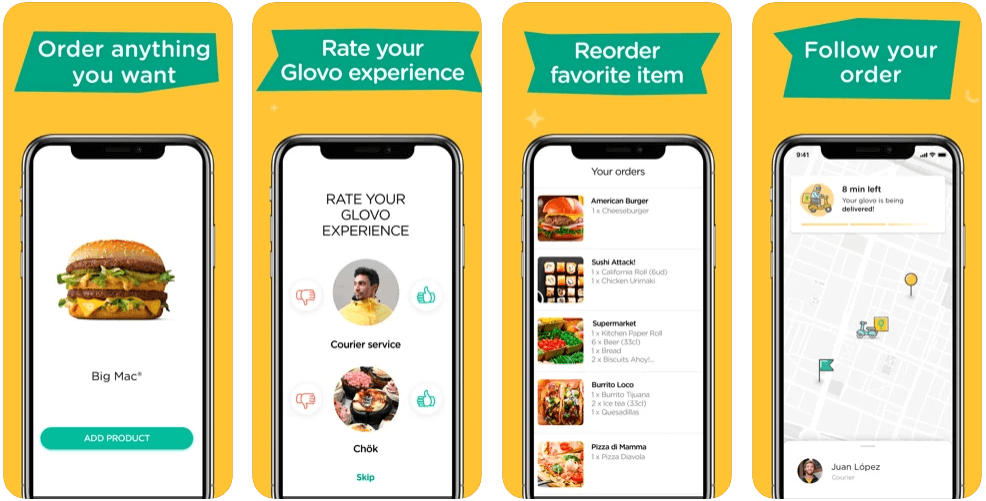 Why you need mobile app development?
Since many companies interact with their customers through the Internet, the popularity of mobile applications is growing. Note the benefits of custom app development:
Increased sales. Most companies use pop-up messages that notify customers about promotions and interesting offers. Another good move is a discount for the goods or services you like, which are on your wish list.
Growing the company's image. Having your own app is not only practical but also prestigious.
Increased accessibility. By downloading a mobile app, a customer feels they can trust your company. Moreover, he does not need to go to the website or call – everything he needs is at his fingertips. It is important for the functionality to be as simple and convenient as possible.
The possibility of registration with the further preservation of personal settings, the accumulation of discounts and much more.
The possibility of internal analytics will allow you to offer the right products to your customer, which will increase your profits in the long run. Another advantage is identifying your target audience for targeting ads.
Logistics and management. With mobile apps, controlling these two important areas of your business is much easier.
Savings on marketing. If customers like your app, they will recommend it to people they know. By maintaining interest in the platform, you can save on advertising. Another good move is to integrate the app with social networks. So the client will be able to share their experiences with their friends and leave feedback.
Note that more than 60% of users prefer to make purchases in the app rather than on the official site.
Challenges for your mobile app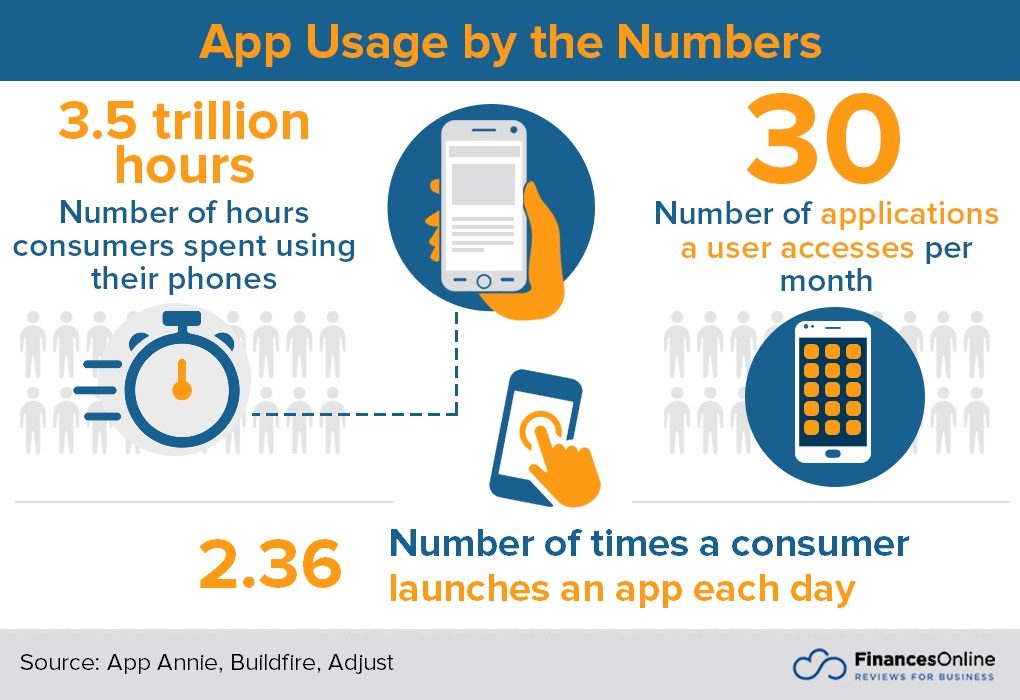 If you look at the data presented in the infographic above, you see that the competition for mobile apps on a user's device is intense. According to the same source, the most popular mobile apps are for video (such as Netflix and YouTube), social networking (such as Facebook and TikTok), and gaming (such as Candy Crush and Wordle). With the average user using 9 apps per day and 30 apps per month, the chances of getting downloads for a poorly designed mobile app that doesn't make a big impact on consumer convenience isn't great. As of 2022, there were over 5.5 million apps available across the top 3 stores (Google Play, Apple, and Amazon).
If you think developing a mobile app or paying to have one developed offers a good opportunity for your target market, read on to learn more.
Who benefits most from a mobile app?
The industries where companies need custom app development the most are:
A food delivery service. It is very convenient for the customer to order food – s/he enters login information that stores the address and credit information and chooses the dishes for delivery now or at a time in the future. Apps even allow the diner to customize menu options by changing the ingredients or denoting ingredient amounts. Some apps have an order-tracking feature. You can also attract new customers to your service with promotions, discounts, or bonuses when they download the app.
Cafes and restaurants. The user can look at menus in advance, pre-order, and order items for take-out or delivery.
Stores. Having a custom app is especially desirable for companies that sell online. It is convenient for the customer to browse products, add them to a wish list, make a purchase, and request delivery at their doorstep. Pushing offers through your mobile app, you can reach your best customers with discounts, new products, and other incentives that increase revenue.
Travel agencies. Customers themselves book tickets and hotels through the app – no need to go to the cashier or travel agency. Firms selling air tickets find mobile apps advantages because it reduces staff needs. Again, firms can use the app to inform users about the cheapest offers and fare changes for travel they might enjoy or fits their business travel needs.
Cab. A mobile app developed for a cab or other companies offering transportation (such as helicopter services around major cities) allows the passenger to choose the starting point and destination, see the total cost of the planned trip, and pay through a linked credit card. Many mobile transportation apps allow the passenger and invited friends to track the progress of the vehicle to the pickup location and destination.
Sports clubs. In the app, the user finds out the schedule, can make an appointment with a personal trainer, and can get advice on training and nutrition. It is good if the app provides bonuses or discounts.
Beauty salons. The client can make an appointment with the stylist at a convenient time, without calling the salon, to find out about promotions. You can also add interesting articles about self-care.
The most popular apps are those for selling/buying clothes, shoes, cosmetics and hygiene products; food, food delivery services, and cabs.
When it comes to app development, it's easiest to create apps for companies that have a history in the market over a long time and have an existing customer base. This allows the app developer to analyze how users access the site – by computer or a mobile device. If most consumers choose the second option, you definitely need an app.
Who doesn't need a mobile app?
Not everyone needs a mobile app – for some business owners, it is not profitable. You don't want to do custom app development in the following situations:
For firms that just opened and don't have metrics you need to know how to approach app development
Small business owners because the cost/ benefit analysis doesn't support app development
Companies with a specific type of business, such as factories. B2B firms likely don't need a mobile app as their customers primarily prefer to interact with them via alternate channels such as face-to-face through a sales rep, online, or by telephone calls.
It's important to understand: will customers use your app? Will an app make interacting with your brand more convenient for consumers? Use the answers to these questions to guide your app development decision.
Making the most of your mobile app
Promotion
It's not enough to just create a mobile app and launch it. You also need to invest in advertising to ensure customers are aware of the platform, make it easy for them to download your app, and highlight the benefits they get from downloading the app. For instance, some fast food companies promote their apps through advertising and offer freebies to consumers willing to download them onto their devices.
App development
First, you need to develop the app on popular platforms such as iOS and Android. You must then test it with prospective users and tweak your design interface, code, or both to meet the needs of your target market. Then, you must maintain the app as long as you choose to continue encouraging its use. For instance, if you change pricing or menu items, you must adjust them in your app. Development and maintenance aren't free. Also, consider the cost associated with securing your app from bad actors out to damage your company or breach the privacy of users.
Pros and cons of custom app development
Pros:
Conversion is at an all-time high. This is the strength of custom app development.
Uniqueness and competitive advantage. An application created individually to meet the needs of the client can become the face of the brand, attract new customers, and stand out from the competition. The uniqueness of custom app development is that the design of the application involves not only the buttons, and banners colors, but a well-thought-out UX design, which is created considering the needs of users, down to the special target audience.
Minimization of risks.
Fast implementation of custom solutions. While launching a custom-made application is several times as long as a boxed solution – it can take up to 7 months, the customer wins in the speed of custom requests realization that most probably will never be possible with a boxed solution.
Cons:
High cost. Custom app development is much more expensive than a template solution.
Development time. Custom app development takes a long time.
The need for preparation on the part of the backend. It is not always possible to start implementing the app right away. Since the user path and the necessary settings in a quality form, require initial implementation within the technical infrastructure. This can be outsourced, but it requires very extensive changes in the IT infrastructure of the company. If the timing and cost of these changes are often incommensurate with the potential profitability of the application, despite its high conversion rate. Consequently, the first thing to do is to ask the company with the application for a mobile app for retail if the infrastructure and its planning are in place.
How much does custom app development cost
Custom app development is not a cheap treat. The cost depends on the functionality of the platform, design, and project documentation. It is also important to understand: the task will include the development of not one, but two applications – for installation on IOS and Android. Add to this the cost of marketing, as well as future fees for updates, and further technical support.
The cost of custom app development can vary from studio to studio. Much also depends on the features and complexity of your business. On average, the cost is between $3,000 and $10,000. A freelancer can't solve all the problems and consider every nuance alone. Also, it takes a single developer much longer to produce a finished product even if they give secondary tasks to the freelancers. Your most important concern, however, isn't the cost of app development but the quality of the finished product as a poor-quality app damages your reputation. That's why it's better to entrust the work to an app development agency with expertise even if it costs a little more.
Conclusion
Before deciding to do custom app development, think about whether it will be profitable for you. If there are fewer than 1,000 purchases through the app, it becomes useless. There is also always a risk: if users don't like what they downloaded, they will delete the app immediately and you wasted the development money.
Need marketing help to support business growth?
We welcome the opportunity to show you how we can make your marketing SIZZLE with our data-driven, results-oriented marketing strategies.  Sign up for our FREE newsletter, get our FREE guide to creating an awesome website, or contact us for more information on hiring us.
Hausman and Associates, the publisher of MKT Maven, is a full-service marketing agency operating at the intersection of marketing and digital media. Check out our full range of services.