Benchmarking is an integral part of your marketing strategy because it has serious implications for your return on investment (ROI). If you're not doing benchmarking, benchmarking the wrong elements of your marketing strategy, or benchmarketing against the wrong competitors, you're not getting the profits you could. Here are some instructions on how to use benchmarking to improve your ROI.
What is benchmarking?
According to Brandwatch, benchmarking is:
Competitive benchmarking is the process of comparing your company against a number of competitors using a set collection of metrics. This is used to measure the performance of a company and compare it to others over time. This will often include looking at the practice behind these metrics as well.
Effectively benchmarking against the right competitors using the right metrics, means using benchmarking to improve your ROI and results in revenue gains, lower costs, and higher customer satisfaction.
What should you benchmark?
Technically, you can benchmark anything you can measure — sales, ROI, gross margin, allowance for bad debt, customer satisfaction, waste,  ANYTHING.
What SHOULD you benchmark is a better question.  Benchmarking has a cost associated with it — you have to measure, collect, and analyze data — so you should only measure the elements of your business that have the GREATEST impact on your profitability.  That said, it's also good to benchmark elements that provide some insights on improving profitability.
Benchmark key SEO elements such as backlinks, load speed, social media engagement, and content marketing, such as how often the brand posts on their website and social media. Assess their performance on social media with respect to growth rates.



Where to find benchmarking data
Finding the data from other firms needed to benchmark your performance is sometimes challenging, especially as the online tools needed to perform benchmarking become more expensive. For instance, Alexa disappears this May, as they retire the platform. That means benchmarketing to improve your ROI is now more expensive without the free reports that the performance of your website with other similar websites across critical metrics like bounce rate, traffic, engagement, and other key metrics.
Still available is SEMRush's EyeOn tool, with a free version. This tool primarily provides data to compare keywords and other critical metrics used in PPC ads. You'll find a host of other paid tools to assess how you perform against your competition with regards to sentiment, keywords, load speed, and backlinks.
Of course, you don't always need expensive benchmarking tools if you want to use benchmarking to improve ROI. You can do some manual benchmarking to gain insights into some of the most critical metrics, especially qualitative metrics. You can review a competitor's website to gain insights on pricing, delivery and payment options, and search filters used. You can also view a competitor's social media to see which posts resonate (generate the most engagement) with their audience, which images they use, their calls to action, and other elements that greatly impact performance. Although some might consider it unethical, you can even subscribe to a competitor's email marketing and RSS (really simple syndication) feed that shows the content they're posting on their blog.
Publically traded companies must produce reports to the SEC (Security and Exchange Commission in the US) containing a review of their financial performance, as well as annual reports to stockholders. Many companies report summary financial data to companies like Hoovers, so you can get some data from these public sources (although Hoovers is a paid solution). While the financial data provided by these sources is usually summarized in a way that makes it hard to determine their performance from specific operations, it's better than nothing.
You can even use old-fashioned market research to determine how your performance matches your competition with respect to attitudes, preferences, brand image, satisfaction, and other market-oriented consumer metrics.



Who to benchmark against
This is a difficult question and the answer varies based on your particular context. I will say that, unless you gave this significant thought in the last year or so, you probably don't know who to benchmark against and you'll choose the wrong competition. I know I gave this assignment to students for the last 25 years and they most did an incomplete job of choosing the competition. Unless you're benchmarking to improve your ROI from the right competitors, you're doing it wrong.
In general, you want to choose a small number of competitors for benchmarking. SmartInsights suggests 1-3 but I think you need a few more than that number. In choosing benchmark competitors, I recommend including:
a company representing a stretch goal — in other words a company that performs the way you see yourself performing in the foreseeable future
a company that looks a lot like you do now, only a little better
a company in another industry that does something critical for your success better than you, see the next section
an indirect competitor that competes in the same sector you do, such as a brand in the entertainment industry if you compete in that industry
Don't benchmark against a company that's much bigger than you as you get easily frustrated. For instance, I compete in the digital marketing space and I do a pretty nice job compared with other 1-man (woman) companies but there's no way I could realistically compete against large companies with many bloggers and consultants, like Social Media Examiner. They have many more resources than I do, including a large advertising budget, a big staff to manage daily tasks, and money to support their infrastructure. I have me, little to no advertising budget, and a small amount of money for my website and a few inexpensive tools. I would just quit if I thought my only move was to compete with the big guys.



Benchmarking to improve your ROI
Maybe an example will help you understand how you can use benchmarking to improve your ROI.
I worked with a company that manufactured cement for the construction industry. Their profits were declining compared with similar businesses in the area.  Benchmarking profitability or sales tells you where the problem is. If all the similar businesses are doing poorly, then likely the culprit is the economy or some external factor. If your performance is worse than others, likely some element of your marketing or operational strategy isn't optimal. For the cement manufacturer, the offending strategic element is internal.
In their case, they couldn't immediately identify which element of their marketing strategy was the offender. Benchmarking against sales told them they weren't doing their best, but it didn't tell them what to fix to improve. So, they went to customers and asked them where their pains were — what were they dissatisfied with. The answer – late deliveries.
If you're in the construction business, waiting for a late cement truck means you have employees standing around getting paid for doing nothing. That costs you money. You also may face penalties for not meeting the completion date promised your customer. Hence, a cement company that consistently delivers late costs you money and you'll find someone who can meet their delivery promises.
To improve performance, the owner decided to benchmark against Dominos pizza because they were doing their "30 minutes or its free" guarantee. To make it interesting, he made a bet with the local Dominos — whichever business had the highest percentage of "on time" deliveries for the month bought the other business employees pizza.
Benchmarking by itself isn't enough, however. It just identifies problem elements. You next need to figure out what caused the poor performance. Deming, a management guru who studied performance, argued that 85% of all business problems are the result of bad processes, not bad or lazy people. So, the cement company owner looked at his processes and discovered that most late deliveries occurred at new building sites where the maps might not show new streets and landmarks might change over time (this was before GPS was readily available, although even GPS gets outdated quickly when you're talking about new construction. He trained his salespeople begin collecting information from customers when they placed an order to enable drivers to find the delivery location quickly and accurately.
After instituting this practice, he said they ate a lot of free pizza.



Steps in Benchmarking
Let's break down this example into the steps that helps benchmarking improve your ROI.
1. Identify areas to benchmark
Certainly, areas such as profitability and customer satisfaction require benchmarking by all firms. Since firms vary in size and industries have different profitability, you should frame these factors in percentages rather than absolute dollars. Other benchmarks may provide more insights for your industry. Just be careful not to have too many benchmarks, ones that don't translate into profitability in the long run, or ones that conflict with each other.
Also, consider benchmarks that cover every step in the conversion process not just terminal measures such as sales. Look at this graphic for some ideas of metrics near the top and middle of the funnel that bear consideration as benchmarks.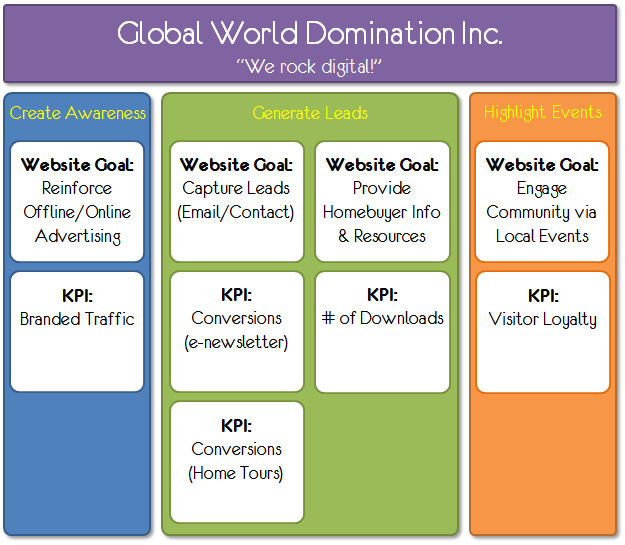 It's tempting to believe you're doing the best when you beat other companies in your industry, but benchmarking involves challenging the business to do more and thinking outside the box. So benchmark against other industries and strive for their level of profitability. For instance, Intel, at one point, had a mark-up of 2000 percent. Now, your firm might not come anywhere near that number, but it might make a good goal.
Chart performance toward achieving the benchmark standard and celebrate improvements. Tie rewards to reaching milestones along the way.
2. Collect data to chart your performance
Much of this data is probably secondary data available from published sources — mostly on a fee basis, as highlighted in an earlier section. You might still need to collect some data. For instance, you may have to ask consumers to rank other companies relative to yours to determine how your customer service compares with theirs.



3. Process improvement
Determine which processes contribute to your relative performance. This is a critical step because it doesn't help to fix something that isn't the problem. A significant amount of effort may be required to identify offending elements of your marketing strategy and you may need to expend more effort to fix the problem.
4. Implement change
Once you know where the problem lies, you can make changes. Remember, change is uncomfortable and likely to result in some push-back from employees, vendors, or anyone affected by the changes. To minimize the pain, consider the following:
Establish intermediate goals and timetables for reaching these milestones.
To the extent possible, involve affected employees in the decisions.
Create a supportive environment that encourages communication as you make changes.
Tie rewards to achieving milestones and celebrate teams and individuals who contribute to the success of your change initiative.
Ensure changes don't negatively impact your existing reward structure and make arrangements for employees who are negatively impacted by the change ie. new positions, generous severance packages, etc.
Continue benchmarking
Benchmarking is based on a process of continual improvement, so reaching a benchmark, while a cause for celebration, is not a time to rest on your laurels.  It's a time to set new benchmarking standards and continue to move forward.
Conclusion
I hope you now have a better understanding of benchmarking to improve your ROI. You should appreciate why benchmarking is needed and where to find data necessary to develop benchmarks. You also have an idea of who to benchmark against that is likely broader than your initial thoughts. By providing an example and a step-by-step process for benchmarking, you now have additional tools to help you on your journey toward a solid benchmarking exercise that you can repeat over time.
If you have questions, suggestions, or want to share insights gleaned from your own benchmarking efforts, please use the comments section below.
Need marketing help to support business growth?
We welcome the opportunity to show you how we can make your marketing SIZZLE with our data-driven, results-oriented marketing strategies.  Sign up for our FREE newsletter, get our FREE guide to creating an awesome website, or contact us for more information on hiring us.
Hausman and Associates, the publisher of MKT Maven, is a full-service marketing agency operating at the intersection of marketing and digital media. Check out our full range of services.