Many individuals set a goal of becoming an influencer due to the notoriety they receive as well as the lucrative nature of influence. Top influencers earn millions of dollars a year for their efforts on TikTok, YouTube, and Instagram. The top earners charge over $100,000 per post in support of a brand while others use their influence to launch products related to their influence. Influencers earning sizable incomes tend to choose popular markets such as fitness, beauty, gaming, travel, and families. Yet, becoming an influencer isn't that easy as it takes more than building a large number of followers on a social media platform. There are vital things you have to do to make a name for yourself and build a successful career as an influencer. The following blog outlines the most important things you need to do to be successful!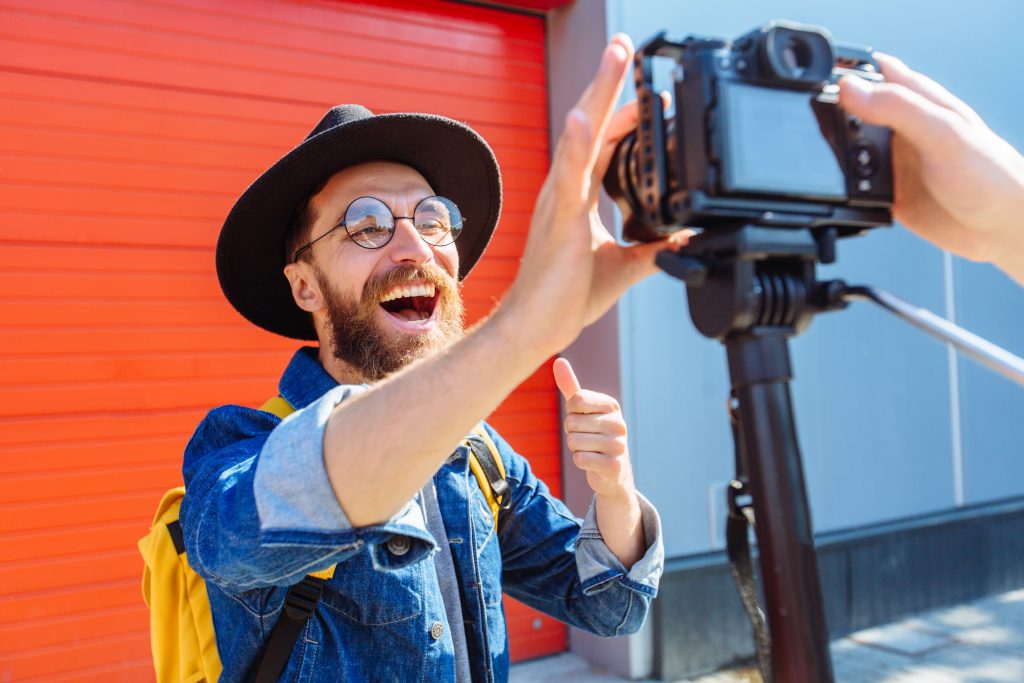 Becoming an influencer
I started a class last semester at Shenandoah University that teaches students how to become an influencer to support their career goals. Since we have a number of students enrolled in our conservatory (primarily musical theater, dance, and other performance arts) the class is very popular. In the class, I ask students to post daily to a new social media account or work to expand an existing account based on the information shared in the class. On top of teaching techniques to create videos for YouTube and image editing for Instagram, I spend a lot of time on TikTok. After much research and learning with the students while teaching the class, I found a number of tips to help individuals with the goal of becoming an influencer.
Monetizing your influence
There are psychic benefits to becoming an influencer but most folks want to monetize their influence and there are several ways to go about monetizing your platform, including:
Paid posts for a client
Advertising on your platform, including using Google Adsense as well as direct advertising
Merchandise related to your content. For instance, Preston Playz, a major YouTube influencer in the gaming space, earns a significant portion of his profits by selling hoodies and other branded paraphernalia.
Consulting
Coaching
Hosting workshops and other training
Offering courses
Affiliate marketing, which involves sponsoring ads on your website that pay you a fee when someone buys after clicking on the ad
Memberships that charge a fee for access to gated content. This is often used by financial planners to share stock tips, etc.
In the beginning, you won't earn much if anything for your efforts. But, once you build an engaged following, you can earn a lot of money, often by combining several of these monetization strategies.
Top influencers include Ryan's World earned $30 million in 2021; The Beast earned $54 million, Jake Paul earned $45 million, and the list goes on with dozens of influencers earning double-digit millions of dollars. If you include celebrities who hold influence, you might include folks like Kim Kardashian with her $300,000 charge for a sponsored post, as well as other celebrities whose social platforms support their careers such as gaining acting or concert jobs.
7 Tips to become an influencer
1) Find your niche
The first and most important thing you need to do is find your niche. What are you passionate about? What topics reflect your unique skills and knowledge? What are the most popular market niches? Where can you find a space to provide unique value to a large segment of users?
Once you figure out what it is that you're good at, stick to it. Often a narrow focus on just one aspect of a topic allows you to capture an audience. for instance, Jake Paul earned $45 million focused closely on MMA (mixed martial arts). Be an expert in your field and build a following of people who are interested in what you have to say by providing value.
If you try to be everything to everyone, you'll end up spreading yourself too thin and won't be able to build a strong enough following to achieve success. When people know what it is that you're an expert in, they're more likely to listen to what you have to say and follow your advice.
So, ask yourself, what is it that I'm passionate about? What do I have to offer my followers? Then, once you figure out your niche, stick to it and build a strong following of people who are interested in what you have to say.
2) Create high-quality content
Creating high-quality content is the key to successful influence strategies. In today's day and age, people are bombarded with content from various sources. For your content to stand out, it needs to provide the highest quality. For instance, this comes from my daughter's Instagram (also shared on TikTok as a short video) that she uses to promote her acting. Her content is unique and obviously involved a lot of work to create, not just something she threw together in a few minutes. I mean the makeup alone took a long time. But, with this unique content, she gained 600 engaged followers overnight on TikTok (click the image to see her full Instagram profile).
Your followers should easily tell that you're an expert in your field and that you put a lot of thought and effort into the content that you're creating. In addition, if they can tell that you're passionate about what you're talking about, they're more likely to listen to what you have to say and follow your advice.
Create content that's engaging, entertaining, and/ or educational and you'll find a following.
3) Engage with your followers
One of the biggest issues, as you build influence, is to recognize that engagement, not follower count, is the name of the game. A large number of disengaged followers doesn't do your sponsors any good and doesn't help with other monetization strategies you might employ.
Social media is a two-way street. It's not enough to just post content and hope that people see it. You need to actively engage with your followers if you want to build a successful career as an influencer. Find an influencer in your field to learn how they do things in order to generate an engaged following.
One of the best things to do if you want an engaged following is to respond quickly to comments and questions. Show your followers that you care about what they have to say and that you're interested in hearing from them. The more engaged you are with your followers, the more likely they are to stick around and continue following you.
Another tactic to drive engagement is to ask for engagement. Ask for comments, ask questions, post polls, request feedback, suggest sharing images from your followers, and anything else you can think of to get them active with your profile.
4) Be authentic
Another one of the most important things you need to do is to be authentic. People can tell when you're being fake, and they'll quickly lose interest. If you want people to follow you and listen to what you have to say, you need to be genuine.
Be yourself, and don't try to be someone that you're not. Your followers will appreciate your authenticity and are more likely to trust what you have to say. This drives engagement.
Also, show who you are rather than trying to sound like a commercial or a press release. Show your personality.
5) Consistency is king
When you post consistently, you work hard toward building your following. If you only post sporadically, your followers might lose interest and new users won't find you because the social media algorithms favor those who post regularly. But if you post frequently, you're likely to build a following and gain engagement.
So how often should you post? It depends on the platform. On Instagram, for example, experts say that you should post at least once a day. But on other platforms like YouTube, you can get away with posting less frequently since each video takes longer to consume than a photo or short caption. Below is a graphic showing how frequently to post across some of the major social media platforms.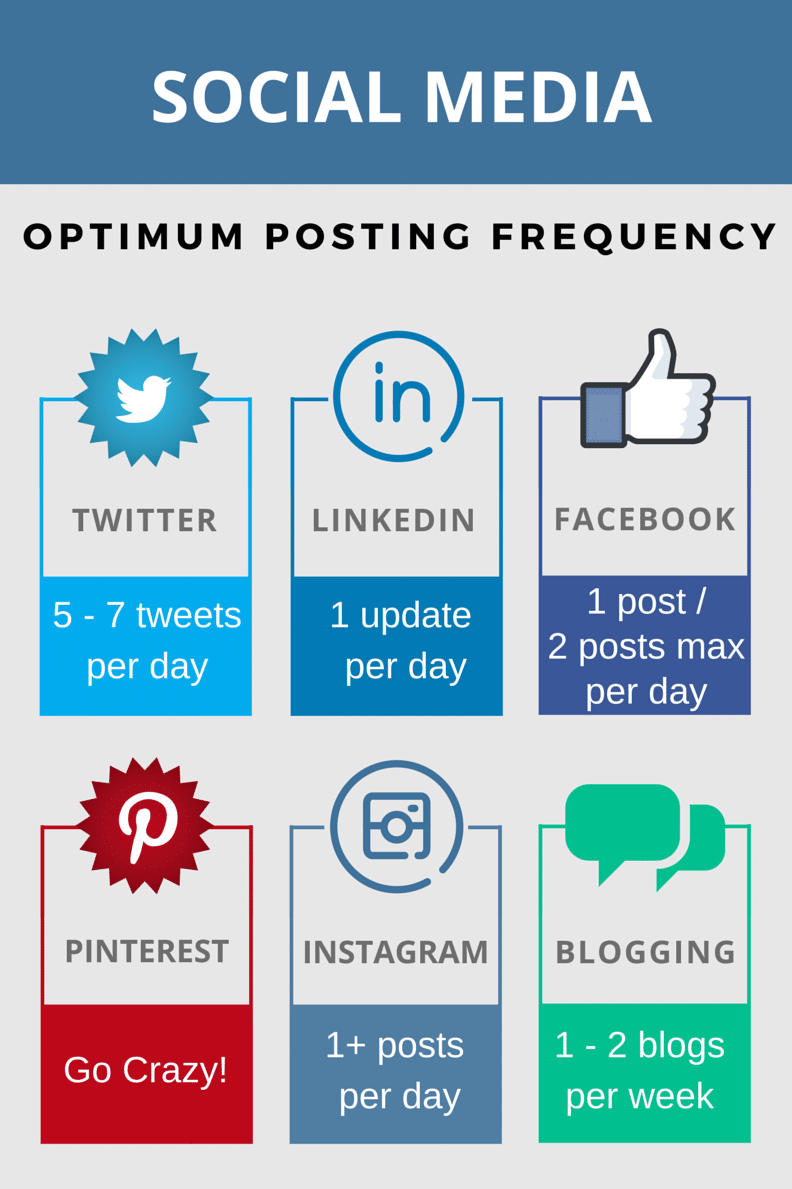 Whatever platform you're using, make sure to maintain a consistent posting schedule, so your followers know when to expect new content from you. And try not to go too long without posting, or you risk losing your hard-earned followers. Posting too frequently or posting content that's overly promotional can also spell disaster.
It helps to create a content marketing calendar to help you stay on track. By building a calendar filled with topics and assets needed by date, you never face the dreaded blank screen that leads to writer's block. Automation tools like Buffer also help you stay consistent by allowing you to schedule a bunch of posts in a single sitting, thus avoiding disruption from your other tasks to post on an optimal schedule.
6) Be patient
Last but not least, you need to be patient. Rome wasn't built in a day, and neither can you expect your career as an influencer to develop overnight. It takes time to grow a following and establish yourself in the industry. So don't get discouraged if you don't see results overnight.
Keep producing high-quality content, engaging with your followers, and being authentic, and eventually, you'll start to see your career take off. Just remember to be patient and stay consistent, and success will come your way.
7) Match your content to the platform
Each platform has its own quirks and users expect to see certain norms followed in creating posts. For instance, Instagram and Twitter use hashtags while Facebook and LinkedIn do not. Pinterest is an image platform where you link the image to your content but can't share text. Instagram Reels and TikTok contain short videos, while YouTube tends to host longer video content. Similarly, the algorithms work differently on different platforms so you should match your content to the platform's algorithm to ensure maximum exposure.
Platforms also have different rules. For instance, with TikTok and Instagram, you can't share links in your posts until you reach 1000 followers and Facebook has a follower limit before you can claim a name (and URL) for your page.
Conclusion
In conclusion, these are seven key things you need to do to build a successful career as an influencer. If you want people to follow you and listen to what you have to say, make sure you're doing these things. With time and patience, you'll be on your way to becoming a successful influencer.
Need marketing help to support business growth?
We welcome the opportunity to show you how we can make your marketing SIZZLE with our data-driven, results-oriented marketing strategies.  Sign up for our FREE newsletter, get our FREE guide to creating an awesome website, or contact us for more information on hiring us.
Hausman and Associates, the publisher of MKT Maven, is a full-service marketing agency operating at the intersection of marketing and digital media. Check out our full range of services.