Beacon marketing is the hot new tool for geo-targeting customers. It uses new technology that is MUCH more accurate than GPS-based geo-targeting. Gone are the days when you indiscriminately send messages to folks. Instead, beacon marketing allows you to target customers within a small radius of a beacon with timely messages through existing GPS-enabled apps, like Facebook.
For example, as customers wait in your Starbucks, or pass nearby, you can send a timely coupon or promote a new product to entice increased sales.
According to a report by Business Intelligence, beacon marketing influenced $4.1 billion in retail sales in 2015, which should increase by 10X to $44 billion in 2016 [source].
Here are some other fun stats about beacon marketing:
Men are more likely than women to respond to a personalized beacon notification
65% of retailers using beacon technology think they can track users down to the store aisle level.
24% of beacon stores experienced increased sales.
Globally, 570 million users of Android and iOS phones can receive beacon notifications. This will likely increase dramatically over the next few years. [source]
Doing beacon marketing
If you have a smartphone using any of several apps that interface with beacons, you probably already get notifications from retailers. I frequently get them from Starbucks when I'm near a location (and, aren't we all near a Starbucks ' location much of the time). If you're not already getting these notifications, you'll likely see them in the near future as more businesses use beacon marketing.
New devices, such as Fitbit and smartwatches, increase opportunities for businesses to send beacon notifications.
We see increasing investment in beacon technology by giants like Apple and Google, although businesses are slow to adopt this technology. Privacy and security top the list of concerns slowing adoption, but new security protocols make beacon data more hack-resistant and third-party apps reduce consumer concerns with privacy since they no longer need to install a special app to allow beacon notifications.
Businesses currently implement beacon marketing by sending coupons, information about new products, or additional information seen as valuable by users. Thus, many businesses see declining resistance among consumers.
Designing a beacon marketing program.
Mostly, retail stores use beacon marketing now, although we'll talk about how other businesses might employ this technology at the end of this post.
As a retailer, here's what you need to make beacons work for you, based on Swirl, an early adopter of beacon marketing:
As with any new marketing technology, you need to build it into your overall strategy, not just install and hope. You need to establish specific goals (SMART goals) and timetables.
Put together a team charged with implementing beacon technology. Every situation is different, but you'll probably need skills in marketing, store operations, analytics, creativity, and project management.
Test. You don't want to install beacons in all your retail locations for obvious reasons. Instead, Swirl recommends a test including about 100 locations with a mix of urban and non-urban locations where you have good foot traffic and mobile-savvy shoppers likely to have apps like Facebook, Mapquest … that receive beacon signals.
Decide WHERE beacons should go. Options include entrances, specific departments, and fitting rooms. A cost/benefit analysis optimizes how many beacons you need. Also, consider customer behavior related to receiving beacon notifications. For example, placing a beacon near your checkout only works if customers are willing to get out of line to pick up additional items. Offering a coupon once the customer is already at the checkout might reduce revenue without increasing sales. Using beacons in areas where customers might have questions reduces the demand for store personnel to answer questions.
Test, measure, optimize
Opportunities for beacon marketing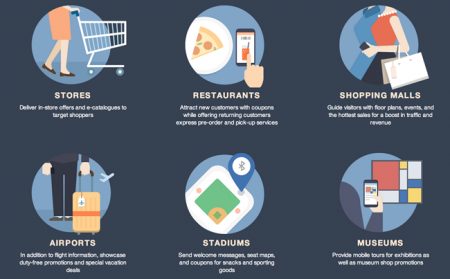 We already talked about retailers, including stores and restaurants.
But, let's look at some other options for installing beacons, such as those on the right.
Airports
Get rid of all those annoying credit card kiosks by using beacons to send travelers notifications to sign up for offers.
Send up-to-date flight notifications through the app to passengers waiting for flights. Information goes a long way toward reducing dissatisfaction with common failures such as delays, gate changes, and cancellations — you can even allow re-booking online for canceled flights.
Guide travelers to retailers within the airport by sending maps and special offers.
Let passengers update seat selections and other services needed using the beacon. They might even pre-order drinks and meals to give airlines valuable information about how much to load.
Shopping malls (although there more likely multi-purpose shopping venues now)
Use beacons to guide shoppers through the maze that is most store venues now.
Let them know about special events, even schedule their visit with Santa, and pre-order pictures.
Provide special offers from retailers.
Pre-order meals or shop online through beacons so the customer only has to appear in the store to collect their purchases.
Museums and stadiums
Welcome visitors to your venue and help them get where they're going, whether that's a seat or a gallery. Invite them to visit on-site shops and let them pre-order food to reduce wait-time.
Information on buyer behavior
Possibly the best use of beacon technology is developing a better understanding of how customers move through a venue. Where do they go first? Which areas get relatively little traffic? Lots of traffic? Knowing that a customer is trying on products from a particular department allows you to send specific offers that might balance the decision in favor of the purchase.
Need marketing help to support business growth?
We welcome the opportunity to show you how we can make your marketing SIZZLE with our data-driven, results-oriented marketing strategies.  Sign up for our FREE newsletter, get our FREE guide to creating an awesome website, or contact us for more information on hiring us.
Hausman and Associates, the publisher of MKT Maven, is a full-service marketing agency operating at the intersection of marketing and digital media. Check out our full range of services.