The COVID-19 pandemic severely affected retail sales all over the world; first through lockdowns of all non-essential businesses then by reducing the number of consumers willing to walk into the business. Like many other financial hubs of the world, New York City suffered early in the pandemic and experienced one of the most severe lockdowns in the country. The lockdowns also accelerated many traditional small and medium businesses' digital transformation as businesses around the world tried to adapt to the new normal and survive long enough for things to return to normal. However, enterprises struggled to move to online operations and reported significant losses over the past few months. If your business is one of them, here are some awesome digital marketing tips to help you thrive in the online environment; tips that improve your resilience and offer opportunities for growth that help you come out stronger on the other side of the pandemic.
Awesome digital marketing tips
Upgrade your website
First, know you need a great website regardless of whether you use e-commerce now or in the future. Increasingly, consumers search online before buying in your brick-and-mortar store. Even before the pandemic, 87% of consumers began their retail shopping experience online.
Your business website helps build your brand and boost sales by giving consumers online a reason to visit your business rather than a competitor's store. Thus, if you don't have a website set up yet, why not? In building your online presence, ensure your website's message is consistent with your business's branding, and that your site offers easy navigation, an attractive look, and is mobile-friendly, as over 50% of consumers access a business's website on a mobile device. As of July of this year, that number was 66% of global consumers access the web through mobile. If your storefront is still open during the pandemic, update your business hours and availability on your website, as well as informing consumers regarding protections implemented in your location, such as outdoor dining and curbside pickup.
If you plan to sell online, set up an e-commerce web store and ensure that your online inventory, pricing, and product media are up-to-date. You may also consider adding chatbots to answer basic questions like business hours, contact information, or product availability. Several plugins help create the functionality needed to consummate online purchases by added shopping carts and checkout portals, however, you must add security to your site through HTTPS, which is available through most hosting companies.
Enhance your SEO
Search Engine Optimization (SEO) involves creating valuable content on a consistent basis as well as related tactics to ensure your website is more visible on a search engine result. With so much competition, especially as more businesses move online in the pandemic, you get lost without sufficient attention to your SEO.
If a user searches for the products your offer online, you want your website on top of the results page as most clicks go to links on the first page, with most clicks going to results in one of the top 3 spots.
If your website falls to later pages in the search results, try building an SEO plan for creating fresh content at least once a week (usually you do this by adding a blog), build engagement on your social media platforms, obtain backlinks from high domain authority websites, use keywords related to user intent, and employing other SEO best practices.
Create or update your Google business listing
Creating a Google My Business Listing is essential because it automatically highlights your business listing whenever local users search for businesses like yours. Note on the image below the enhanced link provided for local businesses, including a link to your website, your phone number, directions (which links to Google Maps to provide navigation), as well as reviews.
Now, Google automatically creates a business listing for any business when a user reviews the business. If you do not already have a business listing, check out here to create a listing or go to Google support to claim a link created through a user review.
Once you have your business listing, you can update it and respond to user reviews or questions, both good and bad. This tool is a great way to engage with your clients/customers and show them you care. Such engagement goes a long way towards building customer loyalty.
Promote through social media
Social media marketing is a free, yet highly efficient marketing tool. If you relied on word-of-mouth marketing for most of your business, this is a golden opportunity to move that word of mouth online by strengthening your business's social media profile.
Start with an appealing and consistent social media profile on platforms used by your target market. Then, automate posts to your platforms to ensure consistent messaging to your connections. Apart from that, you share your posts on social media groups that allow businesses to promote themselves, although remember the 80/20 rule to share valuable content mostly, with only a few inducements to buy. The more you upload, the more people see your brand, increasing brand visibility, and reaching more potential customers.
Engagement is the name of the game in social media. Your content as well as your efforts to listen and respond to user comments entices your connections to like, share, comment, RT, etc. Each time a user engages with you, they share your brand with their social graph to amplify your reach.
Digital Advertising
The lockdown measures resulted in a surge in social media, Reddit, and Discord usage to interact with people. Use this increase to your advantage by investing in digital ads, transferring investments from traditional media already in your budget. Online ads are not only cheaper but also reach more highly targeted audiences than traditional advertising to increase your ROI.
Seek professional help
If you're using the pandemic to rebrand your New York-based business or invest in digital marketing for the first time, you may find it a difficult task to tick all the right boxes without prior experience or trained employees with deep knowledge with the right awesome digital marketing tips to make your efforts successful.
Rather than struggle at a time when it's imperative to produce tangible results as your profits plummet, consider hiring an agency or professional web design services in the NY metropolitan area. Such professional agencies help you create an effective digital marketing plan tailored to your business needs and goals as they're experts in applying these awesome digital marketing tips. And, hiring an agency is often cheaper than going it alone, as you can see in the image below.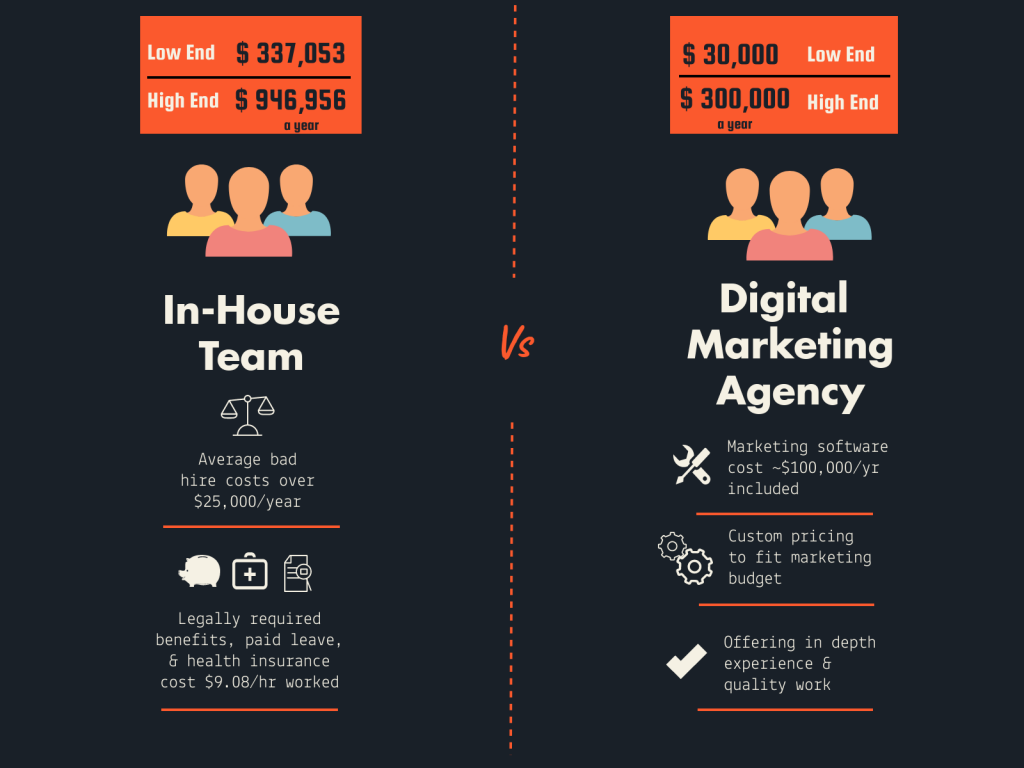 Adapt and thrive
The pandemic and its effect on the US economy are unpredictable with the economic effects from the pandemic predicted to have a serious impact as far out as 2024. Businesses must adapt to market changes if they want to survive difficult times and generate profits again. Added to the effects of the pandemic, consumers are changing and their use of digital marketing to inform purchase decisions will continue to expand. Use these awesome digital marketing tips to take the first step towards moving your business online and turn the effect of lockdown measures into business opportunities.
Need marketing help to support business growth?
We welcome the opportunity to show you how we can make your marketing SIZZLE with our data-driven, results-oriented marketing strategies.  Sign up for our FREE newsletter, get our FREE guide to creating an awesome website, or contact us for more information on hiring us.
Hausman and Associates, the publisher of MKT Maven, is a full-service marketing agency operating at the intersection of marketing and digital media. Check out our full range of services.