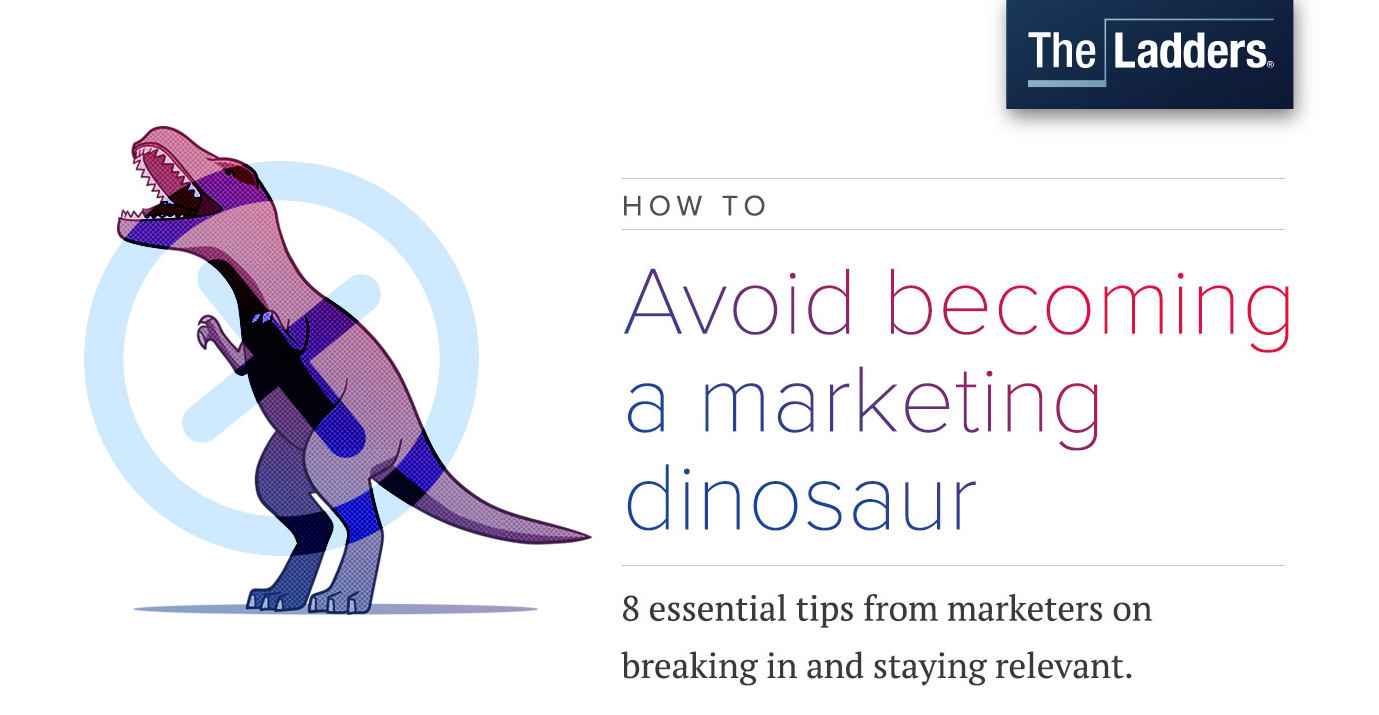 Thanks to the folks at The Ladders (a job matchmaker) for creating the cool infographic on how to avoid becoming a digital marketing dinosaur and sending it to me. You can see the entire infographic following my take on it.
The Ladders put this together based on interviews with leading marketing professionals. I think you'll love what they've come up with.
Opportunities for digital marketing
Marketing is changing rapidly and becoming digital. And, digital marketing is about as different from traditional marketing as arithmetic is from linear algebra — totally different concepts, levels of difficulty, and insights.
If you need a little refresher (or never really appreciated them) on the differences between digital and traditional marketing, check out this highly read post.
Digital marketing offers many opportunities not just for individuals (marketing salaries will likely double in the next 5 years).
So, how do you cash in on this potential?
Good question.
Education and training
Stay relevant
Focus on analytics
Practice and learn
Understand the new paradigm
Education and training
As a marketing professor, I highly recommend hiring marketing majors to manage your digital marketing. That said, I fully agree that their expertise is limited by having too little practice and too much theory. They do have knowledge — specific, valuable knowledge — you won't find if you hire an English, Philosophy, or Political Science major.
Here's a sample of what they can contribute to your market performance:
Segmentation and target marketing
Produce positioning
Understanding and influencing the customer journey
Building insights on consumers
Developing marketing strategy
Evaluating market performance
and, much, much more
No other education delivers these powerful tools.
Sure, writing is critical and so are metrics, but marketing students get a lot of training in these elements of digital marketing, as well.
Another skill marketers need is some technical ability. No, they don't have to code, but they should be able to manipulate the look and functionality of their websites and social media platforms. They don't have to become an artist but should be able to manipulate images to serve their digital marketing needs (Canva is a great tool for this). Video is an important element of digital marketing, so knowing how to use a video camera and simple editing is a good thing to know (Adobe has a great tool for this).
We'll talk more about specific educational needs as we move forward.
Stay relevant
Being a life-long learner is important in every field, but digital marketing, with its rapid change, requires a level of learning placing high demands on professionals to stay relevant.
The infographic below offers great suggestions for blogs you should follow and read every day.
In addition to the ones listed, I would add:
Buffer blog – a very comprehensive, knowledgable, and detailed blog on everything social media
 Marketo blog – which not only provides great training resources but very good reports and white papers
Search Engine Land – which focuses on SEO, SEM, and related social tools
Social Media Examiner – because they provide step-by-step instructions for doing things necessary for social media, as well as recommendations on the best tools for any task
Focus on analytics
This is probably the single biggest recommendation I can give anyone to avoid becoming a marketing dinosaur. In fact, check out my post on the future of analytics to see how analytics is changing the very nature of marketing.
For most marketing professionals, this is the weakest link and the element of marketing that explains the challenges they face in implementing initiatives and optimizing market performance.
Just a few years ago, you could ask a few stupid questions (stupid from the standpoint that they lead to the answers you desired) and folks were happy. What was the change in awareness before and after your advertising campaign? How did sales change?
Cool stuff to know, but not very actionable. How does awareness translate into sales? Did sales change due to the campaign? Would other offers have resulted in more sales?
Duh. I don't know? And, no one does.
Today's digital marketing provides specific, actionable insights to maximize ROI, not just sales.
But, your lovely little liberal arts majors can't write their way out of this problem.
Then, neither can your marketing major without specialized training. That's because analytics are anathema in marketing education.
Hiring a bunch of BI (business intelligence) folks probably isn't the answer either because, while they can whip your metrics into shape, they probably don't know the right questions to ask because they don't understand marketing. Some schools offer specialized training in marketing analytics. You should probably consider retrofitting your marketing folks by sending them to training classes on analytics.
Practice and learn
When working with a new client, I stress the importance of trial and error in building the optimal digital marketing strategy. No one has a crystal ball telling them what will be the best combination of tactics.
And, just trying stuff in hopes some of it will stick isn't particularly effective.
Optimal market performance comes through a systematic process of trial and error guided by detailed metrics to determine what's working and what's not.
I normally recommend a top-down approach — testing the big stuff, then moving on to the more mundane elements. Hence, I proceed in the following order:
Which channels work best — I try all the big ones (depending on whether I'm dealing with a B2C client or B2B). Over the course of a few weeks, I get a clear idea of which ones are worth keeping.
Build engagement and reach within my target channels by crafting posts, actively searching for influencers, and engaging them both on owned channels and their own channels.
Test timing. Send the same post (or a subtle variation) at various times and monitor when you optimize performance in terms of engagement and reach.
Test post elements like images, post length, and other elements to gauge performance.
Test ancillary tactics, if desired.
The key here is that optimal performance changes over time, so you may need to test these again in the future and continue testing periodically to ensure your strategy is still optimized.
Understand the new paradigm
Digital marketing isn't just a new paradigm because tactics vary from traditional marketing, but it's also more holistic than traditional marketing.
In traditional marketing, we talk about integrated marketing — the total approach to marketing across channels and strategies. Businesses haven't mastered integrated traditional marketing in an age when digital marketing requires an even more profound level of integration.
Now, you not only must integrate across digital platforms but in terms of cross-pollinating from one platform to another while still optimizing for the characteristics of each platform. A big challenge.
Also problematic is teasing out the effects of one tactic on a social network from the bigger effects seen through a message traveling through multiple networks.
Finally, digital marketing MUST create ROI without relying on digital advertising the way traditional marketing relies on broadcast, print, and sales. Digital advertising is a relic from another time and its effectiveness on digital platforms is diminishing rapidly.
Need marketing help to support business growth?
We welcome the opportunity to show you how we can make your marketing SIZZLE with our data-driven, results-oriented marketing strategies.  Sign up for our FREE newsletter, get our FREE guide to creating an awesome website, or contact us for more information on hiring us.
Hausman and Associates, the publisher of MKT Maven, is a full-service marketing agency operating at the intersection of marketing and digital media. Check out our full range of services.