As we transition from the height of the pandemic to the beginning of recovery, the automotive eCommerce industry will witness significant changes. While some old trends remain, new unexpected ones emerged. For instance, automotive eCommerce is a distinctly different animal than other forms of eCommerce because regulations restrict the sale of new vehicles except through authorized dealers, a move designed to protect the industry rather than the needs of the consumer. Will the future see a slow erosion of these laws to improve eCommerce in the industry or will eCommerce continue its current limitation to the sale of used vehicles. In this article, we'll explore some of these trends closely. So, let's dive in.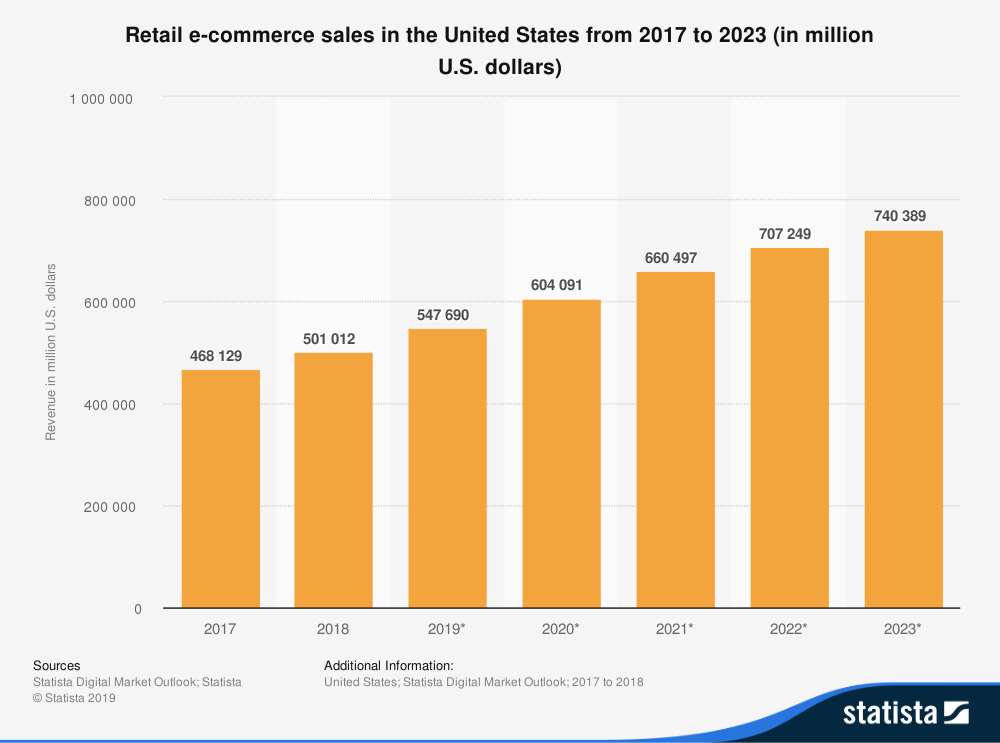 State of the automotive eCommerce market
As you can see in the graphic above, eCommerce increased substantially during the pandemic and estimates suggest that rise will continue for the foreseeable future.
Despite this trend, the global automotive eCommerce market dipped last year. According to Fortune Business Insights, it fell to $43.62 billion in 2020. That's a 5.9% decline compared to 2019. More consumers shopped online during the pandemic but faced lower demand for automobiles, likely due to lockdowns that forced many to work from home, shop online (including food delivery instead of restaurant meals), and avoid physical visits within the community. Bottlenecks on the manufacturers' side, such as factory closures and supply chain disruptions, also contributed to this decline.
However, as vaccinations ramp up this year, more countries will ease restrictions. This may lead to increased demand for automobiles. Coupled with the growth of the eCommerce industry, experts predict an upturn in online car sales. PR Newswire forecasts a CAGR (compound annual growth rate) of 21.8% from 2021 to 2028.
Higher demand for auto parts also drives growth in the global automotive eCommerce market of the future. The same research mentioned earlier echoes this connection. This is because buyers looking for essential auto parts often search online to find affordable options. Statista projects that the global online automotive aftermarket will grow by a CAGR of 14% between 2020 and 2026. As this sector grows, the overall automotive eCommerce industry will reflect this change.
Automotive eCommerce trends for 2022
More online car sales
Digital vehicle sales remain a trend to watch out for in 2022. A Ford and Sullivan research study found that over a million cars were sold online in 2020. The report forecasts online sales to reach 6 million vehicles by 2025. These projections depend on buyers' preferences after the pandemic. However, it's unlikely that a drastic decline occurs. For instance, in a more recent study published this year, Acertus found that 80% of car shoppers consider buying vehicles online. That's a 50% increase from pre-pandemic figures.
In the survey, buyers highlighted some obstacles to online car purchases. They include:
Lack of test driving capability
Shipping fees and inability to assess vehicle condition
Car return policy
Auto companies that provide solutions to these obstacles will have a chance of capturing a fair share of online buyers next year.
Electric vehicles (EV) are on an upward trend
While EVs are not new, the pandemic has intensified environmental awareness, driving demand for these vehicles. The latest EY Mobility Lens Consumer Index reflects these changes, as shown below.
Source: EY Mobility Lens Consumer Index
As part of legislation passed in the US and pending legislation, if passed, owning an electric vehicle is more appealing as the country adds a large number of charging stations and manufacturers face intense incentives to produce EVs.
As evidence, consider the number of new car shoppers (41%) who intend to buy an EV increased by 11% in 2O21. Also, 78% of buyers who don't want cars with internal combustion engines (ICE) say that COVID-19  has increased their need to look for eco-friendly options. Even if you don't offer EV or related accessories, monitor this trend to see how it grows.
Immersive experience with augmented reality (AR)
Many dealerships are yet to start on-premises sales fully. Hence, automobile manufacturers have no option but to find creative ways to give customers a near-test drive experience. Manufacturers like Ford and BMW leveraged AR to provide immersive experiences that motivate purchase. BMW's virtual viewer allows users to explore vehicles remotely. They can open doors, access the radio, or ask questions. However, this technology is far from novel. Audi launched something similar in 2015.
While AR isn't yet mainstream, it is gaining traction slowly. Of course, the technology comes at a price that's a tad steep for automotive eCommerce distributors. But the question is: how far can you go if necessary?
Increased demand for used cars
It's no longer news that the global shortage of semiconductor chips is slowing car manufacturing. Ford lost production of up to 700,000 vehicles in the second quarter of 2021. Automobile makers General Motors and Nissan experienced similar losses. So, how are customers navigating this change? With used cars.
Automotive eCommerce dealers are capitalizing on this shift. Carvana, an online-only used car company, announced a 96% year-on-year sales increase in the second quarter of this year. Vroom also announced a 172% YoY increase in sales during the same period. This boom is likely to continue in the coming year until the chip shortage is eliminated. Even then, there's still room for growth.
Content marketing
Like with most high-value items, many vehicle buyers search online for car information to inform their purchase decision long before visiting a dealership. A survey by CarGurus and GfK found that 71% of car shoppers research and compare exhaustively online. They focus on narrowing their options at this stage. Only after this, do they contact dealers mainly by phone (36%) or online (31%).
For auto components, Hedges & Company reports that:
74% of all parts and accessories buyers do pre-purchase research online.
73% search on auto parts retailer websites
57% look at the manufacturer website
47% research on automotive forums
Whether the deal is closed online or offline, engaging the buyer at this point is critical. And that's possible with the use of strategic content including how-to guides, instructional videos, product comparisons, price guides, and more. Online auto dealers Carvana and O'Reilly Auto Parts are already picking up on this.
Mobile-first digital stores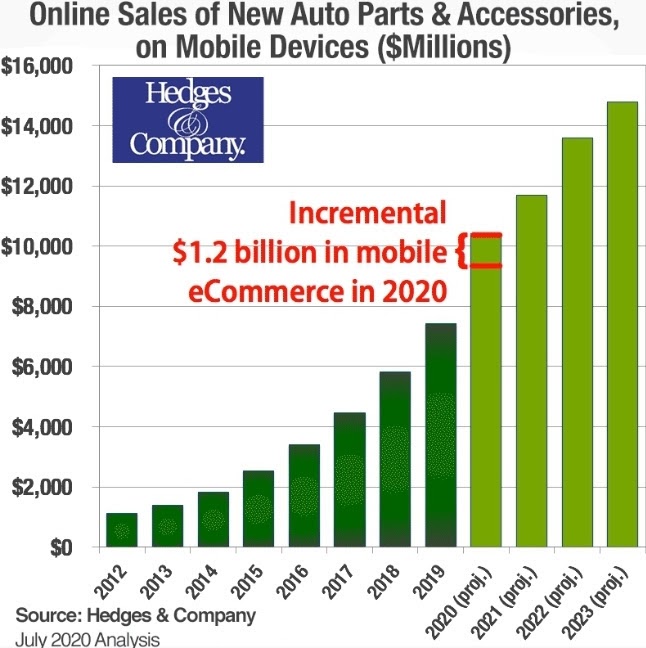 Source: Hedges & Company
The same Hedges & Company research found $10.4 billion in online auto parts revenue in 2020 came from mobile devices. That's a 40% increase from 2019 figures. A key driver to this growth is cross-device shopping. Buyers often use multiple devices as they move through their purchasing journey. In most cases, they close the deal using their mobile devices. Experts expect mobile shopping in the auto parts sector to continue growing.
More value-driven online experiences
What do online automotive buyers want? AutoTrader surveyed UK car shoppers to find an answer. The responses include:
Speed. 35% of car buyers shop online to get their vehicles quicker
Convenience. 46% want an easy shopping experience
Better offers. 33% consider buying cars online to compare deals
Avoid Haggling. 23% are looking to avoid endless bargaining.
Customers unsurprisingly seek vendors that meet these expectations. Thus, value-driven online experiences are likely to rise in 2022. Here, an auto parts eCommerce software with a responsive design, user-friendly navigation, and detailed product descriptions is worth considering.
Wrapping Up
As with all predictions, the extent to which these trends will make an impact is uncertain. Today, customers' needs lean heavily towards online experiences. This has provided considerable opportunities to the automotive eCommerce industry. As the market recovers in the coming year, we hope to see these favorable trends in action. One thing is certain. Businesses that take these predictions into account will likely fare better than those that don't.
Need marketing help to support business growth?
We welcome the opportunity to show you how we can make your marketing SIZZLE with our data-driven, results-oriented marketing strategies.  Sign up for our FREE newsletter, get our FREE guide to creating an awesome website, or contact us for more information on hiring us.
Hausman and Associates, the publisher of MKT Maven, is a full-service marketing agency operating at the intersection of marketing and digital media. Check out our full range of services.