Whether you have a business blog that isn't capturing the imagination of your target market, or you have very limited feedback, it's important to remember that the health of your website can deteriorate over time if you do not look after it properly. When you audit your website on a routine basis, you have a detailed analysis of its health, speed, and performance. There are different types of website audits, including SEO audits, technical audits, and content audits, but why should you audit your website?
Why you should audit your website
No matter the amount of effort you put into creating and managing your website, you must audit your website since your content, plugins, and links become dysfunctional over time. Even website design features change over time; some becoming more popular and some less so. For instance, a few years ago it was common to add a slider in place of the hero image (the large image at the top of your homepage) and folks used plugins to create a slide carousel as they weren't natively supported by most CMS (content management systems), such as WordPress and Drupal. You could read posts about the right number of images to add to your slider and the proper progression speed to reach your goals with your target audience. Once search engines. like Google, changed their ranking algorithms to favor a mobile-first strategy, sliders cost you in terms of rank in search results for every keyword and website owners began eliminating sliders from their website designs. This transition was further enhanced when Google began including load speed as an influential ranking factor because loading all the images slowed your website down to a crawl.
SEO
Many established websites work with SEO companies that provide SEO training using methods that result in increased traffic, especially organic traffic, to the website and the ranking for pages related to their desired keywords. But a lot of websites that haven't upgraded their SEO knowledge in recent years may now find themselves penalized by search engines which reduces their organic traffic. Search engine algorithms change all the time so when you audit your website, ensure you adhere to the newest algorithm by adapting, deleting, or creating new content on the site. Since SEO consists of a number of box-ticking exercises, a site audit is crucial to identify anything that could result in penalization or reduce your rank regardless of whether it incurs a penalty.
Below, you see how your rank in search results impacts traffic to your website: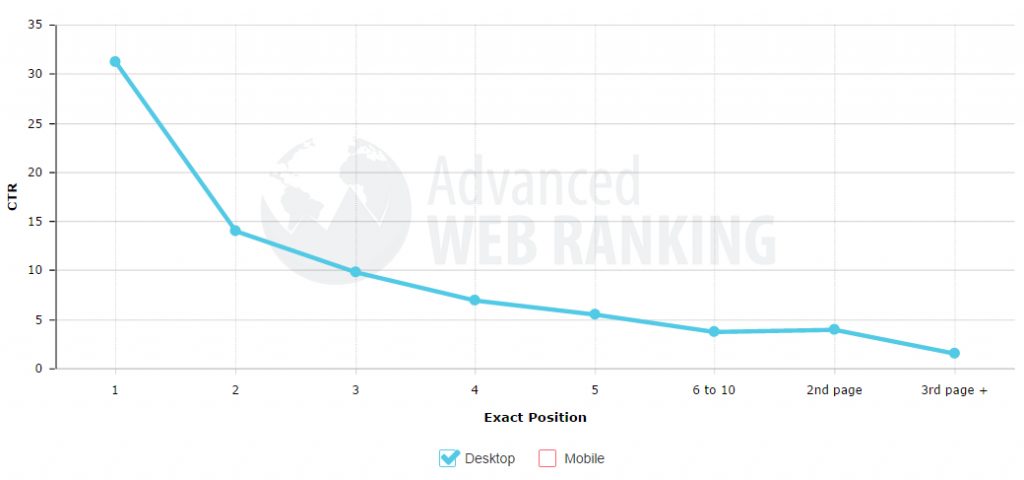 Since up to 73% of traffic to a website comes through organic search (which is a direct function of your rank), failure to adhere to current SEO standards can sink your website and your revenue.
Website owners who don't routinely audit their website and update it to comply with changes to the ranking algorithms found organic traffic decline (or at least stop growing), which made it harder to reach their performance goals. Plus, all those posts about sliders–creating them, optimizing them, and managing them–were now obsolete content. While obsolete content won't hurt your search rank directly, it indirectly hurts your performance because such obsolete content shows you're behind the times so you attract less traffic, gain fewer backlinks, and visitors don't spend as much time on your website.  These factors then impact your search rank; meaning less traffic leading to fewer conversions.
Brand image
Not only does a poor website design and obsolete content hurt your rank in search, but they also reduce your reputation. Poor attitudes toward your brand translate into poor performance across nearly all SMART goals including adding subscribers, increasing conversion, and gaining backlinks.
What to look for when you audit your website
When you conduct an audit of your website, pay close attention to the following factors:
Speed
Engagement
Customer experience
Proper elements to support your conversion funnel
Website performance across KPIs such as bounce rate, percentage of return visits, conversion value, and time-on-site as well as monitoring changes in key metrics such as visits from various channels, number of pages visited, and percentage of visits ending in conversion
Performance on mobile
Of course, there are many other things to consider when your audit your website, but let's move on to discuss how to assess each of these factors as part of your website audit.
Your website takes too long to load
People are impatient, and if your website takes longer than 3 seconds to load on a mobile device, users navigate to a different site. You have slightly more time to load your website on a desktop/laptop but not much. When your site loads slowly, it results in a higher bounce rate, and if you are selling items on e-commerce, a higher cart abandonment rate.
When you audit your website, use a speed checker such as the one included with Google's Search Console, which offers a host of other metrics you can use as part of your website audit. Images and plugins are often the culprits when your site doesn't load quickly so consider reducing the number of plugins you use, getting rid of redundant CSS code that browsers must translate, and adding a plugin that allows you to cache images and lazy load images, which reduces the drain on resources needed to load images.
Your hosting company seriously impacts your load speed, as well. Use a reputable hosting company, such as Siteground, that features fast loading and NEVER use website builders that are usually abysmally slow as well as poorly coded and full of redundant code that slows your site down.
Enhancing engagement
Speed impacts how long users engage with your site and other forms of engagement on your site. But, the quality and value provided by your content also seriously impact engagement. You can promote engagement using tools such as social sharing buttons, search, related posts, and easy commenting. Also, respond to users who engage with your website to encourage further engagement.
Provide a superior user experience
One of the problems you might experience is that your website is easy to navigate, but only from your perspective. However, this is the fundamental issue when it comes to UX or user experience. Some of the most common features of websites that are hard to navigate include no search function, too many clicks to get to the desired webpage, and also too many items in the navigation bar. It's important to conduct user testing to ensure the website is user-friendly.
Old and obsolete content also requires users to navigate through a bunch of content that's no longer valuable to get the information they want. Or, your content contains bad links to content no longer available. Not only do these factors reduce your success, but they also provide a poor user experience. Routinely audit your website for old content and bad links to remove them from your site. Of course, some older content still provides value to both you (it still brings traffic to your site) and to users. So, age is only one consideration in eliminating or updating content.
If you have a number of posts sharing aspects of a related concept, consider consolidating them into a single post because it will provide more value to users (and likely attract more traffic than the individual posts).
Landing pages and conversion
Carefully rethink your conversion funnel as part of your website audit. Ensure you understand typical customer journeys on your website then make sure your conversion pages fit that journey rather than creating a dysfunctional customer journey like the one below.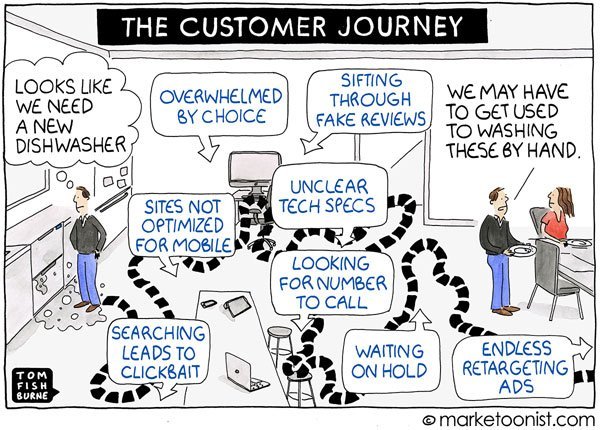 Measure and analyze
Running your website by the seat of your pants was always a bad idea but, with so much of your competition using metrics to inform decision-making, it can quickly sink the ship. Establish key performance indicators (KPIs) across the conversion funnel and monitor performance as part of your decision-making process. Quickly respond when your KPIs fail to meet your goals. You should also monitor your mobile KPIs.
Conclusion
These are some simple reasons to audit your website and things to look for in your audit. But predominantly, you need to understand what your competitors are doing. A website audit doesn't just allow you to look at your weak points, but it also helps you get an idea of where you stand.
Need marketing help to support business growth?
We welcome the opportunity to show you how we can make your marketing SIZZLE with our data-driven, results-oriented marketing strategies.  Sign up for our FREE newsletter, get our FREE guide to creating an awesome website, or contact us for more information on hiring us.
Hausman and Associates, the publisher of MKT Maven, is a full-service marketing agency operating at the intersection of marketing and digital media. Check out our full range of services.