How social media fans create value
Social media fans create value because everything they say on social networks echoes throughout their network, expanding quickly to reach other users. It's like word-of-mouth on steroids. But, the value of a social media fan only lies in their willingness to engage with the brand on social media platforms. Thus, the number of fans is meaningless, we call them vanity metrics, as only engagement (likes, shares, and comments) supports your brand. This engagement not only acts to support your brand and spread your message, but it also increases your rank in search, called SEO or search engine optimization. The higher your rank in search results, the more organic traffic you get coming to your website.
Maybe a little example will help. If you have two million followers and they each have 300 followers (which is average), your message can reach 49 million consumers if only 20% of your followers engage with your message.  And if just 20% of these consumers share your message with their network by commenting, sharing, or liking your message, you reach 1.2 billion consumers. Transmitting a message that reaches 1.2 million TV viewers on prime-time TV would cost somewhere between $150,000 – $400,000 per 30-second spot. Add another $350,000 to produce the commercial (talent, editing, filming, and location) and you're talking some serious money.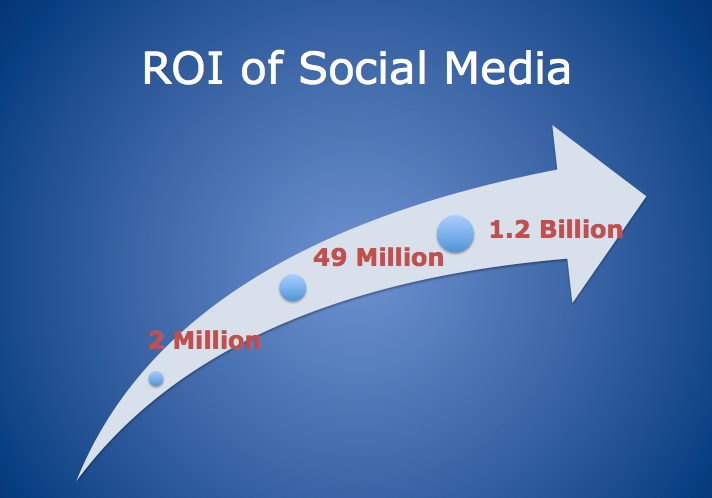 So, we want lots of social media fans and we want them to engage with our brand.
The value of social media fans
There's no clear consensus on the value of social media fans. Social Media Examiner estimates the value of a Facebook fan at $3.60 in media equivalent value (whatever that is). Brandwatch, on the other hand, puts a much higher value on a social media fan at $9.56. Still others contend the value of a social media fan is priceless. I think the true value lies in your ability to energize your community of fans to gain their trust, favorable attitudes, and loyalty while getting them to engage with your content.
Spread your message through their communities. And, these word-of-mouth recommendations, even the tacit ones, have more power to influence the community than anything the brand might say. Plus, since a fan's community likely shares some characteristics with the fan (like age, gender, education, and lifestyle), they're sharing your content with a group with a high percentage of target market members.
Defend your brand when others complain about you. Fans, especially your most adamant fans, will jump in to defend your brand when someone else complains. For instance, in studying a Disney brand community, I found users piling on against a complaint raised by a user who was dissatisfied with the way Disney handled his complaint about the park. In the end, the user admitted he wasn't treated so badly after all. Instead of the group amplifying the dissatisfaction, they neutralized it.
Answer consumer questions about your brand. Loyal fans step into the void to support the brand by offering suggestions for using the products, sharing videos to help others enjoy the brand, and addressing questions or concerns from newbies to the group that supports a user's decision to buy the brand and help them find satisfaction in their purchase.
Influence others to buy your brand through their content efforts, whether sharing brand content or creating UGC (user-generated content). The power of this influence is the rationale supporting influencer marketing.
You want to generate MORE social media fans and keep them engaged.  So, give 'em what they want.
How do you create a social media fan?
People become fans because you give them what they want; great content.  But, what is great content?
Well, you could ask social media fans (fans, followers, circle …) what they want and that's a good option.  But, you're likely to get either very generic type answers or stuff that's too granular — I want to see video (generic) or I want to know more about XYZ feature (granular).
So, what do fans want?
They want information — news about your product, how to use it, where it's available, etc. But, they also want information not specifically about your product, but in a related area. I'm a fan of Shenandoah University, where I work. They're a great little private school that emphasizes individual education. They only post information related to what's going on at the university — using it as a PR channel. And, no one, not even me, finds this information the least bit interesting. Their engagement numbers, in the single digits, support my own evaluation of their content. Instead, they could share information about things going on in the university community, where they're located, or about things high school-age students care about, since that's its target market, or about education, in general. They're missing a huge opportunity by sharing press releases on social media.
They want to be part of a community – opportunities to build a real community are dwindling, but virtual communities (online) are gaining influence quickly because people like to be part of a community (as you can see in the image below, the average time spent on social media continues to grow, albeit more slowly than in years past). Firms build a community by allowing others to have a voice in their social networks — for instance asking consumers about features they want in new products. Firms build community by responding to consumers and engaging fans. TikTok is doing a good job of this on its platform, forcing Meta (Facebook's parent company) to respond by creating Instagram Reels. Firms build a community by celebrating consumers. Dove is a good example of this with their program celebrating "real women" and campaigning for self-esteem. The ads were hugely successful.  California Tortilla invited social media fans to comment on their new logo, resulting in a stronger fanbase, more engaged fans, and a logo that resonated with consumers better.

Image courtesy of Oberlo

They want to be entertained. So, give 'em a game or a cool app. Look at the Progressive and State Farm apps for mobile phones. Now, they really don't do anything all that useful and you'll likely never need the app, but the apps are cool and fun, so the apps are attracting customers. Music, games, videos, infographics, and many other tactics make social media more entertaining, attracting fans and business for the firm.
They want status. Social media fans enjoy being the first to know things — they like the feeling of being in the inner circle. Starbucks offers lots of freebies, advanced info on new products, coffee-making tips, and other stuff ONLY to social media fans. Of course, fans share these offers with their social networks, increasing the reach of Starbucks' message and building a bigger fanbase. Taylor Swift uploads music tracks to her Facebook Fanpage before the albums are released in the stores, giving her fans first access.
Support your fans. When a fan complains on social media, don't ignore their complaint or, worse, attempt to delete it. These complaints are an opportunity to own your problems and fix them Transparency in dealing with complaints can reduce or even eliminate the impact of the complaint while demonstrating to your fans that you really care about them. Reward fans who support you. If a fan posts an image at your location or mentions your brand in their content, reward them by sharing or commenting your thanks for their support. You might even offer them a coupon to share with their friends valid for their next visit to your location.
Use social media effectively
Maybe more important than this advice is some advice on how to use your social media platforms effectively.
Consistency
Let fans know they can count on your content by sticking to a schedule. By crafting a content marketing calendar and employing marketing automation tools like Buffer, you ensure you share content on a regular basis. For instance, when subscribers know you post a new video every Wednesday, they may plan to visit your channel that day to see what you just posted. Besides, posting on a regular basis means you stay front and center in their mind when considering purchase options. Below is a recommended posting schedule for some of the major social platforms.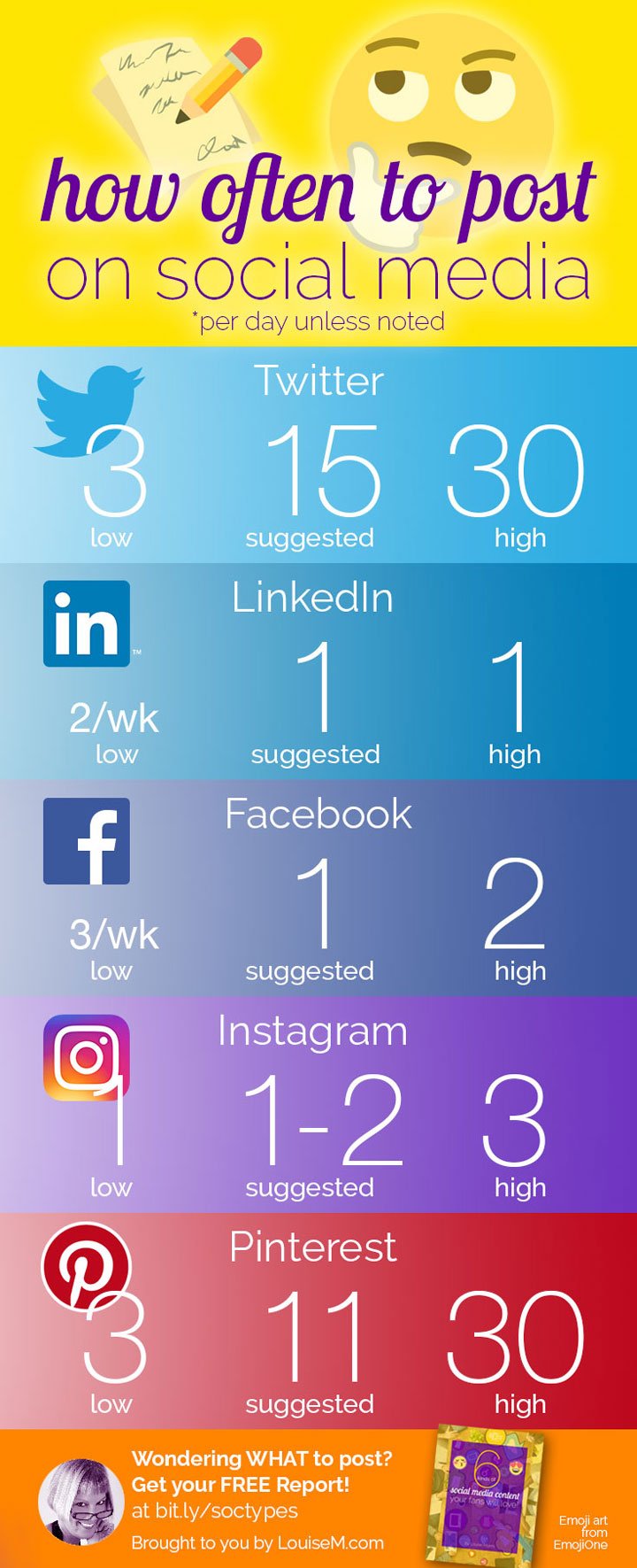 Within this schedule, experiment with different timing to ensure maximum engagement. Tools like buffer can help.
Remember, each platform is different and users' expectations related to content on each platform are different in both tone and elements of the content. Thus, you need to adapt your strategy for each platform used and the types of users dominating that platform.
Informality
Social media isn't PR and it shouldn't look like it. Keep your language informal and your messages short. Keep your target market in mind so you share content they might find interesting in a way that's welcoming. Avoid jargon but include vernacular common among your target market. Don't worry about perfection as it's more important to publish frequently than to have something perfect to share. Grammar and spelling matter but don't worry about all the things you learned in English class such as paragraphs and writing in complete sentences.
Images and videos
Don't post without including images and/or videos in your posts. Just like the text in your posts, perfection isn't necessary. Hence, don't worry about creating TV-quality commercials using a professional videographer. It's perfectly fine to use your smartphone and a ring light to record video. TikTok includes some interesting options for editing videos or you can use a tool like Premiere Pro from Adobe.
Consider including images of your people and your customers to help your social media fans feel like they're part of the group.
Don't overpromote
Social media isn't paid advertising, at least when you use organic social media. Overpromoting turns off your fans, reduces their engagement, and may cause them to unfollow your brand. Keep promotions to less than 20% of your content. Also, don't constantly talk about your brand, as almost no brand is interesting enough that fans want to hear about them non-stop.
Instead, talk about your efforts to support society, as studies show consumers increasingly consider a firm's value in making purchase decisions (as you can see below). Talk about your employees and customers. Talk about your efforts to improve your products to meet customer needs. There are lots of things to talk about instead of your brand and how wonderful it is.
Supplement with paid advertising
Paid advertising on social media is a great way to expand your reach and bring in new fans. Because social media advertising is highly targeted, the cost and efficacy of these ads far exceed your opportunities on traditional media platforms. As an added bonus, social media metrics are somewhat anemic. By experimenting with social media advertising, which provides more robust metrics, you gain a deeper understanding of your fans and how they respond to your content.
Conclusion
As you can see from this post, attracting social media fans isn't a quick fix. It takes a dedicated effort over time to build an engaged fan base. To help, use metrics from your various platforms and experiment with different types of content, different posting schedules, and messaging until you find what works best for your brand.
Likely you've read blog posts full of gloom and doom about the decline of organic reach on social platforms. In part, this decline is a function of more brands entering the space without a carefully constructed plan or a thorough understanding of factors that contribute to success on social media. If you follow the advice in this post, you won't be one of these brands and will see more success.
Need marketing help to support business growth?
We welcome the opportunity to show you how we can make your marketing SIZZLE with our data-driven, results-oriented marketing strategies.  Sign up for our FREE newsletter, get our FREE guide to creating an awesome website, or contact us for more information on hiring us.
Hausman and Associates, the publisher of MKT Maven, is a full-service marketing agency operating at the intersection of marketing and digital media. Check out our full range of services.