Every business wants to attract new customers, as well as do a great job making existing customers happy. And, yeah, there are lots of marketing and promotion tools out there to help you attract new customers. Most traditional media tools are beyond the marketing budget for most SMEs (small and midsized enterprises), putting them out of the reach of these smaller brands. Plus, while traditional media have a large reach (number of consumers who see your ad), they're not very selective, so you waste money reaching folks who aren't interested in your products. Digital marketing tools such as social media and digital advertising do a better job of selectively reaching the folks most interested in buying your products but they don't produce reliable outcomes unless you have a killer website to back up your digital marketing.
Social media is particularly dangerous as your only form of marketing as platforms change to meet the growth needs of the platform, not your needs. I can't tell you how many friends and acquaintances had their pages or stores shuttered by a social platform without cause. And, there's no redress if these closures resulted from a mistake or misunderstanding as there's no mechanism for fighting these somewhat capricious decisions to close your profile or page. Many never got access to the platform back and lost sales.
Building a killer website is a complicated process that most small business owners find terrifying, which cripples their ability to build a website in today's world where coding knowledge isn't necessary to produce a great site. To help you attract new customers with a killer website, this article explores some of the key steps that go into building a website for your business. Many companies struggle with this, though it isn't as hard as many folks think. To get you started, I wrote an ebook that steps you through the process of building a killer website using a ton of images and videos to ensure anyone can build a killer website on their own.
Why you need a website to attract new customers
According to an industry leader, a website is not an option when it comes to attracting new customers. Customers expect legitimate firms to have a website and many distrust a firm that lacks a website or has one that isn't professional, responsive, and provides a great user experience. A killer website shows you are a going concern that's always open for customers, no matter the time. Because you control the website, in contrast to social platforms, you decide what goes up on your website, how it performs for visitors, and its design. You can use your website to highlight products, share videos, post reviews and recommendations, and, maybe most importantly, show up when users query a search engine looking for the products you offer.
In 2021, soon 2022, a killer website is no longer an option. So, bite the bullet to create your own website or use one of the many firms out there that will build one for you. Read on to learn more about how to create a killer website.
Attract new customers with a killer website
Below, find some considerations involved in building a killer website.
Design & build
The first step in the process of building a killer website involves designing and building your website. If you've never done this before, it's easier than you might think, especially using my ebook as a guide. Before building a website, I always recommend building wireframes, which is just a fancy name for putting your design down on paper. You'll find lots of wireframe templates online to get you started and here's one I really like.
Pass around your wireframe to get feedback. At this stage, it costs almost nothing to make changes while making changes because something doesn't work later on is much more expensive. Here are some things to consider in building wireframes:
Usability, such as

intuitive navigation

buttons that are far enough apart to allow selective clicks, especially on mobile devices

optimized for differently-abled visitors with appropriate tools, such as labeling images (alt text)
search bar

Lead nurturing, does the website build toward conversion and allow users to quickly find the products they want using tools like filtering
Visual appeal through high-quality images, white space, and organization
Speed & load time
Speed is incredibly important to the performance of modern websites, as visitors won't wait long for a website to load. Recognizing this, Google (the largest search engine) now uses load speed as a ranking factor (see more about this below).
Not only do you need to make sure you have a website that loads quickly, but you also need to make sure that images and videos don't slow down your site. Hosting videos external, such as on YouTube, means the site doesn't have to do the heavy lifting speeds up the process. Caching, lazy loading, and smashing images help to speed up your website.
Providing a fast load time is a challenge, and you may need to spend some time learning about website optimization to get the best results from search engines related to this ranking factor. In many cases, working to improve website speed has a big impact on your results.
SEO & marketing
SEO is one of the most important elements of a website, so let's take a look at how SEO works to bring more organic traffic to your website and attract new customers. SEO determines your rank in SERPs (search engine results pages) and has a big impact on the number of users who click on your link to visit your website, as you can see below.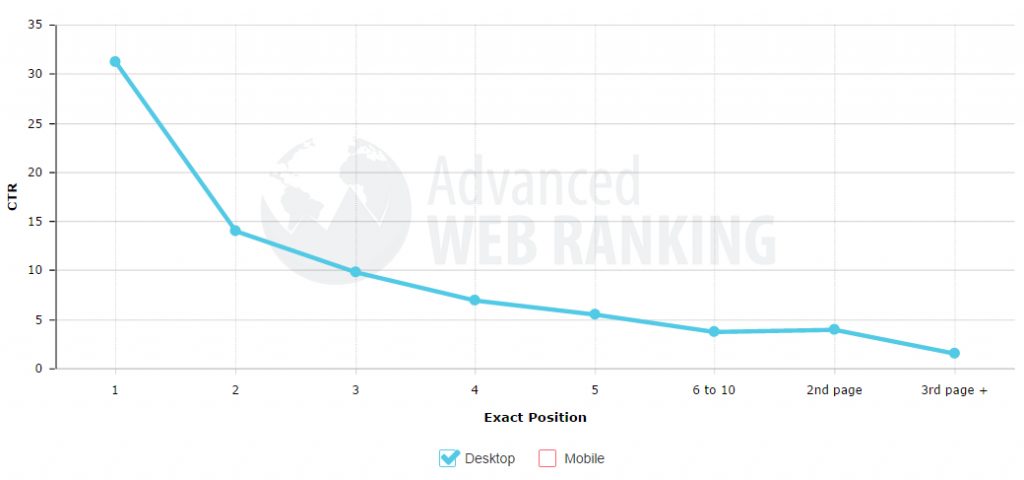 If users can't find you on a search, you can't attract new customers and won't reach your goals. So, let's take a look at the ranking process so you can improve your rank.
When you produce content, a bot sent by the search engine detects and scans the new content to categorize it based on the keywords used and rank your content relative to other pieces of content on a related topic using an algorithm. The algorithm isn't published but experts determine what's important for website owners who want to show up near the top of search results, including:
Valuable content produced on a consistent basis. Websites producing 1 or more pieces of content per week generate more conversion for the firm.
Keywords that match user intent as reflected by the words used in the query.
Social proof such as backlinks from other high-quality websites, visits and page views, social engagement, and other indicators from users that you produce valuable content.
Other factors such as domain age, use of the HTTPS protocol, and more.
Sometimes, achieving SEO isn't easy, as some factors are complex and involve getting into the weeds. Small business SEO services are a good solution to this problem as these firms keep up with the many changes occurring to the algorithm and how to implement best SEO practices on your website. Much like PPC and other forms of marketing, it's all too easy to waste time and money when you don't take the right approach with something like SEO.
Market your posts by sharing them on social platforms, including links in your email marketing, and encourage other websites to link to your content as tools to promote SEO.
Fresh, valuable content
Finally, as the last area to consider, it's time to think about what happens to your website once you build the initial site. As time goes by, you need to add new pages to your website, and a blog is one of the easiest ways to achieve the goal of producing fresh, valuable content. Not only is fresh, valuable content a major factor in performing well on platforms like Google, but it also provides resources to both attract new customers and convert them on your website. Landing pages are a critical element in achieving your marketing goals, as well, especially if you use digital advertising to attract new customers.
Conclusion
As you can see, building a killer website isn't all that hard but it does take a sustained effort. There are plenty of different tools and resources that you can use to help with this, and many businesses are able to improve their business when they take steps like this.
Need marketing help to support business growth?
We welcome the opportunity to show you how we can make your marketing SIZZLE with our data-driven, results-oriented marketing strategies.  Sign up for our FREE newsletter, get our FREE guide to creating an awesome website, or contact us for more information on hiring us.
Hausman and Associates, the publisher of MKT Maven, is a full-service marketing agency operating at the intersection of marketing and digital media. Check out our full range of services.