Assess to metrics is a great advantage to using digital marketing but does your small business know how to leverage digital marketing data? For most small businesses, the answer to this question is no or they aren't able to leverage digital marketing data to the extent they want. In fact, even larger businesses reported that they're unhappy with their ability to use analytics to drive marketing decisions. Below, you can see factors contributing to why businesses of all sizes have a hard time assessing the ROI of their digital marketing efforts to ensure better marketing decisions.
For small firms, the ability to leverage digital marketing data is more challenging as it can't equate actions to rewards (71% of problems in the graphic above), doesn't have the knowledge to determine the best KPIs (key performance indicators) to assess (about 49% of problems in the graphic above), and can't afford quality employees with analytical training (which accounted for nearly 24% ) or the software necessary to analyze digital data (nearly 22%). Since many small firms are also relatively new, they face the challenge of quickly learning to leverage digital data as they must compete for a place among others already in their space.
Why small businesses must leverage digital marketing data
By 2026, experts predict that global spending on digital marketing will reach $836 billion, a number that grows significantly every year with no end in sight. Most experts agree that firms of all sizes spend more of their marketing budget on digital advertising than traditional marketing tactics like TV and radio. That's due, at least in part, to the value companies get in return for their spending on digital marketing, as you can see below.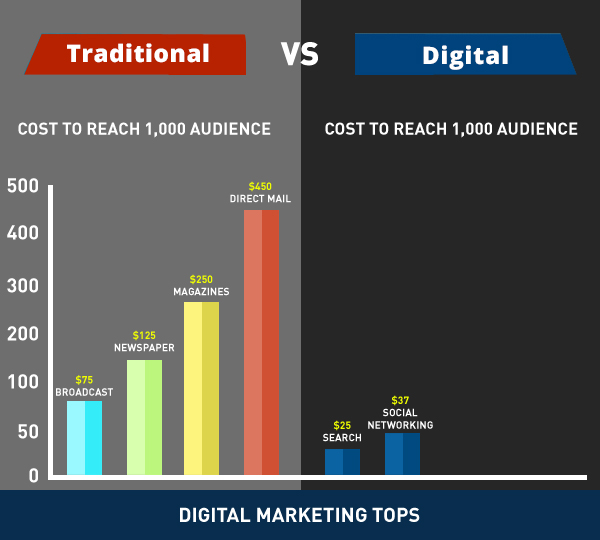 Another reason for the growth of digital marketing is the ability to use data to help guide better marketing decisions because you can track the response of Internet users to your content and advertising online in a way that's impossible (or at least very difficult) with traditional media. With traditional media, tracking the response to your advertising is muddled by other factors besides your advertising that might impact purchase decisions. Another problem with assessing traditional media is the lag between seeing a commercial message and responding to that message, such as purchasing in the store. Since most companies selling through traditional advertising sell through a retailer rather than directly to consumers, it further hampers efforts to assess the performance of your ads.
Digital marketing faces some of the same challenges but you have more metrics to help you leverage digital marketing data. While with traditional media you can only assess conversion from your ads without doing expensive and sometimes untrustworthy market research, with digital marketing you can assess an entire range of actions from viewing an ad, clicking on an offer, creating an account, putting a product in the cart, and sharing brand messages which you can't assess with traditional media.
How to leverage digital marketing data
First, let's discuss the goal of leveraging digital marketing data. You need insights because it's these insights that help you make better marketing decisions. For instance, knowing that you had 2000 visits to your website provides little information while an insight that you get more visits to your website when you post content to your social media platforms tells you that you should focus on frequently sharing content on social media platforms. Another example of an insight is understanding how your target market responds to different offers so you know exactly how you should adapt your marketing content to achieve a higher ROI or make more progress toward other goals you set for your business.
The first step you need to leverage digital marketing data is to connect with analytics platforms. Tools like Google Analytics require you to add a snippet of code to the <head> section of your website. Social media tools like Facebook/ Instagram require you to add a pixel (once a literal pixel wide by a pixel tall that was invisible to the naked eye) to enable certain types of tracking. If you use email marketing tools or send visitors to third parties for conversion, you might need to add tracking codes to your web pages to ensure you can monitor the performance of these marketing activities. While directions for how to accomplish these actions are beyond the scope of this post, you'll find lots of help online, including easy-to-follow videos. Most efforts to link tools to your marketing actions don't require you to write code, but only copy codes provided by the tool onto your website or other marketing collateral. You can even create QR codes to link your offline activities to your online efforts for better tracking.
KPIs
Next, think about which data you should monitor as digital marketing campaigns result in so much data it's easy to get mired down in the numbers. As an example, here's just one page (in this case the home dashboard) of the data you get from Google Analytics, which assesses the performance of your website (this data comes from the demo data provided as a learning tool by Google Analytics). If you look at the left-hand menu bar, you see more analytics provided by the platform and behind each of these types of data is a drop-down menu with even more options for data you can access from your website. You could literally spend your entire day every day just viewing all the data available on this one platform without generating the first insights.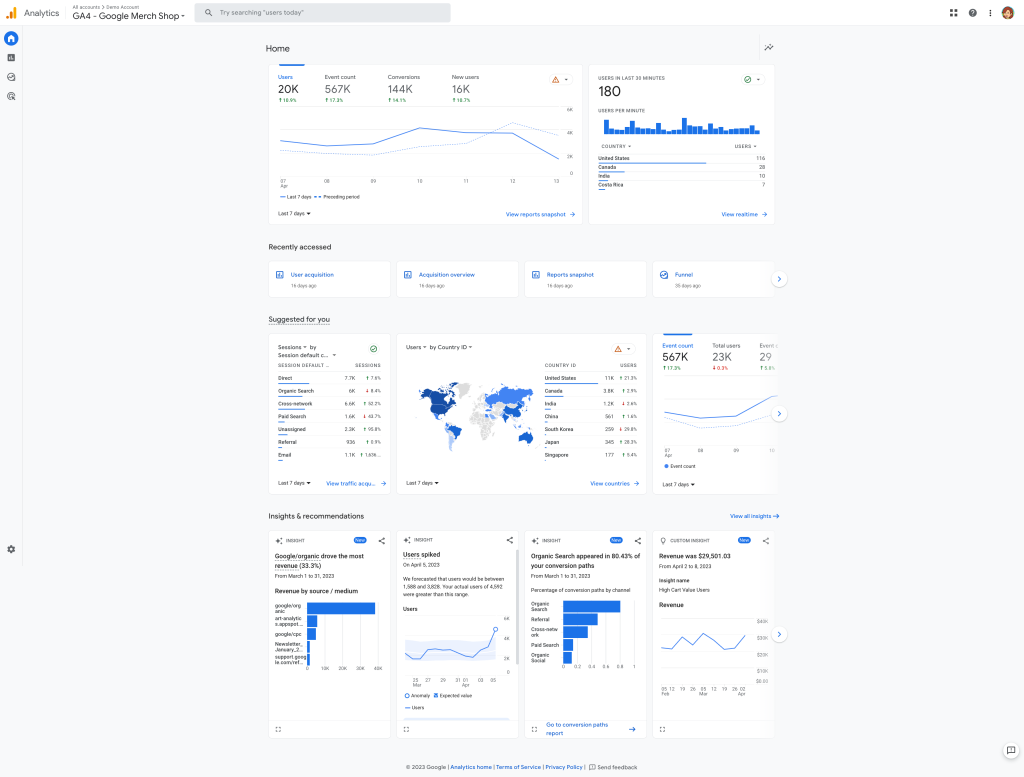 That's why you need to develop a set of KPIs that represent metrics impacting your goals. Since each business and different industries have different goals, the KPIs they monitor are likely different. Avinash Kasphyp, a lead analytics guru from Google Analytics, recommends choosing KPIs specific to your goals, especially ones tied to earning money, which is the primary goal for most businesses. In a recent post, he recommends assessing the following KPIs on a regular basis:
Conversion rate
Profit from business operations, which means you look at the fully loaded cost of the products (goods and services) you sell and the excess you earn above this number
ROAS or return on ad spend since you likely use advertising as a tool to market your products. In evaluating your marketing, ROAS is arguably more appropriate than profit as a measure of success since marketing doesn't usually have influence over the other costs that contribute to profit while they directly control ad spend. You might add other marketing costs to ROAS, such as the cost of software, employees, content creation, and other marketing costs that went into generating sales.
CLV or customer lifetime value, which, as the name implies, assesses the value of a customer over the length of time they remain a customer. You can read the hyperlinked post to see how to calculate CLV for your products.
Here is another take on which metrics you could track on your website that might provide insights but not directly form a KPI

Image courtesy of Matthew Woodward

Here are some KPIs to consider from my own experience since actions beyond conversion contribute to future conversions:

Top-of-the-funnel KPIs such as awareness
Middle-of-the-funnel KPIs that lead to conversion such as subscribing to a newsletter and accounts created
Stickiness of your website such as repeat visitors and pages viewed
SEO factors such as Quality Score (for ads), Domain Authority, and # of backlinks
Don't measure vanity metrics such as the number of followers but do assess social media engagement, reach, and frequency
Data visualizations
Next, recognize the impact of data visualizations on your ability to glean insights from your data by looking back at the Google Analytics dashboard above. Choosing the appropriate graphical representation of a key metric helps develop insights much better than seeing tables of numbers. By the same token, the wrong visualization can obscure insights. Not only do humans understand visualizations more readily than numbers but seeing data presented in a visualization allows you to better see associations and interpret large amounts of data.
Tableau and other data visualization tools allow you to import your data and set up visualizations once, then monitor performance by changing your data source, dates, or other elements with minimal effort. Google used to offer the Google Data Studio to create these visualizations with your website data but GA4 (the newest update to the platform) incorporates Data Studio into the platform under the Explore tab. GA4, in addition to being free, seamlessly associates your website data to the reports to ensure you produce interactive graphics of the right data.
Don't settle for metrics
Tools like Google Analytics and Facebook Page Insights provide a great wealth of metrics to assess your performance and, don't get me wrong, there are insights in these metrics. However, don't settle for just the metrics available from the analytics tools you use. Some insights evolve by massaging your data to gain a better understanding of how you should optimize your digital marketing campaigns.
For instance, you can leverage digital marketing data by breaking it up by segment. In the report below you can see the average engagement time, views, and exits from various pages of your website. You can break your data down by segments such as age, geography (country, region, city), source, campaign, and gender to gain insights regarding how different segments of your target market respond to your digital marketing campaigns.

Consistent monitoring
Leveraging your digital marketing data isn't something you do once in a while. You should monitor metrics on a daily or, at a minimum, weekly basis if you have any hope of using insights to help make better marketing decisions.
By the same token, don't look at your data at a single point in time. Compare your performance over time to glean more in-depth insights about how factors impact your ability to reach your goals. For instance, compare this year versus last year at the same time to see the cumulative effect of your marketing activity over the intervening time period. Compare the performance of one product with another and one country or region with another. It's through these more nuanced comparisons that you gain the most value from your data.
Connect the dots
So far, we discussed metrics available on various digital platforms to provide a tool to leverage digital marketing data but you can bring all your data to one place so you can further enhance your insights. Tools like IBM's Cognos allow you to create custom dashboards that bring data to a single place to create better insights. And, you can use different dashboards for different purposes. For instance, you might use a dashboard for your logistics manager that brings together internal data about stock levels and on-time delivery with data from your website that helps predict the amount of stock necessary to satisfy normal demand before launching a new digital marketing campaign. This information helps the manager make purchases ahead of the campaign to ensure the company doesn't experience a stockout or other delays that have a high customer piss-off quotient (which I advocate over customer satisfaction as a metric to monitor).
You might have one dashboard as the owner that assesses the performance of the entire company, while a manager over a specific region or product line might want more detailed information for just those elements of the business under her direct control.
Conclusion
If you don't think your company can effectively leverage digital marketing data (and most small and mid-sized businesses agree they're unable to leverage their data), I hope you found this post helpful. Sometimes, just the mention of metrics and analytics is intimidating to business owners and employees charged with making marketing decisions. It's really not as hard as you might imagine and there are lots of other posts on this page to help you by answering or demonstrating specific elements of analytics you need to leverage digital marketing data more effectively. Just search for the category "marketing analytics" at the top of any page for a list of posts related to analytics.
Need marketing help to support business growth?
We welcome the opportunity to show you how we can make your marketing SIZZLE with our data-driven, results-oriented marketing strategies.  Sign up for our FREE newsletter, get our FREE guide to creating an awesome website, or contact us for more information on hiring us.
Hausman and Associates, the publisher of MKT Maven, is a full-service marketing agency operating at the intersection of marketing and digital media. Check out our full range of services.