When you use content marketing and SEO (Search Engine Optimization) in a coordinated fashion, you can jumpstart your efforts to reach your marketing goals. Content marketing and SEO are two closely related strategies that aim to improve online visibility and attract organic traffic to a website. While they are distinct concepts, they often work together to achieve common goals.
Use content marketing and SEO together
Content marketing involves creating valuable and relevant content that engages and informs your target audience. The purpose of content marketing is to attract, educate, and retain customers by providing them with valuable information that helps solve their problems or meets their needs. The key to success in content marketing is to share valuable content with your target market(s) on a consistent basis to attract visitors to your website, increase conversion rate, improve your email open rates, and build a community of followers that support your marketing goals.
SEO, on the other hand, involves optimizing your website and its content to rank higher in search engine results pages (SERPs). The goal of SEO is to make it easier for search engines like Google to crawl, index, and understand your website's content. When the search engine finds new content, it categorizes that content based on the keywords used (actually a keyword phrase as opposed to the single words that were common in older search engine platforms). We call these long-tailed keywords and experts recommend a length of at least three words in your phrase (and that's getting longer with the increased use of voice search using tools like Alexa and Siri).
Once the search engine categorizes your content, it ranks it using a complex (unpublished) algorithm so the search engine can deliver user results with the highest quality results near the top. This ensures users continue to use the search engine and explains much of why Google still captures much of the search engine traffic (currently about 92% of all searches happen on Google).
Together, content marketing and SEO work hand in glove, since the quality of your content and consistency in publishing content are major ranking factors considered by every search engine out there. Hiring a reputable B2B content marketing agency can further enhance your online visibility and drive targeted traffic to your website. By producing content that's optimized for search engines, you increase your chances of ranking higher in SERPs and attracting more visitors to your site, as you can see in the graphic below. This traffic, termed organic traffic is your single largest source of site visitors (on average, organic traffic represents 76% of all visits to your website, depending on industry, while paid social only accounts for 15% of your visits).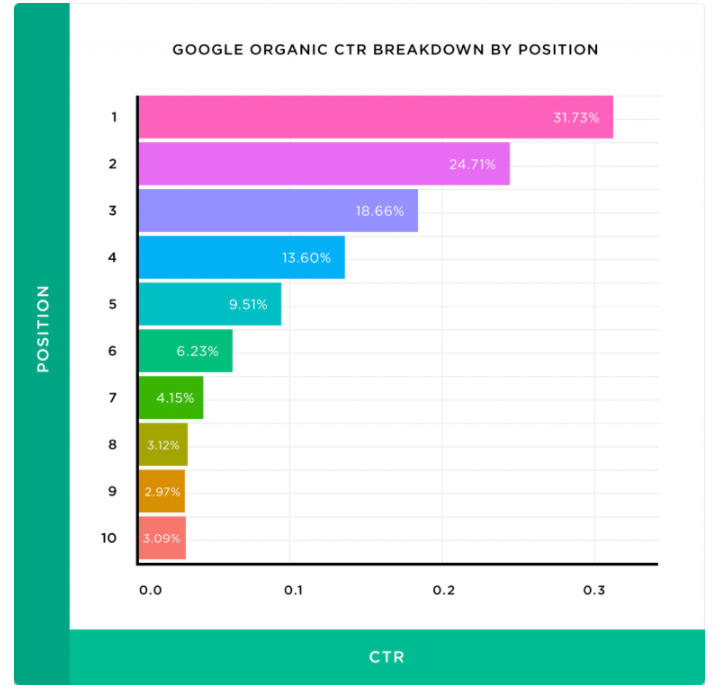 And by creating content that's informative, entertaining, and valuable to your audience, you increase engagement and build a loyal following of customers and fans, as well as move members of this community toward making a purchase by:
offering incentives to purchase such as relative performance compared to other product
overcoming objectives like the product costing too much by stressing the value
addressing questions such as the size or compatibility of the product
sharing reviews and user-generated content in support of your brand
building an emotional connection with the brand
establishing your brand as an expert in the industry
personifying the company
and much, much more
SEO
SEO involves a number of tasks that increase the visibility of your website to those searching for information related to your industry, brand, and products. The higher your rank in the search results, the more organic traffic you get coming to your website, as mentioned earlier. The best part about organic search traffic is that it's driven by USERS and often indicates an immediate need for a solution (and consumers buy solutions to their problems, not products). Hence, the conversion rate for search traffic is much higher than for any other marketing tactics you might use, except for email marketing in B2B firms, as you can see below.
Types of SEO
There are different tasks related to SEO, sometimes called types of SEO, and some are a function of your content marketing efforts, while some aren't. Let's delve deeper into the topic by first looking at the related tasks in SEO.
On-page optimization: On-page SEO is a function of your content marketing efforts, including consistency. This includes optimizing meta tags that are read by the web crawler, headings and subheadings, URLs, and content to make them more search engine-friendly. Keyword research and optimization play a crucial role in this process.

Consider shortening links with the

best URL shortening tool

to help improve content appearance

Off-page optimization: This focuses on building high-quality backlinks from reputable websites, social media sharing, and other external factors that signal the website's authority and relevance to search engines. Again, content marketing is a key element in off-page SEO since creating valuable content encourages sharing by other websites and social media users.
Technical optimization: Ensuring that a website is well-structured, has fast page loading speeds, is mobile-friendly, and is accessible to search engine crawlers. Some aspects of technical SEO are beyond the skills of content creators, especially when it comes to elements such as schema markups, using HTTPS protocol, and site speed but other factors are a function of content marketing such as ensuring a great user experience with logical navigation.
Local SEO: involves SEO tactics used by businesses to attract a target market that's in a smaller geographical area such as a town or city. You can set up local SEO using Google My Business to share information about your business. Google verifies this by sending snail mail to the address listed in your profile. Local SEO is valuable because, when users search for a local business, you have a better chance of your business attracting attention as these businesses are listed first in search results and are enhanced with elements such as reviews and ratings, phone numbers, maps, and more that help users choose your local business. You can see an example of a local SEO listing below.
SEO ranking factors
The Google algorithm contains a number of factors and weights associated with each to determine your rank in a search. Obviously, consideration for showing up in the SERPs is a function of your keywords so having an exact match or a close match to the keywords used in search queries is a big factor in whether your content shows up at all and where in the list it shows up.
Below is a list of the top SEO ranking factors for 2023 and the approximate weight assigned to each factor. Use the link to find more information on each factor.
2023 Google Algorithm Ranking Factors
| | |
| --- | --- |
| Factor | Weight |
| Consistent Publication of Engaging Content | 24%▼ |
| Keywords in Meta Title Tags | 15%▼ |
| Backlinks | 15% |
| Niche Expertise | 14%▲ |
| User Engagement | 12%▲ |
| Trustworthiness | 5% NEW |
| Mobile-Friendly / Mobile-First Website | 4% |
| Internal Links | 3%  ▼ |
| Page Speed | 3% |
| Site Security / SSL Certificate | 2% |
| Schema Markup / Structured Data | 1% |
| Keywords in URL | 1% |
| Keywords in Meta Description Tags + 19 Other Factors | 1% |
Content marketing
Content marketing involves creating and distributing valuable and relevant content to attract and engage a target market. The content can take various forms, including blog articles, videos, infographics, podcasts, and more. Most online marketing campaigns involve some combination of these types of content based on the target market and the industry, as well as company goals.
The likely goals of content marketing include:
Driving traffic: By consistently publishing high-quality content, businesses can attract visitors to their websites and increase brand awareness.
Building authority: Creating valuable content establishes a business as a trusted and knowledgeable source in its industry, helping to build credibility and trust with the target audience.
Generating leads: Content marketing is used to capture leads by offering valuable resources in exchange for contact information, such as eBooks, whitepapers, or email newsletters and then nurturing those leads through email marketing campaigns.
Enhancing customer loyalty: By delivering valuable content regularly, businesses can foster ongoing relationships with their audience, leading to increased customer loyalty and repeat business.
Search Engine Optimization (SEO): The goal is to increase organic (non-paid) traffic from search engines like Google. SEO involves optimizing content for the ranking factors listed above.
User experience: Creating a positive user experience by improving website navigation, usability, and overall satisfaction, which indirectly contributes to SEO by reducing bounce rates and increasing dwell time but also improves conversion rates by encouraging visitors to explore deeper into your website.
Consistency and tools to help you create consistent content
Consistency is a key factor in building an engaged community that supports your marketing performance as well as improves your SEO rank. Publishing content on the various platforms you use (those where your target market hangs out) on a regular basis is a great tool to support your marketing goals. Below, you can see the preferred publication level recommended by experts.
It doesn't take a math genius to figure out that keeping up with this publication schedule isn't an easy task. Hence, most businesses choose a few platforms rather than trying to have a presence on them all. Again, choose the ones where you can find your target market. Of course, there are tools to help you reach your publication frequency goals, such as:
Marketing automation tools allow you to schedule content that posts on an optimal schedule to reach your target market. For instance, you want to reach GenZ on TikTok (not listed in the graphic but requires 1-2 videos a day) in the evening or late at night when you might not want to work. Tools like Hubspot and Hootsuite allow you to send posts on your schedule and can even help you determine what times are best for sharing content. They also let you schedule a bunch of posts at once, which is much more efficient.
A content marketing calendar is valuable as it lets you get a head start on your content marketing by coming up with topics and bringing together other resources needed to create a month's worth of content. That way, you never struggle with a blank screen and a deadline to create content. I've even developed a content marketing template you can easily adapt to your own needs.
ChatGPT is an artificial intelligence (AI) engine that is great for helping with content creation (in fact, this post started with a prompt on how to use content marketing and SEO). However, never use an AI to write content for you because the information in the content might not be valid, it doesn't contain the links to authoritative sources that you need, and you may get a penalty from search engines for copying the content. AI is a great tool to help you flesh out a topic and identify some aspects of that topic you should cover in your content. This content started as two different results from my ChatGPT prompt and was only about 700 words, which is too short. Obviously, I heavily edited the content spit out by the AI.
Crafting great content
First and foremost, match your content to the platform and your target market. For instance, TikTok is primarily short videos while Instagram is image heavy with limited text (and you can't share a link in the text without a minimum number of followers). Facebook uses more text but you still need a cool image if you want to attract attention. Blog content requires around 2000 words, although that number is increasing, so you can't just write a short snippet or upload a video to your blog. BTW, a blog is critical for success as that's where the SEO magic happens and it is something you control so you never have to worry about disappearing (platforms can and do delete accounts without much option to appeal their decision).
Custom visuals (images, infographics, and video) are great for garnering backlinks while text is perfect for driving visitors down the conversion funnel (see below) and gaining subscribers to your email marketing program.
The intersection of content marketing and SEO
Use content marketing and SEO together as they are intertwined because high-quality content serves as a foundation for effective SEO. When content is optimized for relevant keywords, provides value to users, and attracts backlinks, it improves search engine rankings and organic traffic. Additionally, content marketing efforts can amplify SEO results by promoting content through social media, email marketing, and other channels.
To maximize the impact of both strategies, it's crucial to conduct keyword research to identify the topics and keywords with high search volume and relevance to the target market and lower competition for the keyword. Creating compelling content around these keywords and optimizing it for search engines will enhance the visibility and reach of the content. Google offers a free tool to help you choose effective keywords, which you should use only once on your blog (hence another reason for long-tail keywords). You can also find a host of other keyword tools online.
WordPress websites can use plugins like Yoast and All-in-One to help content creators optimize their content for SEO by grading the content based on current ranking factors and offering suggestions to improve the SEO of your content.
Conclusion
Remember, content marketing and SEO require ongoing efforts and a data-driven approach. Regularly analyzing performance metrics, such as website traffic, rankings, and engagement, can provide valuable insights for refining your content and SEO strategies over time.
Need marketing help to support business growth?
We welcome the opportunity to show you how we can make your marketing SIZZLE with our data-driven, results-oriented marketing strategies.  Sign up for our FREE newsletter, get our FREE guide to creating an awesome website, or contact us for more information on hiring us.
Hausman and Associates, the publisher of MKT Maven, is a full-service marketing agency operating at the intersection of marketing and digital media. Check out our full range of services.