There are approximately 30,000 SaaS companies in the world and around 14 billion SaaS customers. With the SaaS (software as a service) industry booming, many are wondering — what differentiates SaaS from marketing a traditional product? Both of them require effective selling techniques that sell the solution not the product, but SaaS is all about selling something you don't own like a subscription to Salesforce. Even Adobe switched from its software model to a SaaS model where it sells a yearly subscription (paid in monthly charges) to a bundle of software products. This requires a depth understanding of your potential customer's needs and wants. There's no doubt that customers want SaaS products, but this makes standing out from the crowd more challenging than ever. Improving your SaaS marketing strategy in 2023 is a must and the tips below can help you step up your game to generate higher returns.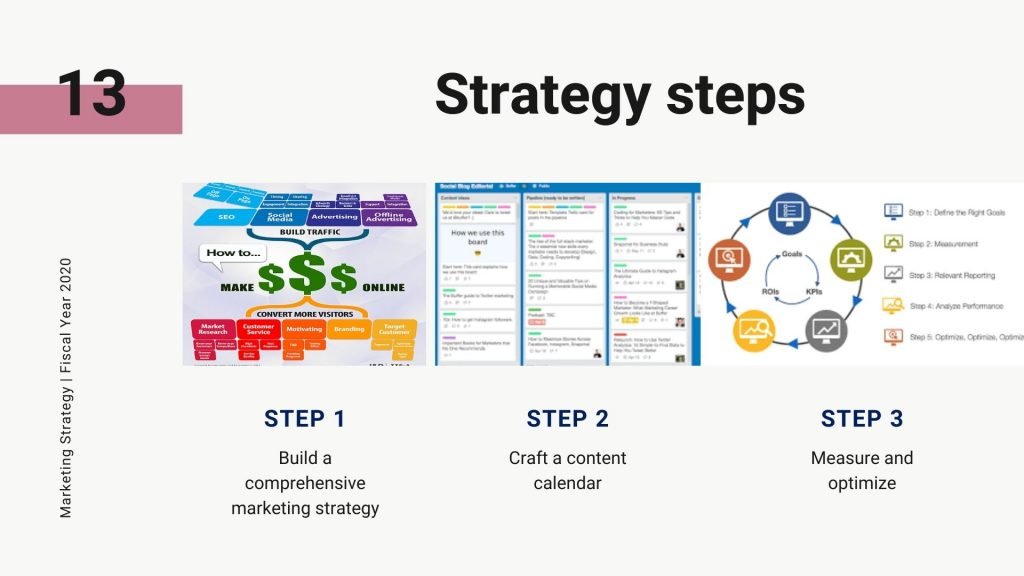 9 tips to improve your SaaS marketing strategy
When you're trying to improve your SaaS marketing strategy, the tactics are much the same as creating a marketing strategy for most other industries. However, selling an intangible was always more challenging than selling something you could hold in your hand. Plus, the rules have changed a little bit over tactics that led to success in years past. That's why it makes sense to look at the strategies that work today. 
1. Create high-quality content
How do customers decide if a service is right for them? Easy! It offers a solution to their problems. However, the challenge is to convey this message through content only since you can't let prospective buyers touch and feel your product. Even solutions such as trials don't make it much easier to sell a subscription since using the trial often takes time and effort to learn the software and give it a good try. That's why, when selling software as a service, make sure to embrace SaaS marketing content to help your business grow.
When creating a website, It's important to understand that you're writing to satisfy your visitors. You must create content that's relevant to your brand and customers' interests. Your main goal is to attract as many visitors as possible to your website since every new visitor is a potential customer. How else do you engage customers, if not with valuable content?
For example, you might offer a rich demo of your product in action or include testimonials from satisfied buyers. The key to successful content is to write authentic content that motivates your target marketing to visit (content is the biggest factor in SEO) but it motivates prospective customers to stay. By providing valuable, engaging, and entertaining content, you help move visitors toward a decision, as you can see below.
2. Cooperate with an SEO agency
Let's follow up on the importance of content. If you've heard about SaaS, you've probably heard about search engine optimization (SEO), as well. SEO drives visitors to your website from related searches for the content you provide, termed organic search traffic. In essence, SEO ranks content provided across the internet to deliver the content that best matches a user's query. Since users tend to select links near the top of the search results, as you can see below, the higher your rank, the more organic traffic you gain.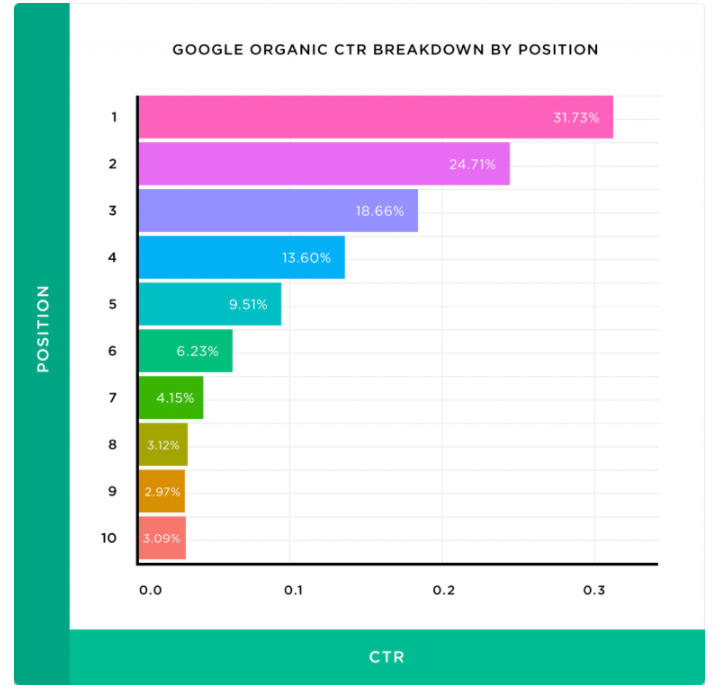 The search algorithm used by companies like Google and Bing is comprised of a mixture of factors, like domain authority and social media engagement, and weighting factors that make optimizing your content for search a complex task. Hiring an SEO agency for SaaS businesses provides numerous advantages. Taking everything into account, SEO can really help your website stand out. Investing in an SEO agency is a worthwhile investment because there's no point in offering the best service possible if it's not easily findable.
3. Provide free trials
People tend to fear the unknown. Everybody wants to try out a product before they purchase it and that's especially true for intangible products like SaaS. Netflix is a great example of this. Before subscribing to their platform long-term, they offer you a free month's trial so you can better understand what you're getting into and what benefits you get from your subscription. Once you see the value of the product, it's much easier to convince you to subscribe to keep getting the service.
Furthermore, free trials are a great way to receive feedback from customers. This is especially crucial for startup companies — the more feedback, the more insights for improvement. 
4. Secure your platform
As much as SaaS products are amazing, from customers' point of view, they're still web-based systems. This opens users up to vulnerabilities they don't have when buying other types of products. Cybercrime is real and potential subscribers hear about vulnerabilities in the news almost every day.
If customers don't feel that sense of security, they'll switch to another platform. Not investing in security can cost you a lot of potential customers. If you still haven't secured your platform, this is your reminder to do so.
Below we list security practices SaaS companies should adopt:
Secure your website with an SSL certificate. This is a standard technology you shouldn't take for granted. It's a great way to ensure customers that any sensitive data that's being sent is secure.
Implement a cloud access security broker (CASB). This software offers an additional layer of security between the cloud network user and the cloud application. It enforces different security policies.
Offer multi-factor authentication (MFA). This is a must for every web-based system out there. Your customer will be required to enter two or more verification factors in order to access their account.
5. Consider PPC campaigns
Even though content writing skills and SEO strategies are very effective, accounting for up to 53% of all website traffic in 2022, sometimes they're not enough. In cases like this, turn to PPC (pay-per-click) campaigns like Google Ads for search. According to the same source, such advertising adds another 15% to your traffic.
Why should you consider paid media for SaaS?
Affordable option. You're only paying when the ad is clicked, so it's not that costly.
PPC campaigns are efficient. Since you're only paying when the ad has been opened, you'll know exactly how leads found you. This gives you a better understanding of what got them interested, so you'll know what already works and where an improvement is needed.
Reach a specific audience. With PPC campaigns, you have a higher chance of reaching the right audience. This means, your product will be marketed only to people who've shown interest.
6. Hire a Webflow SEO specialist
Creating an engaging and user-friendly website is challenging. That's why SaaS businesses tend to hire web designing agencies to build a better user experience. A well-known platform, whose popularity is continuously increasing is Webflow. It can help you develop an SEO-friendly and secure website from scratch.
If you're just starting with Webflow, it's best to hire a Webflow SEO specialist, since it can be a lot to take in at the beginning, especially if you're not familiar with coding.
7. Keep your service up to date
Compared to selling a physical good, marketing a web-based system is not just a one-time thing. This means, your job is not done after selling it successfully. Yes, with SaaS there's no need to worry about shipping, manufacturing, or product return, but you must upgrade your product from time to time to preserve its functionality as technology and external factors change. This involves following market trends and competitors, to keep up with current updates and improve customer satisfaction.
8. Create a simple pricing strategy
Remember, customers, come to you looking for a service to simplify their everyday tasks. It doesn't do anyone any favors if you complicate this process. Many companies make this mistake, thinking that complicated content looks more professional. The truth is, simplicity is of great value and is what makes your business more efficient. More importantly, it's what increases sales.
It's important to develop a simple pricing plan, explaining exactly how much it costs and what users get.
Use email marketing to your advantage
Email has existed since the 70s and has never lost its popularity. For what it's worth, its use is just increasing with time. With that said, it's almost impossible to find a person who's not using email.
Email marketing is the most important when it comes to ROI. Moreover, email services nowadays can easily target audiences, so there's no need for you to send messages to everyone. Don't forget, It's important to create relevant messages, which provide insight above everything else.
Benefits of SaaS marketing strategy
Helps you attract potential customers. Instead of just putting your product out there and waiting for someone to find it and buy it, an effective SaaS marketing strategy helps you attract relevant audiences.
Creates brand awareness. The main goal of SaaS is to create demand for your product. Keep in mind though, for this to work, your product has to be unique and ready to fight against the competition.
Improves customer satisfaction. Customers are your most important asset. Learn to always listen to your customers. They're your guide to business improvement and boosting sales. SaaS helps you attract new potential customers, but at the same time reminds you to pay attention to already existing customers and keep them satisfied as well.
Turns leads into customers. Attracting people to your website is one thing, but actually engaging them to the point of buying your product is a whole different process. By developing a SaaS marketing strategy, you'll know all the tricks you need to achieve this goal.
Stepping up your SaaS marketing game
Bringing awareness and increasing sales is what SaaS marketing is all about. Developing a SaaS marketing strategy is crucial for the success of SaaS companies. If you're new at this, you can always contact a SaaS marketing agency. The future of SaaS marketing seems bright. We live in a digital world, so having quick access to effective software, which fulfills your needs is not a bad thing at all.
Jeffrey Gitomer once said: ''Great salespeople are relationship builders who provide value and help their customers win''. This alone tells you what selling a product means — offering a solution to the customers' problem. When you think of all the points you need to go through, from creating a website to attracting customers, it almost seems impossible. SaaS marketing is here to convince you otherwise. Once you understand its importance and implement a strategy, you'll immediately see the difference in business improvement.
Author bio
Makedonka Micajkova is a freelance content writer and translator, always bringing creativity and originality to the table. Being multilingual with professional proficiency in English, German and Spanish, it's needless to say that languages are her biggest passion in life. She is also a skilled communicator, as a result of having three years of experience as a sales representative. You can find her on Linkedin.
Need marketing help to support business growth?
We welcome the opportunity to show you how we can make your marketing SIZZLE with our data-driven, results-oriented marketing strategies.  Sign up for our FREE newsletter, get our FREE guide to creating an awesome website, or contact us for more information on hiring us.
Hausman and Associates, the publisher of MKT Maven, is a full-service marketing agency operating at the intersection of marketing and digital media. Check out our full range of services.