SMS marketing is an effective way to reach a large audience quickly and directly while receiving immediate feedback from customers. It also has a personalized feel that effectively builds customer loyalty. Effective SMS marketing delivers a high return. In fact, experts put the ROI of SMS marketing at 500% with a CTR (click-through rate) of 80% compared to a CTR of a little better than 2.6% for email marketing. That's why so many firms report intent to increase spending on SMS marketing in the future. Keep the following tips in mind to build effective SMS marketing programs.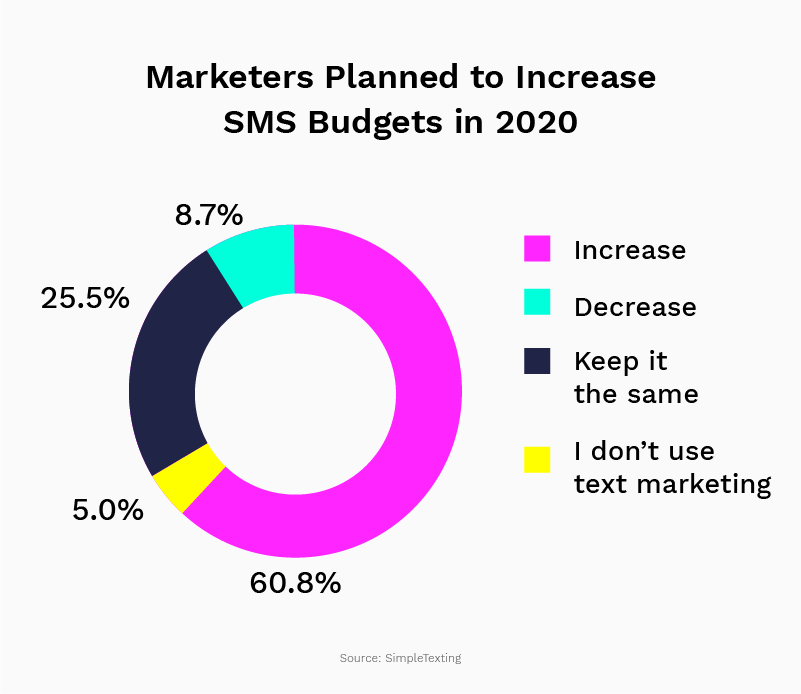 SMS messaging
SMS messaging, or short message service messaging, involves texting to users' phones with short messages. One reason SMS marketing delivers such high returns is the fact that users receive a notification when a new text is received that prompts them to open the text. Users, who use their smartphones for texting more than any other application, find it hard to ignore a text message, unlike a phone call or email, according to Forbes. That's one of the reasons text messaging delivers such a high ROI.
More businesses use SMS messaging every year. Here are some ways you might use effective SMS marketing to support your business performance:
Sending appointment and event reminders
You can send discounts and other offers
Use SMS messages to announce important business activities such as upcoming events
Share information on orders, such as delivery confirmation, updated delivery schedules, etc.
Update users on schedule changes, new hours of operation, office closures, etc.
Allow users to message you with questions or feedback. SMS messaging is two-way communication so don't forget to encourage users to message you, as well
Tips for effective SMS messaging
But, your business doesn't achieve its goals for SMS messaging unless you can implement an effective plan for your messaging operation. Below, we share 9 tips for effective SMS messaging.
1.   Invest in text message marketing software
Text message marketing is a powerful way to reach customers on their mobile devices. However, with so many options on the market, it's a challenge to know where to start. Efficient text message marketing software offers a variety of features to help you get the most out of your campaigns. Online, you can find a number of companies that offer SMS software so consider your needs and reviews to choose the one that's right for you.
Look for a platform that allows you to segment your contacts, personalize your messages, and track your results. Choose a provider that offers excellent customer support. With the right text message marketing software, you can take your business to the next level.
2.   Educate first before selling
SMS messaging shouldn't all involve promotions. Take the time to educate your audience about your product or service before you start selling. Otherwise, you risk coming across as pushy or spammy and damaging your brand. You'll also find users consistently delete your SMS messages without reading them. An excellent way to do this is to send a series of educational messages that provide value rather than trying to hard-sell users right away.
For example, you could share tips on using your product or provide interesting facts about your industry. Once you've built up a rapport with your subscribers, start sending messages that promote your products or services. However, strike the right balance between selling and education as part of your ongoing SMS strategy.
3.   Gather feedback and data
Gather feedback and data from your text messaging campaigns to improve your results. When choosing your SMS software, consider the amount of data provided to serve as a guide to improving your SMS strategy.
There are a few different ways to develop more robust information to guide strategy in addition to data produced by your software to evaluate campaigns. First, ask customers to rate their experience with your campaign using an outside survey through SurveyMonkey or Qualtrics. You can also track the number of replies and opt-outs from your campaign through your SMS software.
This data helps you troubleshoot any problems with your campaign and identify problem areas to optimize future performance. Finally, be sure to keep an eye on your click-through rate. This gives you an idea of how effective your campaign is at driving customers to your website or landing page.
4.   Keep your messages short and sweet
In an age where everyone is constantly bombarded with information, it is more important than ever to keep your messages short and sweet. SMS marketing is the perfect medium for concise, to-the-point communication. When crafting your message, always consider your audience and what they need to know. Keep it simple and make sure that your call to action is clear.
SMS messaging is informal, so avoid sounding like a press release. Your message should mirror the way members of your community speak without being inauthentic.
5.   Timing is critical
Consider the timing of your SMS marketing campaign. You don't want to bombard your customers with too many messages, but you also don't want them to forget about your brand. Strike a balance by sending messages regularly, but not so often they get annoying. Always pay attention to how your customers respond to your messages, and adjust your campaign accordingly.
6.   Use proper grammar and punctuation
Good grammar and punctuation are critical in both spoken and written communication. Proper grammar shows that you are knowledgeable and credible, while good punctuation clarifies your meaning. Poor grammar, spelling, and punctuation also damage your brand; making you appear less professional.
Be sure to proofread the text before submitting it to avoid errors that could confuse your audience. Additionally, make sure to use standard abbreviations and slang sparingly. When in doubt, it's best to stick to the formal language.
7.   Personalize your messages whenever possible
Everyone knows the feeling of getting a generic message that could have been sent to anyone. You quickly feel like you're just another number. By addressing your recipient by name and including specific details, you'll instantly make them feel like they matter to you. Next time you sit down to compose an SMS, take a few extra minutes to personalize it for your reader. This is where segmenting your list helps you craft the right message that resonates with the segment. Using software that allows this segmentation is critical.
8.   Test different types of messages to see what works best
Trying out various SMS marketing messages is a great way to see what works best for your business. You might want to experiment with a few different styles and see how your audience responds. For example, you could try sending out a brief message with just a link to your website or include a special offer in your text. A/B testing, where messages vary by a single element, is best for helping you optimize performance.
You could also try sending out a longer message that tells your customers more about your product or service. Ultimately, the best way to determine what works best is to test out a few different options and see what gets the best response from your customers. Conduct a survey to get feedback from your customers. With trial and error, you can find the perfect SMS marketing strategy for your business.
9.   Respond promptly to customer inquiries and complaints
It's critical to respond promptly to customer inquiries and complaints send via SMS. A quick response shows that you're attentive and responsive to customer needs, building trust and goodwill.
Additionally, prompt responses resolve issues before they escalate, affecting your business. Keep an eye on your inbox and respond quickly to any messages. Doing so will keep your customers happy and the business running smoothly.
Endnote
Text message marketing is a powerful tool that can reach out to customers in a new and exciting way. You can create successful campaigns that will help you achieve your business goals. However, approach it with caution and take the time to educate yourself on the best practices. With a bit of effort, you can create a text message marketing strategy that will be successful for your business.
Need marketing help to support business growth?
We welcome the opportunity to show you how we can make your marketing SIZZLE with our data-driven, results-oriented marketing strategies.  Sign up for our FREE newsletter, get our FREE guide to creating an awesome website, or contact us for more information on hiring us.
Hausman and Associates, the publisher of MKT Maven, is a full-service marketing agency operating at the intersection of marketing and digital media. Check out our full range of services.