Every year, thousands of entrepreneurs launch a new business into the economy, facing an uphill battle to gain traction and survive in challenging economic conditions. As you can see in the graphic below, failures come from many sources, from a mismatch between your product and marketing needs to cash flow, to stiff competition. In total, about 90% of new businesses fail. While there's never a guarantee you will succeed, here are 9 marketing mistakes to avoid to increase your odds of success.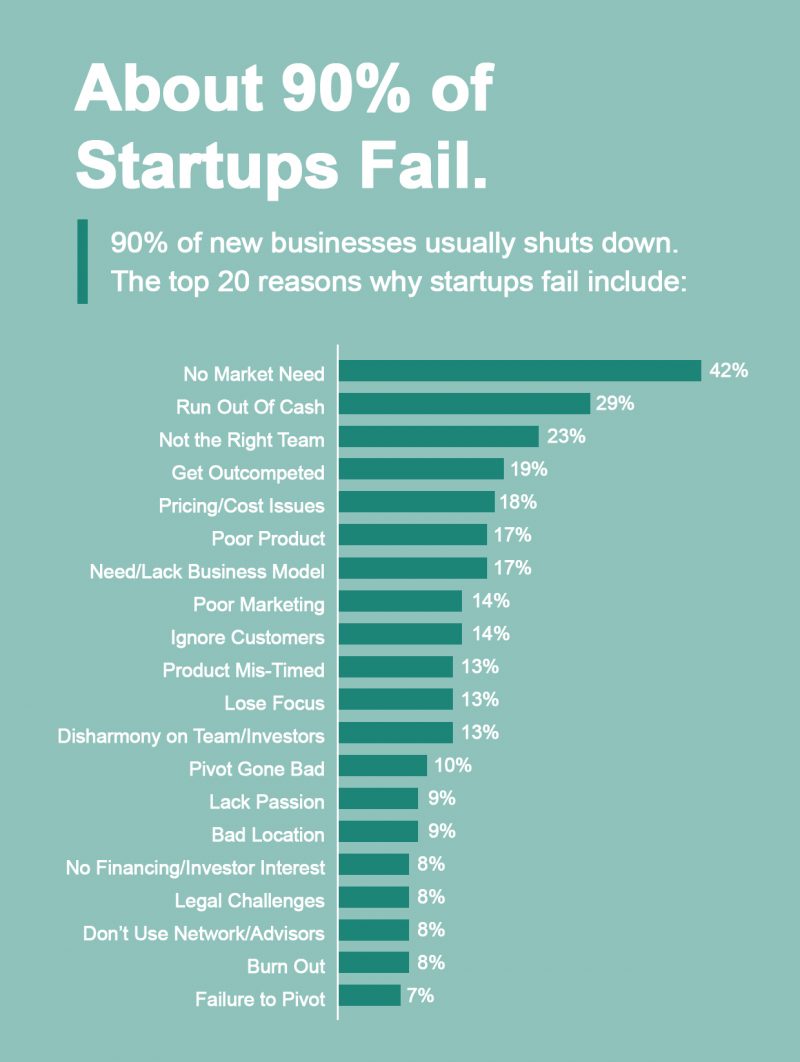 Impact of marketing on success
We have a funny way of looking at startups (and even established businesses) in our society; one that puts the financial aspects of the business ahead of all other business concerns. Likely, the emphasis on finance results from the fact that businesses that run out of money fail fast. As a marketer, I recognize that poor financial performance isn't due to mismanagement of financial resources (for the most part), it's a function of not bringing insufficient cash flows to keep the business going. Since selling to customers is the most effective means to increase cash flow, because sales don't incur interest charges or dilute control over the operation that threatens the long-term success of the business.
When you make serious marketing mistakes, you weaken the firm's ability to successfully sell products to customers and there's no way to borrow your way out of that problem, in the long run. Hence, here are some marketing mistakes to avoid if you want to keep your business afloat.
9 marketing mistakes to avoid
1. Not building a sound marketing plan
You'd be surprised at how many businesses don't bother with a marketing plan before starting operations or at least committing resources to start a business. According to a survey conducted in 2019, 50% of small businesses don't have a marketing plan at all. Another big chunk of businesses either don't do a deep dive to ensure their marketing plan is evidence-based or don't update their marketing plan as conditions change.
I once consulted with a Fortune 100 company and was asked by the CMO (chief marketing officer) for an outline to help him develop a marketing plan. I was floored that the company didn't have an existing marketing plan and that they'd hired someone for this role who had never developed a marketing plan in the past. If you're one of those people who never built a marketing plan or would like more information about how to successfully build a marketing plan, you'll find lots of resources on this page. I recommend you start with this post on building a marketing plan.
2. Not having a blog
A website is no longer an option for any business, even if you don't operate an e-commerce site. Below, you see the top 5 reasons why every business needs a website in today's increasingly digital world.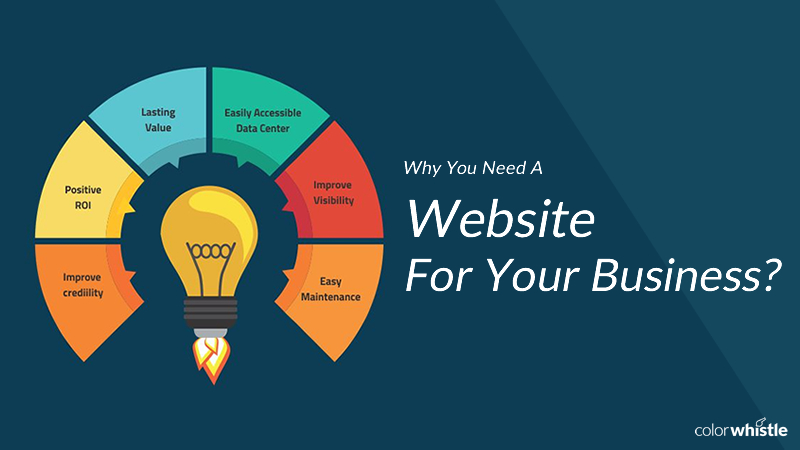 Yet, 28% of small businesses lack even the most basic website and many others settle for the low-value websites hosted by website builders like Wix and Squarespace that provide limited utility. Yet, building a powerful website isn't that hard or expensive, so this is a top marketing mistake to avoid if you want to succeed.
In addition to your website, you should add a blog or similar vehicle that allows you to share valuable information related to your business with visitors constantly. Not only does this constant stream of information support your SEO (which we'll discuss below), it acts to guide visitors through the conversion process to deliver sales.
3. Misusing social media
Social media is a powerful tool to support your marketing effort if used correctly. Your social media page is one of the best ways to convert your prospects into customers. Social media provides the opportunity to spread your content to a new audience while harnessing the power of your community to reinforce and spread your message further. Social media is cost-effective and doesn't have to take up much of your scarce resources.
Using social media the right way isn't as easy as you might think, especially if you have experience using social media for personal reasons. A top marketing mistake to avoid is using social media as if it were the same as running your personal social media. Here are some key differences when you use social media for business purposes:
Consistency is key. You must publish fresh, valuable content on an appropriate schedule to build your community, gain traction, and support your business goals. Below, you see a recommended posting schedule, although you may need to experiment a bit to find what works best for your brand.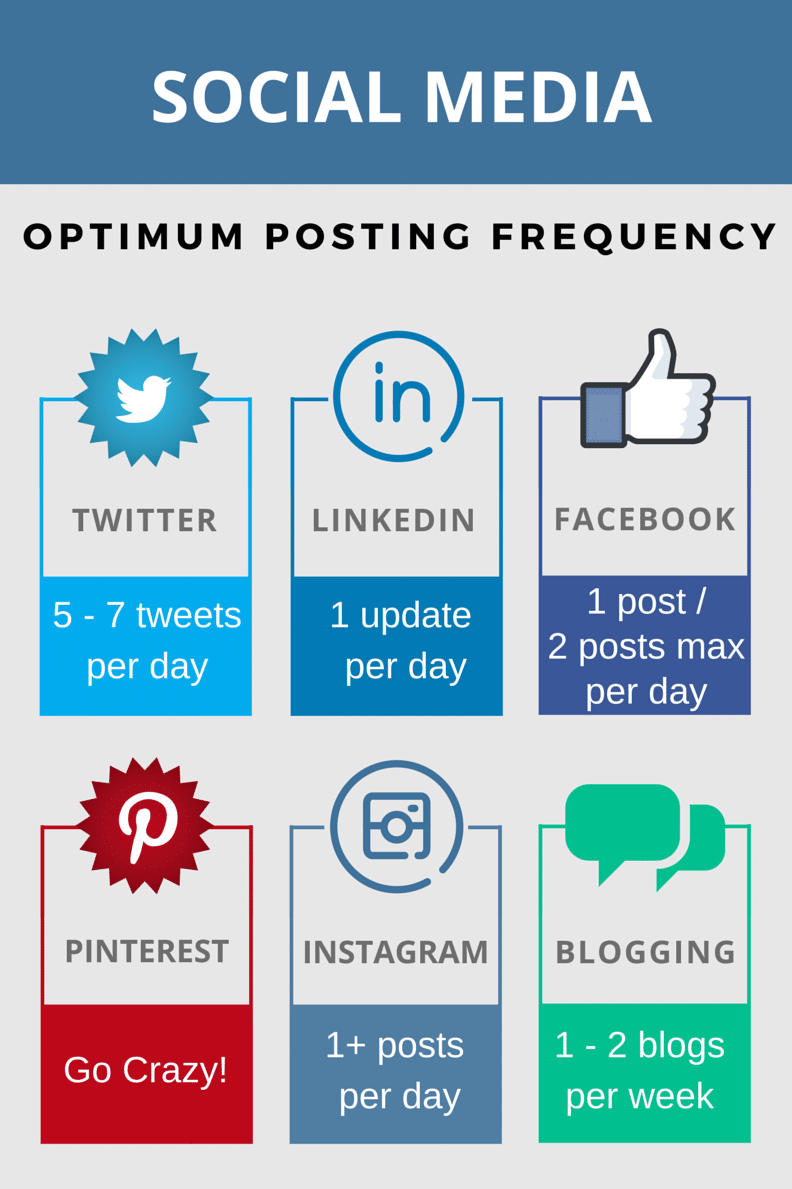 Unlike other forms of marketing communication, social media is very informal and personal. Your posts shouldn't read like a press release and should contain human interest stuff and other content that supports your values.
Remarketing is a great way to maintain a relationship with users who visited your website.
Listen and respond to comments about your brand whether on your page/ profile or an external user's profile. The faster and more transparent your response, the more benefit you receive. Never, never try to hide criticism but face it by owning your mistakes.
Follow the 80/20 rule that 80% of your content should appeal to your target market while only 20% of your content is overtly promotional. Focus on building a relationship not selling on social media.
4. Forgetting about mobile
Believe it or not, mobile traffic accounts for around half of the traffic to websites, although that number varies by country and within different market niches. For instance, as a B2B website, more of my traffic comes through desktop/ laptop devices. As you begin to optimize your site, you have to make sure that you do not forget about your mobile customers and provide a great user experience across different screen sizes. You also need to ensure your load speed is the same for your mobile site as it is for your desktop site, or faster, as mobile users don't have a lot of patience. If your mobile performance isn't up to snuff, you're making a huge mistake, which can work against you far more than you realize.
5. Not asking for the sale
Any salesperson worth their salt knows you never leave a meeting, end a phone conversation, or finish a letter (or email) without asking for the sale. The same goes for other marketing activities, so it's a big marketing mistake to avoid as you utilize digital efforts to consummate a sale. Using the right CTA (call to action), putting it in the right place, and making it stand out in your communication, makes a huge difference in your performance. You should include a CTA that motivates your specific customer to make a purchase on your landing pages, your email messages, and, selectively, on your social media platforms.
Surveys show that two out of three customers who end up making unplanned purchases often do so because the company offers a discount. Online coupon codes are great if you really want to boost your site, and this is especially the case on the landing page. A CTA offering a discount not only drives sales by moving prospective buyers off the fence but it may convince buyers to buy now rather than wait for another time. Of course, you have to make sure that you have other CTA as well, as this will help you to incentivize your users to take action when you combine it with a promotion.
6. Not using the right keywords
SEO or search engine optimization is a critical element of your digital marketing strategy and it's a top marketing mistake to avoid if you don't include SEO in your efforts. Up to 70% of traffic to business websites comes through organic search, meaning a user found your content after entering a query into a search engine and clicking on your link. SEO involves optimizing your website to attract as much organic traffic as possible.
Keywords play an important role in SEO. The match between your content and the user's query depends on a keyword match. Choosing keywords that express the way your target market thinks about your product, the types of questions they're likely to ask, and are frequently used in queries is part of the SEO process. Below, you see results from the Google Keyword Planner, a free tool to help users choose the right keywords. In this situation, I centered my search around jewelry. Notice how keywords related to jewelry show varying numbers of monthly searches and degrees of competition. The sweet spot is choosing words that relate to your product with a high search volume and low competition. Often, choosing focused keywords result in better performance than broad keywords.
Use your keywords appropriately by:
only using each keyword once (you can increase your options by adding extra words to your initial keywords to form long-tail keywords)
using the keyword in the title, a subheading or two, as the alt text for images, in your meta description, and a few times in your content
If you're not using keywords correctly, you won't attract much traffic to your website, which might sink your performance. If you need some help here, you might want to hire a digital marketing agency to help by auditing your existing content, finding the right keywords, and developing an SEO strategy to improve your organic traffic numbers.
7. Targeting too broadly
I worked as a marketing consultant to the Small Business Administration for years and I discovered that target marketing is the most misunderstood aspect of marketing. Target marketing doesn't mean you can't sell to anyone who isn't part of your target market, it means you recognize that a smaller segment of the total population, your target market, represents the best opportunity to sell your product. By focusing on this target market, you develop messaging that they find motivates them to make a purchase. If your message is too unfocused, you might find that no one is attracted to your products.
Below you see factors that explain why customers decide to complete a purchase. While many of these influences appear to meet generic needs, some reflect personalized treatment. Even in the situation where the influence factor appears more generic, personalization still works. For instance, by understanding which discounts your market finds more favorable, you find higher conversion rates.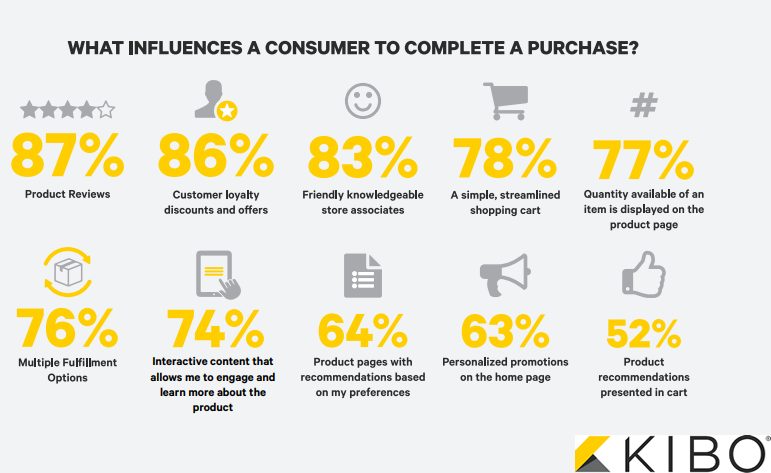 8. Ignoring customer needs
Customers don't buy products, they buy solutions. Hence, your job is to solve their problems with the best products at the most reasonable prices. You also need to ensure your products are readily available and that you answer their questions both before and after they make a purchase. If you only produce products because you have expertise in a particular process or market without considering whether your customer wants something like your product, you're bound to fail. Refer back to the reason businesses fail from the top of this post to see this is the number 1 reason for failure.
However, providing a good product at a good price only goes so far. Customers need great service before and after the sale. Customers, especially younger ones, also want to support businesses that share their values, so consider your market and its values before you market your product.
9. Discounting your competition
There is likely another company or companies out there that compete for the same customers you want. Competing with them starts with an honest evaluation of their strengths and weaknesses relative to your market offerings. Define your competition broadly to recognize that consumers don't just choose between one Mexican restaurant and others in the city; they choose between all restaurants as well as recognize that, with limited resources, they must choose whether they want to spend money at a restaurant or a sporting event, for instance.
So, standing out from the crowd isn't easy. Once you understand your competition and how they stack up to you, you can develop a strategy to outperform them.
Conclusion
In this post, we shared 9 marketing mistakes to avoid if you want to succeed. Unfortunately, you must avoid all these mistakes not just a few of them and that means making trade-offs whereby you do some aspects better than others, thus avoiding some mistakes completely while avoiding others to a lesser extent. Good luck.
Need marketing help to support business growth?
We welcome the opportunity to show you how we can make your marketing SIZZLE with our data-driven, results-oriented marketing strategies.  Sign up for our FREE newsletter, get our FREE guide to creating an awesome website, or contact us for more information on hiring us.
Hausman and Associates, the publisher of MKT Maven, is a full-service marketing agency operating at the intersection of marketing and digital media. Check out our full range of services.