If you run a small business, you may struggle to gain traction against larger competitors with their large marketing budgets and talented staff. Here are 9 essential digital marketing strategies to help you level the playing field.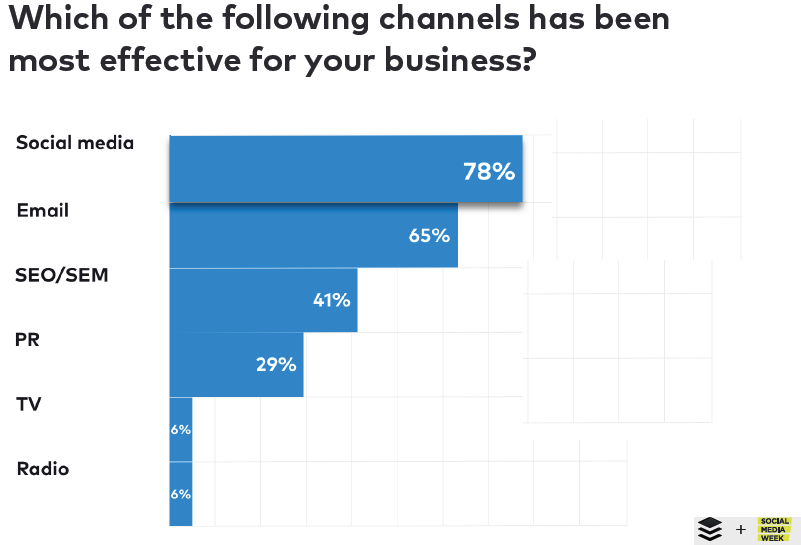 Why digital marketing is essential for small businesses
A quick glance at the image above gives you all the rationale you need to choose digital marketing strategies. Based on a survey of CMOs and others responsible for digital marketing, you can see the effectiveness reported for digital marketing strategies like social and SEO as compared to traditional marketing channels like TV and radio. It's hard to argue with opinions from the experts.
It's also hard to argue that digital marketing stats grow every year, with more shoppers buying online, more users signing up for social media profiles, and more connected devices that increase our exposure to online marketing. As more consumers cut the cord each year, even traditional tactics like TV now have a digital component as the programs are now viewed as streaming services.
Digital marketing strategies are especially important as marketing tools for small businesses due to the much lower cost associated with these tactics as compared to traditional marketing, as you can see below.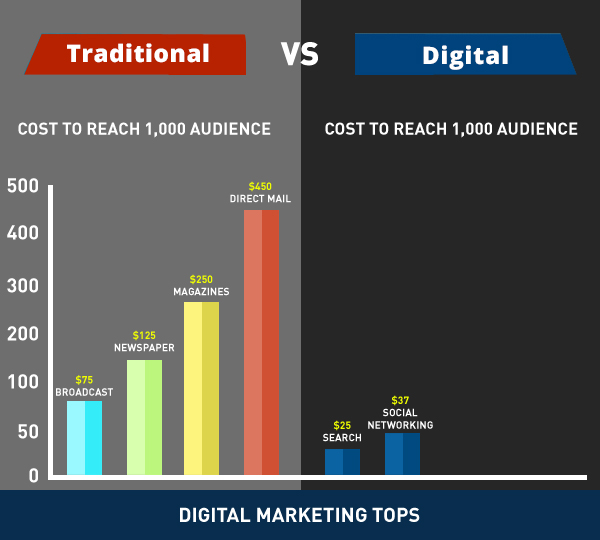 This benefit is amplified when you consider the higher conversion rate for this reach is possible given that digital marketing offers targeting tools so you reach a much richer group (i.e. offer a higher conversion potential) who fit your target marketing. Conversion rates of nearly 10% come from digital marketing strategies while traditional strategies yield an average of only 1.7%. Hence, the ROI of digital marketing makes a strong case for businesses of any type and we do see a decided shift in advertising dollars from traditional to digital, which now represents over 50% (67% in 2022) of the marketing budget for businesses of all sizes.
Essential digital marketing strategies
Choosing which of these essential digital marketing strategies to use depends on many factors:
your target market, although don't discount social media just because you target an older group of consumers. Increasingly, consumers over 65 use social media, especially Facebook, and many have smartphones to access the internet for everything from shopping to information search. And, their kids (adults) are also online in vast numbers, so you can reach them through their kids. We'll share some specifics on matching your target market to your digital marketing strategy below.
your budget, a small budget might mean you conservatively choose only a few digital strategies. You can boost your budget by hiring a firm or consultant to do your digital marketing. I know this is counterintuitive, but the numbers shown below don't lie.

Image courtesy of Alfredo Media

your skills. If you don't have the skills necessary for certain strategies, you can learn them in many ways, such as online courses (I recommend the Digital Marketing Institute courses taught by experts in their field) or some local colleges might offer courses. You might also reach out to local colleges for interns or to gain access to classes. I was often seeking small businesses as "clients" for student projects in my digital marketing certificate program (I've since retired). We did a variety of projects for the clients and they only paid for hard costs. Of course, quality varied and the programs took more time as the students were learning.
your time goals. Some marketing strategies deliver quickly, especially paid advertising, while others take much more time before you can expect to see results, especially social media.
Never take on more than you can effectively manage on an ongoing basis. Consistency is critical, although I'll share some tools as we go along that can help alleviate some of the heavy lifting for you. Also, don't begin a strategy if you don't know what you're doing. Take the time to plan everything out so all the pieces fit together in support of each other and learn how to use each strategy properly.
Now that we have the basics, let's get started.
1. A professional website
A professional website is one of the most essential digital marketing strategies yet many small businesses (27%) don't have one. Many other small businesses use a website builder like Wix or Squarespace that makes their website nearly invisible in search. That puts them at a serious disadvantage since 81% of users search online before making a purchase. A website is your online home, just like having a store. It's something you alone control so you never lose it to the vagaries of social media platform owners or see your ability to use it restricted. Using social media alone is no substitute for having your own website, even as some platforms allow e-commerce without leaving the platform because you never share revenue with them.
Yet building a professional website is doable for even the least tech-savvy among small business owners. I even wrote a free ebook that takes you through the steps with images and easy-to-follow steps that allow novices to build a great website. Best of all, it's free!
2. Website optimization (SEO)
SEO or search engine optimization is a series of actions designed to help your content show near the top of search results for queries related to your business. Each search engine has an algorithm it uses to rate each piece of content it encounters and categorize the content so it can generate results pages that meet the needs of user queries. In response, users commonly choose links near the top of the results knowing that these are the "best" results. Showing near the top of results garners businesses more click-throughs to their website (called organic traffic), which accounts for over 50% of all the traffic visiting your website as compared to only 15% from social.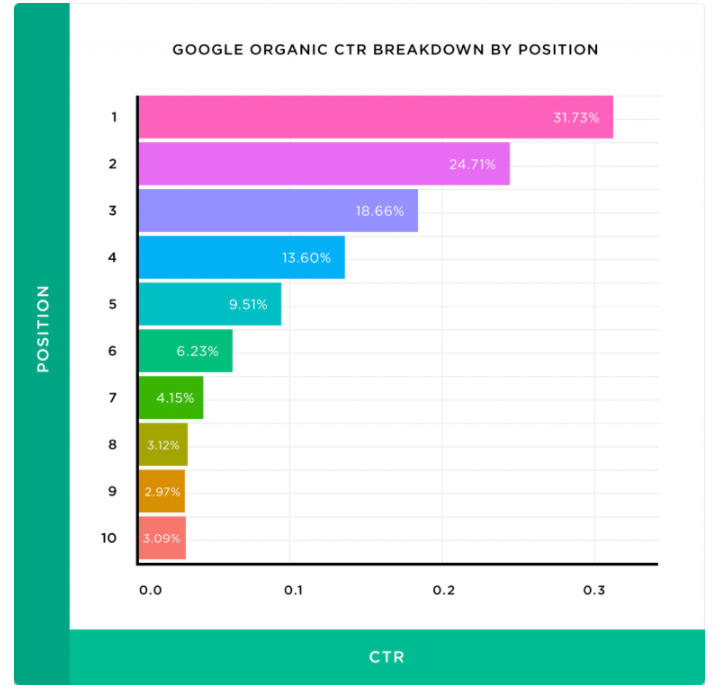 To improve your rank, ensure your website is mobile-friendly, loads quickly, and has a clear and user-friendly design. Optimize it for search engines (SEO) by using relevant keywords in your content and meta tags.
3. Content marketing
Create high-quality, valuable content that educates and engages your audience. This can include blog posts, videos, social media content, infographics, podcasts, and more. Use appropriate content to match your target market, the platform, and your needs. Consistently update your content to keep it fresh. Here's a recommendation of how frequently you should post on each platform to see good results. Posting less frequently might generate nothing, so keep that in mind and stick to this schedule as much as possible.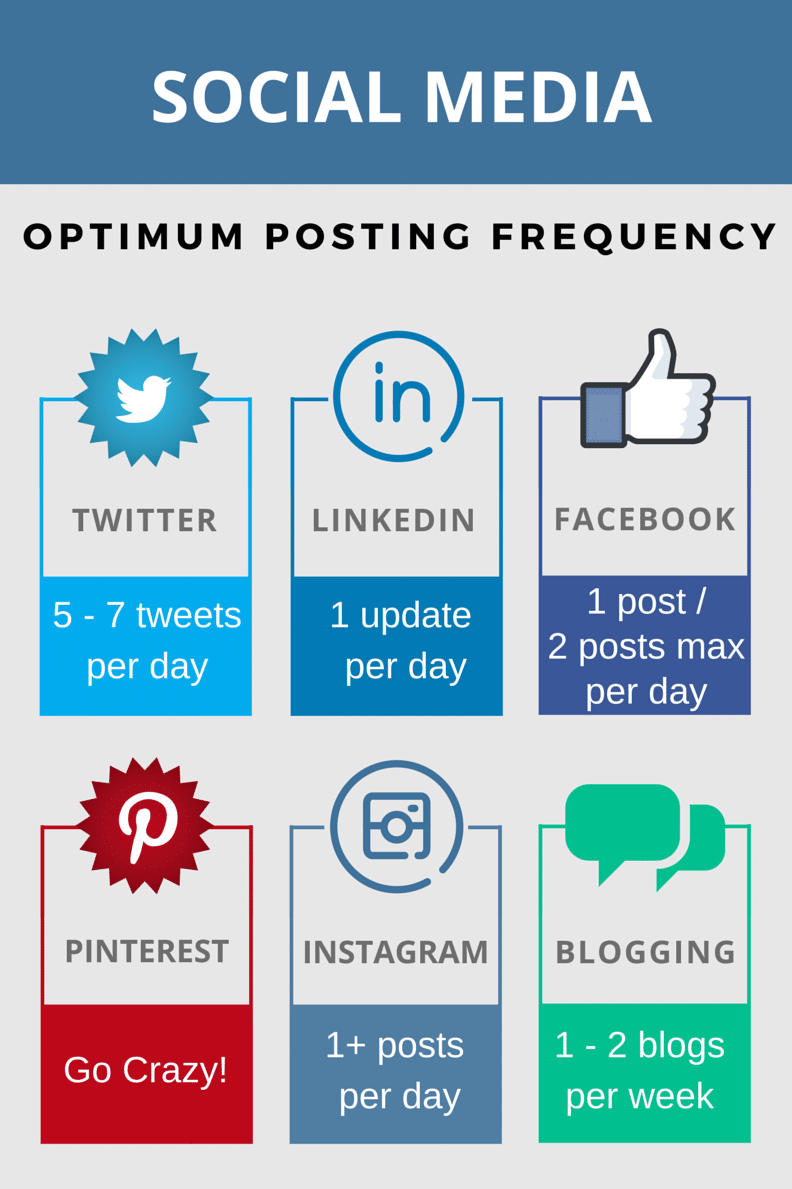 I realize that this schedule seems daunting so keep that in mind as you choose which platforms to use and use them the right way rather than choosing a bunch of them without meeting the needs of the platform. To help, you can try these tools.
a content marketing calendar allows you to plan a bunch of content all at once to make it easier when it comes to actually creating the content. Here's my take on building a content marketing calendar with a template you can use.
marketing automation tools help you schedule your posts so you're not constantly interrupting your work to get a post up. Hootsuite and Buffer are especially good for small businesses as they're very affordable and easy to use. They also provide some analytics, which we'll discuss later.
Feedly is a tool that lets you gather RSS feeds (basically a daily list of new links published on the sites you follow). Curating content, in other words sharing content created by others, helps alleviate the strain of creating content while also helping you build relationships with others in your niche. These relationships can prove valuable in building your own community and cross-promotions.
Canva helps you create the visual elements that are increasingly necessary for your digital marketing strategy. You'll find a bunch of templates, images, fonts, and even video clips to help create content and Canva creates the content in the size that matches the requirements of various popular platforms.
4. Email marketing
Email marketing offers the highest ROI of any digital strategy making it one of the most essential digital marketing strategies, especially for small businesses. It's really a two-pronged strategy that requires you to garner subscribers then send personalized, relevant emails with promotions, newsletters, and valuable information on a regular basis. I use MailChimp because it's easy and inexpensive, although the cost of email providers continues to rise quickly.
Use email marketing tools to schedule welcome messages that can provide the incentive offered to get a subscriber (called a lead magnet), regular broadcast messages, and personalized messages to segments of your list based on their preferences and situation. For instance, you might send information on product sales or new products to subscribers who expressed an interest in similar products or send birthday greetings automatically. Most platform offer some monitoring tools to help you optimize performance over time.
5. Social media marketing
Choose the social media platforms that align with your target market and business goals, see the image below.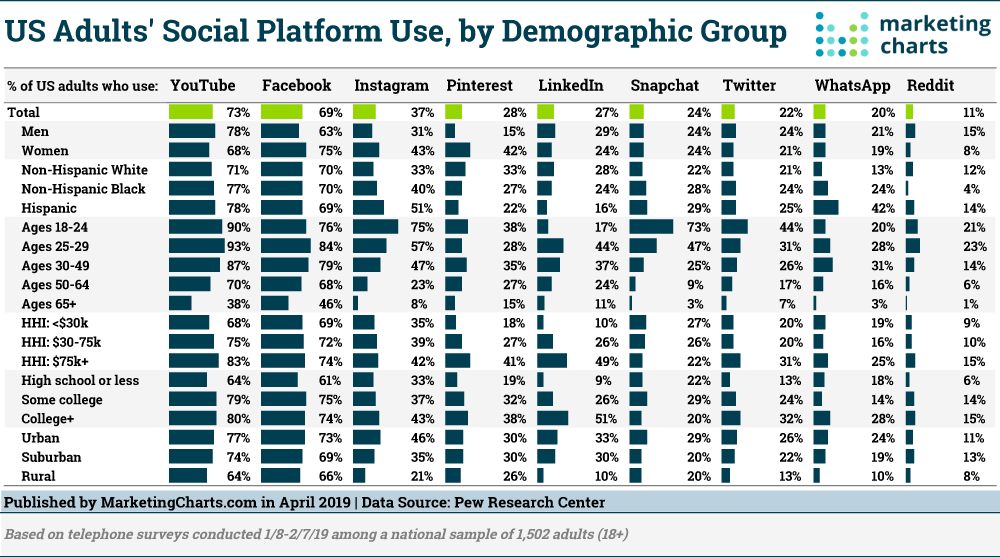 Regularly post content, engage with your audience, and use paid advertising to boost your reach.
Building a community of followers on each platform takes time and persistence. Start by following others in your niche or that match the interests of your target market and engage with them on their platforms. This raises awareness of your platforms among folks interested in what you offer. For instance, on Instagram, you might mention another profile in your post or comment on something they posted with your own identity.
Paid advertising on social media offers many benefits for small businesses. Chief among these benefits is enhanced targeting options. For instance, when setting up an ad on Facebook or Instagram (they use the same ad management), you can target your ad to maximize your chances of converting them based on any combination of the following:
demographics like age and gender
geography based on their city, county, region, or country. This is especially important for small retailers who commonly only attract visitors from a small geographical area or people who visit that area, it's up to you which and how many areas you include in your advertising
interests and this is probably the most powerful targeting option
you can also select your timing to maximize the reach of your ad to those most likely to convert
6. Pay-per-click (PPC) advertising
PPC advertising has many advantages for small businesses. Chief among these is that you only pay for ads when someone clicks on the ad. You can run targeted PPC ads on platforms like Google Ads, although Facebook also offers this format as an option.
You set up PPC ads using keywords although you can use other targeting tools, like geography. Keyword targeting is so powerful because users' search queries are likely to reflect an immediate need. Once you choose keywords, you provide very stylized headings and descriptions using those keywords and a link or phone number to provide a means for users interested in your ad to learn more. Google Ads employs machine learning to quickly discover which combination of headings and descriptions delivers the highest click-through rate using multivariate testing. You get a lot of bang for your buck from PPC ads compared to other marketing strategies, as you can see below.
Set a budget and bid strategically to maximize ROI. Monitor and adjust your campaigns regularly.
7. Online reviews and reputation management
Another one of the essential digital marketing strategies is building trust through reviews and positive user-generated content online. Encourage customers to share their evaluations don't just wait for positive reviews to emerge naturally. And, when you get negative feedback don't minimize or delete it. Be empathetic and transparent about how you fixed the problem so it doesn't happen again.
Encourage satisfied customers to leave reviews on platforms like Google, Yelp, and Facebook. Respond to both positive and negative reviews professionally and promptly.
8. Influencer marketing
Collaborate with influencers in your niche to promote your products or services. Influencers can help you reach a broader and more engaged audience, as well as provide a more influential source of information than the firm itself. Most of the top influencers make their money by sharing your products with their community for a fee but you can find affordable influencers using platforms built to connect brands with influencers or cultivate relationships with influencers for free mentions. Refer back to my comments on tactic 5, social media marketing to learn specifics on how to do that.
Carefully consider influencers before agreeing to work with them, as their actions in the past and future can damage your reputation if users find fault with them. Also, you don't want influencers with divided loyalty to a competitor or one who will take on any client regardless of the quality of the products they promote.
9. Analytics and data analysis
For any of these essential digital marketing strategies to work, you need to constantly analyze results to build insights and then apply those insights to your strategy to improve performance. Regularly analyze your digital marketing efforts using tools like Google Analytics. Track key performance indicators (KPIs) such as website traffic, conversion rates, and ROI. Below is a list of common KPIs to measure on an ongoing basis. Setting up a dashboard makes this especially easy.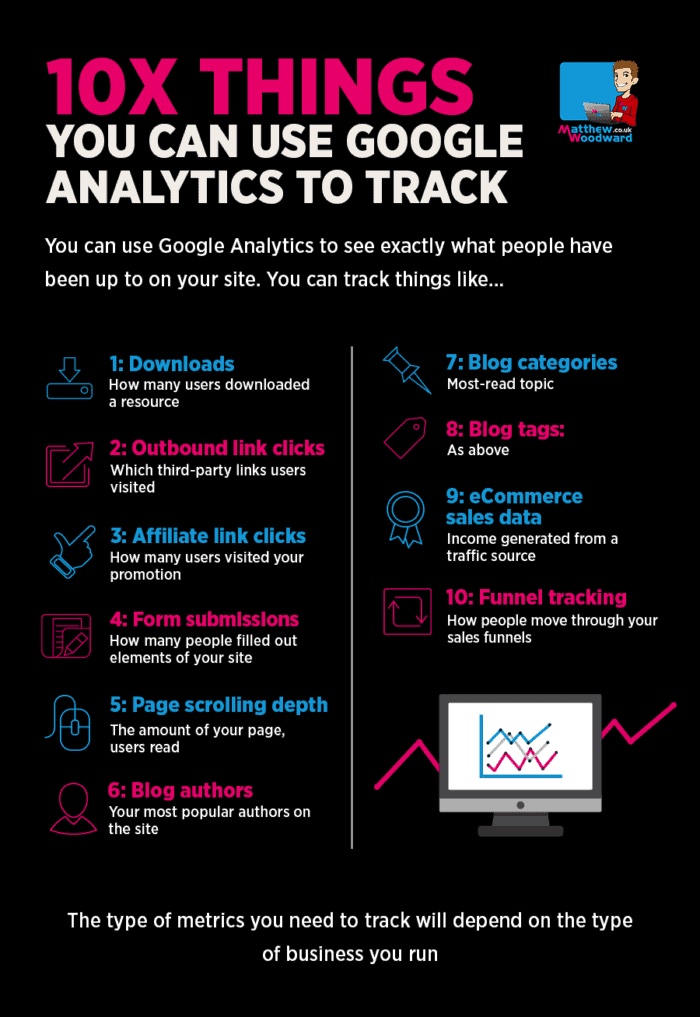 Segment your data to provide more nuanced insights, such as by demographic group, by source, or by comparing your results over various time periods. Also, monitor the performance of individual campaigns by using event tracking or link tagging.
Conclusion
Remember that the effectiveness of these essential digital marketing strategies varies depending on your industry, target market, and budget, as well as your skill in applying them. It's essential to monitor your results and adjust your approach accordingly. A well-rounded digital marketing strategy often combines several of these tactics to create a cohesive online presence and drive business growth.
Need marketing help to support business growth?
We welcome the opportunity to show you how we can make your marketing SIZZLE with our data-driven, results-oriented marketing strategies.  Sign up for our FREE newsletter, get our FREE guide to creating an awesome website, or contact us for more information on hiring us.
Hausman and Associates, the publisher of MKT Maven, is a full-service marketing agency operating at the intersection of marketing and digital media. Check out our full range of services.