Do you struggle to gain more social media followers? Sure, metrics related to the size of your network don't mean much, we call these vanity metrics, but they do represent the potential for message spread. A large social media following means your message potentially spreads to a large number of social media users only if your followers engage with your brand or preform other actionable metrics that translate into meaningful behaviors that help you reach your goals.
Vanity metrics versus actionable metrics
followers, fans, friends, etc.
email subscribers
white paper downloads
visitors
pageviews
and many more
In contrast, actionable metrics show performance toward your goals. Spending time and money to improve performance as measured by actionable metrics translates into improved ROI. Here are examples of actionable metrics:
social media engagement
active users
sales
ROAS — return on advertising spend
AOV — average order value or the average order size
CLV — customer lifetime value or the value of all future purchases made by a customer
shopping cart abandonment, which actually represents sales lost so a decrease in ROI
and many more
When you're trying to gain social media followers, you're only doing half the job. What you need are engaged social media followers because they amplify your message. Here's how engagement works to amplify your message: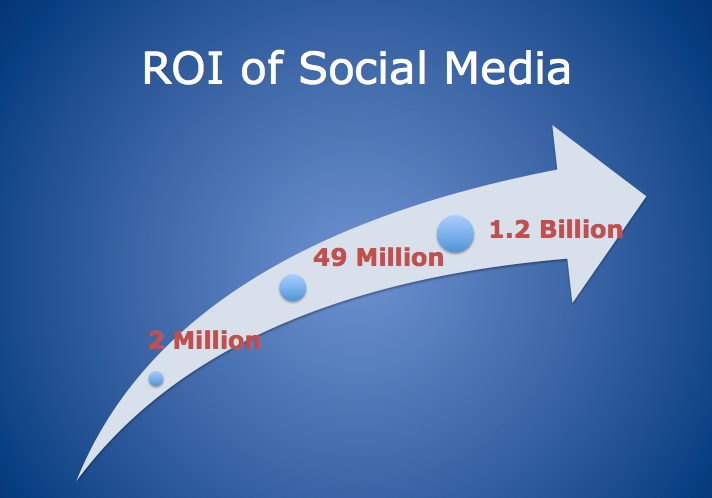 Hence, 2 million engaged followers (who RT, comment, like, or share your posts) make your message visible to their network (except with Facebook because they use an algorithm to limit visibility in an effort (misguided?) to keep you entertained on their platform). Let's assume your 2 million engaged followers have an average of 245 followers/fans/friends/etc (which is not that many), so your message reaches 49 million. If we take that to the next generation by assuming those users average 245 connections, your message now reaches 1.2 billion and you've now reached more people than a 30 second commercial on the Super Bowl or World Cup for less cost, especially when you consider a Super Bowl ad is over $5 million.
Hence, you need to gain social media followers but also keep them engaged.
You must gain social media followers organically. Avoid purchasing fake followers because they don't engage with your brand and only end up wasting your money.
Instead, follow the 8 steps discussed below. Implementing these tips into your social media strategy helps grow your social media following.
8 steps to gain social media followers
Step #1 – Follow successful examples
A social media strategy involves long-term goals. You won't see huge success in the short-run but don't get discouraged. By the same token, just doing social media without a clear strategy based on best practices, wastes time, and money. You won't know immediately if your poor performance results from a poor strategy or because you just need to give the strategy time to work. As a result, you might move in the wrong direction for some time before realizing you need a better strategy. By that time, wasted time and money may not be your biggest problem, but poor brand image based on inept actions or improper messaging may drive down results far into the future.
Look for some inspiration from other brands who succeeded in social media strategy, regardless of whether they compete in your marketing niche or not. Take a look at these 5 epic social media campaign examples you need to learn from when you are struggling.
Step #2 – Focus on quality over quantity
Producing valuable content on a consistent basis is the number 1 issue when planning your social media strategy. And, don't abandon quality for the sake of quantity. Without interesting, entertaining, and informative content, you'll seriously struggle to build a following.
Even if you have rough times now and then when generating content ideas, be patient.
A content calendar helps keep high-quality content coming. Search Google to find content calendar templates, then adapt them to your content strategy. Fill the calendar when ideas strike then you never face the dreaded blank screen that challenges even the best writers.
Content ideas come from lots of places. Sometimes it helps to create themes for different days, such as features on employees every Wednesday or Wild Weekend Fridays. Look for trends (ie. Google Trends) then think about how these trends fit into your content goals.
Adapt your content to the specifics of each platform. For instance, Pinterest and Instagram are heavily image-based, while LinkedIn focuses on long-form content. Twitter imposes a limit on the number of characters used in posts and does well with hashtags.
Also, spend a bit more time writing the best possible caption. Include high-quality visuals and post something like infographics now and then. Variety keeps things fresh, resulting in an audience that's more interested in your profile and engaged with your brand.
Step #3 – Explore available platform options
Do not stick to just the big three social platforms. Facebook, Instagram, and Twitter are the most popular platforms and the biggest, but things get pretty competitive there, depending on your niche.
Speaking of niche, choose platforms (and you likely need several rather than a single network) based on your target market and where they hang out online. For instance, Pinterest is a good option for brands with a heavy bent toward women since that platform attracts many more women than men. Quora and LinkedIn are great for brand who want to showcase their expertise, while TikTok was favored in Asia until recently when it jumped the ocean.
Step #4 – Cooperate with influencers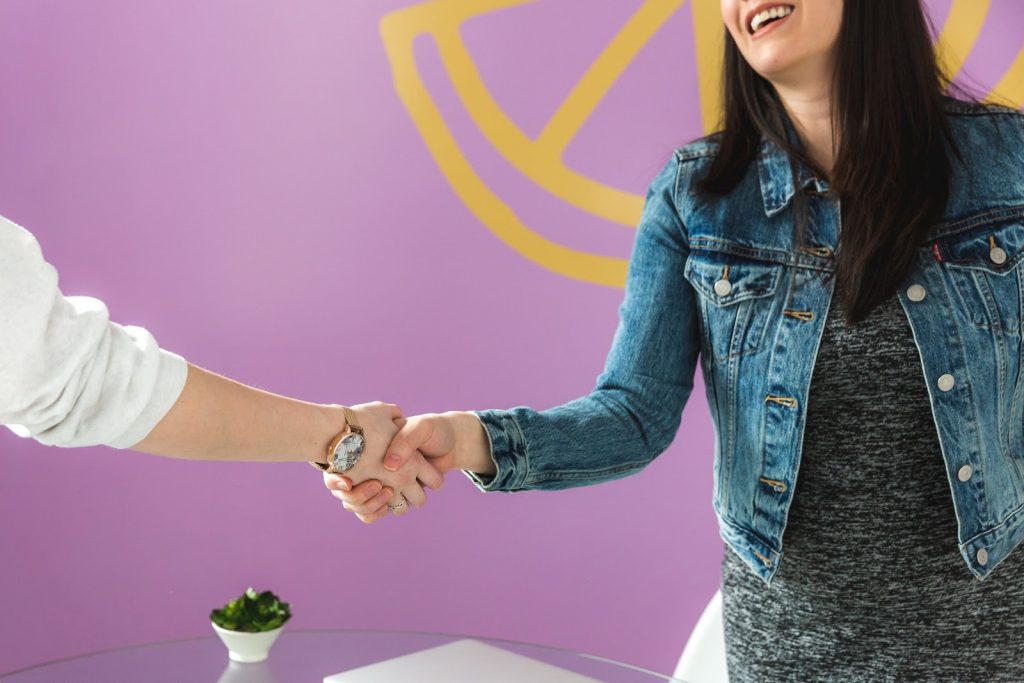 A great decision for your brand harnesses the power of influencers to expand the reach of your products. Not only do influencers amplify your message (and their much larger networks results in much greater amplification) but they also act as group leaders who followers wish to emulate. For instance, celebrities capitalize on their influence to make a lot of money from advertisers who clamor for access to their fans.
However, finding the right influencers is a tougher job than you might imagine.
If you wish to establish an influencer relationship that lasts, take your time, and weigh all available options. And, if you find dealing with established authority influencers with large numbers of followers is too hard or costly, shift your focus to micro-influencers with more reasonable prices and a smaller following.
The right person isn't always the person with the largest number of followers. Instead, seek influencers who are relevant with your target audience. Think about YouTube influencers who make 6-figure incomes from simple shootouts for brands.
Done right, influencers stay active for the brand over a period of time, so look for an influencer's staying power when you make arrangements. Also, due diligence should identify the potential for embarrassment from the future actions of the influencer. Sure, maybe you wouldn't predict the problems created by Tiger Woods, but you only had to scratch the surface to discover PewDiePie's xenophobia and predict the negative fallout.
Step #5 – Be patient
Patience is not easy. Patience is hard at times, especially if your job depends on whether you gain social media followers quickly.
Nevertheless, all brands find attracting new followers, and engaging them is hard. Just continue sticking to your strategy and you're bound to breakthrough sooner or later if you have the right strategy and implement it correctly. Changing up a good strategy before it bears fruit results in a muddled branding effort that confuses consumers. Instead, monitor performance and make subtle adjustments based on what's working rather than making dramatic changes to your strategy.
Step #6 – Track insights
Do not guess blindly. Insights and other tracking tools exist for a reason. Keep tabs on the right metrics, metrics that indicate the success or failure of your strategy, so you know what's working with your profiles. This is especially true when you manage multiple platforms.
As things change, you should consider tweaking your campaigns to optimize performance. Recognize that a single blip (in either direction) may come from outside factors, so ensure you see a stable pattern before making adjustments.
Step #7 – Schedule posts in advance
Posting, especially when your target audience lives in different time zones is challenging. That's especially true if you publish across a number of different platforms.
Using automation tools like Buffer, Hootsuite, and Hubspot to help with the mundane task of publishing content. With these tools, you set up a full week of posts in just a few minutes, which really helps when you get busy or the content person is on vacation or out sick.
Step #8 – Research the competition
Take a close look at your competitors to see what's working and what's not on their platforms. Of course, you can't copy their strategy, as lightning doesn't strike twice in the same place. What worked for them might not work at all for you. Besides, if it appears you're copying your competition, you turn off your market.
Need marketing help to plan your business strategy?
We welcome the opportunity to show you how we can make your marketing SIZZLE with our data-driven, results-oriented marketing strategies. Sign up for our FREE newsletter, get the 1st chapter of our book on digital marketing analytics – FREE, or contact us for more information on hiring us.
Hausman and Associates, the publisher of MKT Maven, is a full-service marketing agency operating at the intersection of marketing and digital media. Check out our full range of services.