The current pandemic situation completely changed many different aspects of life, from how people behave socially to the way they work and how different companies operate across the world. Online shopping exploded during the pandemic and appears likely to continue its upward trend in the future, as you can see below. But, what other marketing trends are likely to rock your business in 2022? I'm glad you asked because we're sharing some of our top marketing trends in this post.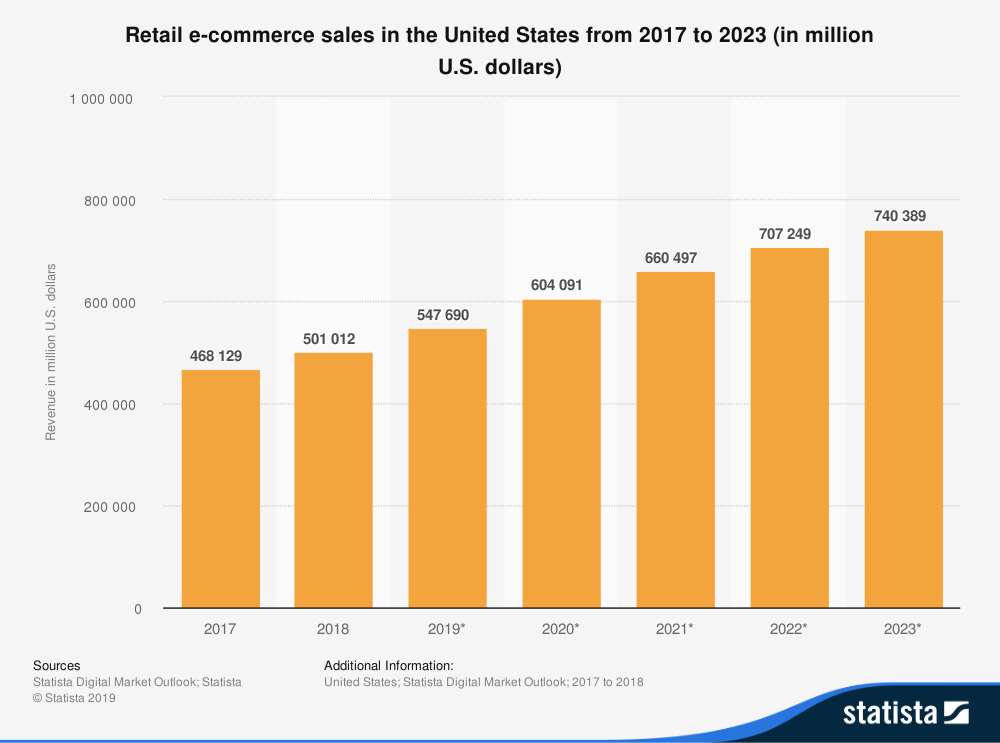 The digital environment became a savior for businesses, big and small, and the only viable option for companies to stay in close touch with their customers during lockdowns, which appear headed for a resurgence. This made it all the more vital for businesses to work on perfecting their digital marketing strategies, as well as their ability to meet consumer demands through digital offerings.
Digital marketing is an ever-changing field, always featuring some dramatic shifts on the horizon. Brands and businesses should plan according to the dynamic future of digital marketing and prepare their businesses to reap the benefits of different digital marketing trends wrought by advancing technology and changing consumer demands.
These are the top eight digital marketing trends that businesses should build into their business plans for 2022.
Top marketing trends for 2022
1. Meta is everywhere
Metaverse is a new term in the digital marketing arena used for denoting augmented and virtual experiences like those featured in Ready, Player One where the protagonist escapes to a virtual reality space that takes the place of the real world for him and other gamers. Facebook believes so strongly in the opportunities offered by the metaverse, it changed its name to Meta.
Since this is a major feat for the future of digital marketing, marketers should start looking for more scope for their respective businesses in such spaces. For instance, retailers long worked toward creating virtual dressing rooms where customers could try on clothing before making a purchase. Expect an explosion of options in virtual spaces.
2. Extensive use of artificial intelligence in digital marketing
There's a lot of buzz around artificial intelligence (AI) lately, as its capabilities expand. This wave is quickly taking over different aspects of life. For example, around 60% of online users interact with AI chatbots to receive immediate answers to their queries anytime they want. AI now powers many recommendation engines and even helps writers produce content quickly.
AI involves complicated algorithms and its learning potential gives programmers the ability to introduce the most effective changes in results. The social media content we go through on a regular basis is fine-tuned using AI to keep viewers engaged for a very long time.
This amazing technology is projected to evolve into a $190 billion industry by 2025. Hence, digital marketers have a huge opportunity to exploit this high-technology tool. Not to mention, AI has the ability to serve varied functions, especially for digital marketers who know the right way of using it.
3. Influencer marketing is on the rise
Influencer marketing is growing rapidly, providing relevance and context to brands because popular influencers endorse their products and services, bringing their brand to the attention of new consumers and adding a vital recommendation to encourage purchase. Today, more and more online businesses embrace influencer marketing so their products and services gain a wider reach.
Working on this front requires businesses and brands to look for opportunities to partner with influencers easily and get them to promote their products and services.
4. Setting aside a budget for cookieless brand awareness campaigns
Personalized advertisements use cookies for tracking the behavior of users. Based on this data, businesses can better target receptive users. Such cookie-included ads are fine for e-commerce stores with existing audiences that already clearly understand the products and services on offer. Such targeted ads surround the customers in a loop of items and services they already know of and might have even purchased. Non-personalized ads that do not contain cookies give brands the chance of creating awareness among the users who are not aware of them.
Cookieless brand awareness campaigns give businesses the scope of reaching new customers and showing them products they did not know about earlier but that could still interest them. This way, businesses can grow their customer base as well. In addition to this, businesses also can reach users who generally block cookies. After all, there's no harm in measuring and testing the different varieties of digital marketing channels and campaigns.
Unfortunately, cookies are going the way of the dodo soon and businesses will have to adapt to a cookieless world.
5. LinkedIn is booming
LinkedIn is growing at a very fast pace, showing considerable gains in each quarter. These gains are in terms of engagements and active users on LinkedIn. The platform is also launching a number of new features, constantly driving better results for pages and businesses.
Brands and businesses that still lag in making effective use of LinkedIn for digital marketing should get on with it. Calling all online businesses out there—go all out on LinkedIn!
6. Well-designed websites are a priority
Having a good, easy to navigate, and fast website was a priority in the past, but now it's high up on the list of priorities for businesses who never saw themselves as being digital brands. The road to success goes through a business website. Having a clunky and slow site is not an option these days nor is it an option to forgo a website.
This is a completely new era where site speed, user experience, and proper mobile optimization are necessary when designing a site. Fail to do so and your visitor will move along, switching over to the sites owned by your competitor.
To optimize your website for search, take care of redundant content and broken links. Clean up these bugs because they can take a toll on the experience your website offers to the users and reduce your rank in search. Keep things simple and make sure your site creates a frictionless experience for the visitors. It all comes down to having a well-organized site that guides individuals to the information they require within a few clicks.
Digital transformation enabled by new technologies means visitors expect more from your website. Self-service is chief among new customer expectations. Allowing customers to manage appointments, get updates on shipping progress, and check product availability are no longer options if you want to succeed in the world of 2022.
7. Interactive content is a must
Nowadays, more and more users spend time on the internet browsing anything and everything that interests them. Thus, businesses need to offer users a valuable and engaging experience. What better way of doing this than creating interactive content? One of the best options is to use an online video editor to create visual content that encourages engagement while simultaneously offering entertainment.
Other popular ideas that work for brands to build engagement include polls, quizzes, calculator widgets, giveaways, contests, surveys, and games. You have the option of going for one or mixing different strategies.
8. Email marketing is crucial
When it comes to digital marketing, email marketing is imperative. Both personalized and automated email marketing are important to reach customers and offer the highest ROI of any marketing tactics, as you can see below. Studies say that potential clients are six times more likely to click a link from an email than a tweet. In addition, adding a call-to-action button at the end of an email can enhance the click-through rate by almost 30% when compared to a simple text link.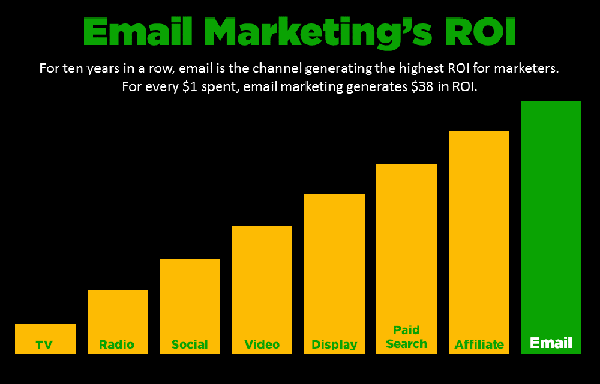 The success of any business depends on your client's satisfaction level. If they are happy, then no one can prevent your company from reaching the sky. Emails are apt to make customers feel special. Wield the potential of emails to keep your clients abreast about the upcoming deals, promotional offers, or new products that you are going to launch shortly.
Wrapping Up
These eight digital marketing trends can come to your aid when evaluating how to market your business online. Remember, the foundation matters the most. It is quite possible to get easily distracted by all the attractive digital objects in this era of technological advances. But in the race to use new digital marketing tools for business development, you should not miss out on these foundational tools. Work on every new tool, but include the older ones as well.
Need marketing help to support business growth?
We welcome the opportunity to show you how we can make your marketing SIZZLE with our data-driven, results-oriented marketing strategies.  Sign up for our FREE newsletter, get our FREE guide to creating an awesome website, or contact us for more information on hiring us.
Hausman and Associates, the publisher of MKT Maven, is a full-service marketing agency operating at the intersection of marketing and digital media. Check out our full range of services.