By this point, pretty much every digital company knows the importance of content marketing in achieving success both online and in the physical world (see graphic below). Without fresh content to share on your social media channels, website, email messages, and other forms of digital marketing, you struggle to achieve your goals. Yet, doing the same old thing might not work out as effectively today as it did a few years ago. Changes in technology open up new avenues for creating content, audience desires for content change, and even platforms change the algorithms used to rank content means you must keep up with content marketing trends and modify your strategy to capitalize on these trends if you want to continue moving your brand forward.
To ensure you are among the content marketing leaders, let's discuss the top 4 content marketing trends for 2023 and some of the content marketing realities that remain the same.
4 Content marketing trends
1. Short video content
Led by the success of TikTok and Instagram Reels, short video content is the new holy grail for social media content marketing. This content marketing trend continues the constant progress in video marketing as a leading form of content. That's because users love video content and data support this, showing users watch a minimum of 40 minutes of online video every day with the average user watching over 100 minutes of online video content per day or 420 hours per month. Moreover, social media algorithms favor video content over other forms of content on their platforms.
YouTube videos are still the main form of video content for some marketers but even the leaders in YouTube now also craft short video content to attract new users (especially younger ones) to watch their longer YouTube video content.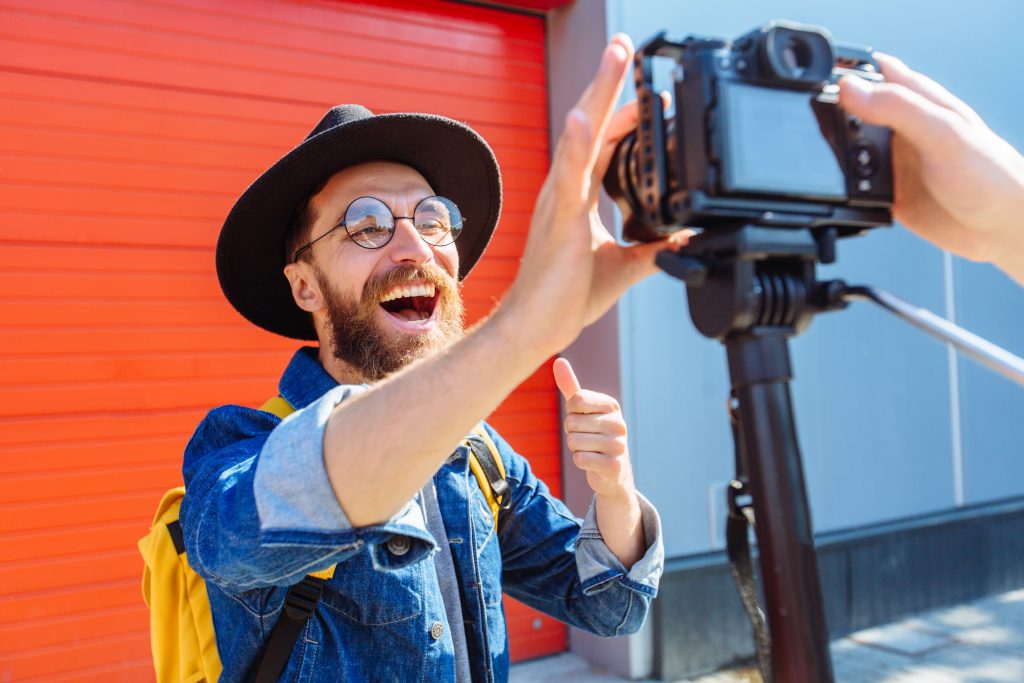 Creating short video content doesn't require the same time commitment necessary for YouTube content, for instance, most short video content is shot on a mobile device without a lot of expensive lighting or other equipment. But that's not the only difference. Short video content should:
be snappy and high energy for 15 to 30 seconds
experiment with content such as unique sounds, mixes, filters, and lighting to see what works
fit with trending hashtags and topics, include a branded hashtag
match your niche to appeal to your market
create content that encourages UGC (user-generated content) by asking questions, so users stitch their content to a piece of your content
try a duet video with a piece of content that already went viral
invite influencers to create short video content with you
2. AI
AI (artificial intelligence) is exploding and marketers are ready to jump on board the trend. For instance, ChatGBT can create content for any marketing need by scouring the internet to find content related to any topic and generating conversational content of any text length. One content marketing trend is to use AI-crafted content to write email messages or just critical parts like the subject line, create ad copy, or even a blog post.
One caveat to consider before you turn your content marketing over to ChatGBT or another AI platform such as Copy. AI, it's probably a bad idea to simply copy and paste content created by these tools into your blog despite the temptation to reduce the effort necessary for this time-consuming task. First off, these AI tools aren't trained to detect false and misleading information, they simply assemble what the tool discovers and create a post that's grammatically correct. Thus, your resulting posts might call into question your trustworthiness by publishing something false. The other issue is that Google came down on the side of content created by humans and already punishes content posted using easy-writer tools. Since it is likely search engines will easily detect content written by AI without human involvement, you might find the rank of your content in search results declining or receive an even worse penalty from search engines.
Instead, use these AI tools to jumpstart your blog posts by seeding them with keywords and editing the content produced to fit your voice, the needs of your target market, and the facts.
3. Long-form content
Blog posts were always the key to driving organic traffic (search engine traffic) to your website. Long-form content like blog posts form a key factor included in the algorithm that search engines like Google use to rank content and, as you see below, rank greatly impacts the amount of traffic search engines send to your website, which increases your opportunities to convert that traffic.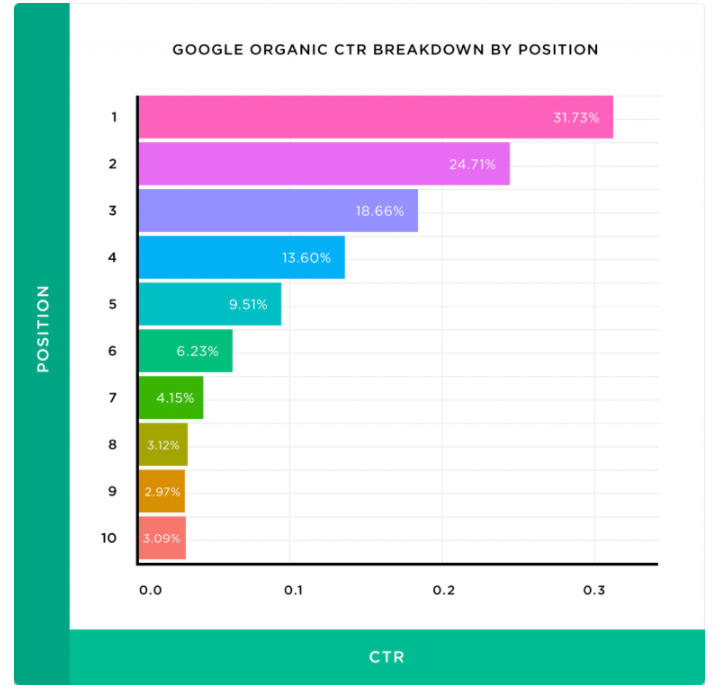 Not only does long-form content impact rank directly, but it also impacts your rank by helping to build backlinks to your website and these backlinks tell search engines you produce quality content, so they rank your content higher.
A recent content marketing trend related to long-form content is that this content is getting longer over time. If you created content around 1000 words, you were good, but now content of 3000+ words is considered the sweet spot. Hence, you need to produce much longer posts (at least sometimes) to reach the same number of backlinks you once achieved with a third as many words.  However, content between 1000 and 2000 words is the sweet spot for getting shares on social media platforms, according to the same source. This fact seems evident on platforms such as LinkedIn, although it's not as prevalent on Facebook where the algorithm now favors advertising content over organic posts from companies.
4. Voice search impacts keywords
Millions of users now speak into a device to initiate an online search rather than typing a query into a search engine. The result is longer queries that reflect the way people speak rather than shorter ones. To accommodate this transition to voice search, brands must change their keyword strategy to focus on longer keywords and write content in natural language that's often less precise.
Voice search also means you need a different focus in writing content since different audiences might use different words to frame their query when they use spoken words. Rather than using the search engine to suggest topics related to a written query, voice search looks for a closer match to the words spoken. This means writing content that's designed around your personas and the way they're likely to frame their needs.
5. Create a great content experience
Another of the big content marketing trends for today focuses on the mechanics of writing. Increasingly, visitors want to find answers to their questions quickly and few read an entire blog post from start to finish. In fact, visitors spend only about 37 seconds reading a blog post, which means they don't read everything written in a 3000-word post. As a writer, that means you must make it easy for visitors to find what they want quickly using headings, subheadings, lists, and tables of contents to help them find exactly what they're looking for. It also means you need to write in chunks of content, which may mean you repeat some elements of the post in multiple places knowing that readers might miss a key fact contained in another section of your content.
6. Interactive content
Most content marketing involves static content regardless of where it's posted. One of the new content marketing trends for 2023 involves creating interactive content that allows users to engage with your content. Maybe that's:
providing a 360 view of your property
embedding quizzes in your short videos or linking to them on social media
allowing users to calculate their needs such as the income necessary to afford a loan
use user-uploaded images to place furniture in a room or try out home improvement options with existing infrastructure
building an avatar or uploading an image to allow users to virtually try on clothing, shoes, or accessories
an infographic that lets users explore facts they find interesting (like the one below)
7. Turn content into revenue
We all use content to drive users toward conversion, but one of the new content marketing trends is making money directly from content. For instance, you might create premium content available only to subscribers or sell individual pieces of content. For example, stock gurus routinely sell subscriptions to their newsletter containing buy/sell advice and many data companies sell reports or information. Increasingly, firms seen as experts in their field offer information available only to those willing to pay the price necessary to transcend the paywall.
Many social media companies now allow shoppable content that allows users to make a purchase directly from a post rather than sending the user to a website to convert there.
In addition to selling content, we see a much bigger emphasis on tracking the performance of your content to ensure the content pays for itself by driving sales just as you would a paid ad campaign. You can use this evaluation to guide you toward creating better content by focusing on creating more of the type of content with a high return.
8. Podcasting
Podcasting is another of the newest content marketing trends to pay off big time. Of course, everyone and his brother (or her sister) now has a podcast, so the density makes it harder to attract and sustain an audience sufficient to meet your goals. However, by combining your podcasting with other online marketing efforts, you have a synergy that helps build your audience. Monetizing your podcast is a little harder since you can't include a link or even a QR code to drive listeners to a place where they can convert, but studies show that 60% of listeners search for a product online after the podcast. Ensure your podcast focuses squarely on entertainment and value rather than self-promotion if you want to succeed.
Podcasts are popular now, but other forms of voice content are also increasing in popularity and this might offer an opportunity for those of you who didn't jump on podcasting before the field became so crowded. Platforms like Clubhouse are like the chat rooms of old but are voice rather than text-based. Think about making the move.
Some content marketing trends stay the same
Content marketing trends come and go, but many aspects of content marketing remain the same. One of these is consistency. Content marketing isn't a one-time tactic but something you must sustain over time. Posting at least once a day works for many social media platforms, but Twitter requires multiple posts per day and Pinterest users thrive on a bunch of pins per day. Posting at least a couple of times per week on your blog works best. A content marketing calendar really helps keep up the consistency and I created a template to help you construct your calendar.
Quality will always trump quantity, however. Focus on delivering value to your target market rather than writing for search engines and you'll succeed in today's content marketing world where even search engine algorithms favor valuable content. I find it best to write as if I'm speaking to someone from my target market. I visualize an individual, then write the talking points that are in my head. Key among the aspects of content marketing that help provide value is to avoid self-promotion for the most part. It's ok to slip in a plug for your business (and I always end a post with links to my consulting), but your job with creating content revolves around helping readers learn something and, in the process, viewing you as trustworthy and an expert in your field.
Using various types of content also still works well in 2023. Plan to incorporate images in blog posts, social media, and email marketing. I like to use images that say something (like graphs) rather than simply pretty images, but that's not a hard and fast rule. Throw in some videos to appeal to a different type of user. Also, cross-pollinate what you're doing by participating on different platforms. Modify your posts to fit each platform rather than posting the same content on a bunch of different channels. And, maintain a single voice and brand image across platforms.
Conclusion
Obviously, so many content marketing trends evolve every year and I may have missed a few you consider a major content marketing trend. Feel free to add your favs in the comments below and maybe I'll update this post to include a more thorough discussion of your notions of content marketing trends for 2023. If you want to learn more about content marketing, check out a few of the suggested posts that follow this post.
And, keep in touch.
Need marketing help to support business growth?
We welcome the opportunity to show you how we can make your marketing SIZZLE with our data-driven, results-oriented marketing strategies.  Sign up for our FREE newsletter, get our FREE guide to creating an awesome website, or contact us for more information on hiring us.
Hausman and Associates, the publisher of MKT Maven, is a full-service marketing agency operating at the intersection of marketing and digital media. Check out our full range of services.