Testimonial videos are one of the most crucial and effective video types when it comes to finally pushing consumers into trying out your products. It combines the benefits of both word-of-mouth and video marketing which makes it even more compelling and engaging. Creating these videos offers some challenges to brands intent on building trust among prospective customers. When consumers trust a brand, you can see the benefits that accrue to the brand. Hence, it's well worth the investment when you prepare these videos with enough skill and experience. This article discusses the eight benefits of testimonial videos along with some tips to maximize their success.
What are Testimonial Videos?
Testimonial videos allow customers to share their experience with a company's product or service through a video. Unlike written reviews, videos depict the reviewers speaking about their experience in front of the camera. These customers are given the chance to share how your company helped them solve problems and made it easier for them to achieve their goals.
Having testimonial videos for your company and its product or services represents a more believable and impactful argument in favor of your brand that can help push potential customers to eventually purchase.
8 Benefits of Testimonial Videos
1. Consumers love watching video content
The number of people who watch video content continues to increase significantly. There were over 3 billion online users who watched or downloaded a video at least once a month in 2020. This number will likely reach 3.5 billion in the coming years.
People love watching videos because of their dynamic nature which isn't possible when they just read text or view pictures. Creating videos to showcase your products and testimonials is a much more effective and engaging option compared to making customers read an online post or article about it. Just including the word "video" in your emails or posts immediately grabs more attention.
2. Videos are highly shareable
Consumers are more likely to share videos compared to other types of content like text posts and photos because of their strong preference for them. Video is one of the best ways for you to make sure that your content reaches a lot of people. For example, social videos generate 12 times more shares than photos and text posts combined. This shows how powerful videos are in terms of reaching a high number of people all around the world.
More and more internet users share videos and this trend will continue to grow. This is because the number of videos that are posted online is significantly growing, as well. Testimonial videos are one of these shareable videos as long as you can tell a great narrative and clearly explain how your products can solve the problems of your target market.
3. Videos have a higher retention rate compared to other content
Videos have a significantly higher retention rate when compared to other types of content. Customers can retain 95% of the information they receive from videos. This is because videos are the more effective tool when it comes to telling stories and explaining complicated concepts. You have a better chance of making your products memorable through high-quality videos that engage viewers.
A good video leaves a positive impression of your brand on those that watch it. Even if they don't immediately buy something, viewers are more likely to think of your brand when they finally decide to purchase due to this high retention.
4. Consumers are more likely to trust reviews and feedback from fellow consumers
People now place a lot of trust in reviews from fellow consumers because those are the people that tried and experienced the product, as you can see below. That's because users have no "skin in the game", which makes their reviews more believable than content created by the brand. In fact, 37% of consumers (especially younger ones) believe other customers on social media over brands.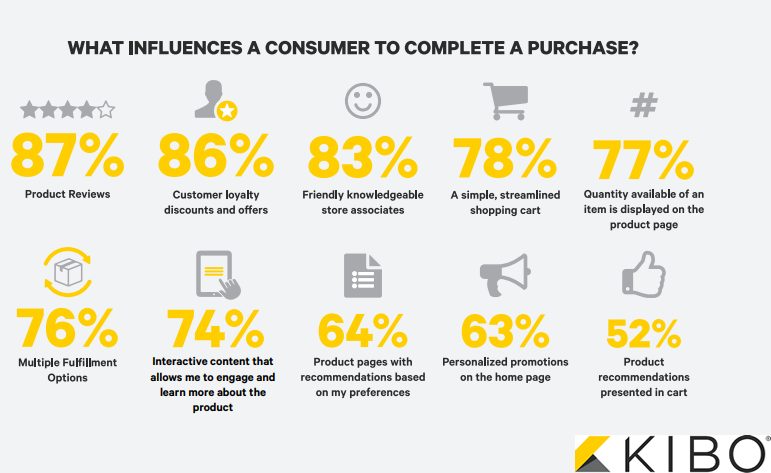 This is what makes testimonials in a video format so effective because these videos allow your brand to step away and place the spotlight on the customer. This makes the testimonial more trustworthy and authentic to other fellow consumers.
As a brand, you should trust your featured customer and avoid interfering with the testimonial that they have prepared so that viewers can easily tell that the opinions are genuine. For this reason, many brands validate testimonials prior to sharing to ensure the customer did, in fact, purchase the product. We find, for instance, paid influencers often lose their ability to impact sales when the paid nature of their testimonial comes to light.
5. Testimonial videos boost your credibility
Testimonial videos are a great boost to your brand's credibility. Creating these videos shows that you are confident enough in your products and customers to let them share their positive experiences with you. With these videos, you and your featured customers have nothing to hide and are proud of letting other people know how great your products are. It also helps that viewers can hear it straight from the customers so they are sure that it is genuine.
Hearing honest and authentic opinions from people outside your company legitimizes what you are offering and can also put a face to your business and your target customers.
6. They help you generate a stronger emotional connection with viewers
You can easily generate a stronger emotional connection with viewers through testimonial videos. When viewers watch testimonials, they can see the facial expressions and emotions that are being conveyed by the featured customer. A video can capture how genuine a person is when sharing the problems that they face and how they can solve these problems with your product. Other content types cannot replicate this level of authenticity.
Having this emotional connection is what will seal the deal with most of your customers that already know a lot about your products but haven't purchased them. Developing a personal bond with them will make sure that they can become long-term customers in the future.
7. They are an effective way to humanize your brand
It's often difficult for businesses these days to establish personal connections with their customers. This is especially true since a number of brands rely on social media and e-commerce to sell their products. While this is convenient for most, it seriously lacks the human touch which we all look for. One of the most effective ways to address this issue is by creating the best testimonial videos. These are great for humanizing not just your brand, but even your target customers, as well.
When you let potential customers know about the positive impact that your current customers are experiencing with you, you are making them believe that they can also experience this positive impact themselves. This positions you as a partner that your customers look to whenever they are in need.
8. Testimonial videos can help you with converting potential customers
The ultimate goal of your testimonial videos is to convert customers. These videos can effectively achieve this based on all of the previous benefits stated. When you incorporate videos into your marketing campaigns, the campaigns experience 34% higher conversion rates. It is important to determine when and where you should incorporate your videos into your campaigns. Placing them at the right stages offers the best opportunity for success.
For instance, you might place videos at the end of the funnel after most customers already know who you are and what your products do. All they may need is one more final push based on information from their fellow consumers. That is exactly what testimonial videos provide because they are a great example of video content that converts.
5 Tips to create videos that support your brand
Choose a customer that accurately represents your target market
Who you want to feature is just as important as the testimonial itself. You want to ensure you choose a customer that accurately represents your target market.
It won't make sense for you to feature CEOs from large companies in your testimonial video if you want to target small business owners. You want your target audience to feel represented by your brand with these videos. Consider the diversity of your target market to ensure viewers feel included.
You should also make sure that whoever you feature plays an active role in the events shown in the video. This makes the testimonial look more credible since they can speak with a level of authority and experience.
Position yourself as the solution to your customer's problems
Testimonial videos aren't just for telling consumers about all of your product's features since they can easily search for them anywhere. Consumers watch testimonials because they want to know if they should consider buying your products.
A testimonial video is a perfect opportunity to present the problems that your customers usually encounter. After this, they can share their reasoning behind choosing your product and let everyone know how it has solved their problems.
Show what the product looks like in action
Testimonial videos also give you the ability to show what your product looks like in action. You can do this by incorporating b-roll footage while the customer shares their testimonial so that viewers are constantly engaged and entertained. It is a huge help for viewers when they get to see what the product looks like and how it performs along with knowing that other fellow consumers speak highly of it.
End the video with a call-to-action prompt
You need to end your videos with call-to-action prompts so you can finally convert them into customers. When you have a prompt at the end of the video, it builds interest and lets them know all the necessary steps they need to take with your business. Make sure that the directions are easy to follow so that they can be converted as soon as possible.
Distribute your testimonial videos to the appropriate platforms
You distribute your videos on the appropriate platforms if you want them to reach your target market. Upload video with your brand's account on video platforms like YouTube and Vimeo and social media platforms like Facebook, Instagram, and LinkedIn.
You can even allow your featured customers to upload testimonial videos on their own personal and business accounts. This helps you reach more viewers and makes your featured customers proud of the video you both created.
Where Can You Distribute Your Testimonial Videos?
Your social media accounts
Your social media accounts are your priority when it comes to where you should distribute your videos. All your current followers are a great source of potential customers because they already know about your brand. What makes social media platforms appealing for testimonial videos is that video is the most prominent and most consumed content on most platforms and the algorithms promote video over other forms of content.
Make sure that you can post consistently and frequently. Doing this ensures consumers are always engaged whenever you upload testimonial videos.
Your website
Your website is another great distribution channel for your videos. When people visit your website, they are not just looking for information about your products. They also want to find social proof to make sure you are credible and trustworthy.
You can place your testimonial videos on your website's homepage and landing pages. You can even place testimonial videos on specific product pages where you sell products. This makes it easier for website visitors to immediately learn about what other customers think right before they buy it.
Email
Another way you can distribute your videos is through email. You can include these videos in email you send to your email subscribers.
Make sure that you only include testimonial videos in emails that are related to the products and customers that you featured in the video. You can personalize these emails so that they can grab the attention of the readers.
Video platforms
You also want to take advantage of posting your testimonial videos on popular video streaming platforms. These platforms have millions of daily visitors that can potentially watch your video.
Uploading these videos on the most popular platforms like YouTube and Vimeo, expands your reach. Carefully craft your desciption with appropriate keywords and choose an image that motivates users to view the video.
Conclusion
Getting to know these valuable benefits, tips, and distribution platforms ensures your testimonial videos are successful in achieving all of you video marketing objectives.