Starting an online business is very common these days because it significantly reduces the upfront costs that aspiring entrepreneurs used to spend in the old days. An online business means you don't need a physical store, a large staff, and expensive advertising through traditional channels. And with this new way of doing business come new methods to grow and market them. Today, we'll talk about one of these: podcast marketing.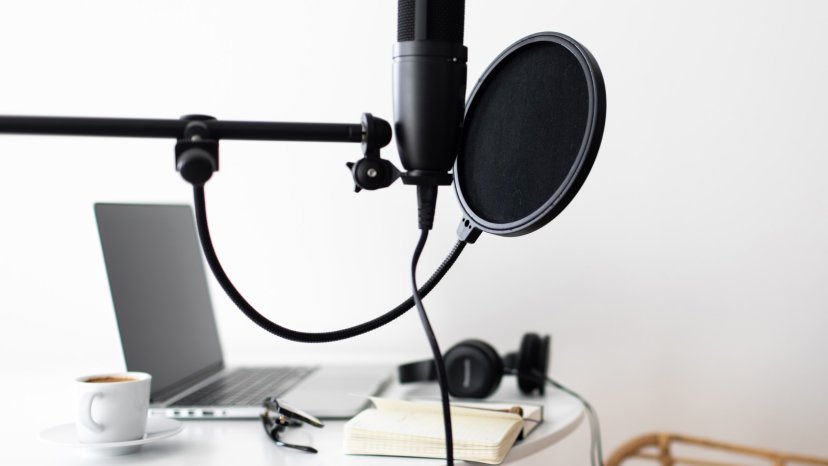 What is a podcast?
A podcast is an audio program similar to a radio show, except it's hosted through a digital platform such as Apple Podcasts and Stitcher. Listeners can choose from various kinds of podcasts depending on their interests. From true crime, finance, mental health discussions, TED talks, and many more. Below are the top podcasts and their publishers as of February – notice the dominance of NPR, which was an early adopter in this space.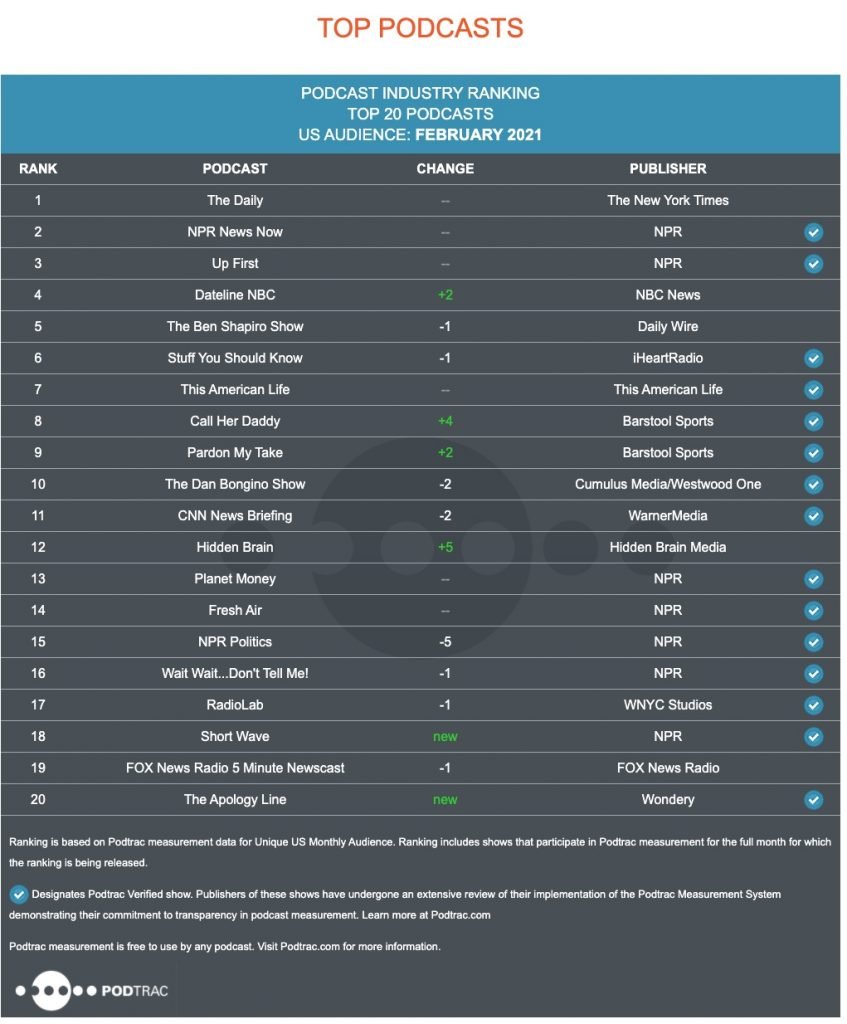 The advantage of podcasts is that the listener can freely go on about their day while listening to them. And, unlike radio programs, users can listen on-demand rather than scheduling their day around when a program airs. Listeners can either stream or download and listen to the podcast whenever it's convenient, starting and stopping at will. Unlike videos or vlogs, listening to a podcast doesn't require undivided attention. A listener can do chores, work, drive, or go through their daily commute while a podcast is playing on their device. And, you don't lose the station when you go through a tunnel or lose part of the broadcast from before you started listening or after you must leave.
With this, using podcast marketing to promote your business is definitely a good move because more and more people are tuning in and spending more time listening. Just look at this year's blogger statistics for proof.
Why use podcast marketing for your business?
You need various marketing tools and strategies in order to tap a huge and diverse base of potential clients. While websites are the best when it comes to advertising and converting, some people might never find you due to the vagaries of search engines, especially if these individuals are not fond of browsing the internet and scour through written information.
Plus, you must reach potential customers more than once to get them to convert. It's best if you use different ways and avenues to increase reach and frequency if you want to optimize performance, and that includes podcast marketing. If done correctly, a podcast brings the following benefits to your business:
1. Starts a conversation and build relationships
Podcasts are a revolutionary way of communicating with customers. A lot of people like to listen to something while running errands or doing their chores. It makes them feel that they're with someone. With this, your voice is your tool to connect customers to your business and brand. How you project your voice and interact with listeners triggers their imagination. This becomes your alternative to face-to-face relationships.
People can establish connections with someone who has similar experiences as them. You don't want to sound like someone who is just simply selling your product, you must build relationships, engage, and become the living proof of the effectiveness of your products through interviews and other guests you have on your program. Integrating podcast marketing with other digital channels, such as social media, turns a podcast into a true two-way conversation.
2. Increases business' rankings
For those who are familiar with Search Engine Optimization (SEO), you know how important it is to create content using keywords. While keywords are usually stuffed in blogs and website content, you can also optimize a podcast with the appropriate keywords that can, in turn, improve your business' website rankings.
As you work on your podcast, you can also advertise through social media and PPC (basically Google Ads) to both increase your listener base and link it to your website where visitors can convert. This way, you can reach out to more target customers and attract new listeners. Aside from that, search engines will usually pick up on these social media posts and the engagement you achieve, thereby increasing your rankings. Overall, the result attracts potential customers and increases your website traffic.
3. Build an authoritative presence
Podcasts are an attractive avenue for discussing topics and matters that relate to your niche. Depending on the topic, your voice projection and approach may also vary. Remember, credible podcasts can easily establish your credibility and trustworthiness while providing valuable information for your listeners.
4. Improves conversion
As mentioned in the previous paragraphs, creating a rapport with your customers increases the chance of them wanting to try out your product or associate with your business. The trick to achieving conversion with your podcast marketing efforts involves similar activities we've discussed many times with other marketing channels including linking your podcast with your brand, giving listeners options for connecting with you, and integrating your lead nurturing program with your podcast.
5. Lower marketing expenses
There's no need to spend a ton of money when starting a podcast channel. While the quality of the equipment you need is a serious consideration, you can get a great sound without spending much money. A decent microphone can cost less than USD$70, for instance.
You need to do research or ask around to find great deals. Of course, to help your podcast channel run smoothly, using a podcast hosting platform is advisable. This doesn't cost much either. Usually, it's only around USD$20 per month.
Maintaining a podcast is more cost-efficient compared to vlogging or video marketing. This is a better alternative for small businesses that don't have much marketing budget to spare. From equipment, talent, to post-production, podcasting doesn't require much compared to professional video services.
6. Possibility of brand partnerships
Brands are constantly looking for ways to connect with their customers and prospects. That's the reason why influencer marketing is a huge thing nowadays, and you can apply the same principle in a podcast.
Through podcasts, you can also partner with relevant brands that target the same market without directly competing with your brand. This helps prospects explore more uses for your brand, and captivate more listeners who are already familiar with the other brand. Therefore, brand partnerships can also help increase your audience and conversion in the long run.
And when your podcast manages to sustain a huge base of listeners over time, you can eventually garner more brands who will pay for the exposure or air time provided on your podcast channel. In other words, your business can earn from the podcast itself too!
However, this also works the other way around. If you don't feel ready to host your own podcasting program, you can test the waters by paying for exposure on an existing podcast by a partner brand. This way, you can pique the interest of an existing base of listeners and eventually market your own podcast channel once you garner a huge brand following on social media pages or other digital promotions.
7. You can cave by reusing old content
If your business is no stranger to content marketing, then having a podcast will just feel like an easy, natural shift. If your business already has an existing blog or a couple of videos that provide helpful information to customers and prospects, you won't have trouble brainstorming ideas for your podcast.
High-quality content, no matter how old, is timeless. Its relevance transcends time or trends and gets even better if it's revisited from time to time. Reusing old content for your podcast helps you save effort and resources. As long as you know how to expound on the topic and inject it with a fresh perspective, listeners will still love it! Don't be afraid to reuse old content. After all, your podcast listeners are basically a different, new group.
8. Raises brand recognition and awareness
Knowing your target customer is the first step to an effective marketing strategy. So, if your target market comes mostly from a working population, then your business can benefit from a podcast. As previously mentioned, listening to a podcast does not require a person's undivided attention. Tons of listeners play a podcast while they are driving or commuting, eating, showering, doing chores, and even while working. In other words, you can penetrate a huge audience base who can tune in passively to your podcast as they go about their day. While this might mean that some of your listeners are highly distracted, it's not essentially a huge loss. Since your podcast is running in the background, your brand will reach their subconscious—and that helps increase brand recognition and retention in the long run.
Many people love to multitask these days, and most consume content or entertainment via an on-demand basis. A podcast is a great medium that can fit this on-the-go lifestyle that many people have. It's a great way to make sure that your business stays in the consciousness of many listeners.
Conclusion
Being open to various marketing strategies and tools is the best way to grow your business. Likewise, being creative with your approach increases your chance of being remembered by people. The more unique your style is, the greater the chance they'll remember you.
Podcasts are definitely making their way in the digital marketing arena, and if you know how to use them well for your business, then you will definitely succeed. Nonetheless, podcasts are not only used to promote your brand or your business. It's also a great medium to engage and build a rapport with your customers, which is an essential element for long-term business success.
Need marketing help to support business growth?
We welcome the opportunity to show you how we can make your marketing SIZZLE with our data-driven, results-oriented marketing strategies.  Sign up for our FREE newsletter, get our FREE guide to creating an awesome website, or contact us for more information on hiring us.
Hausman and Associates, the publisher of MKT Maven, is a full-service marketing agency operating at the intersection of marketing and digital media. Check out our full range of services.