Your workplace needs passionate people who love what they do, are empowered to see the bigger picture, and whose goals align with those of your business. If you're one of the many businesses planning a return to the office in the coming days or months, you must create a thriving workplace environment that encourages growth, both for your brand and its employees. The environment employees find themselves working in plays a significant role in this regard. So, feel free to implement these seven ways to create a thriving workplace environment now, before your staff returns.
Create a thriving workplace
Now's the time to begin working on how to create a thriving workplace for your staff returning to the office as you face an empty canvas, full of opportunities. Without your staff clogging up efforts at reengineering your workspaces or the disruption to their work that inevitably results from change, there's never been a better time to create a thriving workplace from the ground up.
Create a cohesive culture
You need to create a cohesive culture if you want your workplace to thrive. Over the pandemic, with most of your workers working from home through countless Zoom calls, you likely lost a lot of the cohesive culture that existed before everyone exited the building. Now's the time to consider ways to make the return to work revive your culture or build a better one from day one.
Building a cohesive culture begins with employee recruitment. With the great resignation, you likely lost employees or were forced to cut your staffing budget due to financial pressures, so you likely face some hiring needs. As you begin recruiting new staff, remember that it's best to hire individuals passionate about purpose and workplace values to help everybody thrive. In reality, this may require looking beyond quantitative measures such as degrees and experience during your hiring process, especially given the competition for hiring workers. Consider taking a holistic or a more person-centered approach when hiring your staff to help you build cohesive culture in the workplace. Also, look for skills rather than degrees and experience, as these skills are more reflective of what you need.
A cohesive culture also involves truly caring about your employees and ensuring they care about each other. Staff doesn't need to be each other's best friends but they must show respect and consideration for each other, which starts at the top.
Delegate tasks and responsibilities
Instead of implementing a standard top-down hierarchy, create an environment that distributes responsibilities throughout the organization to allow everybody to thrive in their role. Irrespective of the staff rank, delegating tasks make your staff feel valued and empowered as they feel like a part of the result. But also delegate responsibility for the task, giving the employee the ability to complete the task effectively.
Experts suggest that too much management influence can inhibit creativity and employees' ability to reach their full potential. You should consider a balanced approach where people enjoy the freedom to contribute their best while providing them with the right support to become more capable in their respective fields.
Break the monotony  
Life can feel tiring and boring when everything seems simple and comfortable. Familiarity at the workplace can cause inefficiency, unproductivity, and demotivation, so keep this in mind. Therefore, it is important to find innovative ways to change things up. You can encourage employees to take on challenges such as courses to learn more about what they do and make them more motivated. Rewarding staff who take up the challenge of change, either financially or through other rewards, makes them feel valued at the same time.
You can also introduce various social programs to make your employees lively and connect better. For instance, Google offers family movie nights where staff is encouraged to come with their family to sit around and eat popcorn and watch something entertaining.
Consider existing staff for new roles
With the continuation of the great resignation straining your ability to hire new staff, find proactive solutions for minimizing the impact on your existing staff by recognizing that 2 people can't accomplish everything that 5 people did before the resignation. Adjust your expectations to reflect reasonable performance from your remaining employees.
Your business can also use performance-enabling solutions to discover talent internally to fill a void. If you find employees interested in taking up new roles, encourage and support them with training and other tools for success. The truth is it is expensive to hire and train new employees in the intangibles of the business, unlike with existing staff who already understand the corporate culture, how to get things done, and have existing relationships with each other. Hiring existing staff for new roles increases motivation levels and encourages healthy competition, causing your employees and business to thrive.
Clearly define your business goals
It's much simpler and more predictable to make progress every day and celebrate your accomplishment when expectations and business goals are clear. It's useful to set high-level goals for your working teams every few months and weekly targets to clarify what they are expected to accomplish and the awareness of how it relates to the company's objective. Both long and short-term goals become easier to accomplish when there is a high level of clarity among your working teams.
Involving your staff in setting these goals and objectives increases their commitment to reaching those goals and objectives. Also, your staff is likely in a better position to judge what is possible because they work the job every day.
Promote inclusion and diversity
To become an inspirational business leader, you need to surround yourself with a diverse, knowledgeable, and thoughtful team. As you can see in the image below, hiring a diverse workforce produces multiple benefits to the organization. In addition, such commitment to social equity means a lot to your consumers, especially the younger ones.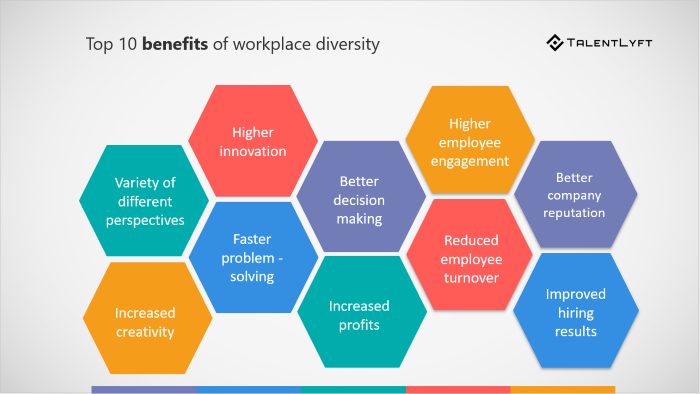 Although the final decisions rest on your shoulders, it's best to create a platform that encourages all employee opinions and thoughts. When people know they can freely communicate their ideas, they offer creative solutions and ideas. A great way of doing this is through company retreats that can effectively break down barriers among employees by offering an all-inclusive environment for everyone to brainstorm, thrive, and socialize. An ideal corporate meeting destination is essential for a productive retreat.
Don't forget to tend the "garden"
You can think of a thriving workplace as a garden. They can both bear less fruit if you don't provide adequate attention and nutrients. So like your garden, which may require watering and fertilizer to thrive, you lose employees if you don't provide resources for growth, achievement, and high performance. You must guide and inspire, as well as providing whatever they need to do their job properly, whether that's equipment, training, or help. Therefore, you should create an infectious synergy around the workplace when you concentrate on how well you inspire people around you. As a leader, you should find ways to inspire a new sense of enthusiasm at work or make a stronger commitment towards listening to others.
Conclusion
Today many businesses continue to experiment and find ways to create a thriving workplace environment that allows staff to succeed, support each other, and perform best. Fortunately, the tips mentioned above can inspire your business and working teams.
Need marketing help to support business growth?
We welcome the opportunity to show you how we can make your marketing SIZZLE with our data-driven, results-oriented marketing strategies.  Sign up for our FREE newsletter, get our FREE guide to creating an awesome website, or contact us for more information on hiring us.
Hausman and Associates, the publisher of MKT Maven, is a full-service marketing agency operating at the intersection of marketing and digital media. Check out our full range of services.