The consulting industry is vast and comes with numerous opportunities, especially if you spent your career developing the skills and expertise needed by other businesses. For instance, I do marketing consulting based on years of experience working as a consultant for a larger company and for businesses to develop their marketing. You can create a consulting business on almost any topic and the top consulting areas are listed below.
Strategy Consulting
Business Consulting
Financial Consulting
Information Technology Consulting
Management Consulting
Sales Consulting
Marketing Consulting
Whether starting a new consulting business or selling ancillary products such as training and courses, getting customers is likely your top priority. And your ability to attract more clients and generate consistent income determines your business's success. There are many ways to market your service in today's digitally conscious climate, but some strategies are more effective than others. Below are 7 top ways to promote your consulting business online.
Building your consulting business online
1. Have a specific niche 
The consulting industry is expansive, and for some the appeal of offering a variety of services is strong. They think that by offering a variety of services, they'll attract more clients. Unfortunately, this tactic suggests to prospective clients that you don't focus on one aspect of business and learn that aspect in great detail. Plus, for many types of consulting businesses, you must spend a significant amount of time just keeping up with changes in your field. For instance, I once had a client who positioned his brand as handling everything in the marketing niche, including event planning, PR, guerrilla marketing, digital marketing, website design, print, etc. Some of these services fit together, such as digital marketing and website design while other areas such as event planning and PR require a different set of skills.
Instead of trying to be a jack of all trades, focus on one niche and present yourself as an expert in that area. For instance, I position my brand as applying data-driven decisions to digital marketing. So, I have a very specific niche where there's less competition than in digital marketing or analytics.
2. Build a website that demonstrates your ability
Building an online platform is one of the fastest ways to promote your consulting business online. You need a website that looks professional and provides a great user experience. This allows your clients and potential new ones to learn more about your establishment and its service offering. By demonstrating your abilities on your website, you give clients confidence that you get the job done and attract new clients with demonstrated experience.
You can also sell your products and services directly online. For instance, I sell content marketing services online using standard pricing options that allow clients to choose the option that fits their needs and their budget.
3. Demonstrate your expertise
Additionally, having a website can boost your credibility and help you reach individuals searching for your services online.
Boost your credibility by prominently displaying logos of the companies that trust you to perform consulting for them. This may involve companies that hired your company or companies you worked with as part of your employment with another company. Ensure the companies listed agree to act as a positive reference for your ability since prospective clients may reach out for these recommendations.
Similarly, ask for testimonials and reviews from satisfied clients to ally the fears of prospective clients that you can handle the job. Include excerpts from these testimonials in a highly visible position on your website such as your home page and landing pages.
Your blog is often the best tool you have for displaying your experience and skills. By posting this long-form content on a regular basis, you show off your expertise and your philosophy for consulting. A blog also attracts new clients by enhancing your SEO (search engine optimization) so your business shows up near the top of search engine results when users use keywords related to your consulting business.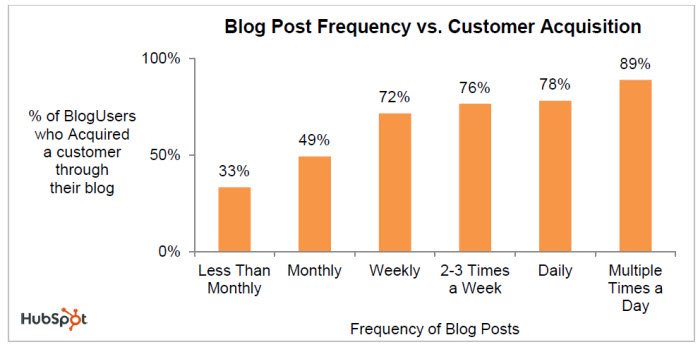 4. Build a strong social media presence 
According to a recent study, seven of every ten Americans use social media to share information and engage with content. You can take advantage of this and use this opportunity to market your brand. Social media offers many ways to promote your business depending on your target market and their preferences. Facebook, Instagram, and Twitter are very good options you can use to reach many people, see the infographic below. However, you should conduct some research to find your niche's ideal social media platform(s). For instance, TikTok ads are known to work well for info products like courses, consulting, and mentorship.
The key to a successful social media strategy for your consulting business is choosing the right platforms for your market, posting valuable content on a regular basis, creating engagement with your followers by posting interactive content, and monitoring your performance (more on this later).
5. Lead nurturing
Most consulting businesses involve a long process before prospective clients decide to employ your business. That means you must use a lead nurturing process that reaches out to prospects on a regular basis. Often email marketing is the major tool used to nurture leads.
First, you must create a subscriber list, often using a lead magnet or some other attractive offer to encourage prospects to subscribe. Add clients to the subscriber list, as well, since they might use you again in the future.
Segmenting the list yields a higher conversion rate than sending the same message to everyone on the list. Personalizing your messages means using deep personalization not just adding a subscriber's name to the message. You can also send out individual messages such as birthday greetings using tools such as Salesforce to keep track of this information. Another aspect of personalization involves knowing where each subscriber is along the pathway to making a decision then sending messages appropriate for that stage of the journey. Also, keep track of which types of service each subscriber finds interesting.
6. Try paid advertising 
Most marketing strategies, including email marketing, and in-person and online networking, are effective ways to promote your business. However, these strategies require time before you see much in the way of results. That's especially true for social media where many platforms limit your ability to reach your followers through algorithms.
Paid online advertising is a fast and direct approach to creating awareness among members of your target market, remind them about your services, sharing your expertise, and highlighting new testimonials.
Search advertising uses the words comprising a query to deliver advertising that matches the user's needs. Of course, this advertising comes at a cost, which varies based on the keywords you choose. Plus, search engines use a quality score along with the advertiser's bid to determine which ads show up on the first page of results and which show on later pages, since only a small number of potential ads show on the first page. Just as with SEO, users are more likely to click on ads that show at the top of the first page.
Social media advertising relies on your ability to choose the right users as the target for your advertising, then match your ad copy to that target to motivate them to action.
Retargeting involves selectively showing ads in search or on social platforms to those users who have a prior visit to your website. This is particularly effective compared with other forms of online advertising.
7. Monitoring and optimizing
One of the great advantages of using online marketing for your consulting business is the wealth of data available to guide decisions. Using KPIs (key performance indicators), such as CTR (click-through rate), you learn from your existing campaigns to guide the development of future campaigns to optimize your results.
Conclusion
The internet is an important tool for every business. These tips are a few effective ways to promote your consulting business. If any of them feel overwhelming, you can take it a step at a time and explore the ones that are more manageable for you.
Need marketing help to support business growth?
We welcome the opportunity to show you how we can make your marketing SIZZLE with our data-driven, results-oriented marketing strategies.  Sign up for our FREE newsletter, get our FREE guide to creating an awesome website, or contact us for more information on hiring us.
Hausman and Associates, the publisher of MKT Maven, is a full-service marketing agency operating at the intersection of marketing and digital media. Check out our full range of services.