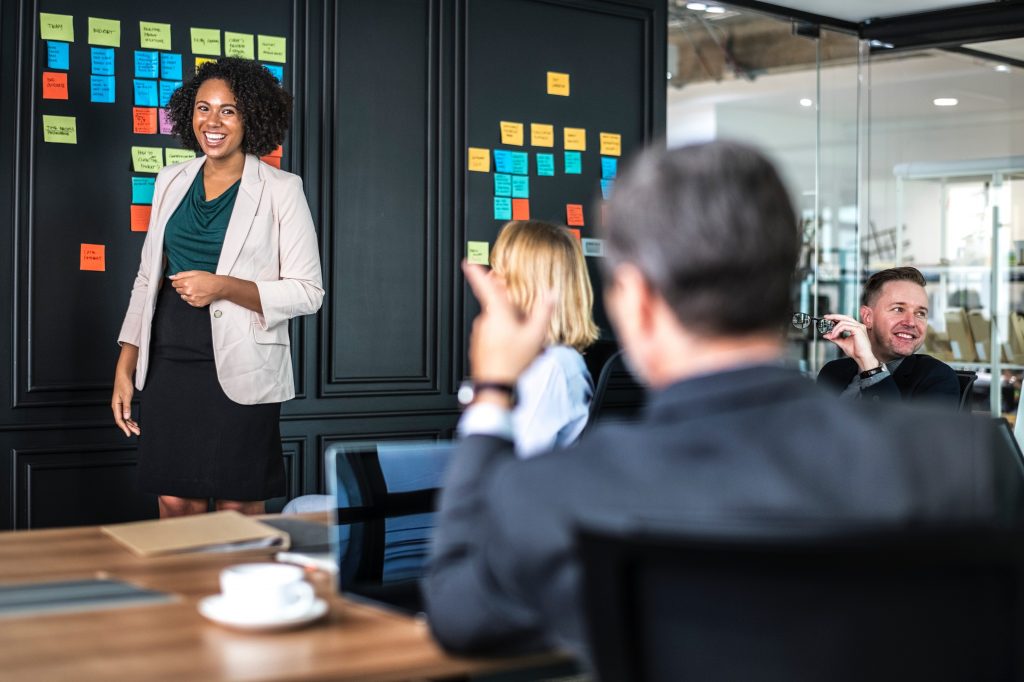 In the business world, seminars are opportunities to share knowledge and expertise with others, building your credibility and drawing in future customers/ clients. A successful seminar may also generate revenue – making it a great way to earn some extra cash. 
Hosting a seminar can take a lot of planning and good marketing. You need to attract the right people to come to your seminar and you need them to leave feeling satisfied with the knowledge they've gained, as well as the overall experience. Here are just seven tips to help you when planning a successful seminar.  
Choose the right venue
The first step in crafting a successful seminar is deciding where you're going to host your seminar. Some people have sufficient space in their office or other business location that is free to use, such as public libraries. Many times this option doesn't work and you have to find commercial space to host your event. Choosing the right venue acts to support your brand (or detract from it), so this is not the time to go cheap or reserve the first option you discover.
The venue should be somewhere easy to find, have sufficient parking or access to public transportation, and have sufficient space so attendees don't feel cramped. Lecture theaters, community center rooms, and town halls are common places to hold seminars. Some hotels have conference rooms, which are especially convenient when guests or speakers are coming from places requiring an overnight stay, plus they often offer catering services, audiovisual support, and other amenities that make the seminar more pleasant and reduce your own efforts. You might also want to consider quirkier venues that may have conference spaces such as museums, stately homes, or even some restaurants and bars.
Spend time shopping around for prices. This should be done several months in advance so that you can book early and secure the date you want, although some venues book a year or more in advance.
Target people who you think will be interested
Not everyone is going to be interested in the topic of your seminar. When marketing the event, just as with any other marketing effort, focus on people who meet your objectives. This might mean focusing on people who might become leads or customers for your products/ services. Or, it might mean discovering the characteristics of people most likely to attend the seminar.
A successful seminar requires a detailed marketing plan that focuses on your target market. That might mean paid advertising on social media or search engines or traditional advertising on TV/ radio. Marketing a seminar might be as simple as posting flyers in places your target market might see them or sending the information as part of your newsletter to subscribers.
Alternatively, you may be able to mail people directly via email or letter. This could allow you to send personalized invites, which could take more time and effort to create but may encourage more people to attend.
Provide proof of your expertise
People will only attend your seminar and listen to your advice if they believe you are an expert. When marketing your event, offer proof of credentials. This could be the fact that you've owned a successful business related to your topic for several years related to your topic or that you've got qualifications. You might provide social proof of your expertise in the form of awards won, the dollar value of profits, an increase in revenue achieved through your advice, or have someone universally accepted for their expertise endorse the seminar. You might invite political leaders, such as the mayor, to speak and tag on to their network and credibility. 
You should also mention these credentials during your seminar to help gain people's trust. Of course, you don't want to keep boasting about them, however, they are worth bringing up (ideally within the introduction of your seminar, especially if you can get someone else to do the introduction).
Successful seminars are visually engaging
If you're simply talking at your audience, they may get bored. Many people support their seminar with a presentation so that attendees are visually engaged. The best way to build a presentation is to use specialist software – this will allow you to use flashy templates and animations that add data in eye-catching graphs without making your attendees roll their eyes at screen after screen of numbers. Avoid using too much text and focus on providing images and diagrams that add to what you're telling people. Show, don't tell.
You may also be able to demonstrate how to do certain tasks on screen or even in person. Alternatively, you may be able to play a video during your seminar.
On top of this, think about your own stage presence. Using hand gestures and not just standing still can make a big impact on making your seminar more engaging. Maintain eye contact with your audience, preferably by making direct eye contact with attendees from different parts of the room, ensuring that everyone feels like you're talking directly to them. You might approach the audience if you're not confined to a stage or tethered to a sound system. For instance, if someone asks a question, you might move a little closer to them during your answer.
Encourage audience participation
Seminars are a chance for people to learn things. As a result, many people have questions. Allow time for constant interaction so that people are able to ask these questions throughout the seminar.
You might be able to find other fun ways to get people participating too, which may help to make your seminar more engaging, as well as make the information taught more memorable. This could include organizing a quiz to test people's knowledge, doing surveys to get an idea of people's opinions, or even teaching people hands-on (this would technically make it a workshop rather than a seminar).  
To sharpen your presentation skills, regularly practice your delivery, use simple and direct language, and incorporate eye-catching visuals. Training programs can also be extremely valuable in helping you reach your full potential. You can work with a professional presentation skills coach and learn best practices, receive hands-on practice and feedback, and develop confidence and effective communication skills that will set you apart as a dynamic and engaging presenter.
Rehearse your seminar
As with any speech or presentation, it's worth rehearsing to ensure that a) you don't overrun or end too quickly, and b) the whole seminar flows well. You don't have to memorize it word for word – whilst some people find this the easiest strategy, you may risk coming across a little wooden if you're simply reciting lines. However, it is worth going over it in order to practice your stage presence and to know when to change slides to ensure a successful seminar.
Give out your contact details to take away
It is worth handing out a business card at the end of the event so that people have your contact details. If anyone needs any further information, they can then get in touch. Giving attendees an easy way to get in touch with you is useful for generating leads, and, having gone to your seminar, people may want to recommend your services to friends by passing along your card. Business cards are the easiest way to exchange information, although you may be able to use other items such as flyers or branded pens.
Also, think about collecting business cards from attendees as a way to ensure you're able to keep in touch with them, for instance, by adding their contact information to your email list. Some speakers encourage attendees to provide a business card by offering a prize drawing to those who provided a business card.
Need marketing help to support business growth?
We welcome the opportunity to show you how we can make your marketing SIZZLE with our data-driven, results-oriented marketing strategies.  Sign up for our FREE newsletter, get our FREE guide to creating an awesome website, or contact us for more information on hiring us.
Hausman and Associates, the publisher of MKT Maven, is a full-service marketing agency operating at the intersection of marketing and digital media. Check out our full range of services.