Gaining organic traffic from social media seems to get harder every year as social platforms try to optimize their monetization efforts with more paid advertising. According to Forbes, social platforms like Facebook reduced organic traffic from social media to an all-time low of just 2% through a combination of changes to the algorithm, introducing posts from users you don't follow, and other platform changes. The image below shows that, on average, only 5% of traffic to your website comes through social, with much of this coming through paid social rather than organic. This, despite overall growth in the amount of time spent online, which is currently nearly 2.5 hours per day. That's because, of the 4.75 billion posts shared on Facebook alone per day, only 1500 of them are eligible to show up on a user's Facebook feed per day. That leaves a ton of posts a user never sees each day, even from brands they follow.
Organic traffic from social media
Let's start by ensuring we understand the nature of organic traffic. Organic traffic comes through efforts to engage with users on one or most social media platforms. And, this traffic seems to decline every year, as shown by the citations linked in the introductory paragraph. In contrast, organic search traffic results when a user finds your link through a search engine and this type of organic traffic increases every year; currently accounting for 53% of all traffic to business websites. Organic search traffic dwarfs traffic from all other searches and is nominally free, making it very valuable for businesses. If you want to learn more about optimizing your organic search traffic (or SEO for search engine optimization), you can find a number of tips on this site here.



Increasing organic traffic from social media
To help you attract more organic traffic from social media, I have some great tips. Read on to help you reach this goal.
1. Know your target market
Every business has a target market or a few of them. If you don't know your target market deeply, that's the first place to start.
A target market is that portion of the total market that represents your best chances to make a sale. That doesn't mean you can't sell to folks who aren't part of your market, it just means you focus your efforts on consumers who are primed for the product, price, messaging, and other marketing aspects you have to offer. Of course, you should start by identifying a target market and then build a marketing strategy around that market, rather than the other way around. Below, you see how a business might develop a target market and the different types of target markets available to a business. Most small businesses are better off focusing on a niche market, leaving mass markets for large multinational companies.
2. Go where you find your target market
While the larger social media platforms offer diverse user groups, you can still choose the social media platforms you use to match your target market. For instance, younger consumers (especially those in Gen Z) hang out on TikTok, while professionals are found on LinkedIn. Contrary to popular belief, Facebook features a growing group of consumers in the 60+ age group. In Asia, you find more consumers using QQ or Whatsapp.
Once you identified the demographics, geographics, and psychographics of your target market, research which social platforms offer the greatest potential to reach that market. Ensure your data is recent, as the composition of users on a given social media platform change over time.



3. Post when your target market is on the platform
Changes to the algorithm used by the social media platform mean you should concentrate your posting schedule around when your target market is on the platform to optimize your organic traffic from social media. This is another thing that changes over time and is likely specific to your target market, so you should plan to experiment with different times across different days of the week. Set up a posting schedule then monitor the traffic to your website from each time period. Don't forget that weekend access may be very different from the way your target market uses social media during the week. Give each test some time to play out before you move on to the next test otherwise your data is hard to interpret and you might make mistakes because your tests run together.
The best time to post likely varies based on your goal. For instance, gaining engagement (ie. likes, comments, shares) suggests different post times than achieving clicks (ie. generating traffic to your website or another off-site page).
To get you started, here's some advice for achieving engagement based on a study of actual Facebook, Instagram, TikTok, LinkedIn, and Twitter posts:
Best times to post on Facebook: Monday through Friday at 3 a.m., Tuesdays at 10 a.m. and noon
Best days to post on Facebook: Tuesdays through Fridays
Worst days to post on Facebook: Saturdays
Best times to post on Twitter: Mondays, Tuesdays, Wednesdays, Fridays, and Saturdays at 9 a.m.
Best days to post on Twitter: Tuesdays and Wednesdays
Worst days to post on Twitter: Sundays
Best times to post on Instagram: Mondays at 11 a.m., Tuesdays and Wednesdays from 10 a.m. to 1 p.m., and Thursdays and Fridays at 10 a.m. and 11 a.m.
Best days to post on Instagram: Tuesdays and Wednesdays.
Worst days to post on Instagram: Sundays.
Best time to post on TikTok is between 6:00 AM and 10:00 AM and between 7:00 PM and 11:00 PM, EST
Best times on LinkedIn: Tuesday through Thursday 9 a.m. – noon.
Best days LinkedIn: Tuesday and Wednesday.
Worst day on LinkedIn: Sunday.
Of course, this is just a starting point based on global engagement for each platform. Advice varies by country and industry so check out the links for more specific information on your industry then experiment around those numbers until you find the best times to post for your brand.
4. Stay consistent
The key to getting more organic traffic from social media is to post consistently, using the best times to post. Posting to social media isn't something you do when you have a few extra minutes but something you make an important part of your daily activities. Below, you can see the recommended number of posts you should publish for each social media platform.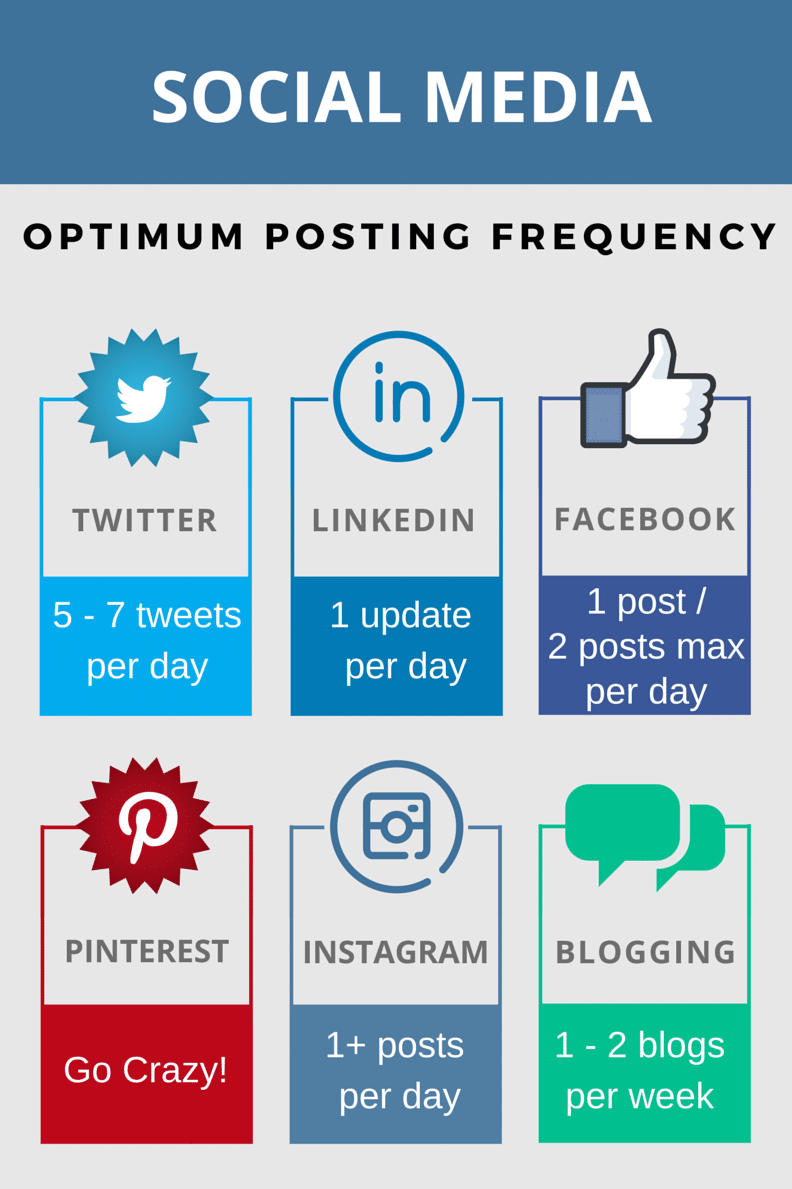 Staying on this schedule isn't easy. It takes time and planning plus you need sufficient staff to maintain consistency. You're better off running a single social media platform where you can post consistently rather than multiple platforms where you fall short of reaching the optimal post frequency.
A content marketing calendar helps you stay on top of your posting schedule. Access this link to get everything you need to keep you on schedule, including a fillable template. Preparing your calendar for a month at a time is a real bonus in your efforts to stay on schedule.
Social media automation or marketing automation tools are also a great help when it comes to ensuring your post consistently. You can choose from low-cost options such as Hootsuite or Buffer or go for something with more power such as Sproutsocial. These automation tools allow you to post content that goes live on your preferred schedule. You can set up a month's worth of content quickly and then forget it until the next month, although stay aware of major cultural changes to modify scheduled posts to match the temperature of your target market or to take advantage of a topical story. For instance, in the days following the collapse of the Twin Towers in New York, posting humorous content just seemed insensitive.



5. Build your community
Social media posts aren't ads and they're not press releases. They must provide value to your community in the form of entertainment or information without being dry. Aim for an informal voice that's authentic and personal, like you want to speak directly to each member of your target market. An 80/20 split between valuable and promotional content is the sweet spot when it comes to posting on social media. A 90/10 spilt is even better. Sharing content that provides value helps build your community and reach new users.
Engagement is the name of the game in social media. When you engage users, they spread your content to other users who aren't part of your community. Plus, the more engagement you achieve, the higher percentage of your community sees your posts. In the next section, we introduce some ideas for increasing engagement among users. In addition, carefully monitor the performance of each post to identify those that achieve superior levels of engagement so you can produce more of this type of content.
Of course, you can't achieve engagement with users unless you engage with them. When someone asks a question, respond completely within a short period of time. When a user posts a complaint, rather than attempt to hide the complaint, empathize with the user and be transparent about how you plan to fix the problem. When a user posts something favorable about your brand, thank them. You might even offer them a coupon they can share with their friends so the friends discover how great your brand is.
Remember that users don't always post about your brand on your page or use your preferred hashtags. Set up an effective listening program so you detect mentions of your brand and company wherever they occur, even if that involves social media platforms you don't use.
6. Post content that resonates with your target market
As you begin filling out your content calendar, you'll find yourself struggling to create content as you run out of ideas. Here are some ideas to help ensure you produce a variety of valuable posts for your community:
Share content that highlights the value of your brand. For instance, post an image of your staff working in a soup kitchen or holding a fundraising event for charity. As you can see in the image below, showing you share values with your target market encourages them to choose your brand and support your brand in other ways.

Image courtesy of Customer Insight Group
Share content that humanizes your brand. For instance, allow employees to post about what they do when they're not at work or show your staff softball team pictures.
Remember that images and video outperform text on most platforms, except Twitter. Post interesting images to draw in your target market along with a short text.
Post items of interest to your target market produced by other businesses or non-profits to flesh out your unique content. For instance, a hospital might share about a fundraiser for the American Cancer Society or something from the CDC about symptoms of Monkeypox.
Celebrate your customers by including them in your posts. For instance, IBM posts about the great things prospective customers do, such as fundraising or participating in an area softball league as a way to attract the attention of their managers.
Post this or that content that contrasts two different products or different approaches to installing your product.
Use before and after images to show how well your product works.
To find more ideas, check out this post that contains 118 post ideas (note this are for blog posts but you can adapt them to shorter social media posts).



7. Encourage user-generated content
User-generated content (UGC) is great for fleshing out your content marketing efforts to drive more organic traffic from social media. But, don't just wait for your customers and others to post something valuable. Be proactive by encouraging UGC. For instance, you can host a contest where you award a prize to users who post an image of themselves with your product or write a review of your product. These user posts not only reach other users who might not already follow your page but they represent content that means more to users than your own content.
Influencer marketing is a specific form of UGC. You can find influencers in nearly any niche using platforms you can find with a simple Google search, such as Upinfluence. Of course, influencers don't work for free and their fees range from simply supplying free products to $1000s of dollars for influencers with a highly engaged audience.
Conclusion
Generating more organic traffic from social media starts with setting up an account on the social media platforms that match your target market. You must then create content that resonates with your target market on a consistent basis based on the norms of that particular platform. Engaging with users brings you more attention and increases your reach. Listening and monitoring are key elements of any effort to drive more organic traffic from social media.
Hence, even though organic social media isn't a form of paid advertising, you need a sufficient budget to make this form of marketing deliver results for your company.
Need marketing help to support business growth?
We welcome the opportunity to show you how we can make your marketing SIZZLE with our data-driven, results-oriented marketing strategies.  Sign up for our FREE newsletter, get our FREE guide to creating an awesome website, or contact us for more information on hiring us.
Hausman and Associates, the publisher of MKT Maven, is a full-service marketing agency operating at the intersection of marketing and digital media. Check out our full range of services.