Just as your business needs a great physical presence that boosts your brand was important a decade ago for any business to thrive, a strong online presence is mandatory for businesses in today's digital age. According to Forbes, there are 1.13 billion websites in 2023, although only a little over 200 million are actively maintained and visited, with 71% of companies having a website. Their study also shows that a new website is created every 3 seconds.  The chance that prospective buyers will find your website is less than the possibility of finding a needle in a room full of needles. But, all is not lost. SEO (search engine optimization) is a tool for driving traffic to your site by creating high-quality content that search users find valuable. Mastering SEO allows your website and its pages to show up near the top of the results when users search for terms related to your content. As you can see in the image below most clicks through to the website (CTR) accrue to links that appear near the top of the ranking and websites that show up on pages after the first one, have little chance of getting found online. Local SEO is especially valuable for small local businesses and allows them to compete with much larger brands for coveted listings near the top of search engine results pages (SERPs). And, Google My Business is essential for Local SEO.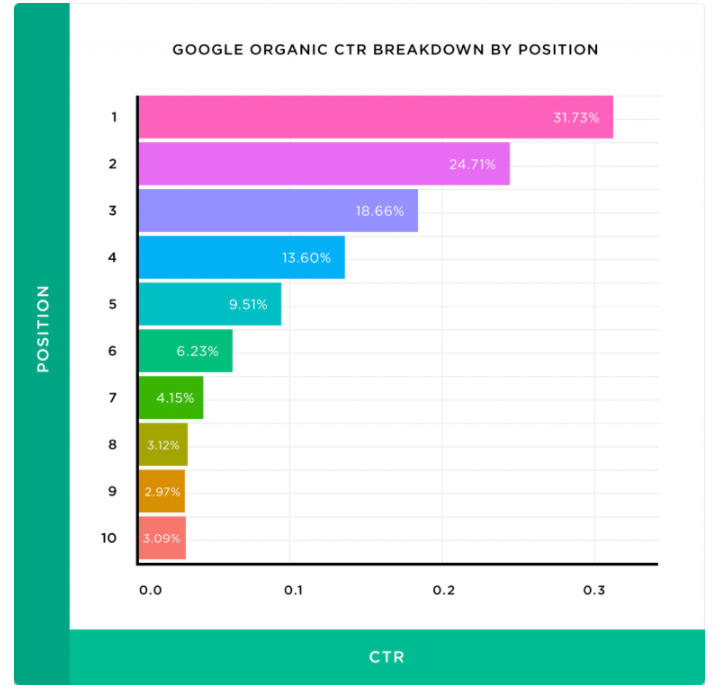 From local businesses to global enterprises, GMB (Google My Business) offers excellent opportunities to connect with potential customers and enhance your brand's online presence. From increasing your business's visibility on search engines to leveraging valuable insights, GMB has a lot of features to help your brand thrive in the digital world. Below are just some of the benefits of GMB for local SEO:
An enhanced listing that appears before other non-paid links in the search results, although commonly only a half dozen or so appear with the rest hidden behind a <VIEW ALL> link
Your rating based on the reviews of past customers
Links to access your website, your address, phone number, your hours of operation (ie. when you close or, if closed, when you open), and a map showing your physical location. When users search via a mobile device, the results link to Google Maps to provide directions and your phone to call the business without entering the number.
Based on how you set up your GMB profile, other elements might be included in your listing, including a button to request service or a quote.
Below you can see the listing for doctors in my area, which represents a typical GMB listing on a desktop device.
And, it's free to sign up for an account on GMB, although you need a physical address (even businesses 100% online need to list an office) and a Gmail account. To set up your account, you need to complete the profile, validate your address via a snail mail postcard (hence the reason for adding a physical address), and promote your business with other elements of SEO, as local SEO won't do all the heavy lifting for you.
Let's learn about more such ways GMB can help your business.
Local SEO with GMB
1. Increased online visibility
When you create and optimize your GMB listing, your business is more likely to appear in relevant search results with an enhanced listing like the one above. Google prioritizes GMB listings, especially for local searches, making it easier for potential customers to discover your business.
Once you have a GMB listing, when users search for products or services in a specific area, they are shown the best-related local results that satisfy their search query and match their current physical location. By optimizing your GMB listing, your business has a higher chance of appearing in these results, boosting visibility among local customers.
Also, GMB listings are mobile-friendly, ensuring that potential customers can easily find and engage with your business on their smartphones or tablets. This accessibility further improves your online visibility and user experience, bringing more traffic to your website or physical location.
2. Enhanced local presence
GMB enables your business to appear prominently in local search results. When potential customers search for products or services related to your business in their area, Google displays a specified result that consists of a collection of businesses matching the search query.
By optimizing your GMB listing, you increase your chances of appearing in this coveted local search space, gaining visibility among users who are actively seeking what you offer. Moreover, features like Google Local Service Ads and Google Ads extensions allow you to display your business information, such as your phone number and reviews, directly within search results.
These advertising opportunities help increase brand visibility and attract local customers who are specifically looking for the products or services you offer. If you want to improve your GMB profile, you can use a GMB Audit tool by a local marketing platform that will help you track the local rankings of your Google business and will suggest betterments based on the results.
3. Increased exposure on Google Maps
Google My Business (GMB) is a valuable tool that can significantly increase your business's exposure on Google Maps. When users search for businesses on Google Maps, GMB listings appear prominently on the map, making it easier for potential customers to identify your location.
This allows you to provide comprehensive information about your business on Google Maps. This way, users can access details such as your address, phone number, website, operating hours, and even photos of your office or store.
By providing accurate and detailed information, you make it easier for customers to choose your business and visit your location for the products or services they may need.
4. Customer Engagement
With the ever-growing importance of online interactions, GMB provides valuable features that allow you to connect with your customers and build meaningful relationships. There are many ways your GMB profile will help you boost customer engagement.
First of all, GMB enables customers to leave reviews and ratings for your business. Positive reviews act as testimonials, attracting new customers and boosting their confidence in your brand. Secondly, GMB's messaging feature allows customers to contact your business directly.
By promptly responding to customer inquiries and messages, you show that you value their time and are readily available to address their needs.
5. Online Reputation Management
In today's digital age, online reviews and customer feedback hold significant influence over a business's reputation. GMB offers features and tools that allow you to effectively manage and maintain a positive online reputation.
Moreover, GMB helps you ensure reputation management across different online platforms. By claiming and verifying your business on GMB, you can manage and update your business information, including contact details, opening hours, and website links.
This consistency not only helps customers find accurate and up-to-date information but also reinforces your brand's credibility and professionalism.
6. Visual Impact
GMB allows you to showcase photos and videos of your business, products, services, and team. These visual elements help create a compelling first impression and give potential customers a glimpse into what your business has to offer.
High-quality images and engaging videos can capture attention, evoke emotions, and communicate your brand's unique selling points. Including photos of your business's exterior and interior on your GMB listing gives customers a sense of what to expect when they visit.
Visuals of a well-designed storefront, welcoming entrance, or inviting office space can leave a positive impression and entice potential customers to choose your business over competitors.
Along with this, GMB also allows businesses to provide a 3600 view of the business interior. This allows customers to have a unique visual experience that helps them make informed decisions.
7. A Great First Impression
When customers search for any query over the internet, they expect to see results that are reliable and reputed in the industry.  And when your business is among those top results with a GMB listing, this increases your trust among customers and builds a great first impression.
After your customers are impressed by your online presence and the services you offer, they are likely to recommend your products and services to others in their social circle.
Conclusion
If you're not using GMB or haven't put effort into optimizing your GMB listing, I hope I've convinced you that this is a worthwhile task. I know you're all really busy running your businesses but an optimized GMB listing is essential for local SEO.
Need marketing help to support business growth?
We welcome the opportunity to show you how we can make your marketing SIZZLE with our data-driven, results-oriented marketing strategies.  Sign up for our FREE newsletter, get our FREE guide to creating an awesome website, or contact us for more information on hiring us.
Hausman and Associates, the publisher of MKT Maven, is a full-service marketing agency operating at the intersection of marketing and digital media. Check out our full range of services.