Are you looking for ways to improve your marketing campaign performance? Well, we've got some of the top 7 ways you can get more return for your marketing efforts so you can grow your business. Companies must sell themselves to get noticed above the competition to get ahead in business. And, in the global economy, the competitive intensity has gone through the roof, making the task of creating awareness among your target market that drives higher revenue, harder than it's ever been. Cutting through the noise is now more expensive and takes smarter communication strategies that combine marketing channels in a synergistic fashion to build your brand over time.
You need a sustained effort to see the tide turn on your revenue. I equate marketing to filling a bucket. When your goal is to have the bucket overflow, it takes a lot of water to fill the bucket before you see the first drops flow over the side. In marketing, that means at least six months (likely closer to a year) of sustained effort before you'll start to see the needle move.
In conjunction with an excellent reputation and other brand-building efforts, a strong digital marketing campaign is the best way to achieve results. As you can see below, a recent study shows the effectiveness of various marketing channels in reaching company goals according to the executives at that company and digital marketing channels rule the day plus digital marketing is much better targeted at consumers most likely to buy your brand, which further enhances the appeal of this marketing channel. When you already use the same advertising techniques as the other players in your market, it takes innovation to get the edge. The following ideas could bring new life to your marketing campaign making your brand the go-to choice among members of your target market.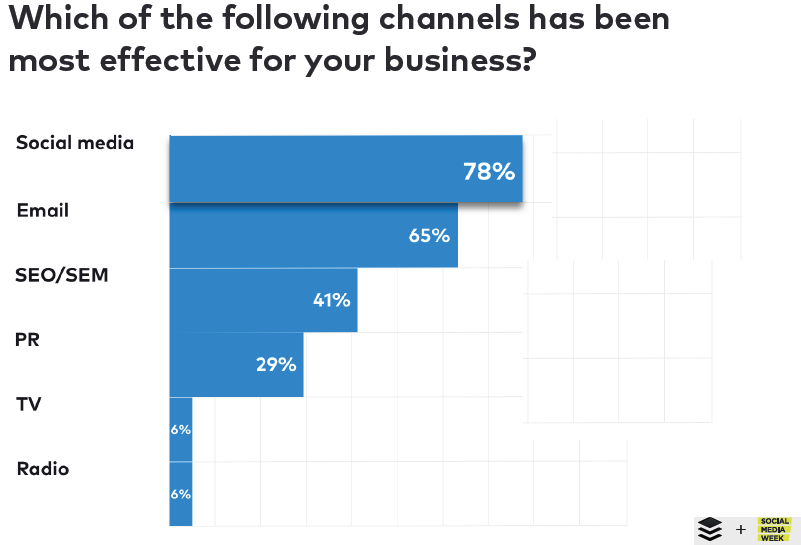 Improve your marketing campaign to meet your goals
1. Allocate sufficient funds to improve your marketing campaign
I'm always shocked to find that companies don't appreciate the value of marketing and, thus, allocate too few resources to their marketing campaigns.
Marketing brings in the ONLY free money and the success or failure of your efforts depends on doing marketing well. You can do EVERYTHING else RIGHT and still fail if your marketing campaigns don't bring in paying customers. So, what's the right amount of money to spend on marketing?
The answer to that is pretty complicated. The easy answer is to allocate your marketing budget based on anticipated revenue. For B2B companies (businesses that sell to other businesses) you should allocate between 2% and 5% of sales as your marketing budget. For B2C companies that sell to consumers, the rate is higher; 5% to 10%. Of course, these are simply ballpark figures and you might find this budget insufficient to improve your marketing campaign.
Another way to determine how much money to allocate to marketing is to look at your goals. We call this the objective/ task method and it most closely matches your goals and returns to determine how much money to allocate to marketing. You can learn more about how to determine your marketing budget in an earlier post.
2. Deploy campaigns built on sound strategies
You can't improve your marketing campaign without a solid marketing plan. And, a key element in building a sound marketing plan is knowing your target market.
Business owners understand their target market and tailor products and marketing tactics to reach those customers best. However, sometimes casting your sights on a wider audience can bring surprising results. For instance, products such as tacos and similar foodstuffs designed for Latino markets do very well in non-Latino markets. Similarly, products designed for one gender, such as skin care lotions, do very well with the other gender when marketed to them effectively.
Identifying new market niches and quickly jumping on them brings increased traffic and, consequently, better sales. Just remember to adjust your marketing tactics so you don't lose your existing market as you expand into a new one.
3. Email marketing
Using email as an integral part of your marketing is nothing new; however, many businesses aren't using this digital medium effectively. As you can see below, email marketing offers the highest ROI compared with other marketing channels.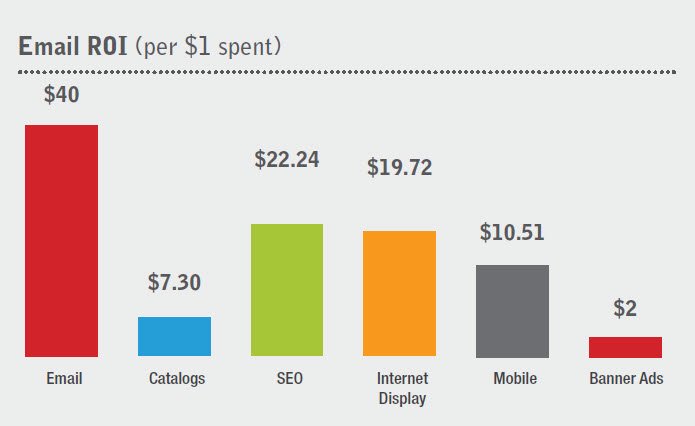 But, you can't do email marketing if you don't understand the medium. Going back to basics and redefining how you use emails can significantly impact sales and customer retention. You can't buy email lists, so you need to work toward curating a subscriber list using elements such as lead magnets to encourage signups. Then you must construct messages that convert. Consumers tune out when constantly confronted with a hard sell, so moving to a 2:1 model with marketing emails will keep existing customers engaged and more likely to give repeat business. See metacake.com for more information.
4. Branding And Placement
One of the first things any new business owner does is create the look of their product. However, branding goes much further than a logo and color scheme for signage and print ads; more so than ever, a distinct brand look is vital to drawing in customers. A coherent look will make your company immediately recognizable across all media, from print to YouTube thumbnails and banners. Yes, people are exposed to such a wide variety of information now that putting your brand out via various means is an essential marketing tool.
5. Hire folks with the right skills
You can't just hire an intern from the local college or your nephew to run your digital marketing just because they are active on social media. Marketing a business on digital platforms doesn't work at all like these kids think it does and has resulted in some pretty spectacular mistakes that cost the brand a lot in terms of goodwill and generated bad publicity. You just can't say the same thing to consumers, especially business consumers, that you say to your friends.
Plus, digital marketing is much more than social media. In fact, organic social media is now almost non-existent (organic reach on Facebook is only 2.2%) as social media companies search for bigger revenue streams. You need to know digital advertising on both social platforms and search if you want to succeed online today. More on digital marketing tactics and the skills required in the image below.
6. Content marketing
Digital marketing requires a literal ton of content since producing fresh, valuable content on a consistent basis is the key to every single digital marketing tactic. Unlike traditional media, where you spend a bunch of money producing a highly polished piece of content that you then transmit over and over again, you can use each piece of digital content once, although it might still perform well for you over time. For instance, I produced a piece of content on this site in the beginning (differences between traditional media and digital media) and it still represents one of the best performing pieced of content on this site (of course, I've updated it several times as the state of digital marketing changed). Yet, I still need to produce fresh content all the time.
Content marketing brings traffic to your website and organic traffic from search engines represents the single largest proportion of traffic to your site. We call this SEO or search engine optimization. Content marketing also builds your community on social media to transmit your message and encourage positive attitudes toward your brand. Content marketing urges visitors down the conversion funnel so all those visits and positive images don't die on the vine but translate into sales.
7. Analytics
As you can see in the graphic shown earlier, analytical skills are the top needs for businesses running digital marketing programs. Unlike traditional media where marketers were left guessing about the results of their advertising campaigns, digital marketing produces a wealth of data, which should help improve your marketing campaign when used to provide insights. For instance, by understanding how visitors move through your website, which visitors convert, and where they drop off in the process of conversion, you have valuable data necessary to make your campaigns more effective. Amazon increased revenue dramatically when they built the one-click buy process for customers signed in to the website, as an example of how knowing about how visitors navigate your website helps you improve results.
By coding (or tagging) links shared on social platforms or in email newsletters, you know which pieces of content produce better conversion rates, which allows you to employ this knowledge to make future content efforts more productive.
Conclusion
As you can see, it's relatively easy to improve your marketing campaign to increase revenue. Each of these ideas will generate revenue but if you use several (or all) of them, you'll see a big improvement in your bottom line. Good luck.
Need marketing help to support business growth?
We welcome the opportunity to show you how we can make your marketing SIZZLE with our data-driven, results-oriented marketing strategies.  Sign up for our FREE newsletter, get our FREE guide to creating an awesome website, or contact us for more information on hiring us.
Hausman and Associates, the publisher of MKT Maven, is a full-service marketing agency operating at the intersection of marketing and digital media. Check out our full range of services.