Starting a new business is a great step for some people. It provides greater control, offers higher-than-average returns, and may set your family up for generations to come. Yet, when you launch a new business you should prepare for struggles to secure financing until the business can support itself, a great deal of uncertainty, and, often, endless hours toiling away for little return. Launching a new business isn't for the faint of heart. You may consider starting a new venture for many reasons, such as needing an extra income source or wanting to channel your hobby or passion into something profitable. Whatever the reason, starting on the right foot is essential to give your business the greatest possible chance of succeeding. According to research, approximately 20% of firms fail during the first year for a variety of reasons and only half survive the first five years of operation. Therefore, if you want to stand out from the competition and help your business thrive, here are some important steps to consider before you launch a new business.
Small business
Unless you have vast experience in a field and/ or access to a tremendous amount of capital, when you launch a new business, it's likely a small business or even a business you run on the side to supplement your existing income. As you can see from the graphic above, most companies in the US (and much of the world) are small businesses and, despite the press attention to massive businesses like Amazon and Walmart, it is these small businesses that are the drivers of the economy. Again, from the image above, we see that 70% of global employment comes from small businesses and more than half of the world GDP (gross domestic product) comes from them.
Job growth comes, fundamentally, from these small businesses, which generated two of every three new jobs in the economy over the last 25 years. When you launch a new business, you become part of this massive engine that drives the economy.
In addition, most innovations come when an entrepreneur decides to launch a new business. That's what gave us the Apple family of products, many internet companies such as eBay, and a host of other ideas that we take for granted that make our lives easier and more enjoyable.
Launch a new business
If you're considering diving into the pool by launching a small business, you must plan in depth to increase your chances of success.
One of the first, and most important decisions you face is which business area to enter. As you can see below, one of the biggest reasons for failure among new businesses is that there's no need for the product they sell.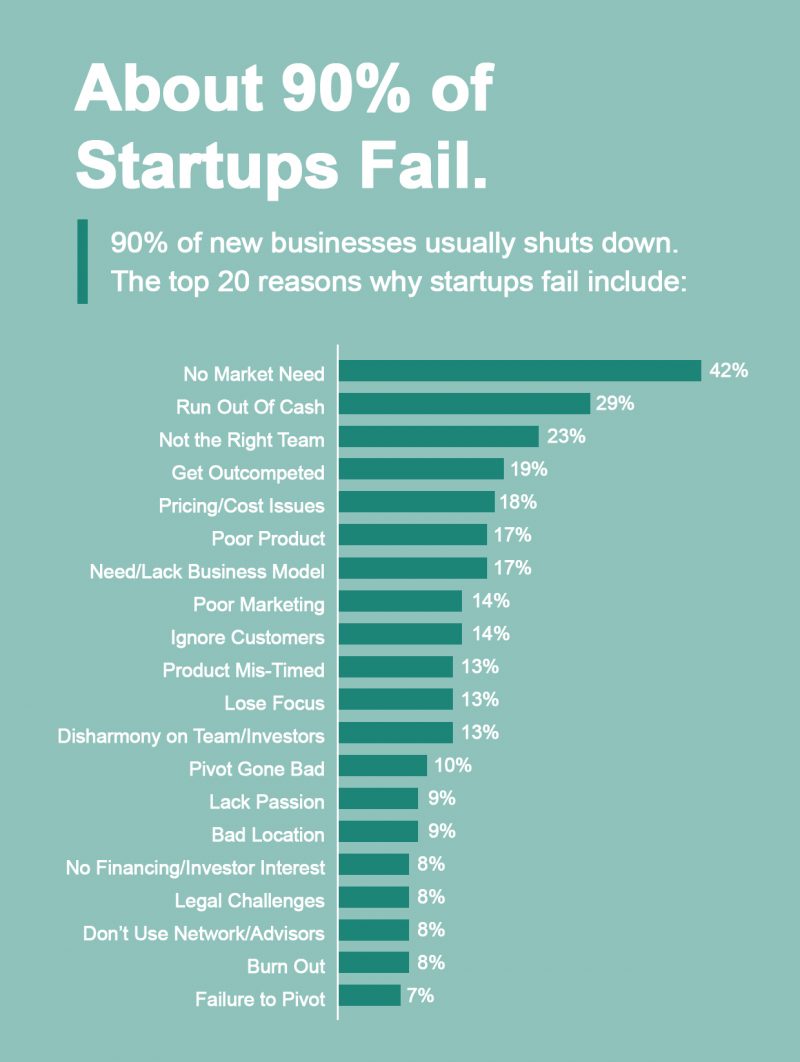 Hence, you must do your research to ensure there's a market need for the type of business you plan to start.
Next, you must consider your goals in starting a new business.
Do you want to supplement your income with a passion project?
Are you interested in starting a business that will support you and your family by replacing your employment income?
Is your goal to start a massive enterprise that offers not only income but opportunities for growth that contribute to the economy?
Your decision about goals will guide most of the remaining processes needed to launch a new business.
1. Have a business plan
As the popular saying goes, if you fail to plan, you plan to fail. Before you start, decide what kind of business you are. Drawing up your business plan helps you focus on factors that contribute to your success. To the extent possible, use data and information from those operating in the industry to help build your plan rather than relying on assumptions. Your business plan should consist of the following:
Goals and objectives for the short-term and longer-term
Mission and values
External factors such as competition, the economy, the technological environment, and the laws and regulations that impact your chosen industry
Your target market
Planning documents for:

product and operations
staffing
marketing

Pro forma financial statements
Action plans
2. Understand your target market
Understanding your target market is crucial in helping you develop a successful business. Acquiring as much data as possible to identify your prospective markets benefits your business in many ways. You must understand that consumers don't buy products, they buy solutions to their problems. As such, you need to offer better solutions than those already existing in the marketplace or find problems without a good solution. We talk about the opportunity represented by unmet needs as prime for consideration when you launch a new business.
Next, you must understand the target market in great detail. What's important to them, where do they get information, and what types of messaging might resonate with them? Finally, you need to assess the market size, buying power, and potential over time.
3. Develop an effective marketing strategy
A good marketing plan helps your business connect with potential consumers and persuade them to buy your products, recommend them to their friends, and develop a preference for your products leading to repeat purchases. First, focus on building a strategy that includes messaging to convince consumers to buy, a distribution strategy to get products to consumers, a pricing model that makes your product affordable (providing value for both consumers and your firm), and a product strategy. Next, you must develop a set of tactical plans to implement your strategy. For instance, when it comes to promoting your business, some marketing tools that are effective no matter the nature of your business include social media marketing, direct mail programs, email marketing, and search engine optimization to help customers find your website. As more B2B and B2C sectors than ever before use various online platforms to advertise their businesses and communicate with their target audience, the internet is undoubtedly a terrific way to draw in new clients.
4. Work with professionals
You don't have to be an expert in everything to start a business. You may need professionals to help with certain technical aspects of your business, such as accounting. If you can't do everything on your own, there's no need to worry. You can build a small team in the initial stages or hire part-time to help you stay within budget. In the long run, trying to do things on your own that you cannot do will waste more time and perhaps even money. You can also seek professional advice from people within your network to help you make the best business decisions.
5. Know your strengths and weaknesses
Every small business owner has certain skills that help them build and sustain their business. Therefore, you need to objectively assess your strengths and weaknesses to guide you in the next steps. Although you will have to wear several hats, especially in the first stages of the company, don't pressurize yourself or expect yourself to dive right into a very difficult task without any preparation. Conducting a SWOT analysis to identify strengths, weaknesses, opportunities, and threats will help you know which areas to improve and which you can leverage as your competitive advantage and develop them.
6. Know why you started
Starting and sustaining a business can be challenging. There may be times when you may not feel up to it. However, staying focused on why you decided to start the business in the first place can help give you the fuel you need to keep going. You may not always be able to achieve your goals within the time you want, but remember that building a successful business takes time. Although you must be disciplined and determined, you shouldn't be too hard on yourself.
7. Be professional
How you conduct yourself and your business will communicate that you are a serious business with a lot to offer. Work towards building a professional brand by getting the right signage, business cards if necessary, a dedicated business number, and email address. Aside from that, you should prioritize excellent customer service and think of creative ways to make your clients feel valued. This way, you will build a positive and professional brand image for your business.
Conclusion
The decision to launch a new business might be the right one for you and your family. It also might benefit society if it grows into a firm that employs others and/ or provides innovations that make our lives easier. Yet, there's an inherent risk in starting and running a business, so consider these 7 steps carefully before making a decision to launch a new business.
Need marketing help to support business growth?
We welcome the opportunity to show you how we can make your marketing SIZZLE with our data-driven, results-oriented marketing strategies.  Sign up for our FREE newsletter, get our FREE guide to creating an awesome website, or contact us for more information on hiring us.
Hausman and Associates, the publisher of MKT Maven, is a full-service marketing agency operating at the intersection of marketing and digital media. Check out our full range of services.