A marketer's daily tasks encompass a wide range of responsibilities, platforms, and content types. Many marketers struggle to keep on top of all the demands on their time and budget. If there were only a way to assist with these demands, they'd have a better shot of reaching their marketing goals. Well, there are a bunch of AI tools for digital marketing that will help you and many don't even come at a high cost. Check out our 7 best AI tools for digital marketing below.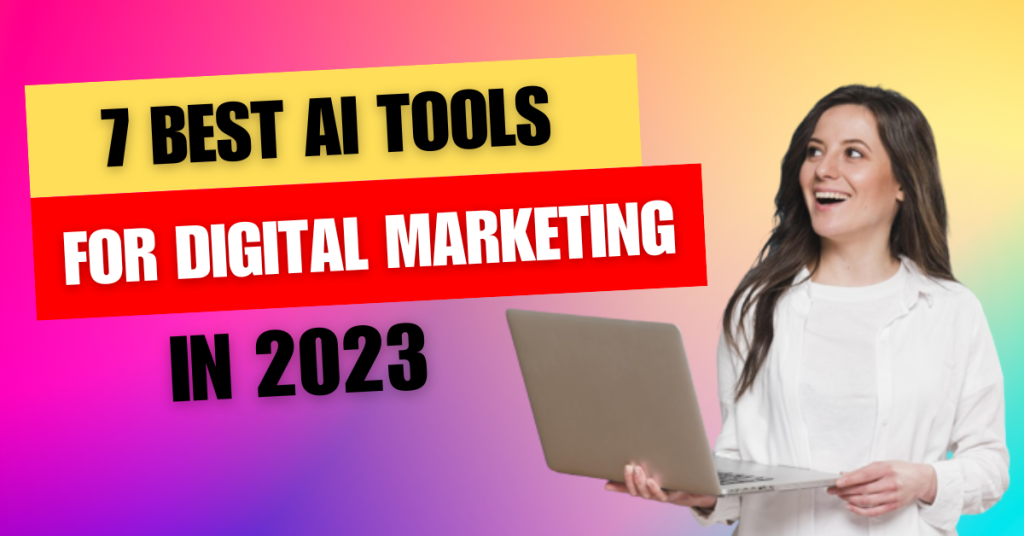 Actually, 77% of companies are either integrating AI into their workflows now or are trying to. And, digital marketing with its never-ending demands for high-quality content produced on a consistent basis is the perfect place to explore the use of AI tools. And, we suspect that the use of AI tools for digital marketing will advance more over the next few years as AI becomes more powerful and is integrated more completely into the marketing tools you already use.
Process automation, enhanced user interfaces, and the dissemination of insightful data are all made possible by AI. We'll talk about the top seven AI tools for digital marketing we recommend you try.
What exactly is an AI marketing tool?
A computer program that makes use of artificial intelligence (AI) algorithms to facilitate common marketing activities is referred to as an AI marketing tool. They can perform extensive data analysis and offer insights to support firms in making more informed marketing choices as well as to do much of the heavy lifting required to do common marketing tasks.
Often, AI is paired with ML (machine learning) so the tool becomes more powerful over time through improved training.
At its most basic level, AI uses a machine rather than a human to process massive amounts of data, then apply reasoning tools to interact with humans in a way that mimics a human-to-human conversation.
Building an AI tool
Building an AI tool for marketing isn't child's play but it also doesn't require extensive skills so anyone who wants to commit the time and effort needed can build one. First, you need to use a programming language like Python or R to build an algorithm that underpins the usefulness of the tool. These algorithms primarily use data to make predictions or classify content as a means to reduce the data into meaningful insights.
Next, the builder trains the model with data scraped from some data source. For instance, ChatGPT uses publically available data found across the internet to train the AI to deliver results to queries (prompts) provided by a human user. The more data used to train the tool, the more useful the tool becomes.
By incorporating ML into the tool, the AI becomes more powerful by incorporating new data to adjust its performance so it gets better over time.
What role does AI play in marketing?
The management of customer/client connections benefits greatly from AI. AI can deliver individualized experiences by understanding and delivering content based on their requirements. Every choice is made with the goal of enhancing customer involvement and service. It is routinely updated to scale the most effective creative campaigns and content. The end result is an approach that is optimal for attaining company objectives and return on investment.
The top 7 AI tools for digital marketing in 2023
Businesses can save time and money by utilizing AI marketing technologies. They enhance their customer interaction and targeting, which ultimately results in higher sales. Let's examine some of the most effective AI technologies on the market right now:
1. Paraphrasing.io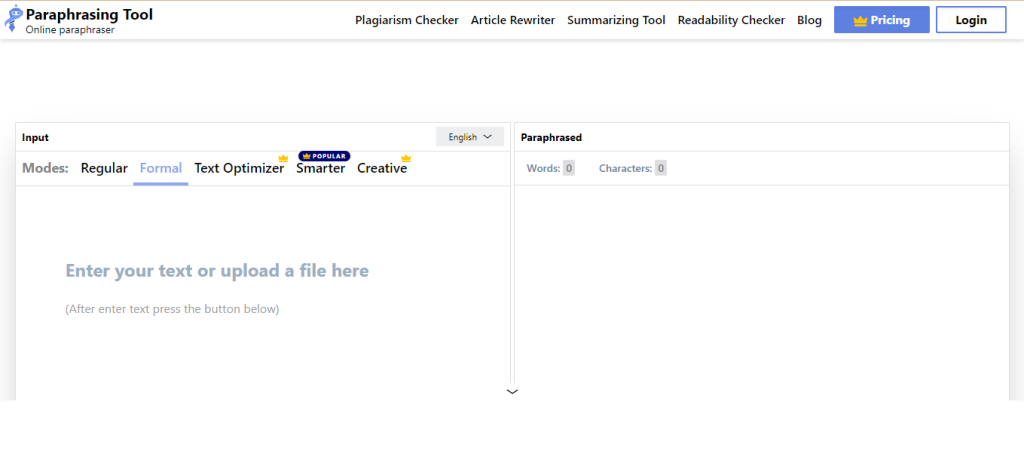 This online rephrasing tool employs artificial intelligence algorithms to assist users in precisely and speedily achieving originality. An AI-based free rewording application, it generates unique material by exchanging words with synonyms. Thus, you can create unique content based on previously produced content to reduce the effort needed to satisfy your needs for more content.
The main purpose of this paraphrasing tool was to facilitate writing. The original material is rephrased at the phrase, sentence, and paragraph levels. Its AI rewriter is among the top AI tools for accurately and can swiftly paraphrase any form of writing. It modifies the diction and syntactic structures to produce 100 percent original text that is free of mistakes. Modifying the information while keeping it readable and making it more visually appealing is beneficial.
It is most effective as a sentence-change generator that enables you to paraphrase text at the sentence level. Simply type a statement to discover how seamlessly the diction and tone are changed as needed.
Key Features Paraphrasing.io
This tool is easily located, accessed, and used by anyone, even a novice.
The information is paraphrased accurately and quickly because of the tool's use of cutting-edge AI algorithms.
2. Jasper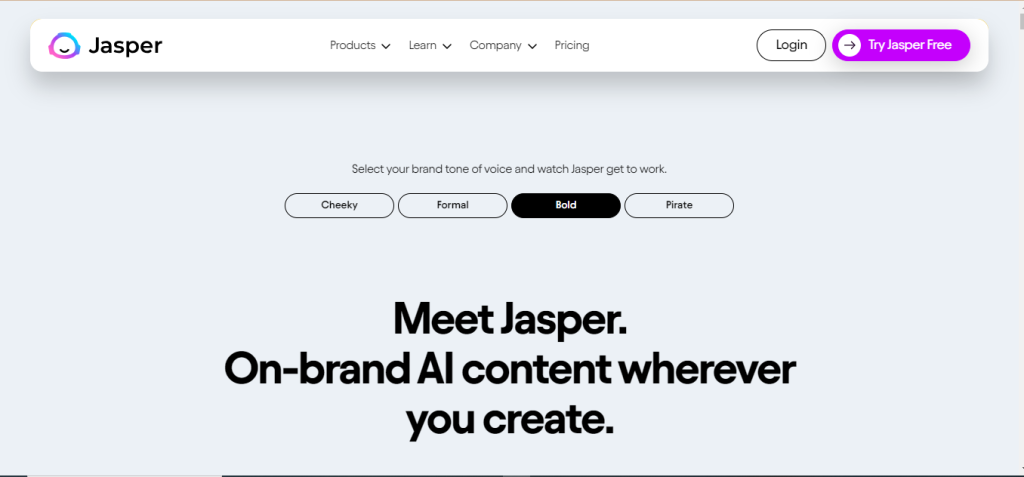 With the help of the conversational AI platform Jasper, organizations can build chatbots. With this, they interact with clients in a kind and intuitive way.
Advanced NLP (natural language processing) and ML algorithms fuel the tool. This enables a company to comprehend the purpose behind customer inquiries and deliver pertinent answers. It can also read what you've written and offer suggestions for improvement. A complex algorithm is used to scramble and reassemble items linked to your input from a vast amount of data.
Adding a chatbot rather than using outdated elements such as FAQs (frequently asked questions) to your website or other online tools offers customers and prospects answers to their questions or is set up to escalate the query to a human when the chatbot can't handle a request. Because a chatbot simulates a human chat, visitors much prefer this tool to other options for addressing their queries as they're available 24/7 and don't require long wait times to get answers. Employing a chatbot reduces company expenses by replacing human customer service reps and can even offer more accurate answers (except in the case of very experienced human operators). The key is extensive training, as a chatbot that can't answer all commonly posed queries is frustrating for users.
Key Features Jasper
Boss mode enables you to narrate a copy so that Jasper can immediately write it out.
You change the length of the content that is generated.
Allows you to incorporate keywords for SEO.
3. Optimove
Optimove is used by more than 300 businesses to run their customer marketing activities. By combining marketing knowledge, the platform develops personalized customer marketing strategies. Using Optimove, marketers can get a complete view of the way their customers behave, allowing them to target customers with timely and automated communication based on this analysis.
Marketers utilize the software to automate their multi-channel consumer marketing plans.
Key Features Optimove
By sending personalized emails to audience segments with specific needs, you can use Optimove to enhance conversion rates.
The Optimove algorithm can recognize client identities and patterns using RFM.
Optimove classifies its customers into personas or target categories.
4. Surfer SEO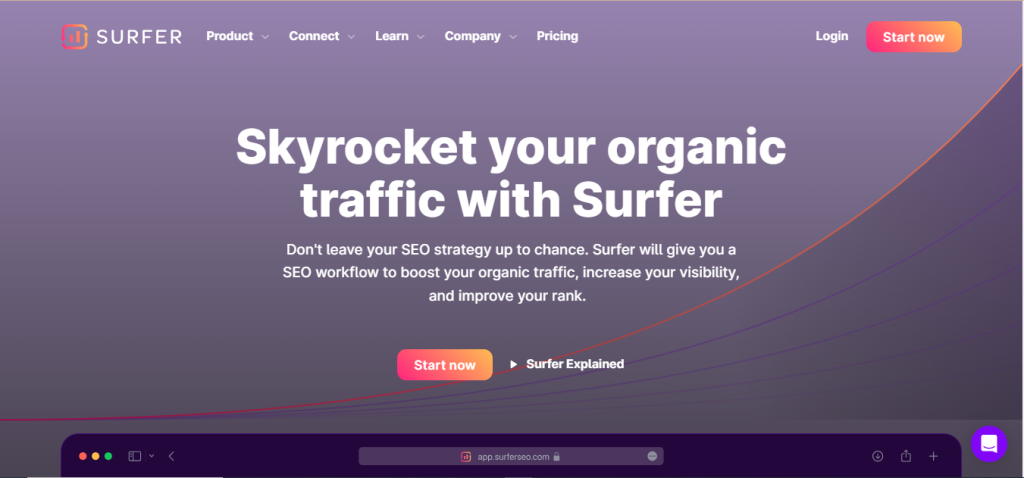 Surfer SEO is a tool that aids in boosting organic traffic to your website, thus raising visibility and improving rank.
With Surfer SEO, you can create articles that read well and perform well in search results. It creates briefs with enticing headlines and allows a real-time assessment of optimization thanks to Surfer's Content Score.
Key Features Surfer SEO
When you concentrate on creating amazing content, it provides pertinent keywords in real-time.
Quickly creates briefs with attention-grabbing titles. Your information is organized into a thorough outline with distinctive potential headings.
Create material in any language and optimize it. By utilizing instantaneous metrics for word count, and NLP-ready keywords and imagery, you may rank high.
5. Flick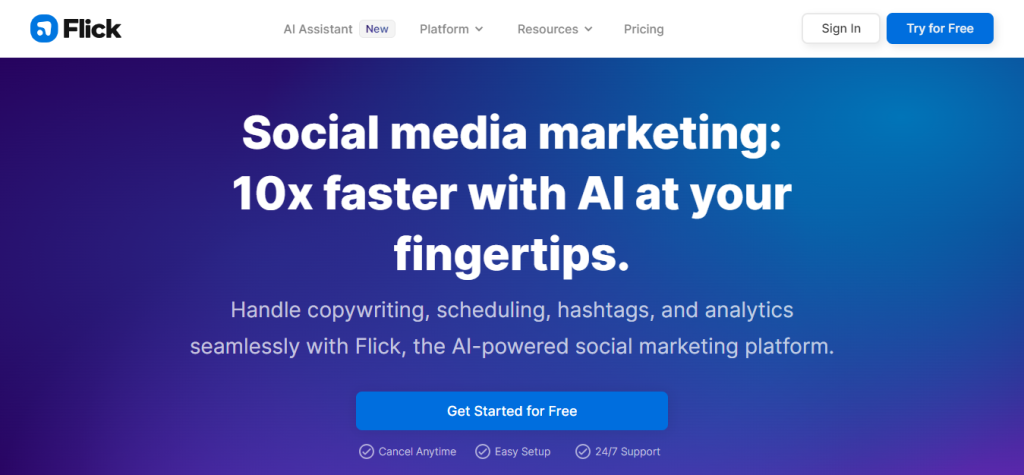 The Flick AI Social Media Assistant is a very effective marketing tool. It is made to make the planning, authoring, and ideation of social media material more efficient. Users can easily try out a new way of creating interesting and on-brand content during the 7-day free trial period.
This platform, powered by AI, acts dynamically by providing AI idea brainstorming for various content topics. It excels in post scheduling, making it easy to plan and time posts with just one click. It helps with effective content management further with features like Auto-Suggested Hashtags.
Of course, many marketing automation tools like Hootsuite and Hubspot are adding AI tools for digital marketing to their stable of options. Using content published on your website, for instance, Hootsuite autogenerates content for your social platforms.
Key Features Flick
Over 100,000 companies trust Flick AI's Social Media Assistant.
They are able to save time, get better outcomes, and boost their online visibility.
6. Nova AI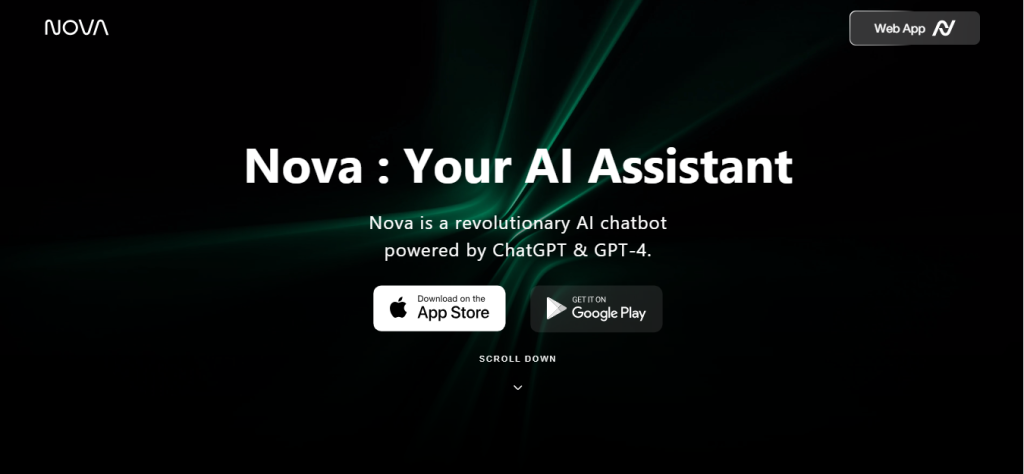 Nova AI is a cutting-edge online video editor that makes video editing simple for everyone. It combines necessary tools with innovations powered by AI. By including interesting elements like text, subtitles, and voiceovers you make the most of marketing videos, ensuring they're enjoyable and rewarding.
Everyone, regardless of prior editing experience, can use NOVA AI with its user-friendly interface. It is a time- and money-saving solution that doesn't call for updates, downloads, or installations.
Key Features Nova.AI
Hardcode subtitles into your videos using an automated system.
Subtitles and podcast transcripts can be translated automatically.
With the text-to-speech feature of NOVA.AI, you can easily convert any text into male or female voiceovers.
7. Semrush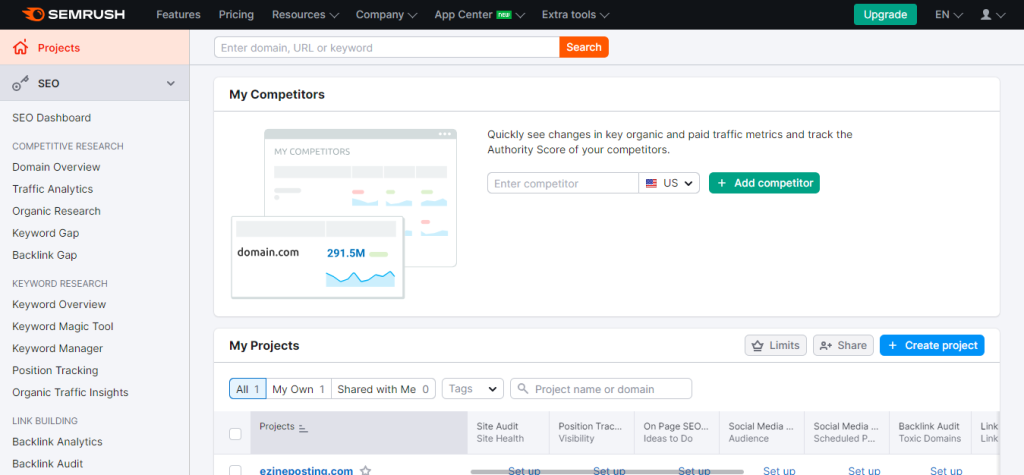 With the help of Semrush's comprehensive suite, you can run content marketing campaigns, SEO, PPC, and much more. Its position tracker enables companies to monitor how they rank in comparison to other websites.
A Content Marketing Toolkit is another feature of the AI marketing tool. You can use it to do topic searches, which give you knowledge about current trends. Based on this data, you can then develop content marketing initiatives.
Key Features Semrush
Position monitoring displays your position for specific keywords
On-Page SEO
7 tools for competitor analysis
Content marketing and social media management
Bonus tools
ChatGPT
ChatGPT is all the rage right now. It uses prompts to produce content using its access to a wealth of internet data and training in NLP. It does have drawbacks, however. First, the content is published online so search engines view it as duplicate content and may reduce the rank of the webpage. I use ChatGPT to create a first draft of content and then re-write the content totally using the ChatGPT result as a starting point. I find it reduces the time necessary to create new content while helping me think more broadly about a topic, including perspectives I might not have considered in my original content plan.
Publishing the results from ChatGPT has other SEO problems. For instance, the resulting content is unsourced. If you publish this content without citing the source, your content is viewed by search engines less favorably than when you source your content, which shows you did your research. Also, it may violate copyright laws.
Grammarly
Grammarly is basically an editing tool to identify spelling and grammar problems. Recently, they added an AI to the platform (paid version). While I don't think it does a great job of creating content from scratch, I find it's very good at helping to create great headlines for content and subject lines for email marketing.
Dall-e
Dall-e uses AI to create visual elements. A paid part of ChatGPT, this nifty tool uses information about the image you wish to create to offer a group of optional designs. You can choose to recreate the design options if you don't like the first group produced by the tool. Or, you can take one that you like and use that as the basis for generating more options.
I used this to create the new logo for my brand, as the old one was getting a little tired. I'm not a graphic designer but I know when I see something I like. Dall-e hit the nail on the head after just a few iterations. Of course, I still needed Photoshop to customize the image because it didn't contain my brand name (just some nonsense letters) or my brand colors. With a little time and effort, I produced a new logo. Let me know what you think.
Final say
AI isn't a replacement for human writers, designers, or content creators, just like any other digital marketing tool. Instead, it's a means of boosting productivity and aiding in the automation of more repetitive operations. AI has the potential to free up more of our time in this way, allowing us to use it for more imaginative tasks.
Need marketing help to support business growth?
We welcome the opportunity to show you how we can make your marketing SIZZLE with our data-driven, results-oriented marketing strategies.  Sign up for our FREE newsletter, get our FREE guide to creating an awesome website, or contact us for more information on hiring us.
Hausman and Associates, the publisher of MKT Maven, is a full-service marketing agency operating at the intersection of marketing and digital media. Check out our full range of services.