There's no doubt that real estate is a lucrative industry. Whether you're a real estate agent, property developer, or investor, learning to market your real estate business for maximum exposure is essential to success. This blog post discusses 6 of the most effective ways to market your real estate business in today's rapidly changing market. So whether you're just starting in the real estate industry or looking for new and innovative ways to market your properties, read on!
Via Pexels
6 ways to market your real estate business
The real estate business is one of the oldest types of business out there. Traditionally, real estate agents (commonly operating as independent contractors for real estate agencies) brought together buyers and sellers to consummate a satisfying transition where both parties benefit and the agent (and his/her agency) received a commission (often somewhere around 6%) as compensation for their time and marketing expenses. Agents, often working part-time, used personal connections and an industry-wide association to help match buyers and sellers.
Today, we see huge disruption in this market. Much of this disruption reduces the need for agents and agencies, as digital technologies allow buyers and sellers to reach a deal without involvement by a third party. Just as the travel business nearly wiped out the need for travel agents, digital transformations threaten to make real estate agents obsolete. The same factors impact other real estate businesses such as property managers.
For instance, platforms bring buyers and sellers together without an agent as a third-party mediator in the transaction. Using search tools and filters, buyers can find the perfect property, arrange for a walk-through, make an offer, and even schedule the closing. Sellers list their property and develop their own marketing materials to entice buyers. In exchange, the platform collects a small fee. Discount brokers, like Redfin, also exist to drive down the cost of selling your home. These forces reduce profits in the industry and place a burden to market your real estate business more effectively to reduce your marketing budget.
To survive, these businesses must embrace digital transformation and do a better job when it comes time to market your real estate business. Digital transformation eases the burden of consummating a sale through virtual signing and online submission of documents to allow buyers and sellers to work more quickly and with less intrusion in their lives. Marketing efforts must employ less expensive and more effective digital tools to replace expensive listings in newspapers and TV ads.
Below are 6 ways to market your real estate business effectively.
Use the internet to your advantage
List your property on a real estate website. There are many different real estate websites, and listing your property on as many of them as possible helps you reach the most people. Also, contact real estate marketers for help in making your marketing more effective. MLS is the industry standard for real estate listings but you might find local listing services to help reach a local market. For instance, an ad in the local Nextdoor community might bring you to the attention of buyers or help your gain listings in your local area from owners.
Flyers and brochures
One of the most traditional ways to market real estate is by putting flyers or brochures in public places. This is sometimes effective, but it's essential to ensure that your pamphlet or brochure stands out and catches people's attention. You can do this by using eye-catching graphics or exciting fonts. Give the property owner a bunch of flyers so they can share their listing with people they encounter or put them up at work. Always ensure you have plenty of flyers at your open houses and leave them in a prominent place within the home to help visitors remember the property. After a potential buyer sees as many as a dozen properties in a day, they all start to blend together and it's hard to remember which house had features they found appealing. A nice flyer helps them keep each property straight.
Use SEO
SEO (search engine optimization) helps your business appear higher on search engine results pages When prospective buyers or sellers search for a real estate business, they often turn to a search engine as a first step in finding alternatives. By showing up near the top of the results, you increase the traffic to your website and your potential. Below, you see how rank impacts the number of clicks your content receives.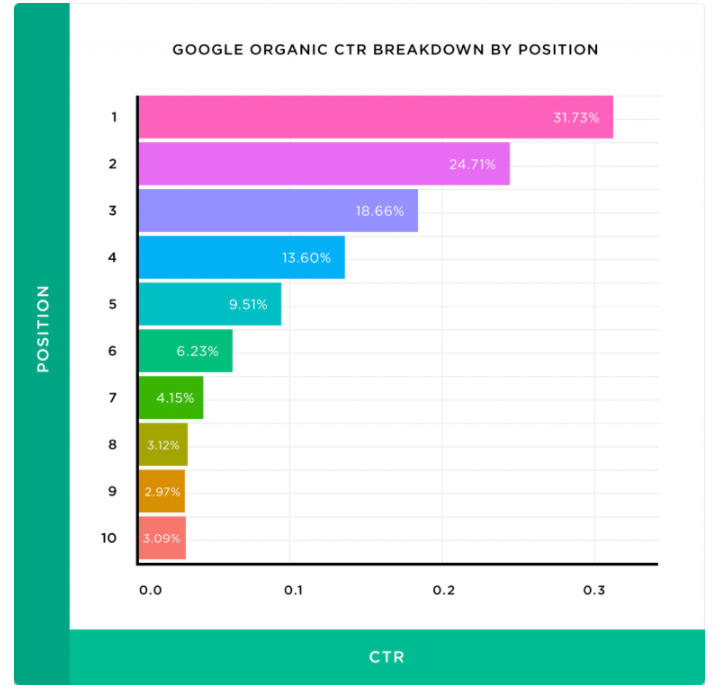 Improving your rank relies on both on-page and off-page tactics. Among the factors that impact rank most are:
Judicious use of keywords that match a user's query in headings, as alt tags on images, in meta descriptions, and in domain names
Social signals of quality such as social media engagement, low bounce rates, and backlinks
Fast load speeds
Mobile friendly
A secure website
A good user experience
Gaining a higher rank means building on these factors when crafting content for your website and social media platforms. The overarching rule to achieving a higher rank is to craft valuable content on a consistent basis. For instance, you might start a blog where you discuss things related to homeownership.
Some popular real estate keywords include "homes for sale," "real estate," "investment property," and "luxury real estate."
Using a professional to stage the home
One way to market your home for sale is to have a professional house stager come in and decorate it. Furnishing and decorating a home is an expensive proposition as you must rent furniture and accessories, but empty houses or cluttered ones don't sell as quickly or at as high a price as those that look like a model home. Stagers know how to make a home look its best, and they use their expertise to make your homes stand out from the competition so they sell faster.
Open house
Another way a real estate business can market your home is to hold an open house. This allows potential buyers to come and take a look at your property without making an appointment, which often generates higher traffic to the home. Ensure you have plenty of flyers and brochures available so that people can learn more about the homes and have something to take with them when they leave.
Social media
Social media should be your go-to platform when it comes to marketing your real estate business. Platforms like Facebook, Twitter, and Instagram offer a vast audience you can reach with the right social media strategy. Here are some tips for using social media to market your properties:
Create a professional page or profile for your real estate business. This gives your business a more professional appearance and makes it easier for potential buyers to find you.
Make use of hashtags. Hashtags are a great way to reach a broader audience on social media. Make sure to use relevant hashtags that people are likely to search for.
Engage with your followers. Show your followers that you're engaged with them by responding to their comments and questions. This helps build trust and loyalty among your followers and helps you reach new ones.
Use images and videos. Images and videos are a great way to capture attention and engage viewers. Use high-quality images and videos that showcase your property in the best light. Today's buyers want advanced marketing tools such as virtual walkthroughs, especially as we haven't emerged from Covid concerns yet.
Conclusion
No matter how great your real estate is, you'll never get the exposure you need if you don't market it correctly. By following these six tips, you can create a marketing campaign that will generate interest in your property and help you find the right buyer.
Need marketing help to support business growth?
We welcome the opportunity to show you how we can make your marketing SIZZLE with our data-driven, results-oriented marketing strategies.  Sign up for our FREE newsletter, get our FREE guide to creating an awesome website, or contact us for more information on hiring us.
Hausman and Associates, the publisher of MKT Maven, is a full-service marketing agency operating at the intersection of marketing and digital media. Check out our full range of services.