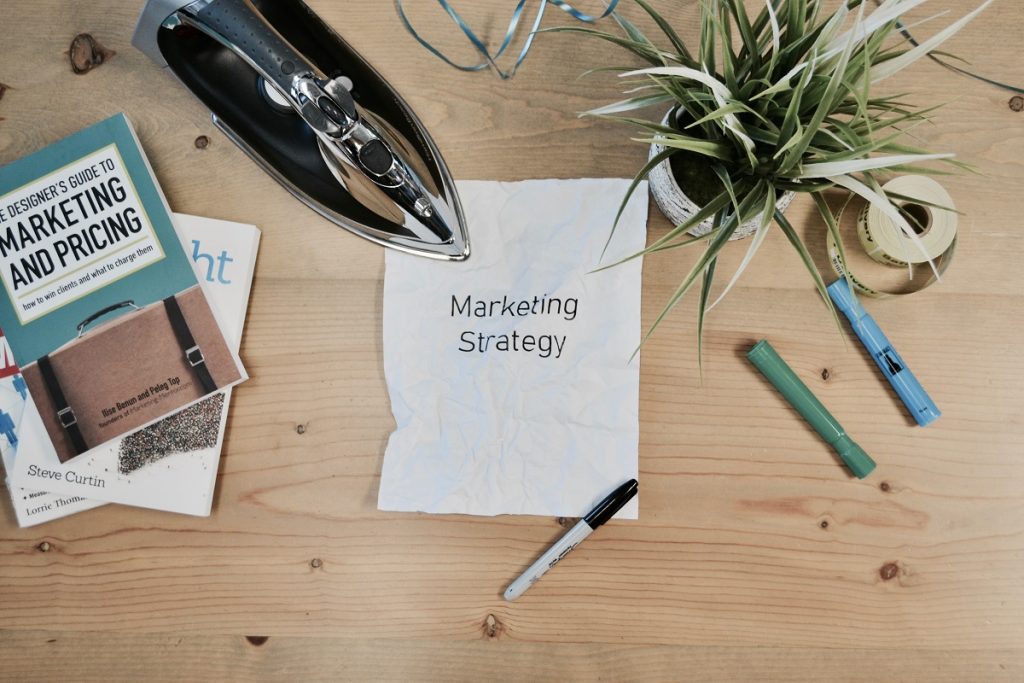 Not all digital marketing strategies are created equal and having the right tactics, using them correctly, and monitoring performance help you succeed.
A digital marketing strategy, according to this definition by Hubspot
is a plan that helps your business achieve specific digital goals through carefully selected online marketing channels such as paid, earned, and owned media.
A digital marketing strategy is not the same as a marketing strategy since your business may have a marketing strategy without a defined digital marketing strategy. But you should always craft digital marketing strategies as a subset of your overall marketing program for the business due to the high ROI offered through digital marketing.
A marketing strategy combines all of the company's marketing goals and objectives into a single plan that is comprehensive and cohesive. But the digital marketing strategy is a series of actions that only use online marketing channels to achieve specific marketing goals or contribute in a systematic way to achieving your overarching marketing goals.
Does your company have a digital marketing strategy? Or do you do online marketing without an organized, consistent strategy with defined metrics? But why should your business have a digital marketing strategy in the first place and what are the benefits? 
Why your business needs digital marketing strategies
A digital marketing strategy puts your business where the consumers are. About 60% of consumers believe they couldn't live without their smartphones. Digital marketing, done correctly, means your efforts fit into a mobile-first digital strategy.
Digital marketing increases website traffic, drives more traffic to your brick and mortar store, improves lead conversion, and boosts your business' sales and revenue. For instance, one company increased sales by over 700% in just 3 months with an effective social media strategy.
You increase brand visibility and reach, which improves brand recognition and builds the credibility of your brand. Trustworthy brands gain and retain customers more easily.
Digital strategies give your customers a voice and more avenues to interact with your brand. Brands that engage with customers more build loyalty.
Having a digital marketing strategy helps you to harness the disparate and inconsistent online marketing efforts of your business into a targeted and more effective plan.
 What to include in your digital marketing strategy?
When building your digital marketing strategies what online channels offer the best results? Which specific online strategies should you include as the building blocks for your larger digital marketing strategy? Here are the 6 most effective digital marketing strategies you should include.
1.   Social media marketing
Social media marketing is about creating content on social media platforms to promote your business and products. The most influential social media networks are Facebook, Instagram, Twitter, LinkedIn, YouTube, Snapchat, and Pinterest. When using social media, there are things to know.
Social media platforms vary in form and the specific value they offer users as well as the benefits brands receive on the platform. The demographics of users on each platform are also different. Thus, the approach your business adopts for each platform must conform to the specific demographic and psychographic character of the average user on a specific plafrom. You must also customize the type of content you put on a social media platform. For instance, the graphic below shows the types of content users expect, based on age.
Social media marketing can take the form of ads or free content that is posted on your social media channels. The best results come through a combination of free posts and paid adverts.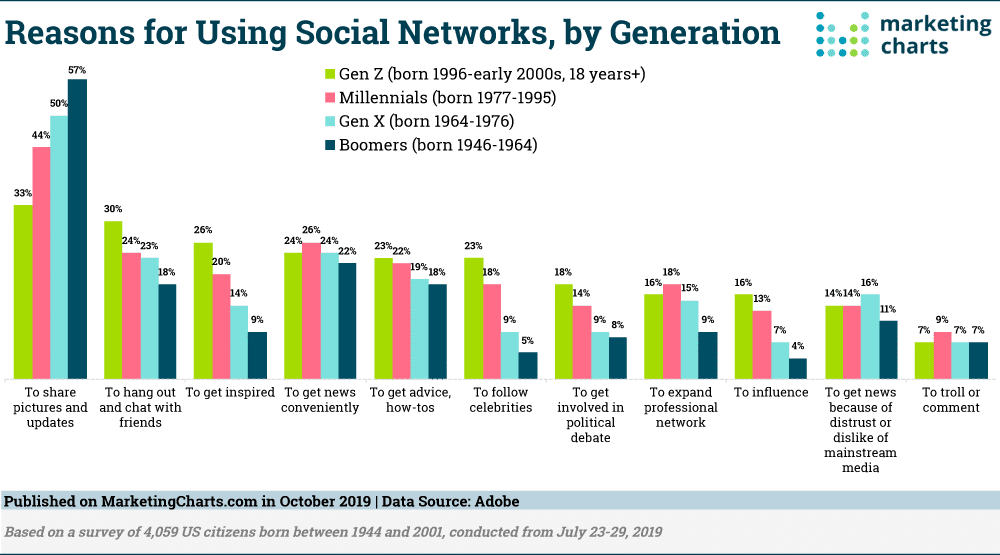 Additionally, different target markets choose different social platforms, as you can see in this graphic.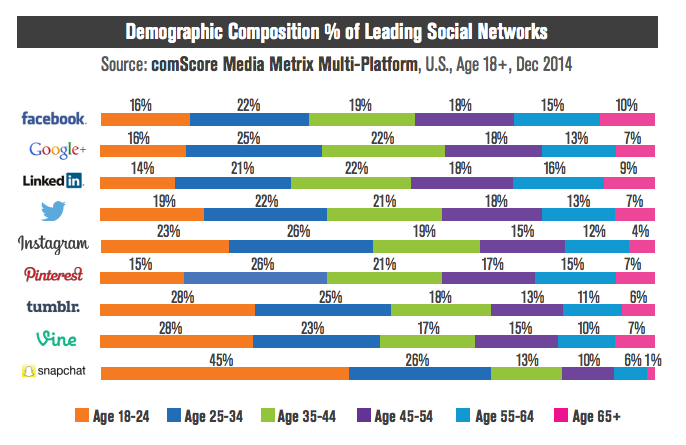 Here are the things you should know about each social media network (also see the graphic below):
Facebook: Has 2 billion active users worldwide. The audience is mainly Generation X and millennials. It is best for brand awareness.
Instagram: Has nearly 1 billion monthly users, most of whom are millennials. A great platform for pictures or short videos, and user-generated content.
Twitter: Has 328 million daily users worldwide and the audience is mainly millennials. This is the best platform for customer service and public relations.
YouTube: Has over 2 billion monthly users worldwide. The audience is mostly millennials and Generation Z. Best for educational/how-to videos, entertainment, and brand awareness.
LinkedIn: Has 675 million monthly active users across the world. The audience is a mix of baby boomers, Generation X, and millennials. It is mainly a B2B platform and great for business development.
Snapchat: Has 375 million daily users worldwide, mostly Generation Z. Great for brand awareness.
Pinterest: Has 200 million monthly active users across the world. Used mostly by older millennials and younger baby boomers. Best used for mood board inspiration.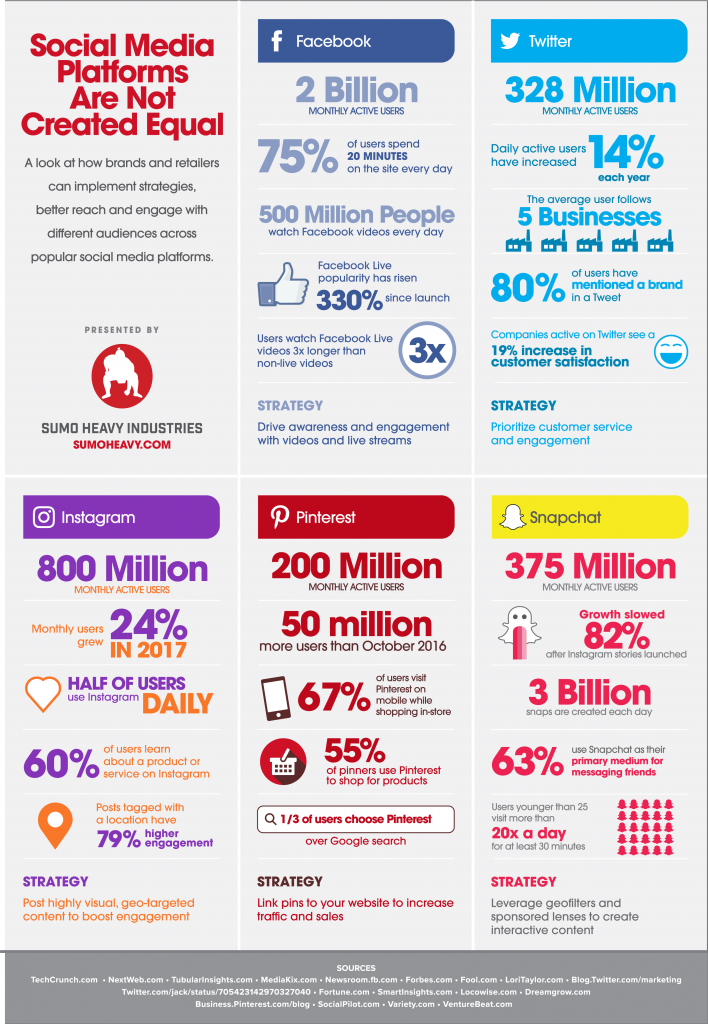 To achieve success, you must tailor the advertising on any of the social networks to the type of audience and content found on that platform. 
2.   SEO
Search Engine Optimization (SEO) tactics improve your organic traffic visiting your site from search engines, the largest of which is Google. Since organic search accounts for approximately 73% of traffic to your website, SEO deserves a significant place in your digital marketing strategies.
Thus, effective SEO strategies allow you to improve the ranking of your website in search engine results. We recommend a focus on SEO because most people begin their search for product information by asking a search engine but ask any expert and they'll tell you the same thing. And since online searchers rarely go past the first page of search results, SEO helps your business appear on the first page of search results, where it is most likely to be seen by searchers, thus attracting more clicks, as you can see below.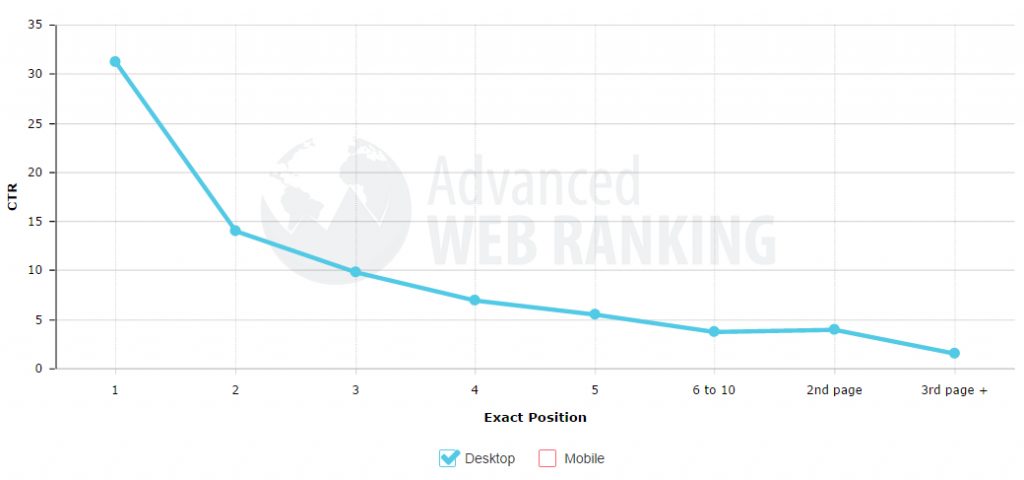 3.   Content marketing
Content marketing fits in with your SEO strategy since reactions to your content are the single biggest factor in your search results. Content marketing is also a strategy that focuses on creating marketing messages that drive consumers toward a purchase by nurturing their interest in your brand.
Content marketing is mostly informational in nature and the content you produce usually includes blog posts, videos, infographics, or any other content that provides value to your target audience, as well as posts on social media. Beyond creating the content, this strategy also focuses on placing the content on web platforms where they can be found by those who need them. Content marketing is 62% less costly and 54% more effective than traditional marketing.
4.   Email marketing
Email marketing involves sending emails to people on an email list on a regular basis. Subscribers may include prospects who interacted with your business in the past, attendees at live events, or customers who bought any of your products.
You should include emails focused on education, promotion, or information. Email marketing results in 50% more sales than other lead generation methods. And it is cheap as email marketing achieves a return of $44 for every $1 spent, as you see below.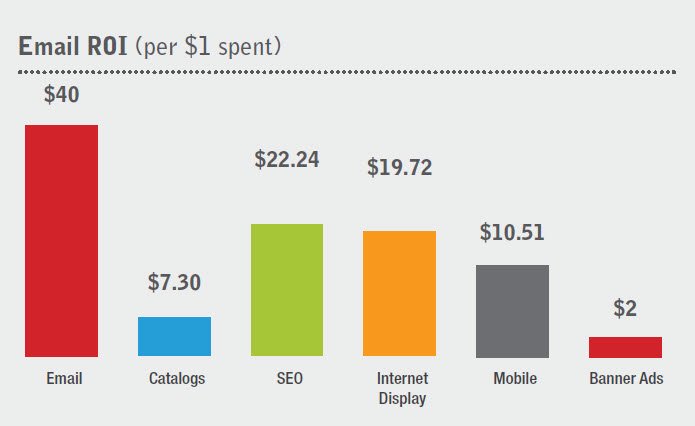 5.   Influencer marketing
Most people trust the opinion of someone they know or respect over what a business says. Even connections people view as objective influence purchase behavior. This is the basis for influencer marketing.
Online influencers with large online audiences impact purchase decisions for large swaths of your target market. By building a relationship with influencers, businesses gain access to their audience and may take advantage of the influencer's credibility to gain the awareness and trust of the audience.
It is important you find influencers whose values align with your own and have a good level of engagement with their audience. With so many influencers, it can be hard to identify who will be the right fit for your brand. But making the right choice can be a massive boost for your sales and reputation.
6.   Live experiences
Live events let you interact with prospects and customers in real-time, even if those events moved into virtual spaces. These kinds of events deliver outstanding results because people want close interactions with brands and love a chance to see your brands and employees in action.
Live events may take the form of live streaming, live Q&A, live reporting, live blogging, and live interviews. You can do product demonstrations, introduce your staff, tell your brand story, give attendees a chance to play with your products, and provide opportunities for them to engage further with your brand.
Conclusion
Finally, a successful digital strategy does not depend on how much a business does online but on how well it uses the channels it includes in its digital marketing strategies. To create an effective digital marketing strategy, determine which channels offer you the best chances for success then improve the effectiveness of these channels through monitoring key metrics and acting on insights to adjust your tactics.
Need marketing help to support business growth?
We welcome the opportunity to show you how we can make your marketing SIZZLE with our data-driven, results-oriented marketing strategies.  Sign up for our FREE newsletter, get our FREE guide to creating an awesome website, or contact us for more information on hiring us.
Hausman and Associates, the publisher of MKT Maven, is a full-service marketing agency operating at the intersection of marketing and digital media. Check out our full range of services.