Forming a compressive digital strategy for your new business is vital to help you set yourself up for success in a world where digital marketing is an important and inexpensive tool to get the word out about your brand. Yet, it's easy to make massive mistakes that could set you back before you even get your business up and running, mistakes that can sink your new business. Sometimes these mistakes are so massive, you can't recover and your business fails. And with digital strategies changing all the time and more options becoming available daily, building a successful digital strategy is an ongoing process if you want to succeed. With this in mind, here are six digital marketing mistakes you must avoid at all costs.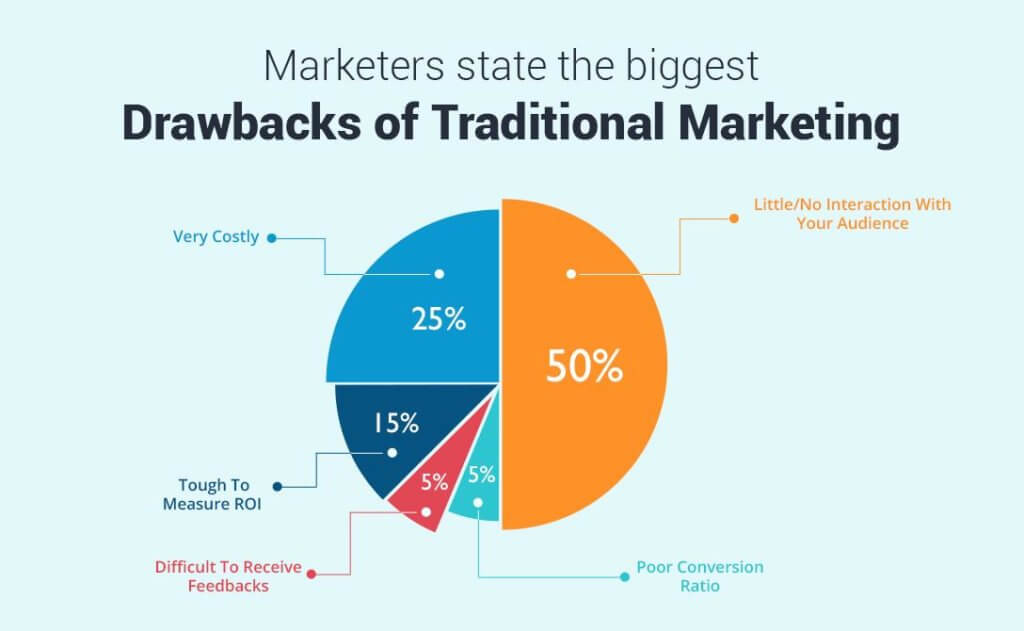 Digital marketing mistakes to avoid
1. Not spending enough money on digital marketing
As you can see, there are big drawbacks to using traditional marketing, which argues strongly for using digital marketing as your main marketing tool or at least apportioning much of your marketing budget to digital efforts. Experts recommend spending between 2 and 5% of revenue on marketing, while Forbes recognizes that a new business needs to spend additional amounts just for branding. Other reputable sources suggest new businesses should allocate a higher budget, in the neighborhood of 20-30% of revenue, for the first few years until they get established. A Gartner study suggests that digital marketing should make up 56% of this budget.
Yet, when I worked for the US SBA (Small Business Association), I found most of the small business owners who approached us for counseling weren't budgeting anything for marketing. This is a recipe for disaster and likely explains why most startups fail.
Another reason you need digital marketing is the massive amount of time consumers spend on various digital platforms (as you can see below and these increases appear likely to continue into the future based on the trend line) and the many ways viewers/ listeners avoid commercials on traditional platforms like TV and radio with paid streaming services. Print is nearly dead as an option for advertising. Hence, the most effective way to reach your market is through digital strategies.
2. Not choosing a good domain name
Every business needs to think carefully about the domain name or names they will use. You must choose a brand name that builds positive associations with your target market. Below are some examples:
Apple and the logo with a bite out of the apple reflect the method chosen by Alan Turing (the founder of modern computing) when he committed suicide rather than take court-ordered medication to curb his preference for other men.
Godiva is named for the exotic and rich woman who purported rode her horse naked through the streets to protest oppressive taxation
Addidis is the acronym for all I dream about soccer
Pepsi is named after a medical term for indigestion, which was the brand's original purpose
Verizon owes its name to the Latin for truth

Image courtesy of WP Beginner
The name should be easy to say, easy to spell, and unique. But, in today's digital world, you also need to ensure the domain name is available. That decision is no longer just about owning the dot com domain name but, with plenty of other options including dot info, dot co, dot biz, dot org, and dot store, you need to ensure you can own variations of your brand name, as well. I always recommend that clients not only ensure no other company owns variations of their chosen brand name but purchase several of these options to keep anyone from stealing their traffic. For instance, WhiteHouse.com is owned by a porn company as the correct domain is WhiteHouse.gov and the porn site hopes to capitalize on searchers' mistakes to attract new customers. Domain name consulting with Media Options can open you up to a great name strategy without making any mistakes you will come to regret down the line.
3. Not publishing interesting content
At the beginning of your digital media marketing strategy, businesses are often tempted to post about themselves all the time and to post content that reads like a press release, all formal and official. While formal, information-heavy posts might work in some industries (for instance, I post in a B2B market and readers expect to learn something valuable), it's never OK to post about yourself 100% of the time. In fact, experts recommend that no more than 20% of your posts contain promotions. Instead, you can post about great things your clients and employees are doing, how your company supports the greater good, solicit feedback from customers, or invite them to help with decisions that impact them, such as new product offerings or brand logos.
If your target market is comprised of consumers, especially younger consumers, such formality will sink your strategy and is one of the biggest digital marketing mistakes you can make regardless of which platform(s) you use. Instead, focus on
authentic posts that include fun images and videos
solicit user-generated content including enlisting influencers to create content around your brand (users are 2.4 times more likely to react to this content versus branded content)
try creating a meme and there's a bunch of software out there to help
curate content from industry leaders
post a sneak peek
and lots more. AI is your friend and many options exist to help you create great content
4. Not posting on a regular schedule
Digital marketing isn't like other marketing tools. It requires content, a lot of content. But you also need to post on a consistent basis. Automation tools like Hootsuite, Buffer, CoSchedule, and Hubspot help you create a bunch of content at once and then schedule that content to post on your preferred schedule. They even help you figure out when to post for the most engagement or highest reach and some offer AI tools to help you craft content so you never run out of things to post. Below is the recommended amount of content to post to various social media platforms and your website.
5. Not understanding your target market
Obviously, you aren't equally appealing to everyone and you are more successful if you target all your marketing efforts on those who are more likely to respond to your marketing campaigns. The internet, like the world, is a big place, and as such, you need to avoid casting your net out without any thought as to who it is supposed to catch. Sure, the bigger the audience, the better, but if you aren't advertising in the right places digitally, you will find you are just sinking money into a pointless campaign that is unlikely to yield any fruitful results. Before you start your marketing approach, look at who your target audience is, what they're most likely to be receptive to and where you are most like to find them online and make a more targeted approach.
That means choosing the right social media platforms that correspond to your market. For instance, TikTik is huge among Gen Z consumers but you won't find many folks over 35 on the platform while Facebook is quickly losing market share among younger consumers so you're more likely to find this is where the older consumers spend their time. Targeting also means positioning your product in a way that your target market likes and can relate to. When it comes to paid ads, digital marketing offers the benefit of only paying for ads selectively shown to your target market, making this option much more affordable and offering a higher return.
6. Not using a mixture of organic and paid reach
Many new businesses fall into the trap of paying for ads to promote their social media pages, for example, without building up genuine engagement levels. While you may feel this is an easier way for you to reach more people and a more targeted audience, once you stop paying, you can find you disappear into the abyss. Instead, focus on making quality content that resonates with your target market to build a community around your brand. Engage with other businesses and peers online and put in the hard work without resorting to the easy option from the off. From here, you can incorporate paid ads into your strategy for a more effective result combining organic and paid.
Engagement offers many benefits you won't find through paid advertising. First, it helps spread your message when users like, comment, and share your content. It also acts as an endorsement for your brand, which has a bigger impact on other users than brand content, as I mentioned earlier. Engagement supports SEO (search engine optimization) to improve the rank of your content so it shows up nearer the top when users enter a query into a search engine. Not only does your website content rely on SEO but it helps your social posts as several top social platforms are indexed by search engines.
Conclusion
Digital marketing is complex and, for some, overwhelming, meaning you don't know what to do for the best. By researching and paying attention to some dos and don'ts, you can avoid making costly digital marketing mistakes that will put you on the back foot.
Need marketing help to support business growth?
We welcome the opportunity to show you how we can make your marketing SIZZLE with our data-driven, results-oriented marketing strategies.  Sign up for our FREE newsletter, get our FREE guide to creating an awesome website, or contact us for more information on hiring us.
Hausman and Associates, the publisher of MKT Maven, is a full-service marketing agency operating at the intersection of marketing and digital media. Check out our full range of services.