Content marketing is de-facto the best approach for businesses large and small to reach their audience. Whether you want to create content on social media, through email campaigns, or on your website, it's the perfect tool for keeping customers engaged, ensuring the company is always at the top of their minds, and providing motivation for them to convert. If you want to take your brand to the next level, here are five ways you can improve content marketing today. The stakes couldn't be higher, as you can see below.
Why you should improve content marketing today
Let's take a step back to see what roles content marketing plays in your business before we jump into ways to improve it.
1. Content marketing and SEO
SEO stands for search engine optimization and it's the way to drive more organic traffic to your website. And, organic traffic is critical for your success since over 50% of the traffic visiting your website comes from this type of traffic, while only 15% comes from paid search. That percentage increases to over 70% for B2B websites. The conversion rate for this traffic is higher than any other traffic source except for email marketing, especially for B2B firms, as you can see below.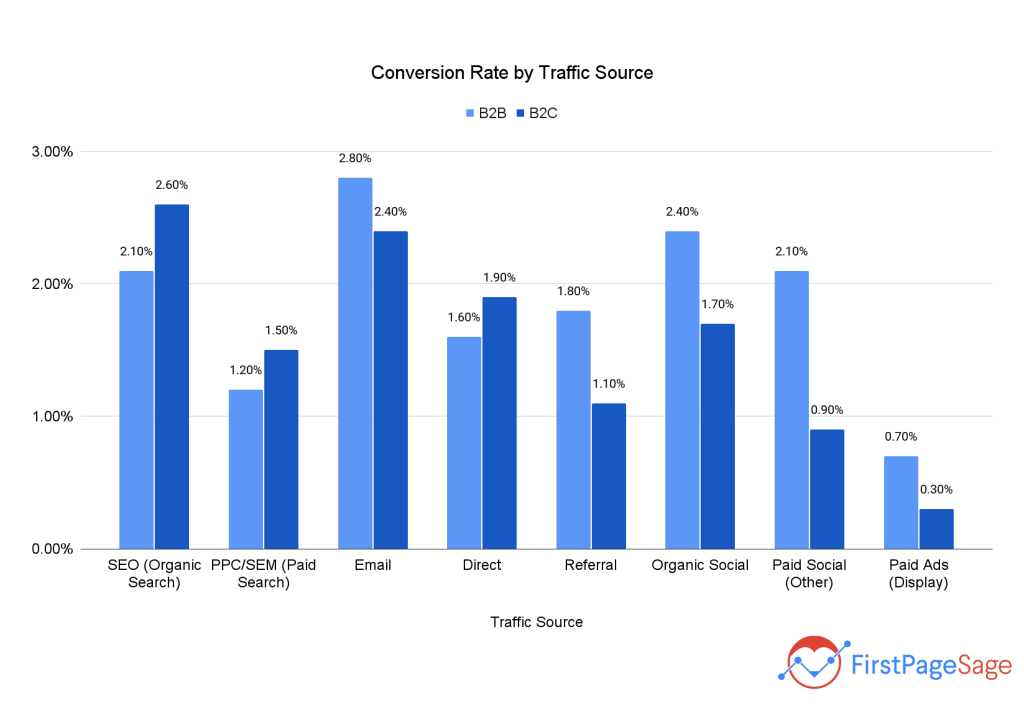 Content marketing brings more search traffic to your website. First, Google and other search engines build complex search algorithms containing a large number of ranking factors and weights associated with each factor. This ranking algorithm determines the position of each piece of content you write in the results of a user's query. The higher your position, the more clicks you receive. And, guess which ranking factor carries the most weight? You guessed it, content. Creating fresh, valuable content on a consistent basis is your best tool for bringing traffic to your site.
Content marketing and conversion rate
Let's say you learn about a new product. Do you run right out to purchase it?
No.
You need to learn more than the product's name to decide to make a purchase. You want to know:
What problem it solves
How it's better than other products that solve the same problem
What do others think about the product, especially those who bought it before
How do you use the product
Is the product hard to use, install, or get good results
How much does it cost
Until you have these answers, you're not buying anything. That's where content marketing comes in, it helps move prospective buyers down the conversion funnel from awareness to product purchase and beyond. Below, you can see how different types of content move consumers down the funnel toward purchase.
How to improve content marketing today
You can work to improve content marketing today but likely you won't see appreciable results right away. It might take months before you see your conversion rate and sales figures go up appreciably. But, you will see some movement almost immediately. Here's what to expect when you improve content marketing in the short term:
Increases in visits to your website
Improved time on site and lower bounce rates
More followers on social media
A higher open rate for your social media
So, don't get frustrated if sales don't climb right away. Track your performance across these metrics to give you confidence that your plan is working.
Here are some concrete ways you can improve your content marketing today.
Find affiliates that match your brand
Affiliate marketing uses the community developed by others to attract attention to your brand by placing ads on the pages owned by others. Influencer marketing is another tool that's very similar.
And, affiliate marketing is a fantastic opportunity to reach more people without bashing them over the head with slogans and promotions. Instead, it encourages a natural interest in your brand since prospective buyers encounter company mentions through their typical web browsing and social media. If you haven't explored this opportunity yet, you can use these affiliate recruitment tools to determine which approach works best for you and fits into your budget. There are various levels, too, so if you've already explored affiliate marketing but feel you want a change, it can be just as effective as companies that are utilizing this approach for the first time.
Know your market
According to content marketing experts, your content marketing won't work very well unless you create content with your target market in mind. Learn about their hot buttons (those features/ benefits that drive purchase), what they look like (content featuring "people like me" outperforms that that doesn't), where they hand out online, and when they're on various platforms. Seek to provide value to your target market by understanding their needs and providing content to satisfy those needs.
Research and surveys can teach you what your customers expect and what appeals to them. Furthermore, using AI to personalize marketing campaigns is popular for businesses, especially small businesses that might lack time or dedicated departments to tailor all their content to a specific customer profile.
Keep your content fresh
Fresh content means your market can–and will–keep coming back to it to learn more no matter how long ago you posted it. However, creating fresh content on a consistent basis is hard. Using a content calendar helps. Your content calendar plans content topics, the target market for each piece, and resources needed to create content so you never face the prospect of staring at a blank screen when you need to create content. Create a variety of content in different formats (see more below) and for different stages in the conversion process.
Additionally, utilizing Google Trends and other tools from social media, such as X's (formerly Twitter) trending topics, helps you to keep up with what your competitors are doing and provides fresh ideas. With this, you can create content that people want to see at the moment, inputting your fresh perspective and sharing experiences unique to you and your brand, meaning you do not risk repeating things that others have said.
Automation tools make sharing your content easier. Rather than interrupt your day to share content on the optimal schedule, you can schedule a bunch of posts in one sitting and then share them over time to match your needs. Be careful, however, to monitor your scheduled posts so you don't inadvertently share something viewed as insensitive when the environment changes. For instance, consumers viewed sales posts as inappropriate in the immediate aftermath of the attacks on 9/11.
Explore different types of content
Although you might find success with blog posts or infographics, these are not the only way to engage your audience, especially at a time when many customers (and potential customers) prefer to view short and easily digestible videos on TikTok or Instagram. Exploring different platforms for your content can help spread brand awareness and enable you to capture a larger market share. Consider your bandwidth, your target market, and your budget in determining which platforms make the most sense for your brand.
Consider creating a variety of content including, videos, images, infographics, blog posts, and text posts on various social platforms. Even podcasting is entering the mix. Mix it up rather than relying on any one of these content styles exclusively.
Focus on quality over quantity
However, you should not create content for the sake of it. Plan your content carefully and put plenty of effort into making it look professional to match your brand values. While this means you won't churn out content as often, but the content you do post will hit a home run with your target market.
Don't think everything you produce must match the standards for traditional media, like TV and print. The internet audience is much more forgiving and craves fresh content over perfection. That means you don't need expensive video cameras and a professional soundstage. You can succeed very well with a good-quality smartphone, some lighting, a microphone, and a backdrop. Try to find a quiet place to record, avoid distractions and extraneous noise, and make sure your spelling/ grammar is impeccable.
Contented
Content marketing is always in flux, so it's better to stay ahead of the curve rather than rest on your laurels and risk getting left behind. New platforms emerge and there are rewards for moving into new platforms first rather than following the herd. Trends in content change over time. For instance, creating blog content of 900 words used to get you to the top of the results pages (assuming everything else was done well) but now content over 2000 words scores better and that keeps going up. Content of 3000 words is now common among content showing up at the top of the results.
Conclusion
You can improve content marketing for your brand today if you follow these five suggestions. Good luck and let me know how it's going.
Need marketing help to support business growth?
We welcome the opportunity to show you how we can make your marketing SIZZLE with our data-driven, results-oriented marketing strategies.  Sign up for our FREE newsletter, get our FREE guide to creating an awesome website, or contact us for more information on hiring us.
Hausman and Associates, the publisher of MKT Maven, is a full-service marketing agency operating at the intersection of marketing and digital media. Check out our full range of services.