Content marketing builds brand awareness in lots of ways. Producing valuable content on a consistent basis supports SEO, social media marketing, drives conversion, and underpins email and SMS marketing, as well as most other digital marketing strategies. Here are some stats supporting the return on investment (ROI) of content marketing:
71% of B2B buyers said that they consume blog content during a purchase.
40% of respondents stated that they consume 3–5 pieces of content before reaching out to a salesperson.
Nearly 50% of buyers watch product videos before making a purchasing decision.
Content marketing costs 62% less than traditional marketing but drives 3 times as many leads.
SEO has a 14.6% conversion rate, compared to 1.7% for traditional outbound methods like cold-calling or direct mail.
Content marketing builds brand awareness as well as works hard to drive visitors down the conversion funnel to create revenue that supports the success and growth of your business. Below, you can see the types of content that work best at each stage in the conversion process, often referred to as the conversion funnel as fewer folks flow through at each stage of the process giving it the characteristic funnel shape.
Enhancing brand awareness pumps more prospecting into the top of the funnel. The more prospects you add to the top of the funnel, the greater volume you have left at the conversion stage. And, content marketing builds brand awareness through creating content your market finds valuable. At the awareness stage, this content primarily exists in the form of:
Blogs
Social media posts
Images either shared on these platforms or across other marketing channels
Video
Audio podcasts
Email newsletters
Infographics like the one above
Continue reading if you're still not convinced of the value of content marketing. We'll provide you with a list of five ways content marketing builds brand awareness in this post.
Let's get to the point right away.
What is content marketing?
Before you get started, it's a good idea to know what content marketing is all about.
Simply defined, content marketing is a marketing strategy that entails the development and distribution of online content (such as videos, blogs, and social media posts) that does not directly promote a brand but is meant to generate interest in its products or services.
Creating content that delivers on its promise, becoming a content leader with the benefits shown in the image above, involves a significant investment in creating and disseminating content. First, and foremost, you must understand what is valuable to your target market if you want to produce content that delivers. Do they want entertainment or informational content? What images will resonate with the market? Since consumers prefer to see images that represent them and their lives, crafting the right images may mean the difference between success and failure. For instance, data show an ad performed better in one EU country over 2 others despite using only visuals to avoid language influences. Further analysis showed it was a partial license plate showing the country that impacted results with consumers from that country purchasing more automobiles.
Next, you must create a variety of content from the types listed above to keep your content fresh. You must also research trends to ensure your content is relevant. A content marketing calendar helps ensure you produce content on a consistent basis to meet your content needs while formating your content appropriately for the platform makes a big difference in the way your market consumes your content. Finally, analytics can help optimize your content by showing what content works best.
5 ways content marketing builds brand awareness
Content marketing helps your business become more well-known in a variety of ways. The top five ways content marketing builds brand awareness are listed below
1.   Attract more followers on social media
While social media doesn't contribute directly to conversion, for the most part, it's great for building brand awareness. Statistics show the conversion rate for social media is less than half of the conversion rate for organic search.
As you may know, the more you share, the more people will notice your brand. This awareness brings visitors into your store and to your website, as well as reminds customers to check out what's new and engages with prior visitors to your site. This implies that by regularly producing engaging material, you may increase your social media followers and by interacting with these followers you increase your engagement rate.
The larger your engaged community of various platforms, the more the community amplifies your messaging to spread it even further. Engagement also acts to make your messages appear more trustworthy.
2.   Generate referral traffic to your website
Another way content marketing may help you raise brand awareness is by driving visitors to your website from user-generated content. Users are more likely to share an in-depth article, a fun meme, an attractive image, or an interesting video you create and share on social media. They're also more likely to leave comments on your blog posts when you deliver on this value. Similarly, other companies that find your content relevant to their business may link to your content to allow you to reach new audiences.
As you might expect, this boosts the number of visitors delivered to your website, favorably impacting its rating and visibility in search engine results. It also means more eyeballs on your landing pages, thus more opportunities for conversion.
3.   Form strategic brand partnerships
As you create quality content and people share it, you'll gain visibility with other businesses operating in your niche that are interested in forming partnerships with you. Brand collaborations are another way to increase brand awareness and visibility, especially when done with companies that are already established and have a huge follower database and high authority.
In most cases, they offer win-win partnerships that benefit all parties involved when they're not in direct competition.
4.   Improve the organic rank of your website in search
SEO or search engine optimization is a strategy used to improve your rank in related searches. Producing high-quality content on a consistent basis is the single most critical factor impacting your rank. And, the higher you rank, the more traffic visits your website, as you can see below.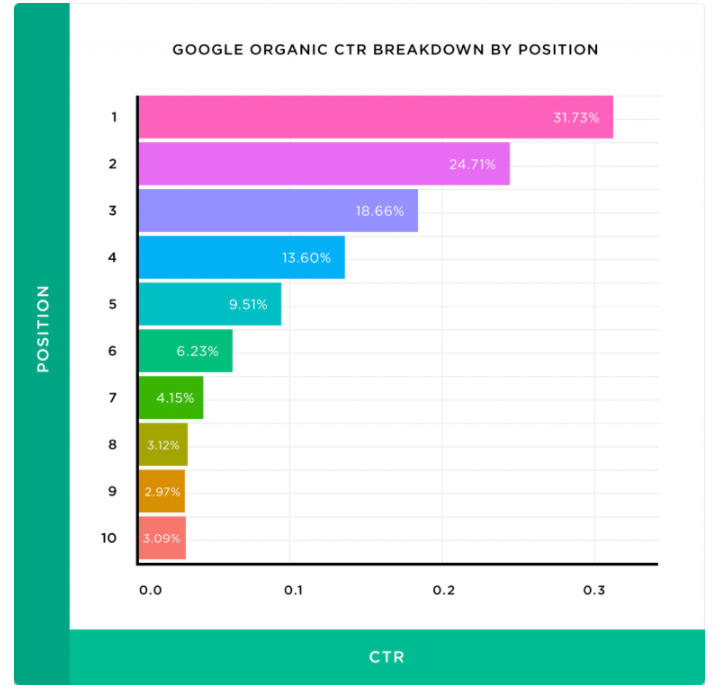 Also, organic traffic converts at twice the rate of social media, making your investment in SEO a winning strategy. As we discuss later in this post, choosing the right keywords and then incorporating them appropriately as you create content is at the center of your SEO strategy.
5.   Earn high-authority backlinks to your site
Other websites are more inclined to link back to your site if you produce high-quality content, such as articles, videos, and infographics.
Relevant backlinks are one of the elements that have a favorable impact on your website's rank and authority. In other words, the more relevant backlinks your website receives, the higher its rank and the more visitors it receives.
How to improve your content marketing strategy
Now that you know how content marketing builds brand awareness, it's essential to consider how you can optimize your content marketing strategy for better outcomes.
Here are a few of the most useful hints.
1.   Convert your audio to text
Creating sufficient content to fuel your content marketing is challenging. Your best bet is to find effective ways to get your content to do double duty without reverting to duplicate content that earns a penalty from search engines. Examples include sharing blog content on social platforms, expanding a blog post to create an ebook, sharing your content in a broadcast email, and converting a blog post to a video. Converting your audio to text is another approach to boost your content production so you end up with more content while saving time and work.
Converting audio to text not only provides you with additional material to publish and distribute in different formats but also makes your work more accessible, especially for those with hearing problems. In fact, if you exclusively deliver your material in audio format, you'll miss out on potential customers who have hearing impairments or who are in situations (such as busy locations) where they can't listen to your audio content. Presenting your information in multiple formats is therefore the best way to develop and profit from your content marketing approach.
You can easily and quickly convert your audio to text with Happy Scribe.
2.   Measure the ROI of brand building with a brand tracker
Brand tracking refers to the continuous measurement of your brand-building activities against KPIs (key performance indicators), including brand awareness, brand image, and perceptions of the brand. A brand tracker aids brand owners in gaining a better understanding of their brand's health and making educated decisions in order to boost sales, enhance return on marketing investment, and gain market share.
Armed with this information, you can adjust your content marketing strategy based on metrics in order to get greater results.
3.   Deliver the right content
The sort of material that your target audience finds valuable varies tremendously depending on the characteristics of that marketing including demographic, psychographic, geographic, and behavioral variables. Younger consumers, for example, prefer visual and video formats to text and audio. Platform preferences also vary dramatically based on these variables, as you can see below.
To avoid wasting time, money, and other resources developing content that no one wants, you must carefully research your target market.
4.   Have a concrete content calendar
You need a solid content calendar for a successful content marketing plan. In other words, you should decide what kind of material you need to produce, when and where you publish it, and how often you produce fresh content.
Facing the dreaded blank screen kills creativity. By developing content ideas on a template, you reduce stress when it comes time to flesh out your ideas to full-blown content. Below, you can see an example of my content marketing template to get you started.

5.   Rely on digital marketing analytics to track your performance
It's important to set up some appropriate digital marketing analytics tools, such as Google Analytics, to provide feedback on how your market interacts with your content to determine which pieces of content perform best and which don't deliver. We know that content marketing builds brand awareness but it also drives conversion. By evaluating different types of content shared on different platforms you can see which content not only drives visits but contributed to a conversion.
Tools like Google Analytics can also break down your results so you can differentiate content that works well with different demographic and geographic groups both in terms of visits and conversion. Assessing elements such as bounce rate highlights problem content. You can even use A/B testing to assess different parts of your content to determine what works best.
6.   Target topics with search traffic potential
Users enter keywords into their search queries and search for hashtags on social media. You must determine which keywords users might use when they want to see the content you produce. You can use tools such as the Google Keyword Planner to help find keywords related to your business and then produce content around these keywords. For instance, use keywords in your title and headings on your blog as well as use them judiciously within your content and as alt tags for your images. On social media, include hashtags related to your keywords when appropriate.
7.   Make your content sharable
Make your content shareable if you want it to get the most exposure. To put it another way, you should write articles and create the visual material that users want to share on social media or mention on their websites. Then make it easy to share the content by including sharing buttons on your website and ensuring links to your content within content posted on social platforms.
8.   Update your content frequently
Some of your material becomes obsolete or old over time, attracting no visitors at all. Culling out old content and updating content that's no longer state-of-the-art helps attract new users with something more appealing to them. Updating old content is a great solution when you can't think of a topic for your content or don't have time to produce a piece of content from scratch.
You can also share some types of content more than once. For instance, on Twitter, you can share a blog post several times over a week and again a month or two later. Consider sharing some especially good pieces of content over time, maybe allowing a couple of weeks or a month to go by between shares. Just don't overdo it or your market loses interest in your brand and you may get penalized by the social platform owners.
Conclusion
Content marketing is a strategy that, when properly applied, yields long-term favorable benefits for your business. As shown in this blog post, there are a variety of ways it assists you in raising brand awareness, creating leads, and enhancing sales. Also, we included a list of some of the most effective ways to improve your content marketing strategy in order to get even better results.
Thank you for taking the time to read this blog post. Hopefully, you found it informative and helpful. If you want to learn more, please check out this article on how to build customer loyalty through content marketing.
Author
Flavia Silipo is a skilled SEO copywriter and digital marketing specialist with over two years of experience. You can find her on LinkedIn.
Need marketing help to support business growth?
We welcome the opportunity to show you how we can make your marketing SIZZLE with our data-driven, results-oriented marketing strategies.  Sign up for our FREE newsletter, get our FREE guide to creating an awesome website, or contact us for more information on hiring us.
Hausman and Associates, the publisher of MKT Maven, is a full-service marketing agency operating at the intersection of marketing and digital media. Check out our full range of services.