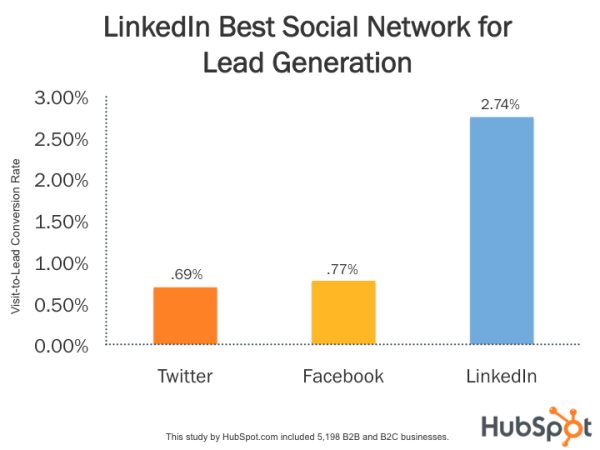 Continuing on the theme of B2B lead generation, let's talk about the behemoth of lead generation: LinkedIn. Recently, we posted about using LinkedIn for lead generation so take a look at that post, but today I'd like to focus our attention on using Company Pages on LinkedIn as a tool for lead generation.
In case you're unconvinced of the value of LinkedIn for lead generation, take a look at the graphic from HubSpot (using data from over 5000 B2B and B2C companies) showing the massive conversion of website visits to leads — a conversion rate that dwarfs all other social networks COMBINED.
LinkedIn company pages
According to Buffer, 80% of LinkedIn users say they want to connect with companies on LinkedIn and users are 50% more likely to buy from a company they're connected with. Despite this, Forbes contends only slightly more than 50% of firms use LinkedIn company pages and most of those just created a company page in 2014.
Here's an excerpt from the Forbes article:
Google generally reports LinkedIn company pages within the top 1-2 pages of results. This is "free money" for small- to mid-size companies. Reports one respondent: "I am a self-employed housecleaner, pet sitter and house sitter.  Many of the clients I have worked for in the last five years tell me that they found my LinkedIn site while doing a Google search and were interested in meeting me in person. I am also grateful for the LinkedIn recommendations. It is not uncommon for someone to tell me that after viewing my LinkedIn profile and reading the recommendations that this is a deciding factor on whether or not to contact me and/or use my services."
So, what does that mean for businesses?
LinkedIn is a great opportunity. Not only does it boast the highest conversion rates, but the competition is still learning the ins and outs of using LinkedIn for B2B lead generation, so you're not trying to play catch-up.
Let's take a closer look at how you can use LinkedIn company pages for B2B lead generation.
B2B lead generation with LinkedIn company pages
1. Build relationships
At the heart of a successful LinkedIn campaign is building relationships with potential buyers and company pages are a great way to do that (although I recommend key executives also create LinkedIn profiles that support B2B lead generation in addition to company pages).
LinkedIn recommends a 5 step process for building effective relationships based on social media best practices:
Establish your presence
Attract followers
Engage followers
Amplify your message through your network
Analyze results and refine your strategy
You'll attract followers as you post fresh, valuable content (see next tip), but there are other ways to build your network on LinkedIn.
Ask employees to follow your company page
Invite customers and prospects to follow your page
Include a follow button on email correspondence and your website
Reach out to influencers for follows. The best tactic I've found is to give influencers a reason to follow you by following them and mentioning them in your content.
2. Content marketing
Looking at the types of content getting the highest engagement (see graphic), LinkedIn finds stories that humanize the brand or its employees get the highest bang for your buck. Followed by employment and tips.
Posting a variety of content, on a consistent basis is the best practice on LinkedIn, just as it is for other social networks. This content should consist of sharing website content updates, as well as crafting unique content to share with your connections on LinkedIn. I automatically share my posts on LinkedIn using SproutSocial (which is about the only social media automation I recommend, as social media should be social and personal).
Content marketing raises awareness of your brand and establishes you as an authority. As with all content marketing, make sure your content is SEO optimized. For LinkedIn, SEO optimization is particularly important as Google preferentially displays LinkedIn content in search results.
Remember to include a clear (but subtle) call to action (CTA) in your LinkedIn posts. Linking back to your website is a great way to increase your lead generation results.
Content marketing includes content curation and is also a good way to encourage followers by sharing updates from influencers and target companies in your own updates. You can't expect the amplification of your message unless you're willing to share the great content produced by others.
LinkedIn updates should occur at least once per day (with no more than a couple per day). LinkedIn contends sharing posts in the morning works best, although my sweet spot is at 2 pm, as folks return from lunch. Experiment to see what timing works best for you.
3. Branding
LinkedIn company pages are an extension of your brand so they should support your branding efforts. That means not only carrying forward your visual branding but offering a clear brand message that supports your overall branding. The description of the company page is the most valuable branding real estate on the page as Google SERPs contain the first 156 characters from this description.
Here's my company page, which clearly contains SEO-rich text, but doesn't reflect my new visual branding:
The lesson here is to update all your social networks each time you change your branding. And, another case of the cobblers kids having no shoes. [Update: fixed my branding and uploaded the new image]
4. Target the customer journey
I've talked about this before — content should match the needs of folks as they travel the customer journey. In today's digital world, B2B customers do most of their information gathering online, not waiting for your salesperson to show up. In fact, many B2B customers prefer to purchase online — that's how IBM created a billion-dollar business selling computers online in the '90s.
Don't look at your content as a teaser or preface to B2B lead generation — it's the main event. Give visitors all the information they need to work with, not just a few tidbits. Include sample pricing rather than forcing them to fill out a form to get prices from a salesperson.
Your efforts should carry customers from awareness through post-purchase, so including information on using, answer questions about installation or use, and encouraging feedback are all important factors in providing for the entire customer journey.
Showcase pages allow brands to target specific audiences and engage with them. These pages are extensions of your company page designed to highlight specific products and provide content specific for that target market. While LinkedIn positions Showcase pages as tools for brands to highlight specific products, Showcase pages can also be used to target different markets with content that resonates best with that particular audience.
5. Analytics
No marketing campaign is complete without analytics to assess performance and provide information to tweak the campaign. LinkedIn provides some good analytics to track the performance of your LinkedIn company pages including clicks and other interactions. Make the most of these analytics by doing conscious testing — headlines, post types, post times — not just monitoring passively.
Need marketing help to support business growth?
We welcome the opportunity to show you how we can make your marketing SIZZLE with our data-driven, results-oriented marketing strategies.  Sign up for our FREE newsletter, get our FREE guide to creating an awesome website, or contact us for more information on hiring us.
Hausman and Associates, the publisher of MKT Maven, is a full-service marketing agency operating at the intersection of marketing and digital media. Check out our full range of services.