If you're a professional, a doctor, lawyer, dentist, accountant, or another professional, you spent years in school learning to ply your trade and passed rigorous exams certifying your competency. You decided to hang out a shingle to tell the world you're open for business. Now, you face the daunting task that comes when hordes of patients or clients fail to make appointments.  You discovered the ugly truth they don't teach in school, starting a professional services business is hard and takes an entirely different skill set than what you learned to perform the service.
If you are starting a professional services business such as a law firm, here are some marketing stats defining the best law firms for 2021.
To make matters worse, digital marketing is a great, low-cost means to market your new business, but it takes technical skills you might not have. Digital marketing can seem confusing to professionals at the beginning of their journey yet without these tools, you won't thrive. The good news is we offer 5 easy steps to get you started on your journey whether you plan to do your own digital marketing or to knowledgeably find an agency to handle this task for you.
5 tips for starting a professional services business
Professional service businesses are restricted from using tools other businesses use to help grow and sustain the business. For instance, while physicians can use referrals from other doctors, lawyers are limited in the types of referrals they can get (ie. they can't pay for them), while an accountant can offer an incentive to every client to send new clients their way.
The same is true to a lesser extent with respect to digital marketing. For instance, using influencer marketing isn't allowed by some licensing organizations if the reviewers receive compensation. Plus, if patients or clients discover you paid for recommendations, it might seriously backfire.
In other cases, you must be careful about your messaging as there are limits to what you can and can't say. So, before implementing any of these tactics, be sure to check with your licensing organization to ensure you don't end up in hot water. Once you have a clear understanding of what's allowed, here are 5 tips to get you started.
1. Make use of social media 
One of the most effective forms of digital marketing for your law firm or other professional business is social media. However, some firms avoid using social media because they feel certain sites are associated more with entertainment. The funny thing is that it's entirely possible to build up a social media presence on most social media platforms regardless of the platform. For instance, you might post videos on YouTube that cover concerns users have. As a physician, you might craft a video on how to prepare for a colonoscopy (leaving out all the graphic details) or a lawyer might craft a video about the documents needed before writing a will. You could even create a TikTok that treats your area of expertise in a humorous way. Pretty much anything goes as long as the content you create matches your target market. If you do corporate law or you're an accountant, for instance, LinkedIn is your sweet spot. Hence, if your practice writes wills, you likely have an older target market, so avoid TikTok and Instagram, which attract a younger user base. Check out this comparison graphic for help in determining which platforms might work best.
Indeed any platform that can provide recommendations and reviews for your firm is useful. Especially as such a large proportion of your clients use social media every day – it just makes sense to develop a presence there.
2. Stay within your marketing budget 
When you're getting started with digital marketing for your law firm or other professional business, you must set a budget and stick to it. This is because there are so many different options from digital advertising to website design, to video production all vying for your money that it's easy to overspend. However, what you need to bear in mind here is that marketing is only truly effective if it offers a good return on your investment (ROI). Hence, determine you overall digital strategy with achieving a target ROI in mind.
With this in mind, it helps to have a clear idea of how many clients you need to attract in each digital marketing campaign you run given the average billing for each of them. Then monitor your results to ensure you reach your goals and either modify or eliminate tactics that don't deliver on these goals.
3. Invest in the best website you can afford
A great website is central to all your digital marketing efforts. Indeed, companies without a website don't give prospective clients or patients the warm fuzzies they need to trust you. That is why your website must perfectly reflect your business with every aspect from the content you publish to the colors and fonts you use.
In addition to content and visuals, your site also needs to load fast and meet other criteria needed for SEO (search engine optimization). SEO involves an algorithm that determines your rank in users' queries. Turning up on top of a search means you attract users to your website and grow your business, as you can see below.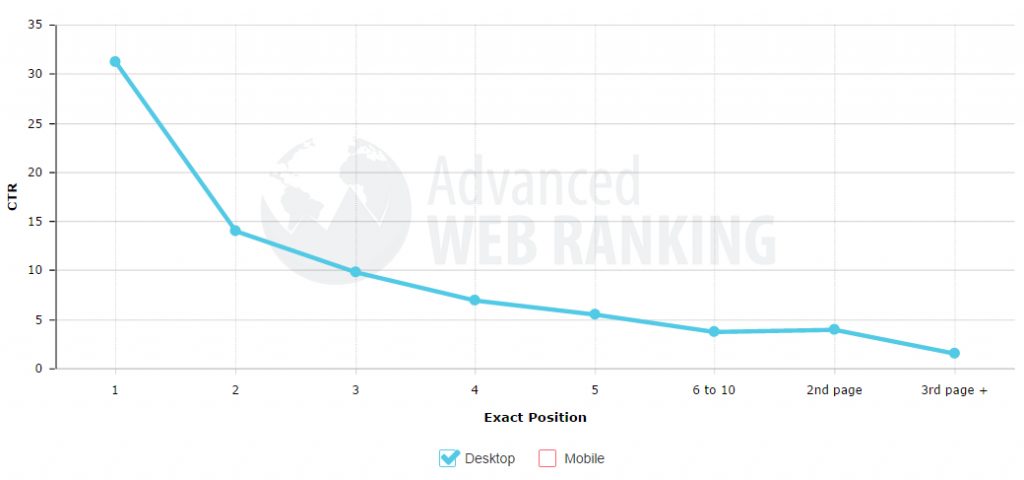 Optimizing your website for visitors is known as UX or user experience and is a specialist field within website design. Providing a good UX keeps visitors on your website longer (giving them ample chance to discover how great you are) and leads them to recommend your site to others.
4. Boost your online presence  
Another important aspect of digital marketing for your law firm is boosting your online presence. After all, the Internet is a very big place, and finding a single company within it isn't as easy as you may think, especially if that firm didn't take the necessary steps so users can easily find them.
Building on our prior discussion of SEO, the good news is that there are many tactics you can use to help you reach a high position in the SERPS. One of these is to use long-tail keywords in your content, titles, tags, and meta descriptions. Long-tail keywords help you stand out from your competition by more closely matching a query. So, instead of using a keyword related to your field, try using a long-tail keyword such as lawyers specializing in estate planning. Long-tail keywords also do better in voice search, which is a larger percentage of search every year as users employ devices such as Alexa and Google Home or ask Siri.
Another option is to try for featured snippets to both get found more easily and demonstrate your expertise in a certain field. Featured snippets are info from your website that answers a user's query without a visit to the website. Below, you can see an example.
The advantage of a featured snippet is that it shows in the 0 position before every other piece of content related to the keyword and the space devoted to the snippet makes it stand out among the results.
5. Show you're an expert in your field 
Also while we are the subject of achieving expert status in your field online, remember that by doing so you can both increase your credibility and exposure, and boost your SEO.
To help you achieve expert status, publish content on your own site and guest post on related websites, social media, forums, and webinars that deal with the niche you operate in. Get involved in any relevant conversations on Twitter too, and where possible, offer quotes and commentary for media outlets. All of which should help to cement your status as a leader in your field and ensure that whenever anyone searches for your firm's specialty, your business details come up.
Conclusion
We just touched on the topics you must consider when starting a professional services business. To truly succeed, read more information about how to do these tactics or hire a specialist to help get you started.
Need marketing help to support business growth?
We welcome the opportunity to show you how we can make your marketing SIZZLE with our data-driven, results-oriented marketing strategies.  Sign up for our FREE newsletter, get our FREE guide to creating an awesome website, or contact us for more information on hiring us.
Hausman and Associates, the publisher of MKT Maven, is a full-service marketing agency operating at the intersection of marketing and digital media. Check out our full range of services.