With burgeoning numbers of users across social media platforms, effective social media marketing is more important now than ever. Do you know, for instance, that there are approximately 4.5 billion people who use the internet worldwide, and of them, an estimated 2.65 billion are on social media? By the time you finish reading this blog, that number will increase by 100s of new users. If you're not using social media marketing or not getting the results you need from your campaigns, you're in good company. As you can see in the graphic below, only 12% of marketers agree they implement effective social media marketing tactics. So, read on to learn how to get the most from social media tactics.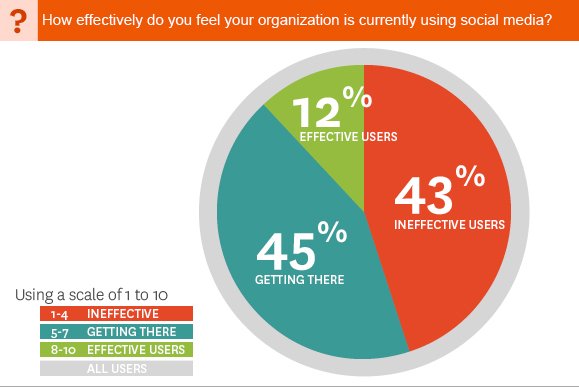 In the ever-changing business environment where more and more consumers spend their time surfing the internet rather than cruising the mall, having a social media presence is paramount to your success. A study conducted by Pew Research shows that most people visit social media daily for various reasons and they learn about products as part of their social media usage.
So does it make any business acumen to have your presence on one or more social media platforms? The inescapable answer is yes, which brings up the next question about how to get the highest return from your social media marketing efforts. For many, especially small companies and newbies, the best solution is to hire a social media marketing agency. Seeking assistance from experts in the industry ensures the best results as you don't waste time learning how to use social media or what tactics will deliver results. Choosing an SMM company may actually be cheaper, as they have the expertise, experience, and excellence to take your brand further in achieving effective social media marketing so you don't waste money and they can spread the cost of expensive social media marketing tools across multiple clients.
However, even if you hire a social media marketing agency, knowing the essential tips for effective social media marketing (SMM) is crucial.
Tips for effective social media marketing
Firms just don't seem to understand the fundamental difference between social media marketing and traditional marketing, so they have no hope of using the tactic effectively. Here's what Avinash Kaushik, Google's analytics guru, has to say about the difference between social media and traditional media:
Too many companies have not evolved from what I call 'shout marketing' — think TV,newspapers, magazine ads — to influence by initiating and participating in conversations with consumers. There needs to be a generational shift.
I'm not sure we need a generational shift (in fact, my college seniors have no better understanding of effective social media marketing than 40-something advertising execs) but certainly, social media is a disruptive technology — one that calls into question the status quo and requires a different paradigm, not just a few tweaks.
Other factors show why companies have problems creating effective social media marketing campaigns [source].
Three-quarters (75%) of the companies in the survey said they did not know where their most valuable customers were talking about them.
Nearly one-third (31%) do not measure the effectiveness of social media.
Less than one-quarter (23%) are using social media analytic tools.
Only a fraction (7%) of participating companies are able to integrate social media into their marketing activities
Again, factors hampering effective social media marketing mirror the situation in traditional media — where superficial use of analytics negatively impacts decision-making. It's amazing how many firms — big firms; small firms — have few analytic tools to assess and guide social media marketing. And, many of the metrics they DO track are fairly superficial "vanity metrics" such as # Fans, # Followers, etc. In fact, I recently downloaded a social media analytics template from Hubspot and it was ENTIRELY filled with these vanity metrics instead of meaningful data necessary for effective social media marketing — things measuring engagement, content sharing, goal accomplishment, funnel measurement, etc. THESE are metrics designed to help you optimize your campaigns. More on this later.
1. Know your target market
The data shows 17 social media platforms with a minimum of 300 million active users. Facebook, Youtube, Whatsapp, Instagram, Linkedin, Twitter, and Pinterest. However, the audience on each platform is different. For example, people visit YouTube to watch videos and head to LinkedIn to build a professional network. Thus, the way you use social media and which social media platforms you use rely on your target market. You need a deep understanding of that market if you hope to meet their needs, solve their problems, and gain their trust. Below are some differences across social platforms to help you make these decisions.
The more you know about your target market, the more you can improve your brand's performance on social media but also across all marketing tactics. Knowing your target market not only helps you make choices regarding which platform(s) to use, but which content to post to achieve the highest returns from your efforts. Furthermore, shareability and other forms of engagement (the true metric for social media performance) also increase when you match your content to the platform and your target market.
Social media is also a go-to option for marketing research, branding, and building social insights as listening on social media is like being invited to have dinner around a family dining table as they discuss their objective attitudes about your brand. Listening on social platforms results in the identification of unmet needs, a better understanding of why consumers buy (or don't buy) your brand, what product benefits they consider when making a purchase, and must more. These understandings help you build better products and market them more effectively across all marketing tactics.
You can also directly engage with your target audience to build trust via two-way conversations. Irrespective of the purpose, you need to understand the target clearly. This authentic and unbiased understanding will help in fine-tuning the strategy for yourself.
2. Follow systematic social media planning
Once you finish identifying the characteristics of your target market, the next phase in building effective social media marketing is to develop strategies for reaching your target market and satisfying the goals established for your organization. Goal completion isn't possible without planning or strategizing in minute detail.
The ideal way of building your social media strategic plan is to include every stakeholder of your business in the planning to gain insights and create a buzz about your all-around social presence. Create a well-thought plan covering your current social media efforts and results, your competitor's actions on social media, changes in the social platforms and how users engage with them, your objectives, and action plans for individual campaigns that cover the call to action, report monitoring to glean insights, etc.
Breaking the plan into individual action plans containing sufficient detail to allow implementation, assigning a responsible person to oversee every aspect of the action plan, establishing a timeline and budget, and identifying KPIs (key performance indicators) are critical for the success of your campaigns and your overall social media marketing.
Below, you see an example of an action plan to get you started in your planning efforts.
3. Work toward creating engaging and shareable content
Whatever tactics you add to your social media marketing plan, the bottom line is that social media thrives on content that creates engagement (liking, sharing, commenting) among your community to share your message with new users and build a stronger connection within your community. Producing content on a consistent basis generates greater returns while sporadic content posting is often a waste of time and effort. Below, you see recommendations from experts as to the minimum (and maximum) number of posts required to optimize for each social media platform.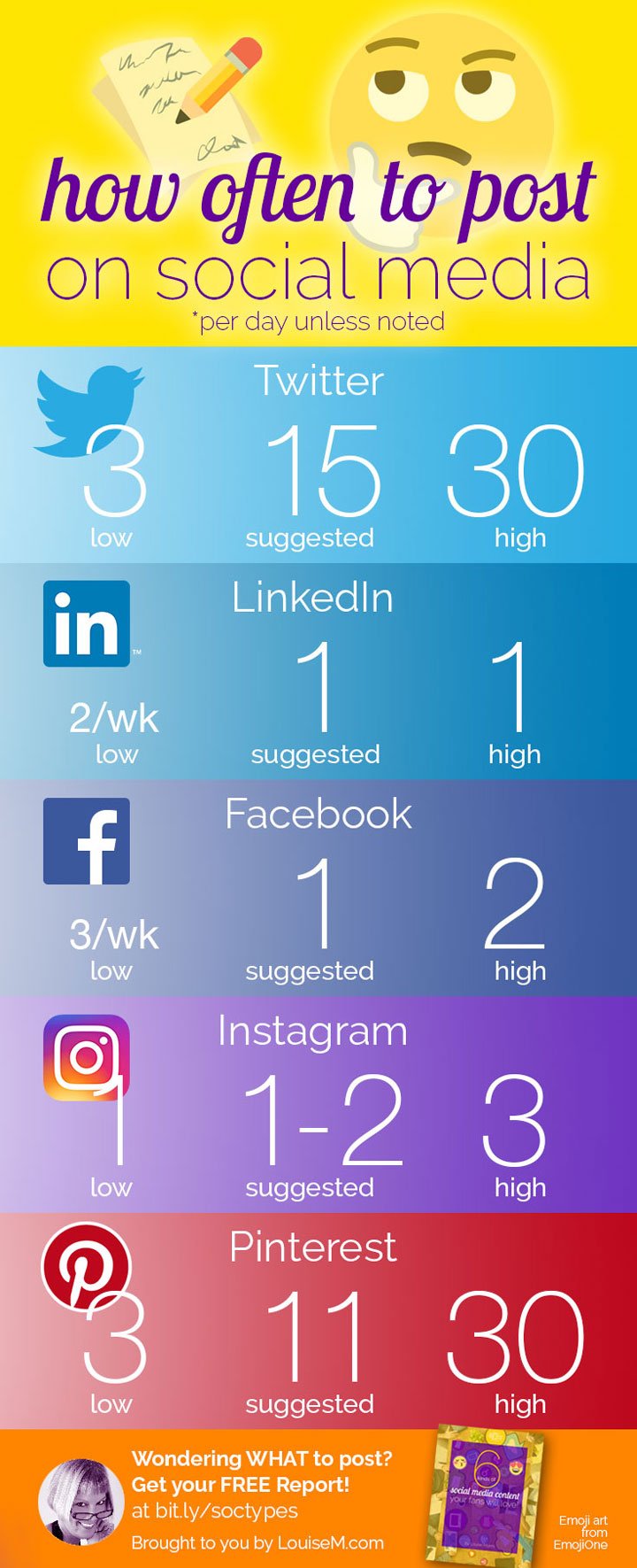 A big part of effective social media marketing focuses on creating valuable content on a consistent basis, as this content is genuinely the currency of social media marketing. Keep following trends in terms of what content works on which platforms and create content relevant to your business, common social causes, motivation, infographics, and customized content for different platforms.
There are a host of free and paid tools to help your social media team, such as Canva, which helps craft unique posts and, more importantly, image content. Marketing automation tools, such as Hubspot and Buffer, ease the burden of sharing content on an optimal schedule by allowing your marketing team to craft social posts in bulk and then share them on your preferred schedule so you always have content ready to publish when you need a new post.
A content marketing calendar also helps ensure you post content on a consistent basis by providing ideas for posts. For instance, you might set up your calendar to share your blog post every Monday on Facebook and LinkedIn, then share a product video every two weeks on YouTube. Instead of staring at a blank screen trying to find a topic for your posts, a content calendar channels your ideation across an entire month so you always have topics waiting when you need to create content.
Keep yourself updated with trends, features, and algorithms to stand out and have an effective and rewarding social presence. Here are some ideas to help keep your social media fresh.
Launch the profile and optimize it
Ask your employees to be a part of your social media presence
Choose targets hashtags relevant to the business
Create a social media post calendar
Try to maintain brand identity through on platforms
Actively engage with like-minded companies and individuals
Have an incentives plan in place for customers opting to follow you on social media
Follow relevant accounts for enticing them to follow yours
Be ready to adopt changes, and just like millions of businesses, you too can make yourself count.
4. Choose influencers to gain trust
Influencers have an engaged following and, when they share your content or create content about your brand, their followers trust them and feel the pull to buy the products they recommend. We've learned that brands can lie to us or merely exaggerate their value while we see influencers as objective sources of information. Influencers come in all shapes and sizes so choosing the right influencer relies on finding influencers active in your product or consumer niche that have an engaged following. The number of followers they have is much less important than how those followers interact with the influencer. Celebrity influencers carry the weight of commercial endorsements while micro-influencers may have greater sway with a smaller market. As per the Washington Post, influencer marketing has turned into a mini economy.
5. Monitor your results to optimize results
Social media changes every day, and one size doesn't fit all. The only way to ensure your efforts achieve results over time is to monitor performance, especially across KPIs. Create dashboards containing your KPIs and other metrics using a tool such as IBM's Cognos then monitor performance every day to gain insights that can improve your performance.
If you're not sure which metrics to monitor, here's a curated list of the top KPIs for social media monitoring.
Final thoughts
In a nutshell, effective social media marketing rests on seven pillars: social strategy, planning, listening, engagement, reporting, and advertising. An ideal way to achieve this is to connect with a social media marketing agency or do it yourself, considering the tips mentioned in this article.
Need marketing help to support business growth?
We welcome the opportunity to show you how we can make your marketing SIZZLE with our data-driven, results-oriented marketing strategies.  Sign up for our FREE newsletter, get our FREE guide to creating an awesome website, or contact us for more information on hiring us.
Hausman and Associates, the publisher of MKT Maven, is a full-service marketing agency operating at the intersection of marketing and digital media. Check out our full range of services.