We all know you must create content for social media as well as other great digital platforms, especially your website. This is SEO (search engine optimization) 101 ever since Google changed its ranking algorithm nearly 10 years ago. Each iteration of the algorithm further enhances the impact of content as a ranking factor, with social media forming a key element in that ranking, although an indirect element.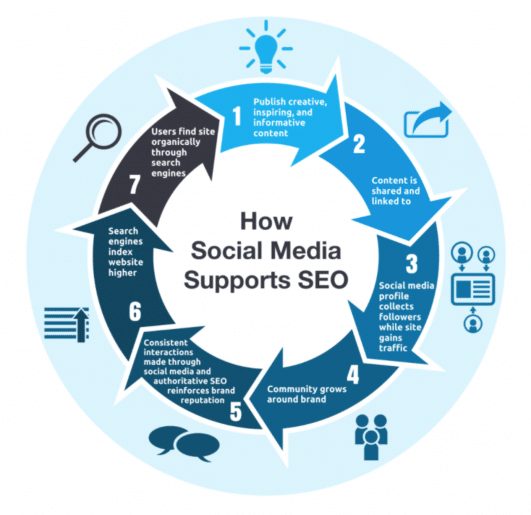 OK, I hear you. You argue that social media doesn't play a major factor in your search rank. And, while in a literal sense that's true, it acts as a strong social signal to search engines like Google and Bing. Every share, retweet, and like (commonly termed engagement in social media) is a vote for the value of your content.
The relationship between social media and SEO
As you see from the image above, social media strategy impacts your SEO and highlights why you need a concrete and expansive social media strategy as part of your overall search strategy.
Let's expand on this image a little, shall we?
Create content for social media
The process of using social media to improve SEO starts when you create content for social media platforms. Just as with every other digital platform, creating valuable content on a consistent basis is the key to success. In social media, platform standards and norms dictate how frequently you should post, so check out this image for guidance.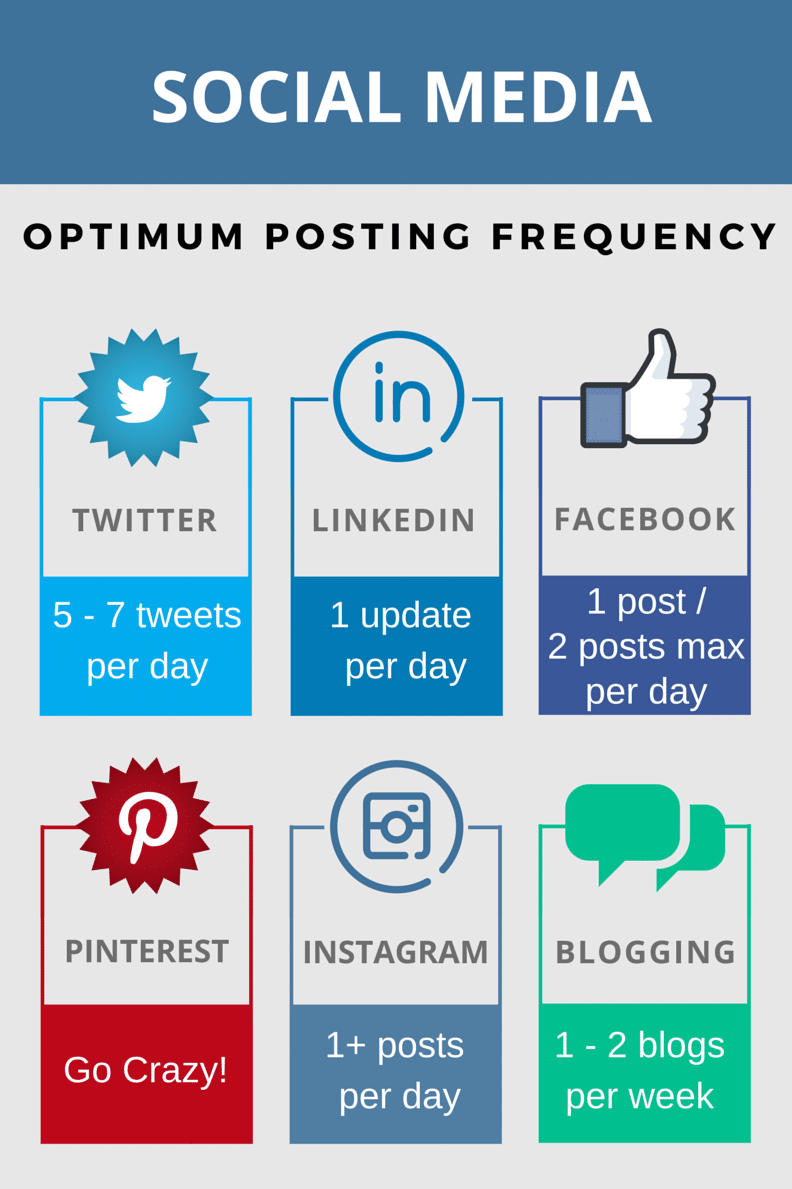 However, you can't talk about yourself 100% of the time or you'll turn off your audience, regardless of how engaging your community finds your content. In fact, experts recommend an 80/20 split with only 20% of your content on social media is about you, although that exact ratio depends somewhat on your target marketing and industry.
Still, you can't just talk about yourself endlessly.
You need to come up with other content if you want to meet the content goals set in the image above. That's where a content calendar comes in, as well as automation tools to ensure you post content consistently without spending your entire life doing so.
Content calendar and automation
If you run a successful website, you likely already incorporate a content calendar as part of your strategy. A calendar ensures you meet your posting goals without holes or plans involving too much sharing. Automation really helps when it comes to organizing your social media content. You can use low-cost tools like Hootsuite and Buffer, or, with a larger budget, invest in more expensive tools like Sprout Social and CoSchedule.
These tools not only help schedule posts for the future, which helps manage your time since you can schedule posts for the entire week in one sitting but allow for approval by managers, which protects against posts that might damage your reputation.
Build a community
Once you find you can create content for social media that matches your desired schedule, your next task is much harder — building a community around your social platforms.
Some folks think their community involves all their followers in a specific platform or across platforms. That isn't true. In fact, the number of direct connections you have means virtually nothing when it comes to evaluating your strategy. We call these vanity metrics. Instead, focus on engagement, which involves gaining likes, shares, and comments from your network. Engagement not only spreads your content to others not directly connected to your platform, thus enlarging your reach and building your network, but also acts as a social signal to Google that you have great content.
Creating a community isn't easy. Sure, when you create content for social media that resonates with your target audience, that helps. But, building community is more than that. You must recognize that social media is a two-way conversation so you must encourage that conversation by asking your connections to do more than just share your content.
Know your audience
Talk to them as individuals
Answer their questions
Reward community members who support your goals. An "atta boy" goes a long way.
Listen to your audience
Share stories
Be honest and open
Add customer service to your social media strategy
Ask your audience to engage with you
Host contests or use other tactics like questions to drive engagement
Be authentic. It's OK to share personal stories about you and your team.
Do these things and you'll improve your direct traffic from social media and also improve your SEO to drive more traffic through organic search.
Create content for social media
But, creating great social media content is hard — especially since you must do it several times a day (for most platforms) and do it every day. And, looking at that blank screen knowing you've got to post SOMETHING, is daunting and may lead you to waste your post or, worse, post something that hurts your image.
Now that I've got your attention, let's talk about where you can find great content for your social media posts
1. Social media content should provide value to readers.
So, learn more about your readers so you can provide the information they'll find valuable.
Facebook Questions [since depricated] is a good place to start, although you can still ask questions in your posts to drive engagement.
Ask fans what they want to hear. Or post questions at the bottom of your posts asking people about the biggest challenges they face, what they want to know, or challenge them with a quiz.
Of course, there's a good way to ask that question and a bad way to ask the question.
If you simply ask fans what they want to read, you're not likely to get many answers. Instead, ask questions such as:
What's the single biggest problem you face in ___________________ (fill in the name of the market where your products compete)
Don't forget to offer options (people like multiple choice much better than an essay).  Facebook features a polling feature to allow votes for the favorite across your connections. Also, remember to invite fans to share the question or poll with their friends. You can even make a contest out of it.
2. Go to your analytics
Analytics is your best friend and most social platforms now offer basic analytics. Some of the automation tools suggested earlier also feature analytics. And, using BYTLY or a similar link shortener also provides analytics. Here are the questions you want to answer with your analytics:
What social media content gets shared most frequently on each platform?
Do you see variations across platforms with some platforms performing better than others or certain types of content working best on certain platforms?
Which posts gain the most engagement on each social platform?
How is reach affected by the content of your posts?
Are certain times better for posting on a platform in terms of gaining engagement?
And, don't forget you also want to explore how visits from social media impact your success, so explore the following:
What social media content drives the most pageviews on your site?
Do specific platforms entice readers to stay on your page longer?
Does conversion vary based on the social platform that sent the visitor to your site?
Use information gleaned from social analytics as well as Google Analytics to determine what works well and create more social media content that readers like.
3. Find trending topics in your area.
If you're like me, you sometimes (often?) struggle to decide what topics might work for social media content. Rather than stare at a blank screen, use one of the many tools out there to help find topics of interest to users.
For instance, I get Google Alerts every day.  Each Google Alert gives me links to top content in my area — marketing, digital media, social media, and marketing analytics. You can bring all these topics into a Google Reader so everything is right there in one place by choosing a variety of blogs and news sites matching your interest. This way, I scan posts from probably 20 blogs related to my area every day. Posts I find interesting, fun, or insightful, I share with my social networks straight from Google Reader, although this function is limited if you use the free version.
I also use Alexa and Insights for Search to find trending topics suitable for creating social media content.
4. Network
I go to meetings, meetup groups, and just meet friends for lunch to talk about social media and marketing, at least I did in the pre-pandemic world that I hope will return soon.  Often looking at the world through their eyes helps generate potential topics for social media content.
I also find topics that arise when meeting with clients and pitching Hausman and Associates. If clients and prospects have questions, likely others out there have similar questions and would appreciate some answers.
I try to keep track of questions after my presentations at conferences and organization-sponsored meetings. Again, these questions are great sources to turn into social media content.
5. Get out there
Don't just hibernate in your office — get out there, both virtually (now that we can't meet physically until everyone is vaccinated) and physically. Experience other things, but keep your eyes open for opportunities for creating social media content. You'd be surprised how much you can learn just by watching what people do. Or think about your own behavior.
Since I write mainly about marketing and social media, I try to understand why I chose a particular restaurant or movie. What made me want a particular sweater? Why did that man pick up that product, then put it back down again? Is there some pattern in how people navigate busy rush hour traffic that helps me understand how they make consumption choices?
I created great social media content observing how performers create community with their audiences since my daughter is an actor.
And, don't forget not all great social media content is words. Pictures, video, music, infographics, and other media make an interesting addition to your social media content.
Your Turn
What is the best way for YOU to create great social media content?
Where do your ideas come from?
And, of course, what topics would you like to see covered here (LOL)?
Need marketing help to support business growth?
We welcome the opportunity to show you how we can make your marketing SIZZLE with our data-driven, results-oriented marketing strategies.  Sign up for our FREE newsletter, get our FREE guide to creating an awesome website, or contact us for more information on hiring us.
Hausman and Associates, the publisher of MKT Maven, is a full-service marketing agency operating at the intersection of marketing and digital media. Check out our full range of services.