Social media marketing or, to use a more expansive term, digital marketing, if you prefer, drives traffic to your website. That's the home for your marketing effort, a place where no one can tell you what you can and can't do (except your visitors who vote by visiting) and you keep 100% of the revenue you create by motivating visitors to your e-commerce store or even a physical one. But, how do you compete with the ever-growing number of websites out there (see graph below), to attract visitors to your website? Creating great content is the first step in the process either through search engines (termed SEO or search engine optimization) or social media.
If you want to drive enough visitors to your website to reach your goals, you need to create great content on a consistent basis; content users find valuable either as a source of entertainment, education, or well-being. Millions of websites exist on the internet and many get very little traffic. In fact, the average number of visits for 50% of websites for local businesses is less than 500/month. At an average conversion rate of almost 2%, that's only 10 sales, which likely isn't enough to keep the lights on. So how is someone going to find your website? The answer is either through search engine results or social media. Either way, creating great content is the fuel driving traffic to your site.
Creating Great Content
Creating great content takes a significant amount of time and effort since you must post fresh content on the recommended schedule in a variety of formats that include videos, infographics, images, and both short and long-form content. While some formats allow text-based content, most either require image-based content or image-based content is necessary to achieve higher levels of engagement.
1. Understand your target market
Understanding your target market in depth is critical for your success in any marketing context but, in creating great content, it's imperative to understand your marketing to know what they will find valuable, where they'll search for solutions online, when they're likely online, and what messages will motivate them to visit and, ultimately, buy products from you. With the plethora of data sources at your fingertips, finding out more about your target market is much easier and faster than ever before. For instance, using the demographic and geographic data available from Google Analytics, you can determine who currently visits your website, where they go, and whether they convert. By viewing your followers and those who follow your competition, you glean insights regarding what types of content they respond to and a deeper understanding of their lifestyle and interests. This allows you to build personas like the ones you see below, which are target markets on steriods.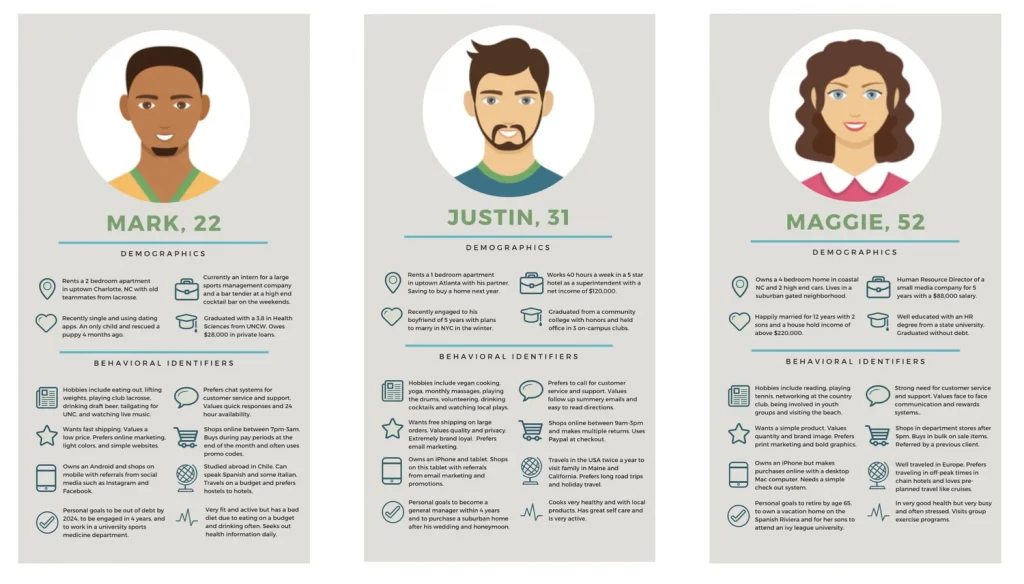 My audience for Market Maven is comprised of social media marketing experts and marketing professionals, so I know they value hearing about trends in digital marketing and how to grow their sales using a variety of marketing tactics.  My remaining strategy revolves around reaching and appealing to that audience. I also operate a couple of other websites, one focused on women growing older, Living While Gray, and one to promote my fiction, Buried Ladies. Each has separate personas, social media, and marketing efforts.
Writing great content means knowing your target market.
2. Build platforms that match your personas
Digital marketing relies on building platforms that reach your personas. For Market Maven that involves a website (my primary platform), Facebook, Twitter, and LinkedIn. For Living While Gray that involves Facebook and Instagram (my primary platform) and for Buried Ladies I use Facebook, Pinterest, and Amazon. Choose your platforms wisely, as it takes time to post good content so the more platforms you run, the more time it takes (don't make the mistake of simply sharing the same content on multiple platforms). Create the platforms to optimize your success by filling out the information completely and using descriptions that match your personas. Here's some advice to get you started on choosing which platforms fit your needs.
Building a website is a little more challenging but still doable without learning to code. Today, you can choose a domain (more on that later), purchase hosting, build a website with CMS (content management system, I use WordPress like over 50% of websites), choose a theme, add some plugins, and then create great content. Super easy. I even wrote an ebook chock full of images and easy-to-follow directions to help you build a great website. Of course, getting visitors to that website is challenging but we'll talk about that later.
3. Reach and frequency plus engagement
The success of your marketing campaign, whether digital or traditional, relies on gaining awareness, and then driving those eyeballs toward making a purchase then beyond that toward loyalty and recommendations as in the image below.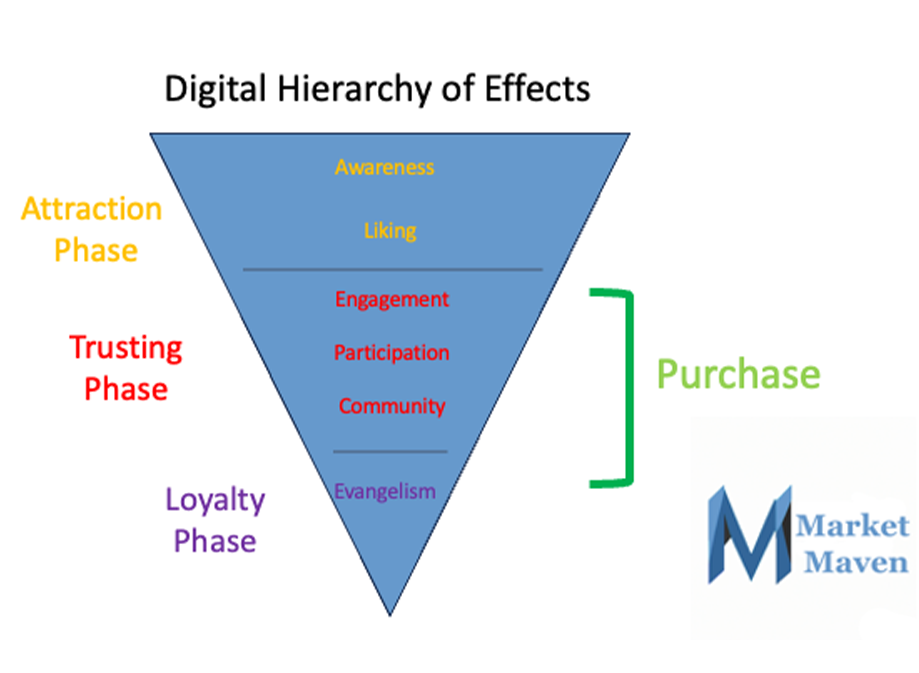 At some point between liking and later stages, purchase occurs. But, purchase isn't the only goal of your marketing campaigns. You want customers to build a community that supports your brand by making repeat purchases and recommending your brand to others. Online, this is critical for reaching new potential customers. Evangelism represents true loyalty and involves customers not only supporting you but aiding in your efforts, such as creating educational videos, solving problems for other consumers, and suggesting new ways to use your product. They may even defend your brand when someone else writes a negative comment.
3a. SEO
Search engine optimization (SEO) involves managing your online presence to maximize your rank on search. The first step is to find keywords (actually keyword phrases that keep getting longer in a world where voice search is commonplace). Search engines use the words used in queries to determine when to show your content so matching the words used by your personas offers potential for you to reach these users.
Rank comes from providing the best content to address a user's query. Since search engines use a snippet of code called a spider to categorize and rank your content, you must optimize your score based on the algorithm developed by search engine owners, like Google. Here are some factors in the algorithm that carry the most weight:
social media engagement, not followers but the likes, comments, and shares you receive on social
fresh, quality content, which, since spiders are code means your content possesses quality signals such as backlinks from other highly ranked websites, longer time on site, less bounce (only visiting a single page), and number of pages viewed per visit.
a mobile-friendly website
websites that are user-friendly (i.e. easy navigation and images to break up text) and have clean code (this is where website builders like Wix lose points and hurt your SEO)
fast load speeds, another website builder problem
using keywords in your

domain (this is another place where website builders hurt your SEO as they often involve domain names that include the builder's name. They are, in fact, subdomains of the website builder rather than your own)
headings and subheadings
meta and alt descriptions read by the spider
several times within the text (about once every 100 words)
3b. Social media marketing
Social media marketing (SMM) involves crafting fresh content that sparks the interest of your target markets and publishing it according to the norms of the platform. For instance, Instagram and Pinterest are image-based, while TikTok and YouTube use video. Other platforms allow a mixture of text and images (including both gains the most attention/ engagement). Some platforms allow hashtags while others make you look unprofessional by including them when it isn't the norm.
Keeping to a schedule means better results. Below you see the optimal posting schedule for each of the major platforms. TikTok is also commonly used once a day for posting. Read this post about how to leverage your assets to maintain this schedule.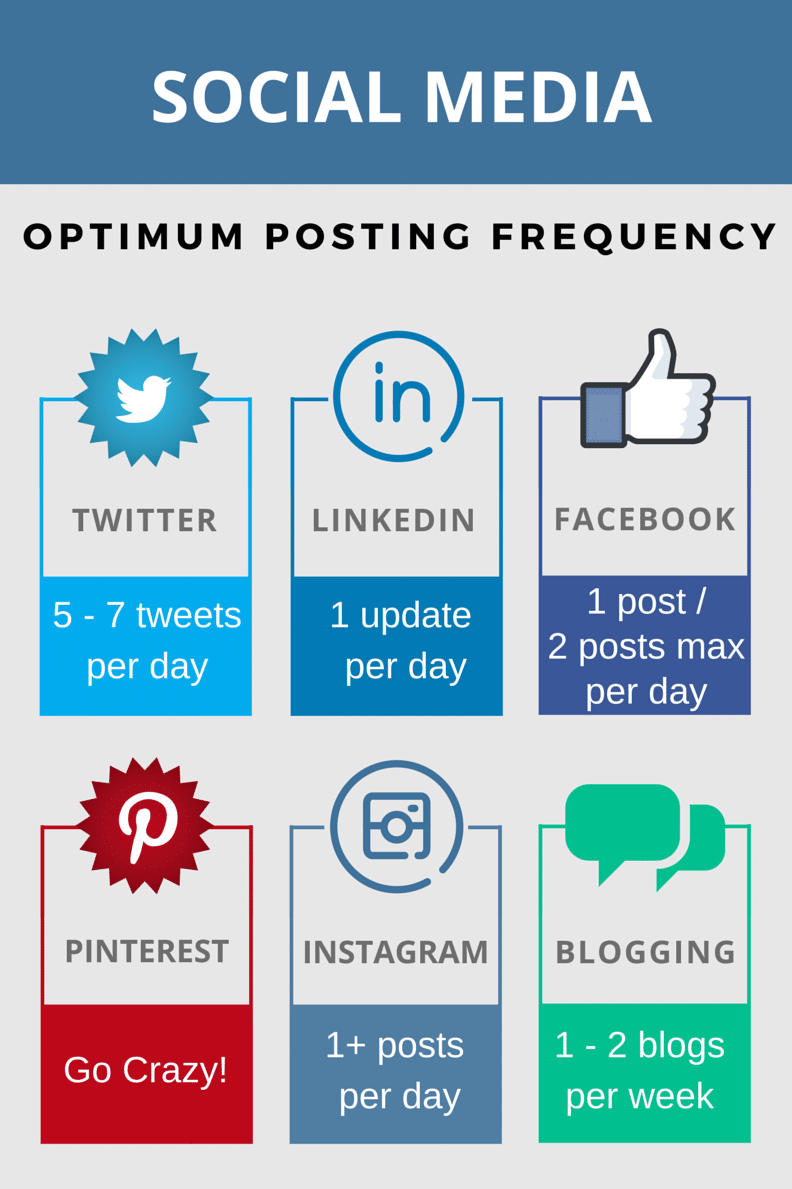 4. Finding interesting content
Even the smartest person can quickly run out of great things to write about. Developing tools to help you scan for interesting topics and facts helps you create great content.  Here are some of the tools I use on Market Maven:
Google Alerts – Setting up a Google Alert is pretty easy and you can have content sent to your email or through Feedly, a Google tool that helps you monitor content written by others in your market niche to find interesting topics for your own content. You can also follow trending topics on platforms like Twitter (now X). For Market Maven I use "social media", "social networks", "marketing", and "Facebook business marketing" as my keywords. You'll want to pick keywords similar to those you selected earlier. I scan this every day for ideas of trending topics and to see what competitors are writing about. This provides ideas and ensures I'm not just repeating what everyone else is saying. I also use this to curate content written by other folks, which is a great way to build your community. When you share their content, they might share yours.
Social media – I check out what colleagues from Facebook, Twitter (X), and Instagram are talking about. Certainly, I don't want to say the same thing, but it generates ideas and adds credibility when I start a post referring to what competitors are saying. You can use social bookmarking, like StumbleUpon, to find interesting content related to your topic areas.
News – I read newspapers online, have the local paper (the Washington Post) delivered to my smartphone, and watch the news on TV. I listen to NPR every day, especially Marketplace, How It is Made, and similar content. These sources provide ideas for great content that is timely. I can also tie content to recent events. All this increases the value of my content to readers.
ChatGPT and other AI tools are great for both generating ideas in your niche and for writing the first draft of your content (NEVER copy the content you get from AI as you can get penalized).
5. Creativity and voice
Finally, creating great content requires creativity. Good writing skills are important, but you need to let your personality show through to help content resonate with your target market. Develop a voice and use it consistently. You'll find I have a different voice across the 3 blogs I maintain.  In Buried Ladies, which promotes my novels and those of other indie authors, I'm more folksy and tell lots of stories because my target market is made up of people–individuals with their own values, needs, and preferences. In this blog, which targets small businesses, I do more sharing and the language is pretty open. Also, with Market Maven, my audience is often other marketing professionals and savvy business managers so I use a lot more jargon and technical writing. For clients, I maintain the voice of the owner or whoever they designate to represent their company.
You also need to be creative to use photos, videos, and other visuals in your posts. Posts and even the entire blog can get pretty boring without some visuals — whether they are videos, photos, or figures. Even the layout of the blog should have some visual appeal or traffic will leave.
Creating this type of visual content requires a different set of skills than creating text content. Fortunately, for those of us who are graphically challenged, I find several tools that really help in creating great visual content. Adobe Express is a great tool that's free to use. Although it lacks the power of its paid tools, like Photoshop and Premier Pro (video editing), it is great for creating the type of casual content needed for social media and your website. Remember, you're not creating a feature film for Canne but something that engages your target markets.
Canva is another great tool to help. It offers numerous templates and images you can use. They have a free version but I recommend the paid option as you have more templates and images available. It's $119/ year.
Finding images is easy with tools you can find online such as Pexels. The images are free for non-commercial use (i.e. don't put them on hats and t-shirts) but they do ask for attribution or sharing on social. The images are pretty simple but work in many contexts. You can also get images legally from paid sites like Dreamstime. Copying images from other sites is generally considered legal as long as you provide attribution to the copywriter owner. Most websites create these images for the express purpose of gaining backlinks so they're happy if you use them with attribution. Images from artists and the media may infringe on their copywrites even with attribution. so ask. The same goes for using music in your videos.
Conclusion
Creating great content requires you to understand these five key elements of successful content marketing. There are lots of tools available out there to help you on your way to marketing success. I hope you found this valuable. Let me know how it's going.
Need marketing help to support business growth?
We welcome the opportunity to show you how we can make your marketing SIZZLE with our data-driven, results-oriented marketing strategies.  Sign up for our FREE newsletter, get our FREE guide to creating an awesome website, or contact us for more information on hiring us.
Hausman and Associates, the publisher of MKT Maven, is a full-service marketing agency operating at the intersection of marketing and digital media. Check out our full range of services.