I guess before I can show you the 5 secrets of demand marketing, we should start by understanding what demand marketing is.
Demand marketing is (according to Wikipedia):
is the focus of targeted marketing programs to drive awareness and interest in a company's products and/or services. Commonly used in business to business, business to government, or longer business to consumer sales cycles, demand generation involves multiple areas of marketing and is really the marriage of marketing programs coupled with a structured sales process.
But, I'll be frank. A Google search turned up lots of competing definitions for demand marketing (and the confusion with on-demand marketing, which is something else entirely). Here are some alternate definitions for demand marketing (or demand generation, which I think is the same thing and so does Google):
B2B lead generation (Marketo)
Marketing across the customer journey (Hubspot)
Marketing + PR + Social Media (Onboardly)
Now, I personally like the Wikipedia definition and see the others as subsets of that definition, but it's up to you. What do you think of as the definition of demand marketing?
The secrets of demand marketing
While the secret of demand marketing may depend, to a certain extent, on which definition you choose, I think you'll find these are important attributes of a successful demand marketing campaign:
1. Demand marketing encompasses the entire customer journey.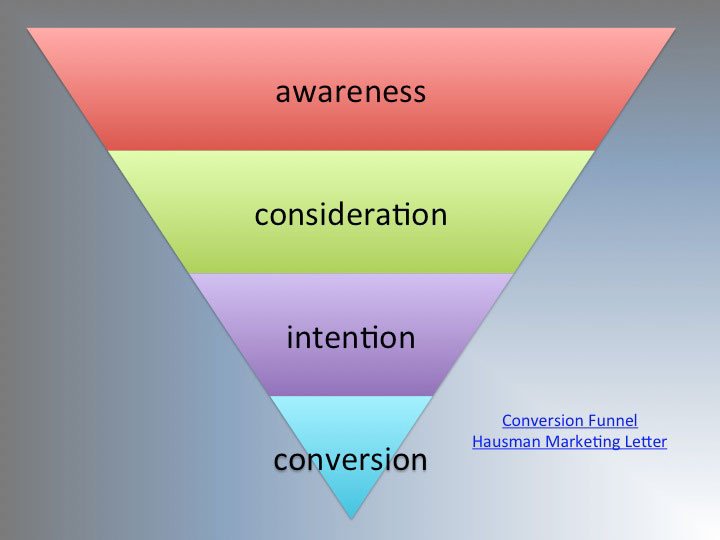 Don't just focus on conversion despite the temptation to focus on ROI. ROI is but one element in a long chain and we all know a chain is only as strong as its weakest link. Ignore all the actions that come before and after conversion and your results will be lower.
Notice the conversion funnel on the left?
The conversion funnel or sales funnel depicts the steps leading up to conversion and visually demonstrates how the number trickling through to conversion decreases at each stage of the process — which isn't really as linear as it might seem from this graphic.
Increasing conversion is a function of both pouring more prospects into the funnel (as well as ensuring the prospects have a need, money, authority, and desire and aren't just warm bodies you've shoveled into the funnel) and convincing more of those prospects to close.
What you don't see in the conversion funnel is how to manage customers once they flow-through of the funnel.
We know it's 5 times harder to attract a new customer than to keep an existing customer, so your demand marketing needs to focus on retaining and rewarding existing customers, not just attracting new ones.
Your demand marketing program should also have a plan for harnessing the power of existing customers to help bring new prospects into the funnel by amplifying your messages and creating their own — crowdsourcing is incredibly effective at both filling your funnel and guiding prospects down the funnel.
You can also support customers in their efforts as brand advocates and as brand ambassadors — also called partial employees who answer questions and reduce uncertainty about your brand.
2. Content marketing creates authority and builds trust.
Content marketing is like the Swiss Army Knife of demand marketing because it helps in so many ways.
Content marketing builds awareness. Content marketing, which is the NEW SEO, drives organic traffic to your site when users search for terms related to your brand. The better your content, the more valuable it is to users, the higher your content shows up in SERPs (Search Engine Results Pages). As you can see. traffic drops precipitously as you drop in SERPs. Producing valuable content on a consistent basis (at least 2-3 times per week) is the best content marketing tip.
Content marketing builds trust. Consumers trust brands who share valuable content. In the infographic below you'll see that 61% of consumers feel better about brands when they share unique content and they're more likely to buy from that company. It's content marketing, not advertising that convinces consumers to try your brand.
Content marketing builds authority.  Not only does authority increase your sales, but authority also gets media attention — requests for interviews, published articles, and offers for speaking engagements. Valuable backlinks and shares come through authority, which helps your SEO and spreads your content.
Content marketing is influential. Good content marketing employs Cialdini's tools of influence and contains a clear call to action so readers know exactly what actions you expect.
3. Social media and PR cut through the clutter.
It doesn't really matter how great your content is if it gets buried under the avalanche that is the internet today.
Wanna idea of just how big that avalanche is?
Here are some stats from 2012 courtesy of Mashable. Every minute:
 WordPress alone accounts for 347 posts
571 new websites appear
Over 100k new Tweets
Almost 28k new Tumblr posts
48 hours of YouTube videos are uploaded.
Over 684k new Facebook status updates.
Now, that's a big hill to climb in getting your content noticed — it's like finding a needle in a haystack.
How do you survive this avalanche?
My tip is community.
Demand marketing requires a strong community of followers, colleagues, and influencers to break through the clutter and social media provides the conduit for building community.
Instead of focusing on building an artificial community by trying to get more followers, fans, and connections, focus on providing value through the content you share on social networks and "pay it forward" by sharing content crafted by others.
Take time to listen, not just talk.
Respect your community and appreciate their efforts to support you.
Every day I thank everyone who shared or liked my content. I have a dedicated person whose job it is to do this EVERY morning. Maybe you think that's a waste, but it helps build community and is cheap in my book.
4. Engagement amplifies your message and adds a tacit endorsement.
While I'm not a big fan of vanity metrics — likes, shares, comments, etc — I recognize the ability of engagement to amplify your brand messages. When folks engage with your brand, they also endorse it to their circle of connections, which has more value than anything you could say.
Engagement should evolve naturally from your content marketing efforts and from building a community on social networks. But, sometimes engagement could use a little boost. Here are some ways I effectively manage engagement:
ensure your content is shared when your target audience is online
create headlines that encourage readers to read and share your content
use images and headlines that evoke emotions
become an expert storyteller
hold conversations
gamify engagement to encourage contributions
seed conversations using blogger outreach
tit for tat; share others content
5. Analytics
If you're a frequent reader (and if you aren't you should subscribe to my email list), you know I never share any framework without including analytics. So, analytics should be a big part of demand marketing.
If you want to know how to use analytics in support of your demand marketing, take a look at my post on metrics from yesterday.
Final thoughts
So, these are my 5 secrets to demand marketing.
What do you think?
Here's what I hope you learned from this post:
What is demand marketing?
How to measure the entire customer journey and why you should?
How content marketing drives the boat of demand marketing.
How to use social media to promote your brand.
Why engagement is important for demand marketing?
What metrics are important for demand marketing?
Need marketing help to support business growth?
We welcome the opportunity to show you how we can make your marketing SIZZLE with our data-driven, results-oriented marketing strategies.  Sign up for our FREE newsletter, get our FREE guide to creating an awesome website, or contact us for more information on hiring us.
Hausman and Associates, the publisher of MKT Maven, is a full-service marketing agency operating at the intersection of marketing and digital media. Check out our full range of services.