Image Credit: Pexels, Free to Use Licence.
When designing your business website, there's a lot to consider but, if there's one thing you shouldn't miss, it's having a blog section. There's a reason why so many business websites operate a blog – they help bring in new customers, help convert visitors, offer help to existing customers, and increase usage by existing customers. So if you were thinking of giving a blog a miss, then here are 5 reasons why you may want to have a blog on your website.
For instance, when a flour company added a blog containing recipes and other support for home bakers, they saw a dramatic increase in sales both online and in stores. 
5 Reasons adding a blog makes sense
1. Blog posts bring in new visitors
A blog satisfies the most critical factor in topping search results (SERPs), which is creating valuable content on a consistent basis. That increased traffic likely results in improved sales and lead generation, whether you're an e-commerce brand or a B2B company. [source]
Did you know B2B companies that have a blog generate 67% more leads than those who don't?
That's right, having a blog literally brings you customers because your blog forms an intrinsic part of a content marketing strategy, especially during the awareness and interest stages.
The key to generating leads through your blog is to write about things that match your customers' search terms, often called search engine marketing.  Once you've got the traffic, try to convert them by capturing their details through sign-ups to your mailing list, often using downloadables like white papers, infographics, or images in exchange for their email address. Or, an e-commerce store uses the increased traffic to convert visitors by embedding product links within the blog post (organically, not in a spammy, self-promotional way).
2. Blogs display thought leadership
In the world of business, it's important to demonstrate your expertise to gain the trust of potential clients.
Although your website design may already tell your company story, your blog shows that you know what you are talking about and demonstrates your thought leadership within your field. Customers will often browse through a business blog before making a purchase, so be sure to have some relevant content to show why you are the best choice and not your competitors.
3. Your blog improves SEO
SEO stands for Search Engine Optimization which essentially is responsible for how well your website ranks on search engines, such as Google.
We often talk about the SEO of your website. Your website was likely designed with keywords in mind, actually phrases users enter into the search engine when looking for content like that offered on your website. Hence, if you sell running shoes, you use keywords like
best running shoes
shoes for runners
where can I buy great running shoes
and more
The key in today's world is to consider long-tailed keywords and, with the increase of voice search on devices like Alexa and Siri, natural language keywords that match the way users speak into their devices.
You also should consider on-page SEO, which comes from optimizing each page of your website for specific keywords related to your overall strategy. On-page SEO also means creating fresh content, which normally falls on the shoulders of your blog, since other pages of your website, of necessity, remain stable over time.
I once encountered a naive website owner who thought he could simply change a few words on his static webpages to achieve the goal of fresh content on a consistent basis. Guess again. To qualify as new content, you need substantive changes that are only possible with a blog.
When optimizing on-page SEO, it's important to not stuff too many keywords onto a single page which is where a blog comes in. Google loves blog posts because they provide value to the reader. This means that by having a blog you can increase the number of keywords that your site ranks for, ultimately increasing the chance of you being found by potential customers.
On-page SEO also means providing substance–normally at least 900 words per page (which is up substantially from earlier recommendations for a 300-word minimum). You also need images, links external to your website, and other features that only exist by blogging.
4. Blogs provide a great basis for social media content
To be successful nowadays, every business needs a social media presence. Just as with fresh content on your website, you need fresh content to share across social platforms.  Below is an infographic showing just how often you should share on each social media platform.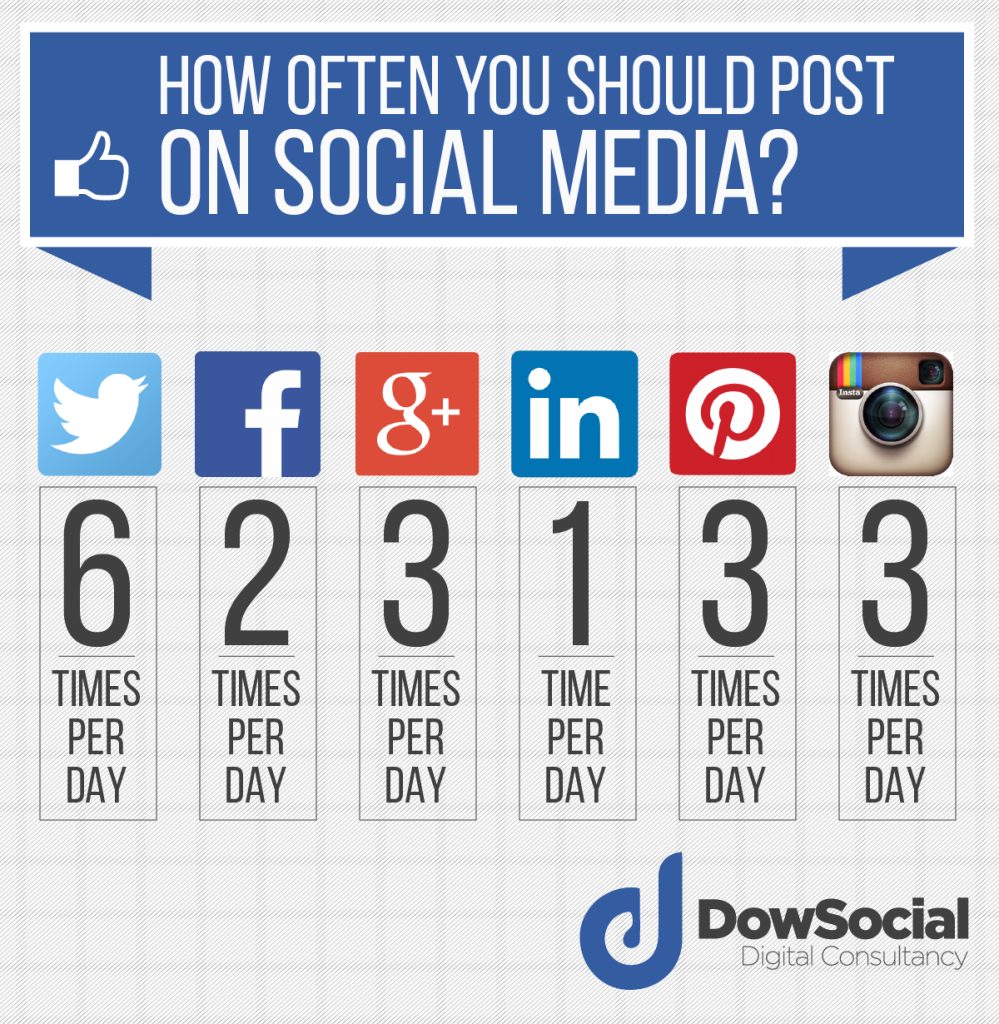 Notice, that's a lot of posts, so you need a stream of content to share. And your blog is the perfect way to generate interesting content you can share to build a social media following.
Each blog post you write can be shared across your social media channels, and with some clever re-wording, you can share them multiple times. In fact, you should share your blog content multiple times on the following schedule:
When it comes to the reasons why consumers follow brands on social media, content ranks as one of the top 5 things they look for.
5. A blog gives you an identity
People buy from people, not from companies – which is why it's important that your business has a voice. Although you can get some of your voice across on your website, your blog lets you expand on topics, developing your tone and sharing your thoughts and knowledge to allow customers to feel like they have really gotten to know you as a business and a brand.
So there are just 5 reasons why you should have a blog on your business website, but there are in fact many, many more. So what are you waiting for? It's time to write your first blog post today.
Need marketing help to support business growth?
We welcome the opportunity to show you how we can make your marketing SIZZLE with our data-driven, results-oriented marketing strategies.  Sign up for our FREE newsletter, get the 1st chapter of our book on digital marketing analytics – FREE, or contact us for more information on hiring us.
Hausman and Associates, the publisher of MKT Maven, is a full-service marketing agency operating at the intersection of marketing and digital media. Check out our full range of services.