A recent survey by Social Media Examiner found most marketing folks (83%) agree social media is a must for success — that it's an important element for growing your business and improving ROI.  Thus, driving performance with social media creates success in the eyes of experts and marketers alike. The report talked about what these professionals are doing on social media to support business performance but really didn't ask them why social media is so important for their success. We're hoping to fill that gap with more on how to use social media to support your business in 2023.
Why your business needs social media
1. Build community
Remember Cheers – where everyone knows your name. People love personalized attention and want a sense of belonging in a place like Cheers.
Services businesses have long received major benefits from building strong one-on-one relationships with customers. And any good salesperson will tell you that building a relationship with clients is critical to understanding their problems so you can offer solutions they want to buy. But, CPG companies — firms like P&G, Kimberly Clark, and Nestle — couldn't create relationships with customers because they didn't have direct access to them like service businesses and salespeople because they only sold through retailers. Instead, we talked about creating customer loyalty for these brands. But, customer loyalty (true loyalty involves not only repeat purchases but resistance to the efforts by competitors to get you to switch) is hard to achieve in a world full of competitors, with more entering the arena all the time. Thus, today's version of customer preference pales in comparison to relationships in terms of creating profits through repeat purchases and generating word of mouth. And, small businesses were in the worst position because they didn't have the resources to compete with national brands.
Enter social media. Now all types and sizes of businesses can create strong one-on-one relationships with customers and other consumers by providing valuable content on a consistent basis. A great example comes from King Arthur Flour, which was a tiny little flour company before mastering the art of building community on social media. When the pandemic hit in 2020 and everyone was baking sourdough bread, their sales increased by 2000% by plugging into the trend with their social media communities.
2. Low cost and ROI
Social media is very cheap when compared to alternative marketing channels. Even major players spend less on social media than the cost of a single advertising campaign — Super Bowl ads went for about $6 million each last year. Add a million or so for production (more if you hired a major celebrity) and we're talking some serious coin. That and the ROI offered by social media explain why brands now spend about 50% of their marketing budget on social media and other digital marketing tactics.
The return on investment (ROI) for social media is excellent. Not only is social media low-cost, but it's more effective at reaching consumers and motivating purchases than traditional media. We've always known word of mouth is much more effective than traditional advertising and social media harnesses this power to generate sales and loyalty.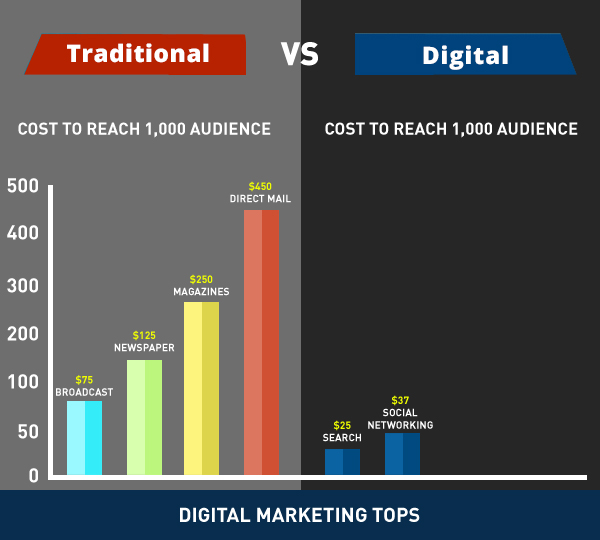 3. Trackable
Social media is trackable, which isn't the case for traditional media. Set things up right and you can tell exactly which types of content work best with your target market, which campaigns deliver the highest ROI, and how social media interacts with other marketing efforts, such as remarketing, to deliver higher returns.  You can track what time of day works best, which social platform performs better, and how social media engagement translates into ROI for your firm.  Armed with this knowledge, a marketing strategist can more easily optimize their strategy to get the greatest return.
4. Customer understanding and customer service
Consumers buy solutions — not products. They don't want things, they want to get rid of problems that annoy them.
By understanding customers, firms can provide better solutions — or frame their products in terms of solutions consumers care about. And, social media helps businesses understand consumers much better because it involves conversations — not lectures. Communication is two-way, so firms gain a clear understanding of what consumers' lives are like and what they need. They can then use that understanding to position their products based on the factors their target market considers when making a purchase decision.
Research tells us less than 20% of dissatisfied customers complain — to us. We also know that negative word of mouth travels 5X faster than positive word of mouth. And social media speeds up this process dramatically. Thus, providing superior customer service has never been more important. And, social media is the place where lots of consumers complain so you need to listen and respond to these negative comments before they damage your reputation.
But, social media also acts as damage control. When customers complain on social networks, they give us an opportunity to fix the problem — publicly. Now, instead of negative sentiment sitting there like dirty laundry for everyone to see, everyone sees how reasonable and fast we are in dealing with customer problems. Instead of looking bad, we now look wonderful to consumers.
5. Authenticity
When businesses talk about their brands, consumers are cynical. But, when their friends talk about the brand, they believe them. Social media works best when firms encourage their loyal customers to share their experiences with their friends. Rather than talking about themselves on social media, businesses should build a community of loyal consumers who share their love of the brand. Members of this community not only share your content through engagement (liking, retweeting, sharing, etc) to reach new prospective customers but they create content related to your brand such as Instagram images wearing your branded clothing. Below, you can see how these activities quickly help you reach a larger group of potential buyers.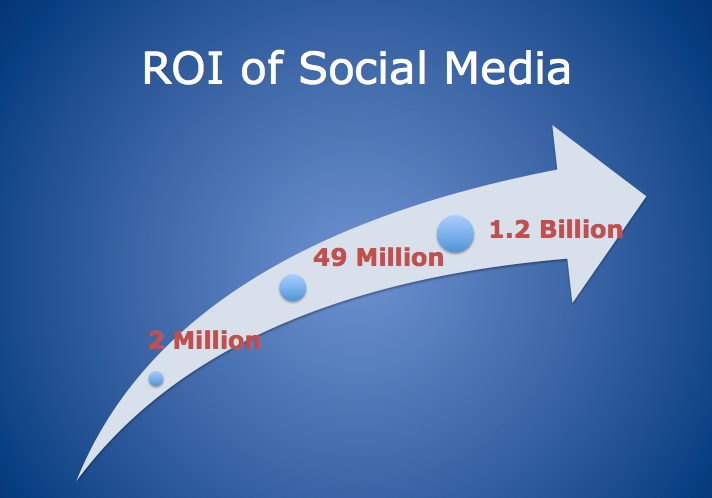 Considerations when adding social media
Overwhelmingly, businesses agree social media marketing provides benefits, even if translating those benefits into measurable ROI is challenging. That's why your business needs social media; your competition is already there. Of course, I've long argued that directly measuring ROI is nonsense because social media is designed to create brand awareness, positive sentiment, and build a brand community rather than sales. That means instead of directly assessing the ROI of social media, you need to assess the ability of social media to move users closer to conversion. The marketing funnel expresses the stages consumers go through before making a purchase decision and the figure below shows what to assess in judging the performance of your social media program to glean insights needed to optimize those results.
Of course, that doesn't mean you can't impute ROI from social media metrics by regressing metrics against sales and proving to yourself the value of social media. Brands that sell online can use Google Analytics to judge the value of sales coming through social media directly or as part of the buying process (we call this multi-channel attribution modeling). This makes evaluating the impact of social media on ROI more accurate than traditional advertising where you simply ask customers where they saw your ad.
The time commitment needed for social media
The survey IMPLIES that successful social media marketing takes a significant amount of time. The study shows that the longer a firm used social media marketing, the more time they devote to creating engagement on social platforms.
It takes time to create content for your social media platforms, especially when creating unique content drives engagement with your community that spreads your content to new users. Sure, recent advances in AI (artificial intelligence) promise to make this task easier, but the current versions of these tools face problems that make it impractical to replace content creators with AI, such as no check for the truthfulness of the content produced and problems with plagiarism. As you consider that your business needs social media you must also consider how to budget for the time it takes for social media.
To reduce the time commitment, you must choose which social media platforms best fit your brand and your target market. Below are some considerations in choosing which platforms your business should use.
Consider your bandwidth in terms of people and other resources then choose the best platforms to fit your needs. Remember, that most platforms require at least one post per day, except for YouTube, where once a week can work well. Twitter and Pinterest require the most frequent posts (5-7/day for Twitter and a bunch for Pinterest). Don't take on more than you can effectively handle.
Also, don't expect results overnight. It takes, on average, six to twelve months before you can expect to see the needle move. I use the analogy of filling a bucket with water. It takes a sufficient amount of water before you will see some spill over the side. Until you reach that level, you don't see anything. Hence, don't assume social media isn't working until you give it enough time to work.
Outsourcing
To extend your bandwidth, as well as benefit from the knowledge necessary for successful social media marketing, you might consider outsourcing to a firm that specializes in social media or digital marketing. Most firms don't outsource their social media marketing, instead handing it off to their youngest employees or a relative to save money, and this is potentially a huge problem.
Think about it. Even a small firm should expect to devote about 10 hours a week to social media marketing — which is too much to add to the responsibilities of another employee, but not enough to justify hiring an employee. Plus, social media marketing for a brand is very different than running a personal social media account. The tools necessary for running a social media campaign are also expensive. So, outsourcing makes financial sense just like it makes sense to use a CPA firm rather than hiring an accountant, as you can see below.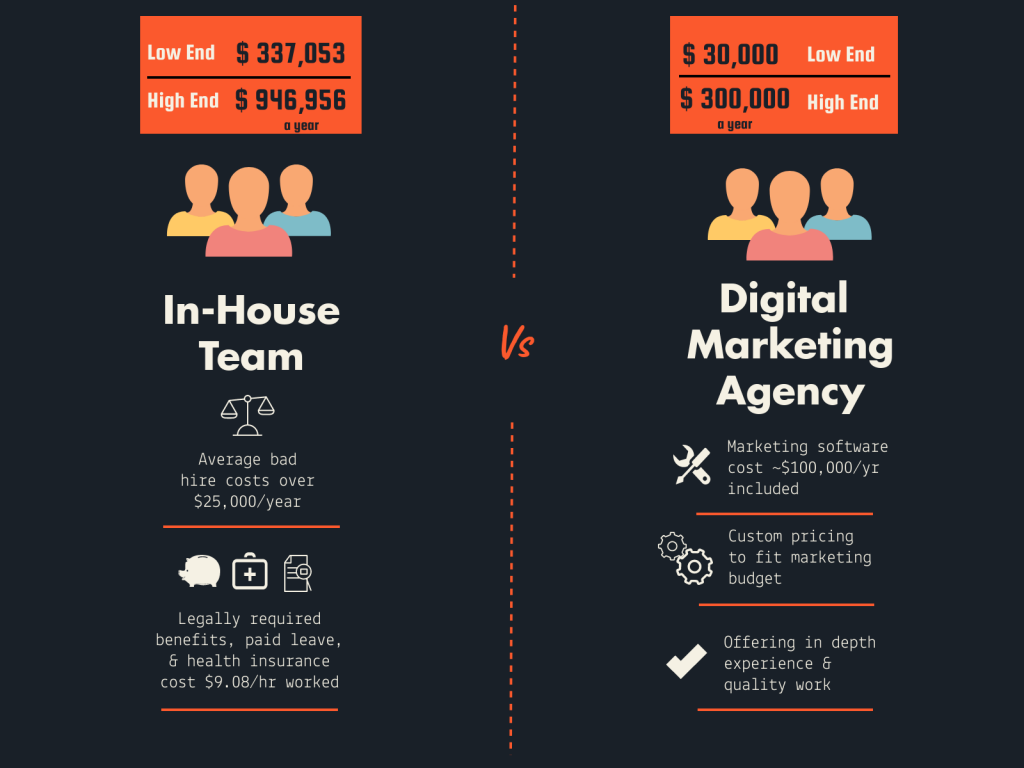 Plus, social media marketing is a specialized skill requiring specialized knowledge and experience in marketing, graphics, Web 2.0, videography, analytical skills, strategy experience, and possibly other skills, too. You don't expect an employee to handle your legal affairs, do your books, and design your new product, so why would you expect 1 employee to have all these skills?
At Hausman and Associates, I can only do all these things only because I hire specialized individuals for each task. I couldn't do all this myself. So, find yourself a great social media agency to help build and implement your social media marketing strategy.
Social media tools
Running a successful social media marketing campaign requires the right tools to do some of the heavy lifting and optimize your efforts. Below are some tools you should add to your social media campaigns.
Marketing automation tools like Buffer, Hootsuite, and Hubspot help by scheduling your posts around the optimal posting times and schedules. Thus, instead of having to stop what you're doing to post content, you can set up a bunch of posts ahead of time to have them go out automatically. Automation tools often come with analytics to help you monitor the performance of your posts so you can get better results, as well as suggest the best times for your posts to create the highest engagement with your community.
Content creation tools make it less onerous to create the vast amount of content needed to run campaigns. You might use tools like Canva to create images, ChatGPT to add captions, and video editing tools like Adobe Premiere Pro. A word of caution, however. Don't expect the AI tools available to create content on autopilot. You still need a human to edit the content produced by AI or your content can sound tone deaf or fail to represent your brand well. Also, lots of the content produced by AI is inaccurate.
Analytical tools like Google Analytics help you track the performance of your social media campaigns through to your website. Hence, you learn which posts drive paying traffic to your website
5. Make customers partial employees
Customers have great ideas for new products or improvements to your existing products. They can also share things about themselves and their lives that guide businesses in how to best reach them with their advertising messages. This type of user-generated content (UGC) eases your burden of creating content, provides ideas for marketing your products more successfully, and adds a more credible voice to your marketing efforts.
How to create engagement
You have to understand HOW to create engagement since this is the currency on social media. And, the easiest way to do that is to create sharable social media content.
Let's look at an example:
A video uploaded to a Facebook business page shows up 370,000 times in the news feed. 130,000 people view the video (a little over 35%, which is very good). Of that number 13,000 shared the video post (10%). And the shares ultimately reached 638,000 folks — an amplification of almost 2X as many people as viewed the video on the Facebook business page with an average of 49 views for each time the social media content was shared.
See the value of creating sharable social media content.  But, the value doesn't stop there.
Not only do you get a 2X lift, but you've also de-commercialized the message because it now comes through friends rather than the brand. De-commercialization makes the message more believable and increases the likelihood someone will share the message.
What makes social media content sharable?
In a word — VALUE.
When viewers find your content valuable — they share it (or engage with it in other ways that increase its appearance on news feeds).
So, what social media content creates value for your community?
That answer is a little trickier because it depends on who makes up your community, who you are, and the fit of content with your brand. Hence, building marketing personas is your first step in determining what content will provide value to your community. For those new to the concept of marketing personas, a persona is really just a more complete version of your target market that identifies their pain points, where you might reach them, and what they want to see. Here's an example of a market persona.
Providing coupons, exclusive content, or specials through your social media provides value to most visitors, although JC Penney found you can overdo the discounting and hurt your brand.
Telling stories is a great type of social media content that has wings that speed it through social networks. Look at the Dove story of real women to see how it resonated with their market to increase sales.
Recognizing the efforts of your fans. Engagement is a two-way conversation, so make fans feel special when they comment, like, or share your message. This builds a community where everyone feels they have a stake in your success and wants to help you.
But, probably the best way to create sharable social media content is to encourage UGC, as mentioned above. Ask followers to post pictures using your brand. Have followers create a video about how much they like your brand. Look at the lift Pepsi got a few years ago when they dedicated the money they would have spent on Super Bowl ads to charity.  The beauty of the program was they let fans suggest worthy projects and vote on where the money would go. The boost was great.
Conclusion
I hope now you understand why your business needs social media and have a better understanding of how to start building a social media platform. Although you might not consider a blog as part of your social media program, it's a really important aspect to consider as you recognize your business needs social media. A blog is something you own, so it doesn't serve at the whim of a social media platform, which can change at any point. It's also great for SEO to bring search traffic to your website. In a world where organic reach on social media platforms is dwindling, a blog is even more important.
Need marketing help to support business growth?
We welcome the opportunity to show you how we can make your marketing SIZZLE with our data-driven, results-oriented marketing strategies.  Sign up for our FREE newsletter, get our FREE guide to creating an awesome website, or contact us for more information on hiring us.
Hausman and Associates, the publisher of MKT Maven, is a full-service marketing agency operating at the intersection of marketing and digital media. Check out our full range of services.